(Yume to Kyoki no Okoku)
Japan. 2013.
Crew
Director/Screenplay/Photography – Mami Sunada, Producer – Nobuo Kawakami, Music – Masakatsu Takagi. Production Company – Dwango.
---
The Kingdom of Dreams and Madness is a documentary about Studio Ghibli. Primarily it focuses on the work of Hayao Miyazaki, who has become an enormously revered talent in the West in recent years as director of films such as The Castle of Cagliostro (1980), Nausicaa and the Valley of the Wind (1984), Laputa: Castle in the Sky (1986), My Neighbor Totoro (1988), Kiki's Delivery Service (1989), Porco Rosso (1992), Princess Mononoke (1997), Spirited Away (2001), Howl's Moving Castle (2004). Ponyo on a Cliff By the Sea (2008) and The Wind Rises (2013).
The documentary is made by Mami Sunada, one of the few women directors in Japan who previously made Ending Note: Death of a Japanese Salesman (2011) about her own father after his cancer diagnosis. Sunada has simply taken her video camera into the Studio Ghibli offices and watched Miyazaki and his staff at work. The film was shot during the production of Miyazaki's The Wind Rises and Isao Takahata's The Tale of the Princess Kaguya (2013), both of which were intended to be released together by Ghibli (although Princess Kaguya eventually ended up coming out five months later due to delays).
The Kingdom of Dreams and Madness offers a fascinating understanding of Hayao Miyazaki's working processes. The most intriguing insight is learning how he operates without a script and instead does everything by hand-drawn storyboard – production on the film does not begin until he completes the storyboard and up until that point nobody has any idea what the finished result is going to be.
Outside of the making of The Wind Rises, there is little coverage of Miyazaki's other films and only some brief archival footage of him. His background and childhood is dwelt on in a handful of scenes – I would have been intrigued to see what led to his becoming an animator, the development of his themes and what he considers his influence, of which we get nothing. There is however a particularly lovely section where Miyazaki receives a letter from a man who was their neighbour when he was a child during the War and his father helped after the bombing. Miyazaki's reply to the man's letter is read out and is incredibly touching.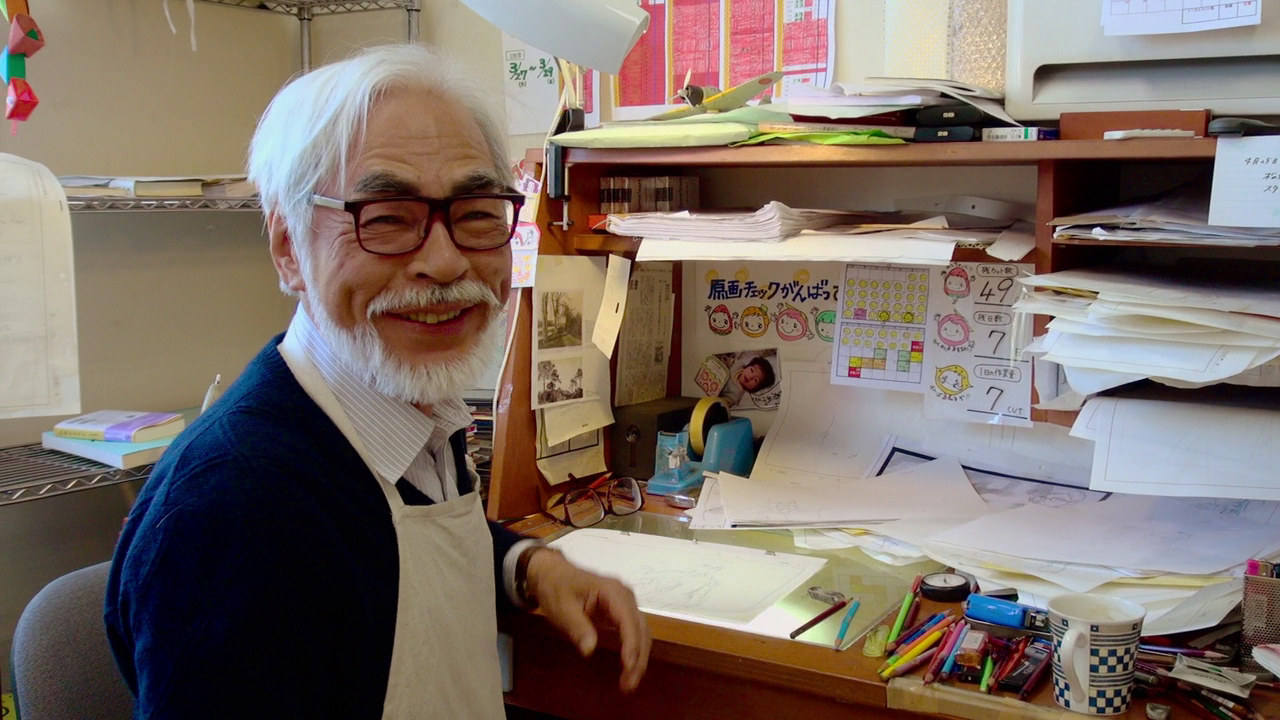 Miyazaki proves an incredibly laidback personality and often talks candidly. Indeed, he has an unassuming nature and lack of self-importance that should be a model for Western corporate CEOs – he has no big flashy office, merely a desk situated in a corner alongside the other animators on his staff, while his home is in an unobtrusive house situated walking distance from his studio. He even makes appeals to his staff – telling them if they don't like what they are doing to quit. He also says that he doesn't care about the success of the company, only about the quality of his films. (Although several of the staff do talk about the pressure of working there, stating that being good at what you do means that Miyazaki uses their talent as much as possible, causing some of them to burn out and lose direction). He also seems a fount of endless energy that runs rings around the much younger ones – you cannot help but wonder what the secret of his vigour is, especially given that amount that Miyazaki is seen smoking copiously throughout.
The most fascinating figure throughout is Isao Takahata, the director of Princess Kaguya and other Studio Ghibli films such as Only Yesterday (1991), Pom Poko (1994) and My Neighbours the Yamadas (1999). Though Takahata is not as well-known as Miyazaki, we learn that he was actually Miyazaki's mentor while they were working together in television animation. Takahata only turns up in a single scene at the end but exerts a fascinating presence over the entire film. It is candidly stated by just about everybody we meet, including Miyazaki, that Takahata is old and past it, that he doesn't want to finish Princess Kaguya, that he has been endlessly dragging the completion date out and demanding reworkings. While Miyazaki is a source of frankness about his working process, we interestingly never get to see the other studio where Takahata is working on Princess Kaguya. Given the comments made about his working style and possible decrepitude, this would have been absolutely fascinating to see.
---
---