---
Crew
Director/Screenplay/Producer – Christopher Munch, Photography – Rob Sweeney, Music – Ensemble Galilei, Makeup Effects – Lee Romaire Studio (Supervisor – Lee Romaire), Art Direction – Ricardo Herrera. Production Company – Antarctic Pictures/Fir and Cedar LLC.
Cast
Lily Rabe (Sarah Smith), Jason Butler Harner (Sean), Isaac C. Singleton Jr (The Big Man), Jim Cody Williams (Barney Baxter), Fiona Dourif (Penny), Don McManus (Forest Superintendent), Karen Black (Sean's Colleague)
---
Plot
In order to get away from a relationship split-up, Sarah Smith takes an assignment conducting a survey in the wilds of Oregon on behalf of her employer the Forestry Service. Amid the isolation and quiet, she begins to think that someone is following and watching her. At first, she suspects that this is fellow hiker Sean. She then begins to have dreams of Bigfoot. In her dreams, she believes that Bigfoot is calling to her to open her heart so that it can bridge the gap between their species. At the same time, she begins a tentative relationship with Sean, who is an activist on the opposite side of the fence to her with a group of conservationists protesting against the logging of Bluegrass Mountain that the Forestry Service has allowed. As Sarah begins to communicate more and more with the Bigfoot, Sean discovers that her boss has leased Bluegrass Mountain to a covert military agency that is seeking to exploit Bigfoot for its unique extra-sensory powers.
---
The fascination with Bigfoot was at its heyday during the 1970s where the discovery of a grainy piece of film of dubious authenticity in 1967 was held up as proof of its existence. This was eagerly lit upon by a series of pseudo-documentaries and low-budget drive-in features with the likes of Bigfoot (1971), The Curse of Bigfoot (1972), The Legend of Boggy Creek (1972), Shriek of the Mutilated (1974), The Legend of Bigfoot (1975), Manbeast! Myth or Monster? (1975), The Mysterious Monsters (1975), Creature from Black Lake (1976), In Search of Bigfoot (1976), Sasquatch (1976), The Capture of Bigfoot (1977), Snowbeast (1977) and Night of the Demon (1980). Bigfoot was even revealed to be an alien robot in an episode of tv's The Six Million Dollar Man (1973-8).
Bigfoot underwent a change of image beginning with Harry and the Hendersons/Bigfoot and the Hendersons (1987), which was later turned into a tv series. This reconceived Bigfoot in terms of a cute and cuddly Steven Spielberg film and placed it into the midst of the conservationist movement, seeing it as an endangered species. From the 1980s onwards, Bigfoot has existed more in terms of family films such as Bigfoot (tv movie, 1987), Bigfoot: The Unforgettable Encounter (1994), Little Bigfoot (1997), Big and Hairy (1998) and The Sasquatch Gang (2006). There has still been a steady stream of Bigfoot horror films Search for the Beast (1997), The Untold (2002), Among Us (2004), Suburban Sasquatch (2004), Sasquatch Hunters (2005), The Unknown (2005), Abominable (2006), Bigfoot (2006), Paper Dolls (2007), The Shrieking (2008), Sasquatch Assault (2009), Lost Woods (2012) and Primal Rage (2018), while more recently Bigfoot has turned up in several Found Footage films The Sasquatch Hunters (1997), Hair of the Sasquatch (2008), No Burgers for Bigfoot (2008), Sawtooth (2009), Bigfoot: The Lost Coast Tapes (2012), Willow Creek (2013) and Exists (2014).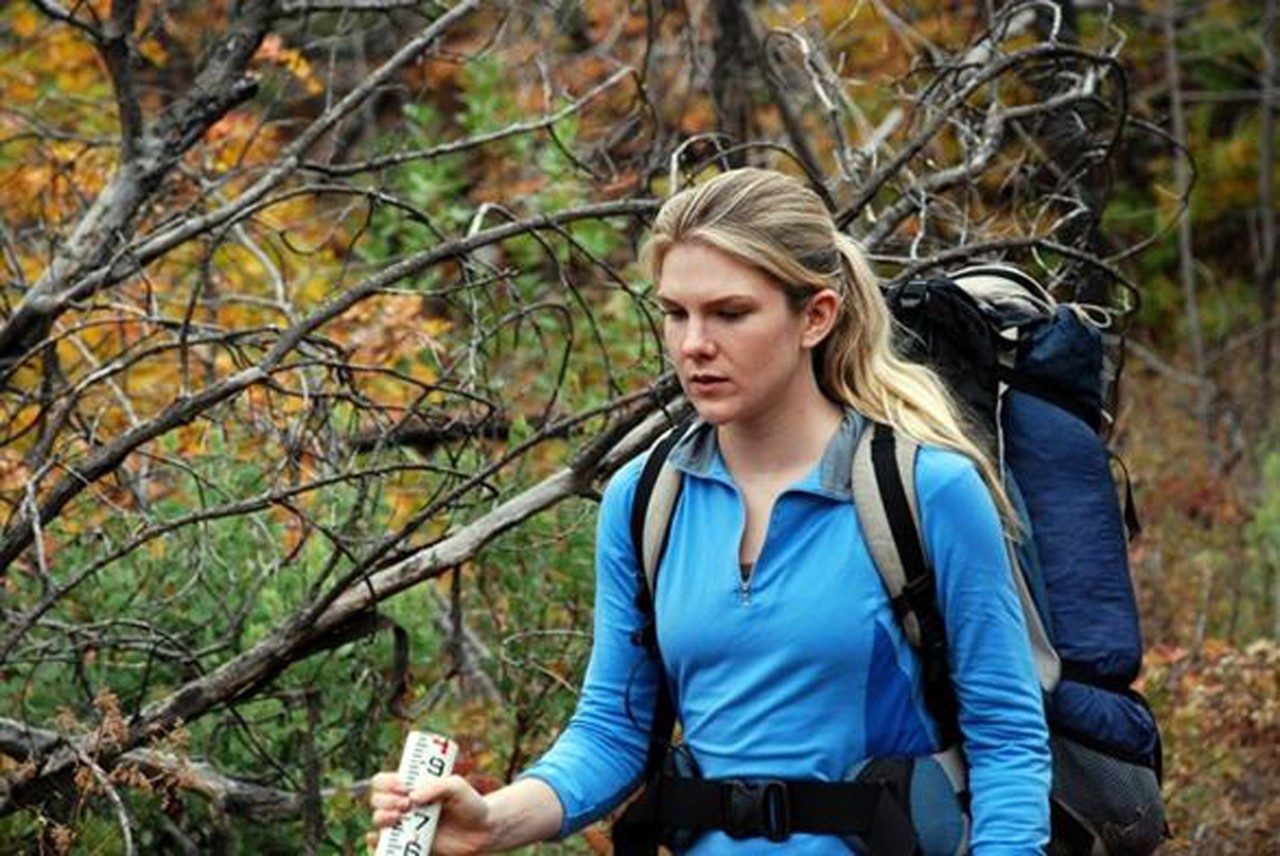 Letters from the Big Man has the distinction of being the first serious, non-tabloid, non-horror, non-cutsie, non-comedic Bigfoot film. In fact, it has a premise that upon first reading it you think is going to be a parody version – woman goes out into the wild to get away from a relationship break-up and starts to have dreams of Bigfoot asking her to open her heart to it. The idea of a Bigfoot-human romcom, not to mention a title that suggests the idea of Bigfoot writing love letters, has an appealing absurdity to it that could almost work. (In fact, something very similar was done before in Ape Canyon (2008), which had Bigfoot as a randy creature with a passion for human women and featured a lovelorn woman roaming the forest reciting poetry to Bigfoot). The title leads you to expect a much more goofy film than it is – something along the lines of a Nora Ephron-esque Chick Flick about a woman's self-discovery. The surprise about Letters from the Big Man is that it takes itself in complete seriousness with nary a hint of tongue poked in cheek anywhere throughout.
As has been the case ever since Harry and the Hendersons, Letters from the Big Man moves away from the monster of tabloid myth and plays Bigfoot as a shy, secretive creature that hides from human contact. The film hints that it has an intelligence and extrasensory powers, even states at one point that it exists in two different worlds (where you are not entirely sure if the film means things literally or metaphorically), although clarifies little about any of this in the end.
Also in following Harry and the Hendersons, Letters from the Big Man places Bigfoot into the arena of the environmental movement and issues of endangered species – although here it is more the issue of logging and deforestation. Interestingly, Christopher Munch refuses to make the case clearcut on either side – he allows both the loggers and the conservationists to voice their case without black-and-white posturing. (Munch says he shot the film in areas of Oregon that had undergone similar kinds of heated community debates). Even the heroine whom we regard as sympathetic appears to be on the side of the loggers rather than the conservationists as you might get in another film that was conducting more in the way of straw figure debates. About the only cliche element that the film does buy into is having a shadowy sinister covert military agency with vaguely defined schemes to exploit Bigfoot (although even here Christopher Munch makes the claim that he based this on eyewitness accounts as well).
Letters from the Big Man is slow to start. However, it eventually emerges as a thoughtful portrayal of a mythic creature that succeeds in transforming Bigfoot into a being of uncommon wisdom and dignity. Also well worthy of commendation is Lily Rabe who gives a strong, intelligent and serious performance. The photography of the Oregon wilds is frequently breathtaking and beautiful. I came away from the film quietly far more impressed than I had expected to be.
Perhaps the oddest thing about Letters from the Big Man was the Q&A session with Christopher Munch that took place after the screening at Vancouver International Film Festival. It is certainly one of the strangest film festival Q&As I have ever been witness to. Asked by one audience member if he believed in Bigfoot, Christopher Munch had no hesitation is saying "yes" and told how he spent a night out in the wilds where he was woken by strange noises. He went onto detail how he determined to take his Bigfoot film away from tabloid myth and monster stories and made a point of researching the topic and interviewing numerous people who had had encounters. The screenplay that he wrote compiled many of the facets that these people had described – Bigfoot's genteel wisdom, its mental communication and invitations to people to open their hearts to it, its extrasensory abilities, and Munch's heartfelt belief that it wants a mutual understanding between the two species.
---
---