---
Crew
Director – Charles Grosvenor, Screenplay – Kelly Ward & Mark Young, Story – Rae Lambert, Producers – David Kirschner & Jerry Mills, Music – James Horner, Production Design – Carol Holman Grosvenor & Bill Proctor. Production Company – Hanna-Barbera/Harlech Television
Cast
Ellen Blain (Abigail), Ben Gregory (Edgar), Paige Gosney (Russell), Michael Crawford (Cornelius), Elisabeth Moss (Michelle), Ben Vereen (Phineas)
---
Plot
Four young furlings in the Dapplewood forest go to visit their teacher, the wise Cornelius, who shows them the toy flying machine he has made. Elsewhere in the forest, a tanker skids and crashes, releasing poison gas that rapidly kills off animals everywhere. Cornelius and the furlings return to find their homes devastated and their parents' dead. After racing into her home after her family, the young badger Michelle collapses infected by the poison. Cornelius tells them that the only hope to save Michelle is to obtain the longwort plant from another meadow within 48 hours. They set out, facing great perils during the journey, including the threat of human fumigators and dragons (earth-moving machines) that are demolishing the woods.
---
During the 1990s, children's animation started to display strong liberal values, most notably themes of conservation and eco-consciousness – see the likes of tv's Captain Planet and the Planeteers (1990-6), Pocahontas (1995) and closest to this, Ferngully: The Last Rainforest (1992). Environmentalist themes have become a staple of modern animated films/tv series such as The Wild Thornberrys (1998-2001), Happy Feet (2006) and Barbie Presents Thumbelina (2009).
Once Upon a Forest is superior to most of the abovementioned environmentally themed works being around the same time – far less preachy and far more unobtrusive in its message-making. Most of all, it is a gentle nicely made animated film. The characters are drawn with a clean simplicity and beautifully soft and innocent emotions. One image of Edgar the hedgehog tripping and losing his glasses, terrifyingly being caught in a trap by giant, white-coated scientists and then freed with a "There you go little fella" in reversal of expectation has a tender beauty.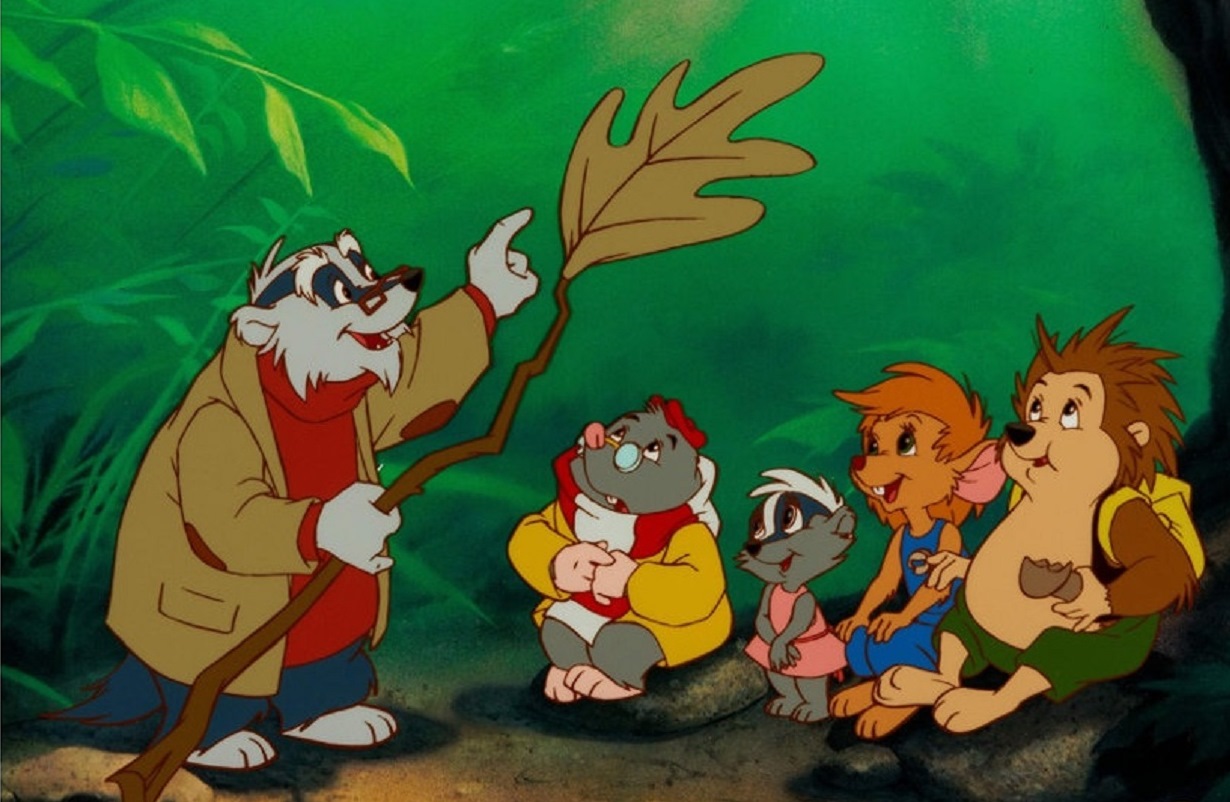 There are times when the film manages to remind of the great Watership Down (1978) with its innocent's view of the human world from through the eyes of animals – a road at the edge of the wood and passing cars seen as incredibly dangerous, earth-moving machines as yellow dragons and so on. It is very well directed – the attack of the owl and flight of the flying machine at the climax are dramatically exciting pieces. The tiny child-like quest across this fantasticised landscape has a wonderfully classic heroic struggle to it.
Notable is the film's refusal to give in to a dramatically false happy ending. The families are brought back but, unlike a Disney film, the film makes the point of saying that some will not return (ie. are dead for good) – a far more adult resolution than most other animated films opt for.
Once Upon a Forest was a co-production between Hanna-Barbera and Harlech Television, the English broadcasting network that covers Wales. Director Charles Grosvenor has not made any other theatrical films subsequently but went on to direct no less than nine Land Before Time sequels, as well as an animated direct-to-video version of Babes in Toyland (1997).
---
---