---
Crew
Director – Jonathan Frakes, Screenplay – Rob Hedden, J. David Stem & David N. Weiss, Story – Andy Hedden, Rob Hedden, J. David Stem & David N. Weiss, Producers – Gale Anne Hurd & Julia Pistor, Photography – Tim Suhrstedt, Music – Jamshiel Sharifi, Visual Effects Supervisor – Michael Fink, Visual Effects/Animation – Cinesite (Supervisors – David T. Altenau & Jason Piccioni), Miniatures – Grant McCune Design Inc, Special Effects Supervisor – Gary Monak & Stan Parks, Production Design – Marek Dobrowolski. Production Company – Valhalla Motion Pictures/Nickelodeon Movies.
Cast
Jesse Bradford (Zak Gibbs), Paula Garces (Francesca), French Stewart (Dr Earl Dopler), Robin Thomas (George Gibbs), Michael Biehn (Henry Gates), Garikayi Mutambirwa (Meeker), Julia Sweeney (Jenny Gibbs), Lindze Letherman (Kelly Gibbs), Jason Winston George (Richard), Linda Kim (Jay), Ken Jenkins (Agent Moore)
---
Plot
Teenager Zak Gibbs picks up what he thinks is a broken watch lying among the unrepaired junk in his father's laboratory. Unknown to him, the watch is a device capable of projecting the wearer into Hypertime, where their passage through time is speeded up to the extent that the rest of the world seems to be frozen still. Zak learns of the watch's capabilities while trying to impress Francesca, the new girl from Venezuela at school, and the two of them have much fun rearranging things while everything around them is frozen and then restarting time. What they do not know is that the watch has been created by Zak's father's former pupil Earl Dopler, who is being held prisoner by rogue black ops agent Henry Gates. When Gates learns that Dopler sent the watch to Zak's father, he and his agents abduct him in order to force him to complete the device.
---
Clockstoppers comes from Nickelodeon Movies, a company that specialises in children's film and have made the likes of the Rugrats and Wild Thornberrys movies, Snow Dogs (2000), Jimmy Neutron, Boy Genius (2001), Lemony Snicket's A Sense of Unfortunate Events (2004), Charlotte's Web (2006) and Hotel for Dogs (2009). A cursory reading of the credits shows an interesting calibre of names involved with the production. First of all, it is a co-production between Nickelodeon and Gale Anne Hurd and her Valhalla Motion Pictures production company. Hurd is of course the former wife of James Cameron and producer of such Cameron films as The Terminator (1984), Aliens (1986), The Abyss (1989) and on her own Tremors (1990), Armageddon (1998) and Hulk (2003), among others.
The director is Jonathan Frakes, who worked his way into fan hagiography as Commander Will Riker on tv's Star Trek: The Next Generation (1987-94) and then parlayed his influence there in being able to direct various episodes and then the second and third Next Generation movie outings, Star Trek: First Contact (1996) and Star Trek: Insurrection (1998), before going onto this and subsequently the big-screen version of Thunderbirds (2004). Following the flop of the latter, Frakes subsequently returned to directing television with the adventure films The Librarian: Return to King Solomon's Mines (2004) and The Librarian: The Curse of the Judas Chalice (2008), along with a great many episodes of various series. .
The strange and peculiar credits even extend to screenwriter Rob Hedden, whose first big-screen outing was Friday the 13th Part VIII: Jason Takes Manhattan (1988) and who has been responsible for various tv movie revivals of Ironside, Simon and Simon and ahem Knight Rider 2000 (1991). The film even gives us French Stewart, the whacked-out son from tv's 3rd Rock from the Sun (1996-2001), in a straight performance (something that is not a pretty sight) as the scientist who creates the device.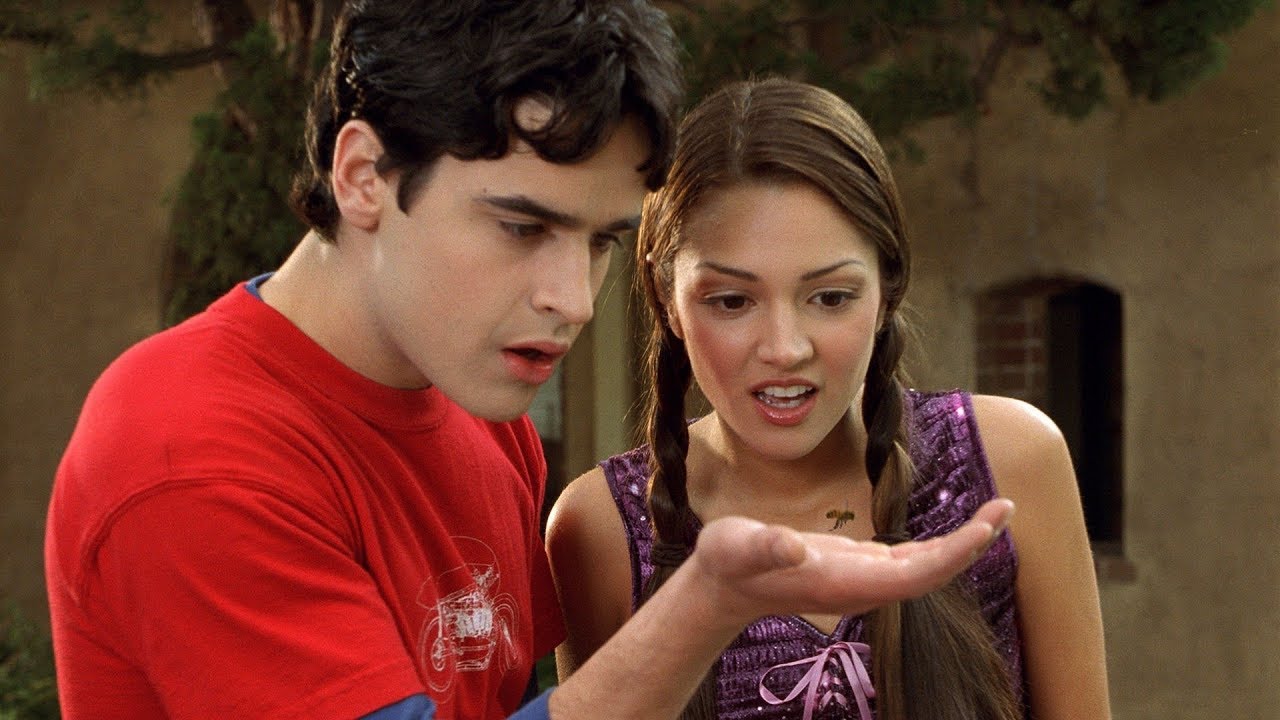 For all the talent arrayed to make it, Clockstoppers is a one-gimmick film. There is nothing particularly wrong with that – such is the basis of all good science-fiction stories according to some, of being able to imagine one change to the laws of physics, science etc and logically extrapolate from that what might then happen. Clockstoppers does an okay job of this – although one big scientific quibble one had was being able to have car chases while in Hypertime – would the car itself still not be in normal time? More importantly, would not such things at the rate at which an engine burns fuel or the laws of inertia during turns still be in operation, preventing the vehicle being able to conduct a chase at near-FTL speeds?
In some ways, you can see that Clockstoppers has been designed as a special effects vehicle – of exploring the Bullet Time effects novelty created by The Matrix (1999) where hundreds of cameras were placed in an array to take high-speed shots of a kinetic object and give the impression of moving around the object while it is seemingly frozen or slowed in motion. If anything, Clockstoppers is a reworking of the old Rene Clair silent film The Crazy Ray (1925) with modern CGI effects.
As Jonathan Frakes demonstrated on his Star Trek films, his forte was less a good sense of story than it was an eye for mounting impressive special effects scenes. There is some novelty to watching Clockstoppers' scenes of the teens running around stilled objects, of being able to part droplets of water that have been stilled in mid-fall like they were a curtain.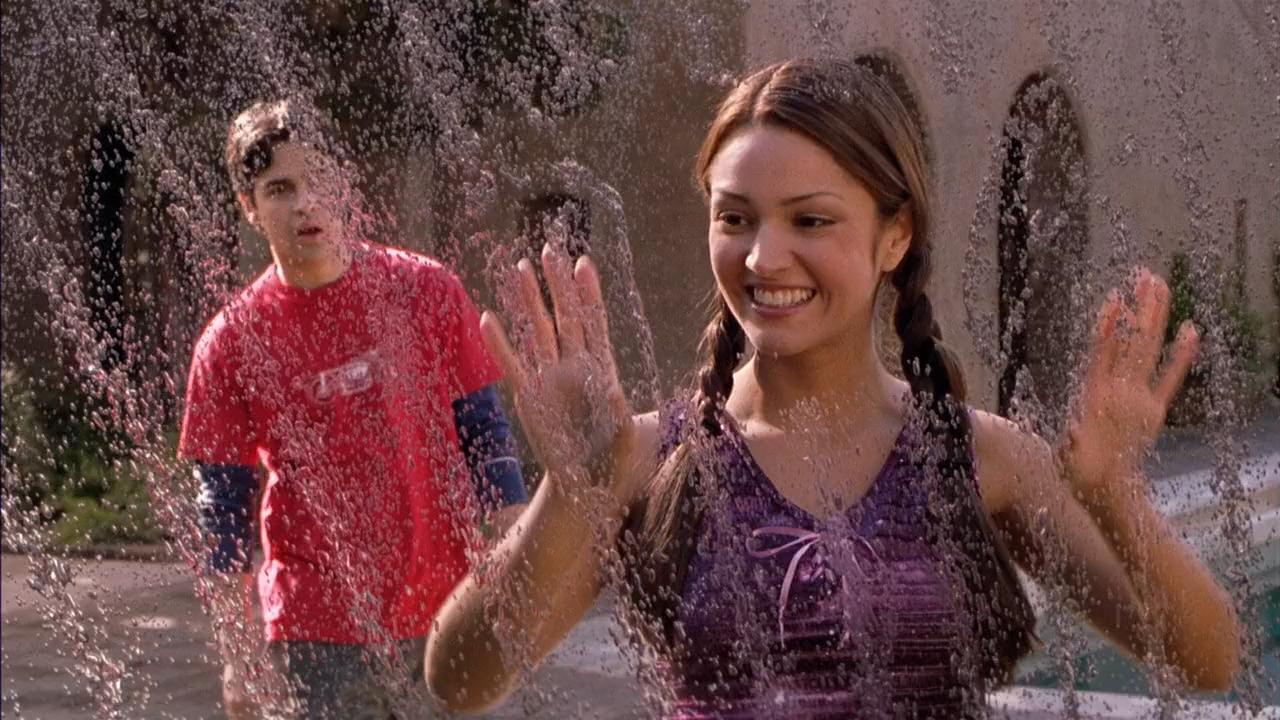 Outside of this rather slight gimmick, there is not much to the film. The time-freezing idea is never put to anything more than a series of juvenile possibilities – stopping time and then restarting it so as to let a dog pee in an officious traffic warden's cart, puncturing a tagger's can of paint so it sprays their face, putting a teen's nose ring through the spokes of a bicycle tire, embarrassing a dishonest used car salesman. There is a very silly sequence where the invisibly time-frozen teens help their geeky friend upstage a rival in a rapping competition.
There is much focus on teen activities – skateboarding sequences, bike stunts, rapping – as though the filmmakers had consulted a marketing study focus group to be sure they appealed across the board to all children's niche interests. This could have been quite good had it been made as an adult film – one can imagine a good deal of possibility inherent in the idea if it had been conducted say as a thriller – but the film is unfortunately trapped in its juvenile focus.
---
---