---
UK. 2013.
Crew
Director – Damon Thomas, Teleplay – Simon Tyrell, Based on the TV Series The Oaks Created by David Schulner, Producer – Cherry Gould, Photography – Tim Fleming, Music – Michael Price, Visual Effects – Rushes, Special Effects Supervisor – Mark Holt, Production Design – Luana Hanson. Production Company – ITV
Cast
1944:- Dakota Blue Richards (Eve Traverse), Sam Hazeldine (Albert Felwood), Jill Halfpenny (Martha Felwood), Larry Mills (Pip Felwood), Antonia Clarke (Lucy Felwood), Neil Jackson (Dwight Lawson), Luke Newberry (Harry Dunn), Leilah De Meza (Vivien Traverse), Danny Miller (Tom). 1975:- Lucy Cohu (Vivien Mullen), Karla Crome (Clare Mullen), Chris Mason (Nick), Wayne Foskett (Tom), Peter De Jersey (John Mullen), Alice Sanders (Cindy), Andrew Havill (Doctor). 2012:- Michael Byrne (Pip Felwood), Danny Webb (Barry Felwood), Sophie Thompson (Lorna Felwood), Alexander Aze (Luke Willard), Kris Marshall (Paul Willard)
---
Plot
In 1944, eighteen year-old Eve Traverse comes to stay with the Felwood family at Lightfields farm. Eve is attracted to the handsome American airman Dwight Larson but becomes jealous at finding that the Felwoods' teenage daughter Lucy has also fallen for his charms. After Lucy sneaks away for an afternoon sexual rendezvous with Dwight, people find the barn they were in in flames and Lucy is burned alive. In the aftermath, Eve tries to find who set the fire. In 1975, Eve's now middle-aged younger sister Vivien comes to stay at Lightfields with her teenage daughter Clare, ostensibly to write a novel. Vivien has a history of mental instability and Clare is not sure whether her mother is losing her grip when she starts believing there is a ghost in the house. In 2012, Lucy's younger brother Pip is an old man. His son Barry and Barry's wife Lorna have taken over Lightfields as a bed and breakfast. They also raise their late daughter's young son Luke. However, Luke's father, the drunken and irresponsible Paul, determines to regain custody. At the same time, Pip becomes concerned as the ghost of Lucy starts appearing to Luke.
---
Lightfields is a British tv mini-series that aired in five one-hour parts. It is a follow-up of sorts to the similarly themed Marchlands (2011), which was also came from the ITV channel in six one-hour episodes and was a mystery concerning a drowned girl and her ghost that played itself out in three different eras. In this case, Lightfields is a reworking of The Oaks (2008), a US pilot that was only made as a single episode that failed to go to series. None of the personnel from the US version are involved in this version.
The story takes places across three eras – the original incident and its aftermath in 1944; in 1975 featuring the now middle-aged younger sister of Eve revisiting the house with her teenage daughter; and in contemporary 2012 featuring Pip who was a boy in 1944 and is now an old man living in the house with his adult children and young grandson. The 1944 sections are a mystery centred around Lucy's death and the circumstances whereby she came to be in the barn and over who lit the fire. The 1975 and 2012 scenes feature the survivors from the era and their descendants dealing with Lucy's ghost and trying to piece together the puzzle of her death.
The mini-series casually flips back and forth between eras without warning and has a wide canvas of characters. We are constantly trying to work out and remember the characters' relationship to one another and/or which of them we are seeing as an older person. It takes some getting used to to familiarise yourself with the complexity of the narrative.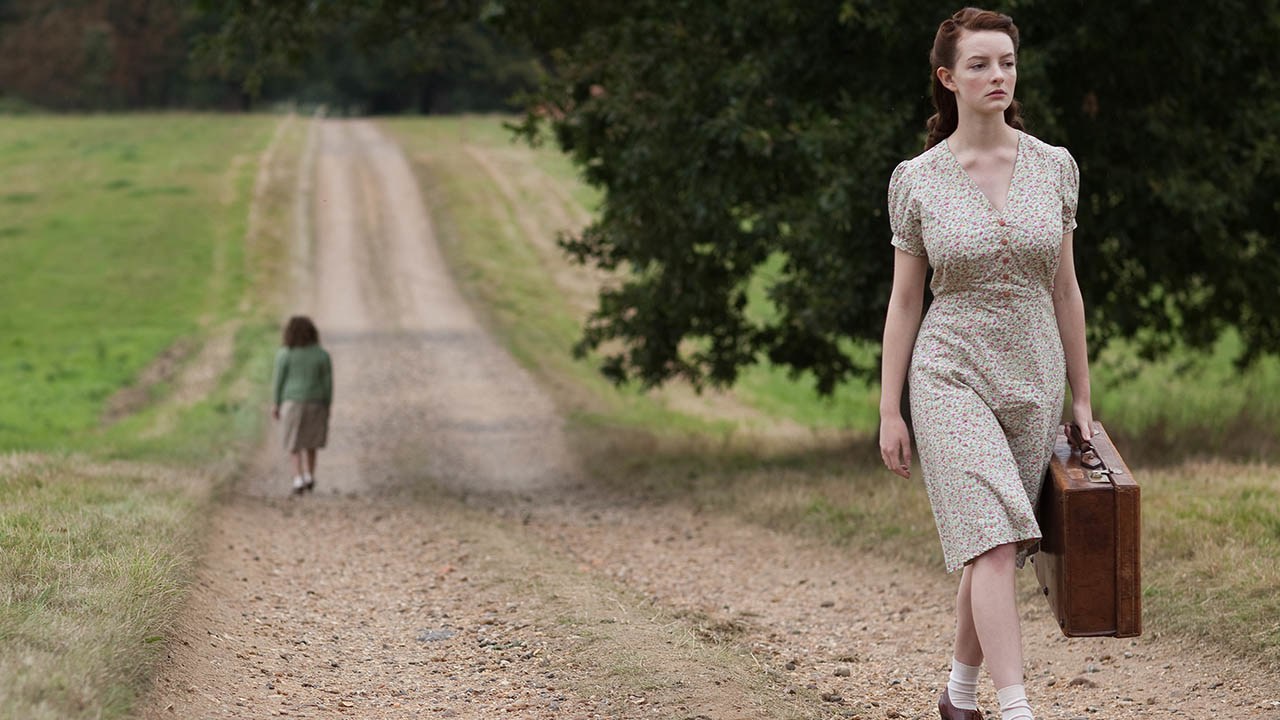 British film and in particular television seems to hold an almost sentimental view of Wartime England. In exactly the same way that Americans regard the 1950s up until around the assassination of John F. Kennedy, this is seen as a place and time where everything was so much more idyllic and simpler. You can see this play out in much of British television – in shows such as Diana (1983), Seaforth (1994) and Land Girls (2009), while other contemporary-set shows seem to have an aching for a return to the cosy village/rural life.
The countryside here is filmed with such a hyper-real pictorial beauty, the provincial characterisations given such an inflated life that the 1940s world we are in seems almost a lost paradise. The actors chosen – none with particularly widely known names – all seem perfectly suited in their roles. Among these, the smart find is Dakota Blue Richards, a more grown-up version of the child lead in The Golden Compass (2007), who radiates a beautiful innocence that is the essence of peaches and cream.
The story holds you too it with a number of twists and revelations throughout, even if you feel that at five one-hour episodes it has been padded beyond its natural length. The complaint might be that it is more a mystery than it is ever a ghost story. It is, for instance, only around the end of Episode 5 that the mini-series produces something remotely scary. An American version of the mini-series would almost certainly strip the story down to half its length and boost it with a series of cliched scare scenes. Certainly, for the brief times that the mini-series does endeavour to scare, it does so with modest effect, before reaching an ending that resolves the ghost's actions as being far more benevolent.
---
Trailer here
---