---
Germany/UK/France/Japan. 2005.
Crew
Directors/Animation/Design – Quay Brothers, Screenplay – Alan Passes & Quay Brothers, Producers – Keith Griffiths, Hengameh Panahi & Alexander Ris, Photography – Nic Knowland, Music – Trevor Duncan & Christopher Slaski, Visual Effects Supervisor – Thomas Mulack. Production Company – Mitteldeutsche Medienforderung GmbH/UK Film Council/Medienboard Berlin Brandenburg GmbH/Arte France Cinema/ZDF-Arte/Drefa Media Holding GmbH/Filmforderung Hamburg GmbH/Ingenious Films Ltd./Media f2i/Tohokushinsha Film Corporation/VCC Perfect Pictures/Koninck Studios FTE/Mediopolis Film – und Fernbach Produktion/Lumen Films.
Cast
Cesar Sarachu (Felisberto Fernandez/Adolfo Blin), Gottfried John (Dr Emmanuel Droz), Assumpta Serna (Assumpta), Amira Casar (Malvina van Stalle)
---
Plot
The opera singer Malvina van Stalle is about to marry Adolfo Blin but collapses in the midst of a performance. Dr Emmanuel Droz whisks her away to his island. Sometime later, the piano tuner Felisberto Fernandez is summoned to Dr Droz's island. However, once there, Felisberto learns that there are no pianos but that he is to tune the seven automata located around the island. Dr Droz also introduces Malvina as his patient. Felisberto is attracted to the mysterious Malvina but Droz keeps her under tight control. As Droz prepares to recreate Malvina's last performance, Felisberto sees that there is more to the nature of the automata than is immediately apparent.
---
The PianoTuner of EarthQuakes was the second feature-film from the Quay Brothers. The Quay Brothers, twins Stephen and Timothy, hail from Pennsylvania but make their home in England. They gained attention with a number of surreal short films that include The Cabinet of Jan Svankmajer (1984), Street of Crocodiles (1986), Rehearsals for Extinct Anatomies (1988), The Comb (1990), Anamorphosis (1991), Tales from the Vienna Woods (1992), In Absentia (2000) and The Phantom Museum: Random Forays Into the Vaults of Sir Henry Wellcome's Medical Collection (2003), among others.
Much of the Quay Brothers' work features stop-motion animation, usually of inanimate objects coming to life. Their films are set in worlds that exist as surrealistic labyrinths of gloomily decayed and rundown textures, creepy mechanical devices and dolls, and much in the way of disturbing and grotesque effect. Terry Gilliam, who executive produces The PianoTuner of EarthQuakes, selected The Street of Crocodiles, as one of the 10 Best Animated Films of All Time. The Quay Brothers' first feature film was Institute Benjamenta; or The Dream People Call Human Life (1995), a work of exquisite textures and bafflingly incomprehensible happenings in search of a plot. The observation could be made that the Quay Brothers tend to work better at short film than feature-film length – their work is all mood and surrealistic affect rather than plot and drama.
The PianoTuner of EarthQuakes is at least more of a nod towards traditional narrative than Institute Benjamenta. That said, the exercise soon fractures off into incomprehensibles. The film takes place in a typical Quay Brothers world of artifice – a set-bound island (largely represented by blue screen), strange characters and sporadic cutaways to bizarre animated vignettes. We are introduced to the automata, which are arranged in strange little tableaux like Buddha heads sitting atop the pipework of organs. There is all manner of bafflingly impenetrable pieces of plotting. Piano tuner Cesar Sarachu arrives on the island at request, only to be informed that the island has no pianos. He has dreams of eating his own handkerchief and a group of men who emerge out of the sea walking backwards.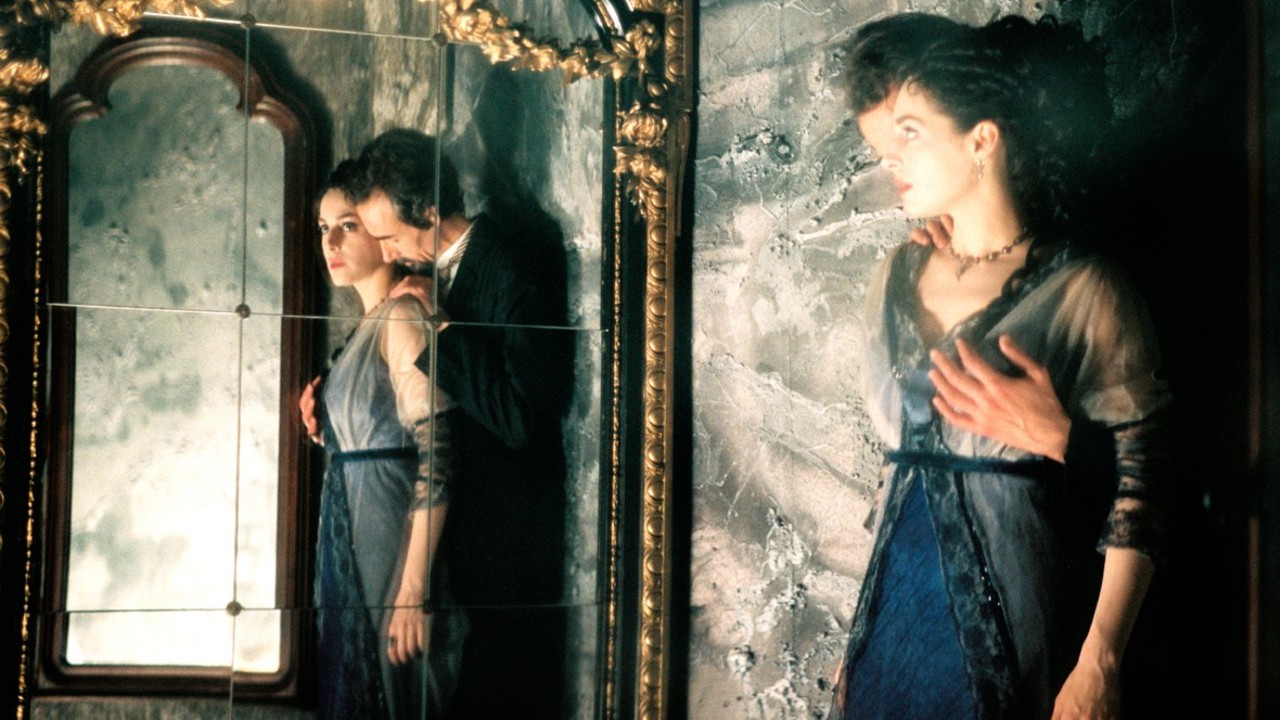 There is entirely cryptic dialogue – sample piece being Assumpta Serna's reflection: "Often when I look at my shoes I notice only afterwards my tongue, which I had assumed was inside, is hanging outside." Later Assumpta shows Cesar Sarachu her armpits: "Which is the true forest, Mr Fernandez, this one or that one? … The forest inside the forest." There are brief cuts away to claymation sequences with a pair of hands rowing a boat and a tiny creature chopping down a tree.
It is like a Guy Maddin film where people engage in bizarrely melodramatic behaviour – but without Maddin's tongue-in-cheek deadpan sense of humour. The film reaches an end where the hero gets the girl but the two are left imprisoned inside one of the automata, endlessly repeating the same limited moves.
Both The PianoTuner of EarthQuakes and Institute Benjamenta are films about heroes on a quest for meaning in a strange landscape. In both cases, the answers the Quay Brothers hold up for us are surrealist answers that reach a bafflingly non-sequitir lack of real sense. The PianoTuner of EarthQuakes was supposedly the Quay Brothers attempt to make a more accessible film. Ultimately though, it is a film of unfathomable symbols and baffling allusions. It may well serve as an epitaph for the film that when it comes to the interview with the Quay Brothers and co-writer Alan Passes on the dvd extras menu they spend most of the nearly one hour interview having to explain the allusions they make throughout and expressing disappointment that the majority of audiences did not understand the film.
---
---