---
Crew
Director/Screenplay – Ken Annakin, Based on Characters Created by Astrid Lindgren, Producers – Gary Mehlman & Walter Moshay, Photography – Roland 'Ozzie' Smith, Music – Mischa Segal, Songs – Segal & Harriet Schock, Production Design – Jack Sefren. Production Company – Adham-Moshay-Melham Production/Svensk Filmindistri.
Cast
Tami Erin (Pippi Longstocking), David Seaman Jr (Tommy Settigren), Cory Crow (Anneka Settigren), Dennis Dugan (Mr Settigren), Dianne Hull (Mrs Settigren), George Dicenzo (Dan Blackheart), Eileen Brennan (Miss Bannister), John Schuck (Captain Ephriam Longstocking), Dick Van Patten (Gregory Strepping Glue)
---
Plot
Young Tommy and Anneka Settigren find that a strange girl Pippi Longstocking has moved in on her own into the Villa Villakula next door to them. They befriend the zany, superstrong Pippi and she takes them on all sorts of madcap adventures and demonstrates her nonsensical take on the world. Pandemonium results when the strict schoolmistress tries to force Pippi to attend school and in the attempts of two crooks to steal Pippi's supply of gold coins.
---
Pippi Longstocking was the creation of Swedish children's writer Astrid Lindgren. Astrid Lindgren published only five Pippi Longstocking books – Pippi Longstocking (1945), Pippi Goes on Board (1946), Pippi in the South Seas (1948), Pippi Goes on Holiday (1974) and Pippi's After Christmas Party (1979) – but among the numerous other children's stories that Lindgren wrote in her lifetime, the zany red-headed character of Pippi Langstrump/Longstocking remained her most well-loved creation.
There have been a number of Pippi Longstocking film adaptations. The most well-known of the adaptations are a dreary quartet of films made in Sweden in the late 1960s/early 1970s – Pippi Longstocking (1969), Pippi Goes on Board (1970), Pippi in the South Seas (1970) and Pippi on the Run (1973). The first American adaptation was a tv movie, Pippi Longstocking (1985), starring Carrie Kai Heim. This was the first and only American theatrical adaptation, which is a virtual remake of the first of the Swedish films. The best version so far has been the Canadian company Nelvana's animated adaptation, Pippi Longstocking (1997).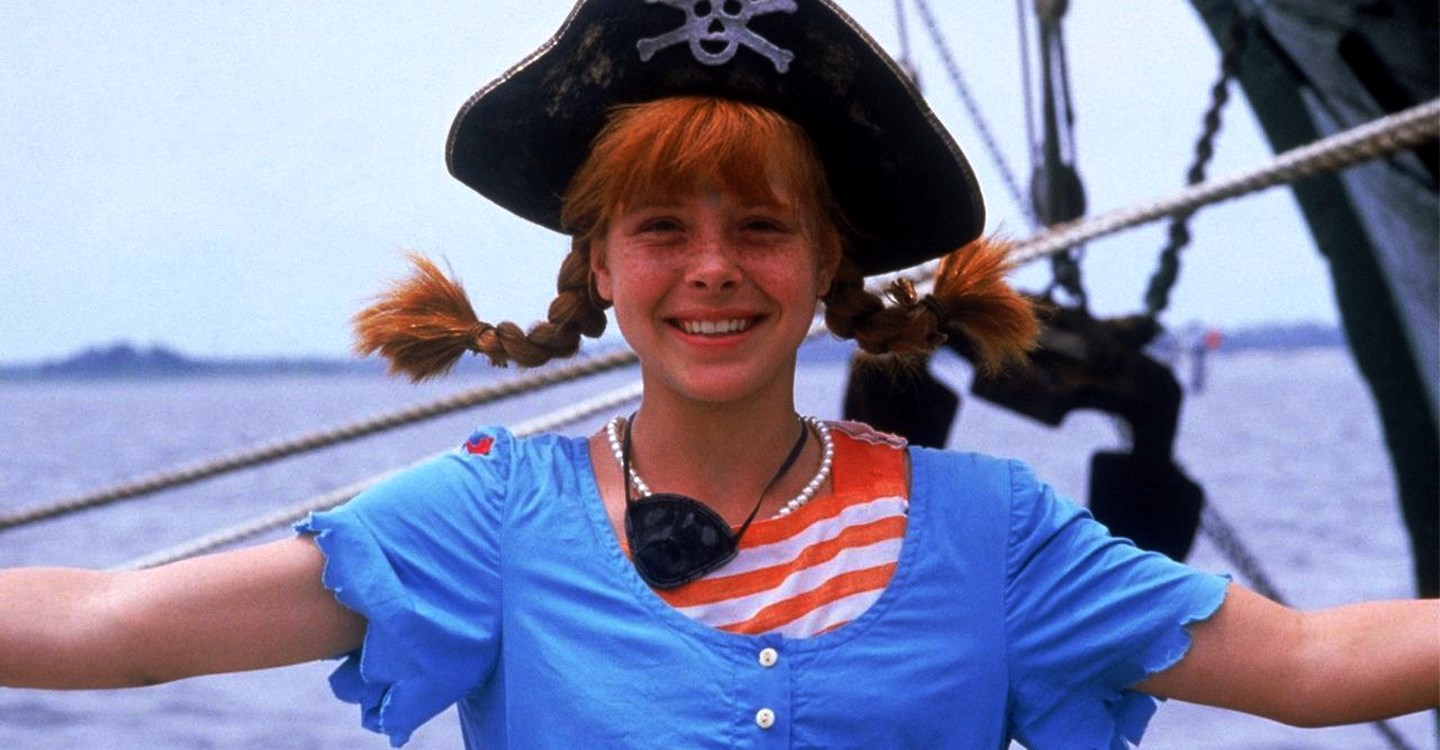 This version is written-directed by Ken Annakin, a British director who has a career that stretches all the way back to the 1940s and includes films such as The Swiss Family Robinson (1960), Those Magnificent Men in Their Flying Machines (1965) and Those Daring Young Men in Their Jaunty Jalopies (1969). Annakin had previously ventured into the fantasy genre with mermaid film Miranda (1948) and the madcap disaster that was The Pirate Movie (1982).
Despite his seasoned curriculum vitae, Annakin goes rather wrong here. What ends up on screen emerges not so much a film as it does a kindergarten playground gone entirely out of control – with extended sequences involving food fights, nonsense aboard a motorcycle and an autogyro and much authority figures buffoonery. Annakin also adds a degree of quite mawkish sentimentality that is not present in the other versions.
The plot is a distillation of elements from all the Swedish films more than it ever really returns to the original Astrid Lindgren books. Like the Swedish films, there is nothing of Lindgren's light, enjoyable absurdist fantasies – this film at one point even cynically suggests the wild stories are a fabrication on Pippi's part, whereas it was the whole point of the Lindgren books that the stories weren't made up. As Pippi, Tami Erin has an annoyingly uppity precociousness. There is an unremittingly bland pop song repeated at every opportunity, which wearies on one's nerves.
---
---