---
Crew
Directors/Screenplay – Phil Lord & Christopher Miller, Story – Dan Hagerman, Kevin Hagerman, Phil Lord & Christopher Miller, Producers – Roy Lee & Dan Lin, Photography – Barry Peterson & Pablo Plasteid, Music – Mark Mothersbaugh, Animation – Animal Logic, Animation Director – Chris McKay, Production Design – Grant Freckleton. Production Company – Warner Brothers/Village Roadshow/Vertigo Entertainment/Lin Pictures.
Voices
Chris Pratt (Emmett), Elizabeth Banks (Wildstyle), Will Arnett (Batman), Will Ferrell (President Business/Lord Business/The Man Upstairs), Morgan Freeman (Vitruvius), Liam Neeson (Bad Cop/Good Cop), Alison Brie (Unikitty), Nick Offerman (Metal Beard), Channing Tatum (Superman), Jonah Hill (Green Lantern), Charlie Day (Benny), Cobie Smulders (Wonder Woman), Orville Forte (Abraham Lincoln), Todd Hansen (Gandalf)
---
Plot
In the Lego universe, the villainous Lord Business seeks to obtain the all-important Piece of Resistance from the wizard Vitruvius. Emmet is an ordinary construction worker who is happy fitting in and following plans. One evening, he follows a woman he sees on the construction site, only to fall through the area where she is searching and emerge with a Lego piece stuck to his back. The girl, Wildstyle, realises that this is the Piece of Resistance and that Emmet is the preordained Special who will come to save them by uniting the Master Builders who have been banished by Lord Business. As they set out, she is disappointed to find that Emmet is lacking in imagination, the one element required to be a Master Builder. Joined by Wildstyle's boyfriend Batman, Vitruvius and others they meet through their adventures in the different Lego worlds, Emmet tries to discover his imagination before Lord Business unleashes the deadly Kragle weapon that will freeze every inhabitant of the Lego universe into place.
---
Lego is world famous as a children's toy, designed as a series of interlocking plastic bricks of various size, colour and shape, which can be infinitely rearranged to build structures and vehicles. Lego was created by Danish carpenter Ole Kirk Christiansen who first commercially released the bricks in 1949. Since then, Lego has become a multi-billion dollar industry. The company later introduced their own version of human figures and started to create different Lego sets based on particular famous structures or themes like wild west, pirates, space, fantasy and so on. Later developments include the licensing of well-known brands including DC Comics, Star Wars, Indiana Jones, The Simpsons, Harry Potter, Lord of the Rings, Pirates of the Caribbean and Spider-Man.
Lego has had long associations with film. There had been a previous Lego-animated film with Lego: The Adventures of Clutch Powers (2010), although this was only released to dvd. There were a further series of four traditionally animated films based on Lego's now discontinued Bionicle line beginning with Bionicle: Mask of Light (2003). The idea that The Lego Movie draws itself from however is the popular fan film notion of using Lego pieces to create stop-motion animated films. These, nicknamed 'brickfilms', have become so popular there are sites dedicated to hosting them and film festivals – Michel Gondry even directed a Lego brickfilm music video for The White Stripes at one point. Although, what need be said is that The Lego Movie is not a brickfilm per se – although there are some scenes of stop-motion animation, most notably the end credits, most of it is regular CGI animation that has been touched up to look like stop-motion.
The Lego Movie comes from Phil Lord and Christopher Miller, the duo that had a huge success with the animated Cloudy with a Chance of Meatballs (2009) and then the live-action 21 Jump Street (2012) and its sequel 22 Jump Street (2014), as well as producing the tv series The Last Man on Earth (2015-8) and the animated Storks (2016), Spider-Man: Into the Spider-Verse (2018), The Mitchells vs the Machines (2021), Spider-Man: Across the Spider-Verse (2023) and the live-action Cocaine Bear (2023). They subsequently started out directing Solo: A Star Wars Story (2018) but were fired and replaced by Ron Howard for taking too much of an improvisational approach.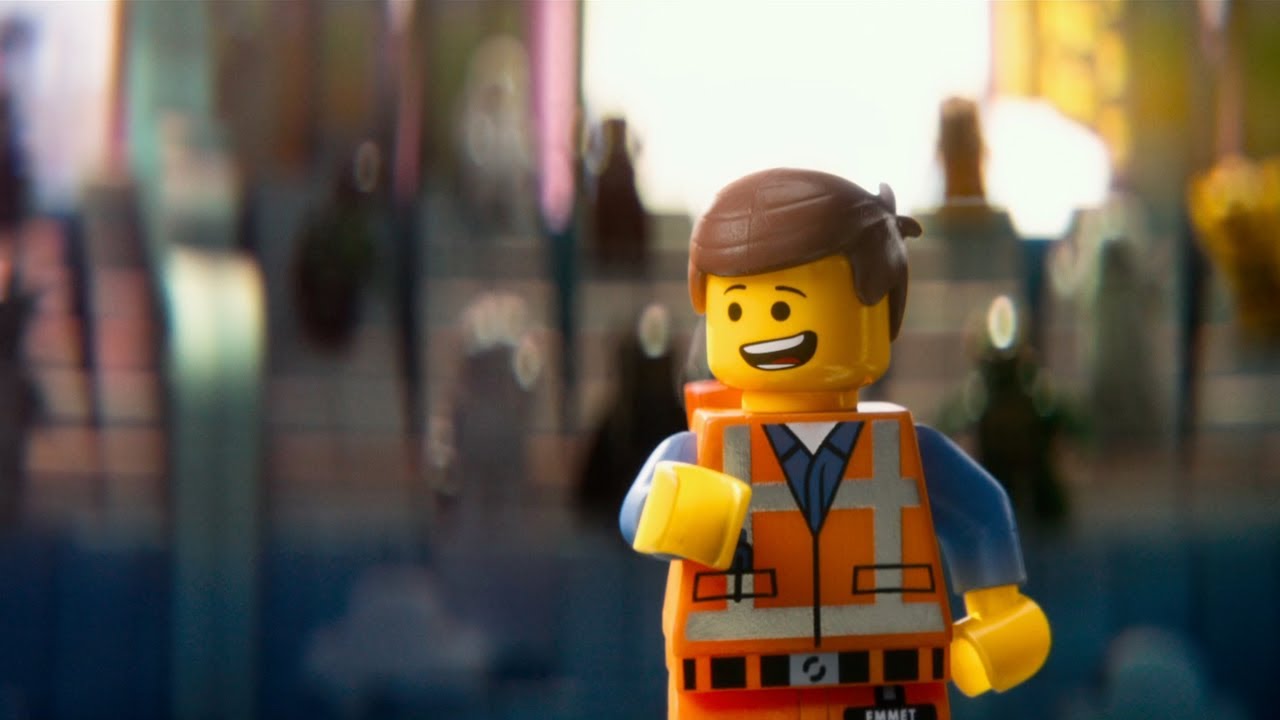 I have to admit to enjoying The Lego Movie far more than I was anticipating doing so. I wondered at the outset just what the film was going to do with the concept – the idea of jerky stop-motion animated Lego figures being used to tell a story seemed limited in concept. The cleverness of the film proves to be its meta-fictional playfulness. It is a film that takes the format, design and quirky limitations of its characters and conceives an entire universe around them – not dissimilar to the way Who Framed Roger Rabbit? (1988) created a world that operated according to cartoon physics, or Strings (2004) conceived a world inhabited by puppets and, most recently, the film that The Lego Movie bears a good number of resemblance to, the Disney animated Wreck-It Ralph (2012) about the lives of characters inside videogames.
Here we get characters who seem to lead modular lives and sing songs about being able to build things and then break them all down again. Characters reach out to hold things with clawed hands and live in terror of the threat of being melted down. Like V'Ger in Star Trek – The Motion Picture (1979), the deadly Kragle that the villain is seeking to unleash turns out to be Krazy Glue with some of the letters obscured, while he also employs (to sinister purpose) a number of other giant-sized everyday implements familiar to us that have somehow found their way into the universe.
There is a surprisingly affecting scene towards the end where the film breaks the figurative fourth wall and has the hero ventures out into the real (live-action) world where we see much of what goes on is an analog of the relationship between a father and son. Like the essential dialectic that ran through Toy Story 2 (1999) – whether toys should be collected or played with – the debate that informs much of the film (and apparently in real life too) is between whether Lego pieces should be endlessly broken apart and reassembled (child's play, which the film wholeheartedly champions) or whether they should be made into static models.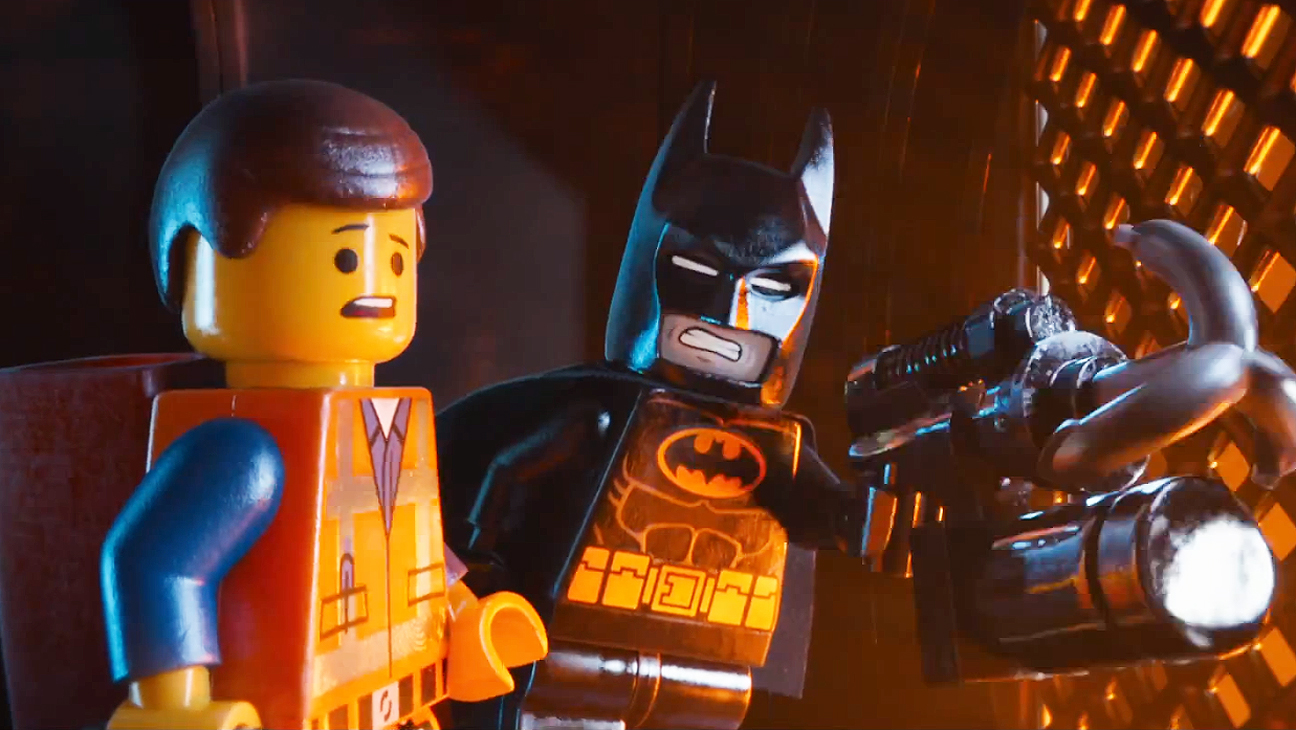 By far and away, the greatest fun the film has is when it comes to mixing up familiar characters – in particular, a number of familiar franchises that Lego has managed to license. In a copyright licensing coup, the film has managed to obtain use of characters from both Warner Brothers – Batman is a central character in the story and we get supporting appearances from DC's Superman, Green Lantern and Wonder Woman, as well as from the Warners' owned Lord of the Rings and the Harry Potter series – and 20th Century Fox, including characters from Star Wars (1977) and The Simpsons (1989– ), as well as the Teenage Mutant Ninja Turtles. These are also mixed up with numerous real-world characters such as Cleopatra, William Shakespeare and Abraham Lincoln (who rides a rocket chair). The Star Wars parody and encounter between Batman and the Millennium Falcon in particular is extremely funny and leads to a side-splitting coda where the Millennium Falcon encounters the space slug from The Empire Strikes Back (1980).
Phil Lord and Christopher Miller give the film an enormous degree of energy. The various vehicle chases are fast and energetic. The script is peppered with some very wry and funny one-liners. There are some enormously likeable and amusing characters – in particular, the Alison Brie-voiced Uni-Kitty, which looks like a Lego creation from the My Little Pony universe who is constantly trying to bottle up bad feelings and stay happy, and the Liam Neeson-voiced Bad Cop/Good Cop, which is constantly switching faces and personalities between either. The result ends up being an enormously fun movie that entertains with its sheer energy and humour, while never pandering any of it down to younger audiences.
The Lego Movie 2 (2019) is a sequel, featuring a return of most of the voice actors here, while Lord and Miller step back to write the script and produce. The success of the film sparked a series of Lego movie spinoffs with The Lego Batman Movie (2017) and The Lego Ninjago Movie (2017).
---
---