---
Crew
Director – Robin Budd, Co-Director – Donovan Cook, Screenplay – Temple Mathews, Producers – Christopher Chase, Michelle Pappalardo-Robinson & Dan Rounds, Music – Joel McNeely, Art Direction – Wendell Luebe. Production Company – Disney.
Voices
Harriet Owen (Jane/Young Wendy), Blayne Weaver (Peter Pan), Corey Burton (Captain Hook), Kath Soucie (Wendy), Jeff Bennett (Smee/Pirates), Andrew McDonough (Danny)
---
Plot
London in the middle of the Wartime Blitz. Wendy Darling has grown up and now has two children of her own, Jane and Danny. Wendy tells them stories of Peter Pan, Tinkerbell and fairydust, but Jane dismisses these as silly. Captain Hook's ship then appears in the sky outside Jane's window and he abducts her, thinking that she is Wendy. In Never-Never Land, Jane encounters Peter Pan and the Lost Boys, but does not want to join their adventures and only desires to return home. Captain Hook connives a plan to steal Peter's treasure and capture him. Jane then discovers that her steadfast refusal to believe in fairies is causing Tinkerbell to die and that she must do so if she is to save Peter.
---
Peter Pan (1953) is regarded as one of the latter day Disney classics, if one that this author regards as overrated. Return to Never Land came about as part of Disney's increasingly mercenary habit during the 1990s/00s of sequelizing their various animated films. This fad has included the likes of The Return of Jafar (1994), Aladdin and the King of Thieves (1996), Beauty and the Beast: The Enchanted Christmas (1997), The Lion King II: Simba's Pride (1998), Pocahontas II: Journey to a New World (1998), The Little Mermaid II: Return to the Sea (2000), Lady and the Tramp II: Scamp's Adventure (2001), Cinderella II: Dreams Come True (2002), The Hunchback of Notre Dame II (2002), Atlantis: Milo's Return (2003), 101 Dalmatians II: Patch's London Adventure (2003), Stitch! The Movie (2003), Mulan II (2004), The Emperor's New Groove 2: Kronk's New Groove (2005), Lilo & Stitch II: Stitch Has a Glitch (2005), Tarzan 2 (2005), Brother Bear II (2006), The Fox & the Hound 2 (2006), Leroy & Stitch (2006), Cinderella III: A Twist in Time (2007) and The Little Mermaid: Ariel's Beginning (2008), all of which were released to video.
While some of these are passable efforts, most of these are cheaply made. They come with a creative impoverishment where they only exist in terms of exploiting the love that young audiences had for the original characters. Even worse, this trend has started expanding out onto cinema screens. First up was the disappointing Fantasia 2000 (1999), which was followed by this, The Jungle Book 2 (2003) and Bambi II (2006).
Return to Never Land sequelizes Peter Pan. It has a slightly more legitimate raison d'etre than some of these other films in that it is loosely (albeit uncreditedly) based on the sequel that J.M. Barrie himself wrote to his original Peter Pan play/novel entitled When Wendy Grew Up (1908).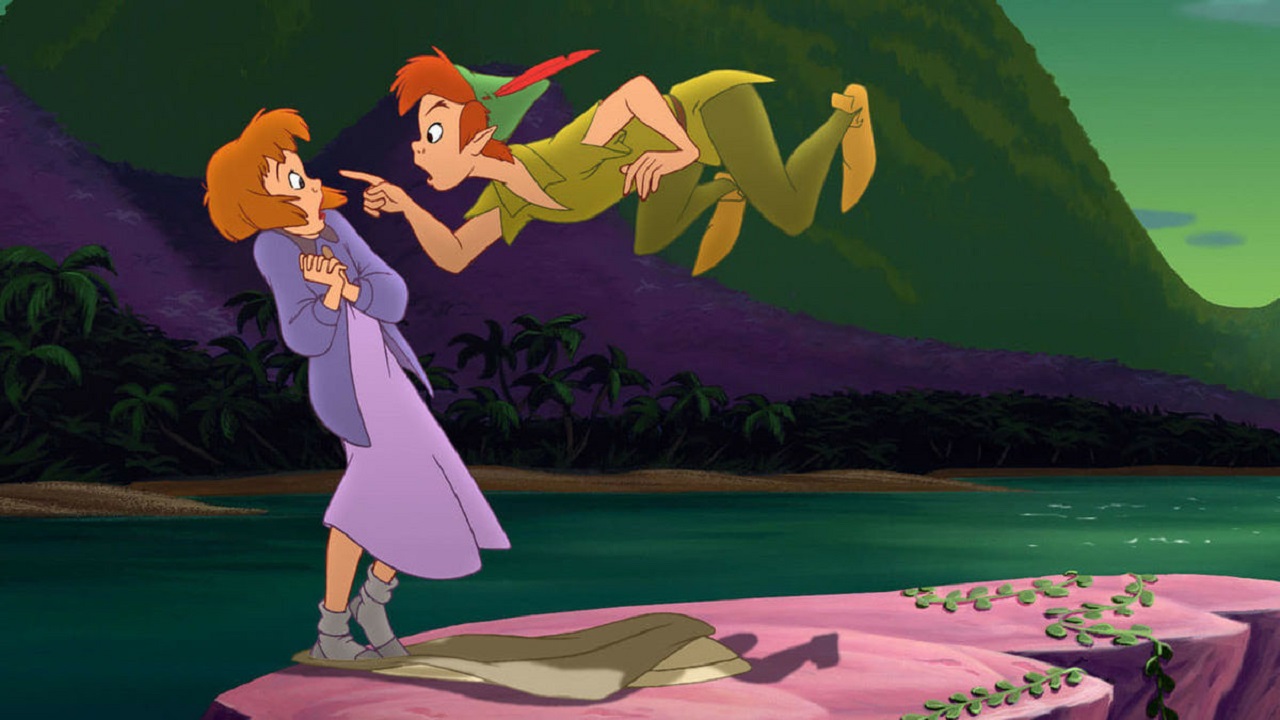 Surprisingly, Return to Never Land emerges as a better film than any expectation one had of it. Especially good are the opening scenes where the filmmakers cast the story against the realistically drawn milieu of the Wartime Blitz in London. There is the appealingly sad character of Wendy's daughter Jane who has grown up and is starting to dismiss belief in Never-Never Land and Peter Pan. This is very nicely depicted – there is a lovely moment where Jane turns from steadfastly denying that fairies are real to her brother who says in a plaintive child's voice, "Yes, they are."
There is some excellent animation during the London sequences – like the opening shot that moves past the standard Disney castle logo and through the clouds, which are filled with the shapes of the characters, down to London below, gorgeously rendered in 3D animation; and the magnificently surreal image of Hook's sailing ship taking to the air over London and in one wonderfully showoffy shot passing Big Ben then heading through a squadron of Spitfires.
Unfortunately, the Never-Never Land scenes pass into standard formula. There is a good deal of slapstick with the Lost Boys and the pirates, who seem an incredibly stupid lot. And someone has written a series of insipid songs over it all. On the minus side, Return to Never Land is slight in terms of story, while the big face-off with Hook that the film seems to build up to pans out in routine ways. There is a lovely final shot where the eternally youthful Peter comes back to visit the now-adult Wendy.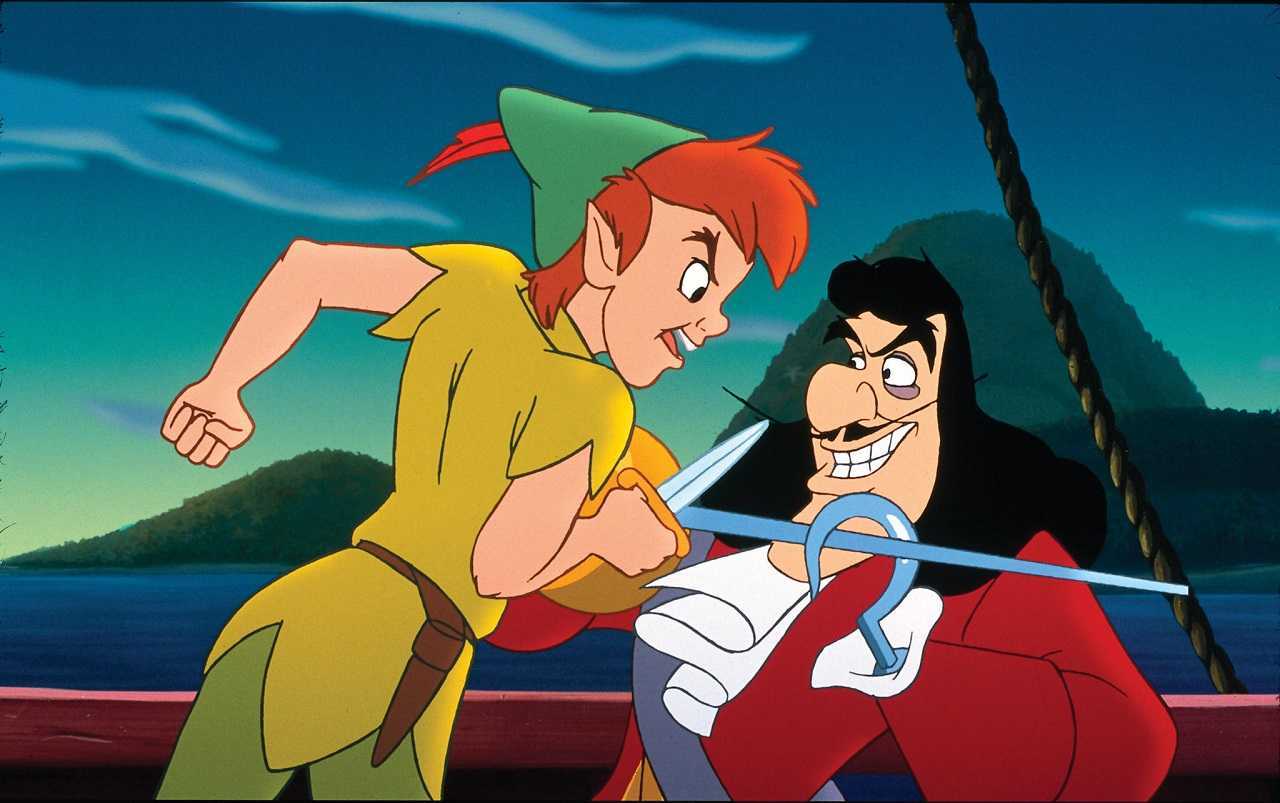 On the plus side, Jane is a much stronger character than Wendy was in Peter Pan. Wendy's original role was only one of reacting to Peter and Hook in wonderment. Jane instead has a strongly written arc – she must go from giving up premature adulthood and having dismissed belief in fairies and the like to regaining her childhood imagination once again. As a character, she is much better written than Robin Williams's grown-up Peter Pan was in Steven Spielberg's live-action Peter Pan sequel Hook (1991). There is the lovely, magical moment where her she falls from the mast and then flies around the ship for the first time.
Subsequently, Disney went onto make TinkerBell (2008) and a series of Tinker Bell films with Tinker Bell and the Lost Treasure (2009), Tinker Bell and the Great Fairy Rescue (2010), Secret of the Wings (2012), The Pirate Fairy (2014) and Tinker Bell and the Legend of the Neverbeast (2014). This was followed by a live-action remake of the original with Peter Pan and Wendy (2023).
Other adaptations of Peter Pan include:- the classic Disney animated version Peter Pan (1953); Peter Pan (1955), a live tv play; Peter Pan (1976), a tv movie version with Mia Farrow!!! playing Peter; the animated tv series Peter Pan and the Pirates (1990); Peter Pan (tv movie, 2000); and the big-budget live-action Peter Pan (2003). There was also the fascinating but little-seen Neverland (2003), which gave Peter Pan a modernised interpretation with Peter a kid suffering from bipolar disorder; the tv mini-series Neverland (2011), which offered a science-fictional rationalisation set on an alien planet; and the modernised Wendy (2020), which relocates the story in the Mississippi Delta. Steven Spielberg also made the live-action sequel Hook (1991), which concerns itself with a grownup Peter's return to Never-Never Land, while there is also the live-action prequel Pan (2015). Finding Neverland (2004) was a biopic about J.M. Barrie and offered a heavily fictionalised account of the writing of Peter Pan.
---
---