---
Crew
Director – Matt Reeves, Screenplay – Peter Craig & Matt Reeves, Producers – Dylan Clark & Matt Reeves, Photography – Greig Fraser, Music – Michael Giacchino, Visual Effects Supervisor – Dan Lemmon, Visual Effects – Crafty Apes (Supervisor – John Brubaker), Industrial Light & Magic (Supervisor – Russell Earl), Scanline VFX (Supervisor – Julius Lechner), Territory Studio & Weta Digital Limited (Supervisor – Anders Langlands), Special Effects Supervisor – Dominic Tuohy, Prosthetics Design – Mike Marino, Production Design – James Chinlund. Production Company – 6th & Idaho/Dylan Clark Productions.
Cast
Robert Pattinson (The Batman/Bruce Wayne), Zoe Kravitz (Selina Kyle), Jeffrey Wright (Lieutenant James Gordon), Colin Farrell (Oz/The Penguin), Paul Dano (The Riddler), John Turturro (Carmine Falcone), Andy Serkis (Alfred Pennyworth), Peter Sarsgaard (District Attorney Gil Colson), Barry Keoghan (Unseen Arkham Prisoner), Jayme Lawson (Bella Real)
---
Plot
The mayor of Gotham City is killed by a masked intruder known as The Riddler. Police lieutenant James Gordon brings Batman to the crime scene where The Riddler has left a cryptic puzzle, along with a note addressed to Batman. The Riddler targets other public figures in the city government and leaves taunting videos, notes for Batman and cryptic puzzles about who he will target next. Batman pieces together the clues, which lead to a massive web of corruption within city hall and the judiciary. In search of answers, Batman ventures into the nightclub run by The Penguin and encounters Selina Kyle who is working there where he finds she also doubles as a cat burglar. Batman befriends her and learns how she is searching for her missing friend. The two team up to search for evidence. The Riddler then announces his next target as being Bruce Wayne.
---
Ever since first appearing on the comic-book page in Detective Comics #27 in 1939, created by Bob Kane and a long uncredited Bill Finger, there have been an enormous number of films and tv series made about Batman. (See below for a list of these). Screen depictions of Batman seem to go in cycles on boom and bust. First up were the serials Batman (1943) and Batman and Robin (1949), which look cheaply impoverished today. These led to the giddily silly tv series Batman (1966-8) and film spinoff Batman (1966), which proved a hit that changed the face of the comic-book adaptation for a number of years after.
The film series gained their feet with Tim Burton's duo of magnificently dark films with the Michael Keaton-starring Batman (1989) and Batman Returns (1992), still for my money among the best screen adaptations of Batman, which were enormously successful in their day. However, these toppled over into Joel Schumacher's camp disasters Batman Forever (1995) and the abomination of Batman & Robin (1997), as well as the widely ridiculed spinoff Catwoman (2004), The Burton series did give birth to the fine animated Batman (1992-5) which segued into a generally well worthwhile series of animated films based on Batman and other DC superheroes.
Joel Schumacher killed the live-action film franchise but Christopher Nolan triumphally revived it eight years later with his trilogy Batman Begins (2005), The Dark Knight (2008) and The Dark Knight Rises (2012) with The Dark Knight in particular being regarded by many as the greatest comic-book superhero film of all time. However, the Nolan films gave way to Zack Snyder's disliked Batman V Superman: Dawn of Justice (2016) and Justice League (2017). For a time, Ben Affleck was seen as the inheritor of the cape and cowl but after a cameo appearance in Suicide Squad (2016) and his tentative signing on to both star and direct in The Batman, he decided to bow out. Indeed, during this time the greatest successes were spinoffs from the Batman universe with Harley Quinn gaining a cinematic life of her own following Suicide Squad, as well as the hit of Joker (2019) featuring an award-winning performance from Joaquin Phoenix and the Batman prequel tv series Gotham (2014-9).
This new reboot of Batman has been placed in the hands of Matt Reeves. Reeves is a former J.J. Abrams associate, who co-created the early Abrams tv series Felicity (1998-2002) before directing the Abrams-produced Found Footage monster movie Cloverfield (2008). Reeves had earlier made his directorial debut with one of the segments of the sf anthology Future Shock (1994). He went on to direct Let Me In (2010), before doing sterling work on the Planet of the Apes reboot franchise with Dawn of the Planet of the Apes (2014) and War of the Planet of the Apes (2017). He also wrote the script for Under Siege 2: Dark Territory (1995) and produced 10 Cloverfield Lane (2016), The Cloverfield Paradox (2018), Mother/Android (2021) and the SF tv series' Away (2020) and Tales from the Loop (2020- ). The screenplay comes from Peter Craig who wrote Ben Affleck's directorial debut The Town (2010), as well as The Hunger Games: Mockingjay Part 1 (2014), The Hunger Games: Mockingjay Part 2 (2015) and Top Gun: Maverick (2022).
You could raise one or two issues about The Batman. There are some changes that don't gel with established comic-book continuity – The Batcave now seems to be located in a Wayne Industries factory; for plotting convenience, Selina Kyle turns out to be Carmine Falcone's daughter; there is some messing around with the story of the Waynes where Thomas Wayne now gets the addition of a mayoralty campaign and Martha the suggestion of a psychiatric history, none of which was present in the comic-books.
The Batman would have had no problem slotting into being a fourth Christopher Nolan film. Matt Reeves opts for the same gritty realistic style that Nolan did. It is a very grounded Batman film where the comic-book characters have in essence been stripped of their usual extravagant costumes – Cat Woman wears only a light mask – indeed, she is never even referred to as Cat Woman throughout; The Penguin is minus his trademark top hat, umbrellas and cigars; while The Riddler's emerald green question mark costume and bowler hat is dropped in favour of a hooded suit.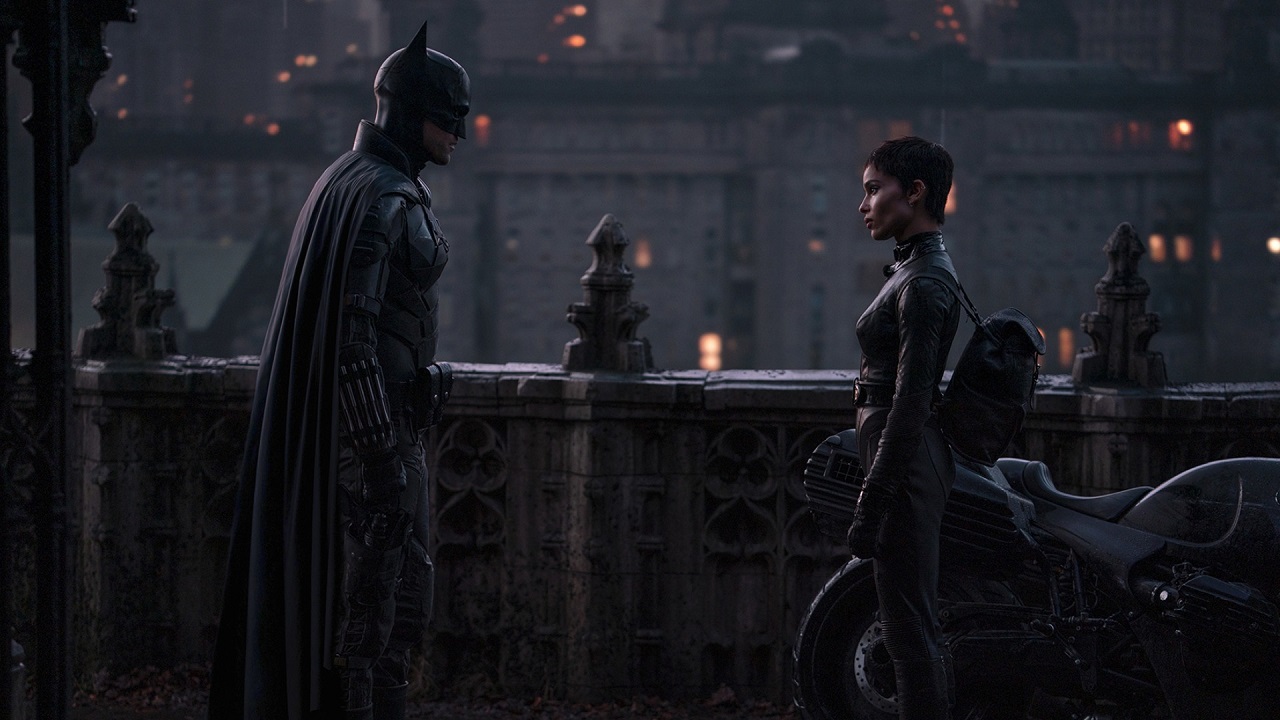 Reeves pushes Nolan's dreary grey urban aesthetic into something much darker and more stylised. The film takes place in dim lighting all around with only the occasional splash of neon. The characters rarely speak above a whisper. It looks very much as though we have ventured into the world of David Fincher's Se7en (1995). The Se7en comparison is not inapt in many ways – both films feature a genius killer engaged on a campaign to root out corruption who leaves cryptic taunting clues for the police and even allow themselves to be captured as part of their games.
The film's tone is sombre, much slower than any comparative MCU blockbuster. Reeves gives us various scenes with Batman and occasionally Selina trading blows with various hoods but these are not dynamically charged super-powered battles. The most action intense the film gets is a foot-to-the-pedal road race between Batman and The Penguin, which feels out of place. (The militarised look of the Batmobile and Batbike in the Nolan films has also been stripped down to where the Batmobile is now a 1969 Dodge Charger with its rear rebuilt to house a rocket engine).
This is probably far more of a plot-driven Batman than we have ever encountered before. In fact, what we have resembles something far more like City Hall (1995) than anything akin to a superhero film. The film's one unabashed triumph in this regard is The Riddler. Ever since the character's first appearance on the comic-book page in 1948 and in previous screen incarnations – Frank Gorshin in the 1960s tv series, Jim Carrey in Batman Forever – The Riddler has been nothing more than a prancing over-the-top villain in a bright green costume with question marks on it, while the version played by Cory Michael Smith in Gotham was just a weirdly creepy psycho. On the other hand, the film runs with the character's central motif in ways that are central to the story rather than just a gimmick where The Riddler is now a dangerous maniac genius. The whole film centres around the Se7en-like play between Batman and The Riddler's taunting games.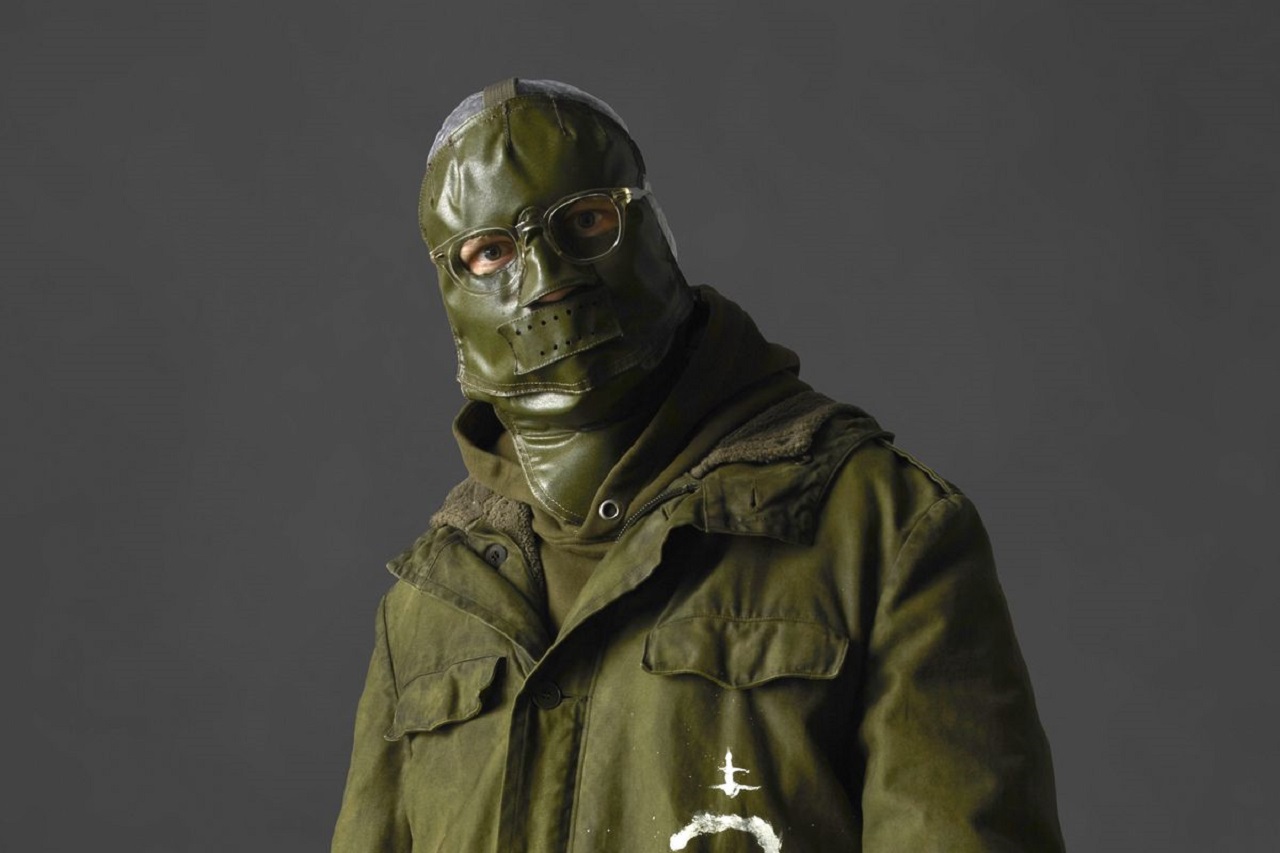 Less effective are the other familiar characters. For me, Batman Returns represents the finest screen depictions so far of both Cat Woman and The Penguin. Danny DeVito's venomous grotesquerie nailed The Penguin with a brilliance. Up against that and cast with an unrecognisable Colin Farrell, The Penguin here seems no different than John Turturro's Falcone – it's The Penguin stripped of everything that makes the character distinctive and reduced to being an ordinary mobster. Certainly, The Batman seems to be set early during the Batman saga and you get the impression we are meeting The Penguin before he becomes what he does.
Cat Woman has always represented a dual attraction and villainy in the Batman universe. Zoe Kravitz's Selina has some allure and great fighting moves; on the other hand, her performance is overshadowed by Michelle Pfeiffer who incarnated the role with fetishistic sizzle. I had great hopes of Anne Hathaway in The Dark Knight Rises but she was a surprisingly subdued presence there. Zoe Kravitz is more central to the story here but it is perhaps a sad indictment of the missed possibilities when it comes to the ending and all we are left with is Robert Pattinson longingly looking into the rear vision mirror of the Batbike as they drive off in different directions without even a hint of attraction having transpired.
All of which brings one to Robert Pattinson. Pattinson came to fame as Edward Cullen in Twilight (2008) and sequels, which made him heartthrob to millions of teenage girls. It was a role that Pattinson hated and he subsequently pivoted 180 degrees away, making some smart choices and placing himself as the behest of a variety of interesting independent directors such as Anton Corbijn, David Cronenberg, Claire Denis, Robert Eggers and Werner Herzog. Indeed, apart from his previous film Christopher Nolan's Tenet (2020), The Batman represents Pattinson's return to mainstream blockbuster material for the first time since 2012.
With Michael Keaton's assumption of the role in 1989, we started to see Batman portrayed as psychologically troubled. Certainly, recent portrayals such as Christian Bale and in particular Ben Affleck have headed back in the direction of giving Batman more heroic stature. Pattinson however makes a return to the psychologically troubled Batman. Indeed, what we get is an emo Batman – the depiction of Pattinson with the area around his eyes seemingly permanently smeared with mascara seems an odd aesthetic choice. Indeed, when I saw the first shots of Pattinson from the film, I thought I was actually looking at pictures of The Cure's Robert Smith. It is one where Pattinson gives the role something that seems emotionally withdrawn to the point that in real life you would wonder whether he is acutely depressed or not.
Other Batman appearances on screen are:-
Batman (1943) and Batman and Robin (1949), two fifteen-chapter serials from Columbia where Batman was played by Lewis Wilson and Robert Lowery and Robin by Douglas Croft and John Duncan
the campy tv series

Batman

(1966-8) starring Adam West and Burt Ward as Batman and Robin, which produced one film spin-off with Batman (1966)
the animated tv series

The New Adventures of Batman

(1977-8)
Tim Burton's superb duo of films Batman (1989) and Batman Returns (1992) starring Michael Keaton, and Joel Schumacher's dismal campy follow-ups Batman Forever (1995) and Batman & Robin (1997), featuring respectively Val Kilmer and George Clooney
the animated series

Batman

(1992-4) inspired by the Tim Burton films and its follow-up

The New Batman Adventures

(1997-9), which spawned several film spin-offs with Batman: Mask of the Phantasm (1993), Batman and Mr Freeze: SubZero (1998), The Batman Superman Movie: World's Finest (1998) and Batman: Mystery of the Batwoman (2003). There was also

Batman Beyond/Batman of the Future

(1999-2001), the futuristic follow-up series from the same creative team featuring an aging Bruce Wayne and his young apprentice, which also spun off one animated film Batman Beyond: Return of the Joker (2000) and another animated tv series

Static Shock

(2000-4), which featured several appearances from Batman. Batman also appears in the same team's

Justice League/Justice League Unlimited

(2001-5)
Christopher Nolan's revival of the franchise with Batman Begins (2005), The Dark Knight (2008) and The Dark Knight Rises (2012) starring Christian Bale
the DC Universe Original Animated Movies Superman/Batman: Public Enemies (2009), Batman: Under the Red Hood (2010), Superman & Batman: Apocalypse (2010), Batman: Year One (2011), Batman: The Dark Knight Returns Part I (2012), Batman: The Dark Knight Returns Part II (2013), Batman: Assault on Arkham (2014), Son of Batman (2014), Batman vs. Robin (2015), Batman: Bad Blood (2016), Batman: The Killing Joke (2016), Batman and Harley Quinn (2017), Batman: Gotham By Gaslight (2018), Batman: Hush (2019), Batman: Soul of the Dragon (2021), Batman: The Long Halloween Part One (2021), Batman: The Long Halloween Part Two (2021), Batman and Superman: Battle of the Super Sons (2022) and Batman: The Doom That Came to Gotham (2023), as well as Batman: Gotham Knight (2008), a compilation of anime Batman shorts. Batman also appears in the DC Original Animated Movies Justice League: The New Frontier (2008), Justice League: Crisis on Two Earths (2010), Justice League: Doom (2012), Justice League: The Flashpoint Paradox (2013), Justice League: War (2014), Justice League: Throne of Atlantis (2015), Justice League: Gods and Monsters (2015), Justice League vs Teen Titans (2016), Justice League Dark (2017), The Death of Superman (2018), Justice League vs The Fatal Five (2019), Justice League Dark: Apokolips War (2020), Superman: Red Son (2020) and Legion of Super-Heroes (2023)
the animated series

The Batman

(2004-8), which badly revised the basics of the series and was also spun off into a film with The Batman vs. Dracula (2005)
two further animated series

Batman: The Brave and the Bold

(2008-11), which placed Batman alongside other DC superheroes and had one crossover film spinoff with

Scooby-Doo! & Batman: The Brave and the Bold

(2018), and

Beware the Batman

(2013-4)
the live-action tv series

Gotham

(2014-9), which tells the origin stories of the familiar characters and villains as Bruce Wayne (David Mazouz) grows up
Batman turns up as an animated character in The Lego Movie (2014) and The Lego Movie 2 (2019) voiced by Will Arnett and gets a whole film to himself in The Lego Batman Movie (2017)
the animated films Batman Unlimited: Animal Instincts (2015),

Batman Unlimited: Monster Mayhem

(2015) and

Batman Unlimited: Mechs vs Mutants

(2016) spun off from a line of action figures
Batman V Superman: Dawn of Justice (2016) with Ben Affleck who went on to appear as Batman in Suicide Squad (2016), featuring a team-up of DC villains including The Joker and Harley Quinn, Justice League (2017) and the extended cut of the latter with Zack Snyder's Justice League (2021), and The Flash (2023)
the animated Batman: Return of the Caped Crusaders (2016) and Batman vs. Two-Face (2017) featuring a return of Adam West and Burt Ward
the anime film Batman Ninja (2018)
the animated crossover Batman vs Teenage Mutant Ninja Turtles (2019)
Batman also makes appearances in the line-up of superheroes in various other DC-related animated series such as

SuperFriends

(1973-7) and

The All New SuperFriends Hour

(1977-9) and the film DC League of Super Pets (2022)
Other spin-offs include:- the short-lived live-action tv series

Birds of Prey

(2002-3), featuring the women of Batman – a paraplegic Batgirl, Cat Woman's daughter and Harley Quinn and the film Birds of Prey and the Fantabulous Emancipation of One Harley Quinn (2020), starring Margot Robbie's Harley Quinn
Catwoman receiving her own films with the Halle Berry starring Catwoman (2004) and the animated Catwoman: Hunted (2022) where she was voiced by Elizabeth Gillies
The Joker origin story with Joker (2019) starring Joaquin Phoenix
Robin appears as a member of

Young Justice

(2010-3), the animated tv series

Teen Titans

(2003-6), which had one film spinoff with Teen Titans: Trouble in Tokyo (2006); the animated tv series

Teen Titans Go!

(2013– ), which had three film spinoffs with Teen Titans Go! To the Movies (2018),

Teen Titans Go! Vs. Teen Titans

(2019),

Teen Titans Go! See Space Jam

(2021) and

Teen Titans Go! & DC Super Hero Girls: Mayhem in the Multiverse

(2022); and as Nightwing (Brenton Thwaites) in the live-action tv series

Titans

(2018-23)

Pennyworth

(2019-23), a tv series concerning Alfred (Jack Bannon)'s early years

Batwoman

(2019-22), a tv series starring Ruby Rose, replaced by Wallis Day in the second season, as Bruce Wayne's cousin Katherine Kane; and from the same production team

Gotham Knights

(2023- ) featuring the children of assorted Batman mythos characters
The Batman-Robin relationship is also excrutiatingly spoofed in the

Superhero Speed Dating

segment of Movie 43 (2013)
Also of interest is Batman & Bill (2017), a documentary about the unacknowledged co-creator of Batman, Bill Finger.
(Nominee for Best Adapted Screenplay at this site's Best of 2022 Awards).
---
Trailer here
---