---
Crew
Director – Barry Sonnenfeld, Screenplay – Paul Rudnick, Producer – Scott Rudin, Photography – Donald Peterman, Music – Marc Shaiman, Visual Effects Supervisor – Alan Munro, Special Effects Supervisor – Kenneth D. Pepiot, Makeup Effects Supervisor – Tony Gardner, Prosthetics – David B. Miller Studios, Production Design – Ken Adam. Production Company – Paramount.
Cast
Raul Julia (Gomez Addams), Anjelica Huston (Morticia Addams), Christopher Lloyd (Uncle Fester), Christina Ricci (Wednesday Addams), Joan Cusack (Debbie Jalinsky), Jimmy Workman (Pugsley Addams), Carol Kane (Granny Addams), Carel Struycken (Lurch), David Krumholtz (Joel Glicker), Peter MacNichol (Terry Granger), Christine Baranski (Becky Martin Granger), Mercedes McNab (Amanda Buckman)
---
Plot
Morticia gives birth to a new baby son Pubert. Wednesday and Pugsley take to heart an old family adage that says that one of them will have to be killed off to make way for the new family member. They decide they must kill Pubert off first and hatch various schemes to do so. Meanwhile, the new nanny Debbie Jalinsky turns out to be a scheming murderess who marries rich bachelors for their money and then kills them. She now sets her sights on Fester. When Wednesday and Pugsley discover her intentions, she schemes to have them sent off to the Chippewa summer camp. There the two of them are in danger of being smothered by feelgood niceness.
---
The big-screen remake of The Addams Family (1991) was highly successful. This follow-up proves to be the all too rare example of the sequel that surpasses its predecessor and manages to rework the original theme with even more satisfying results. Director Barry Sonnenfeld and all the cast members from the first film have been brought back (with the exception of Judith Malina as Granny who is replaced by Carol Kane) and get the chance to fine-tune their roles. Although surprisingly for the top-billing they get, Raul Julia and Anjelica Huston are sidelined somewhat, the show this time around being dominated mainly by Christopher Lloyd and Christina Ricci.
Christopher Lloyd, Christina Ricci and newcomer Joan Cusack have an absolute ball. Lloyd, given about fifty pounds of extra bulk, blacked out eyes and a big dumb grin, stumbles through a romance, making lightbulbs glow in his mouth (a Fester trick that someone remembered from the 1960s tv series). Joan Cusack allows her facial expressions to run a wonderfully expressive gamut between wholesome innocence and vamping calculation.
Although the greatest delight is Christina Ricci – the dazed way that a smile creeps onto her face for the first time after being forced to watch Bambi (1942) and The Sound of Music (1965) is wonderful. She of course gets a romance of her own, which the film takes perverse delight in turning into an anti-romance of sorts, wittily dashing expectations raised at the end.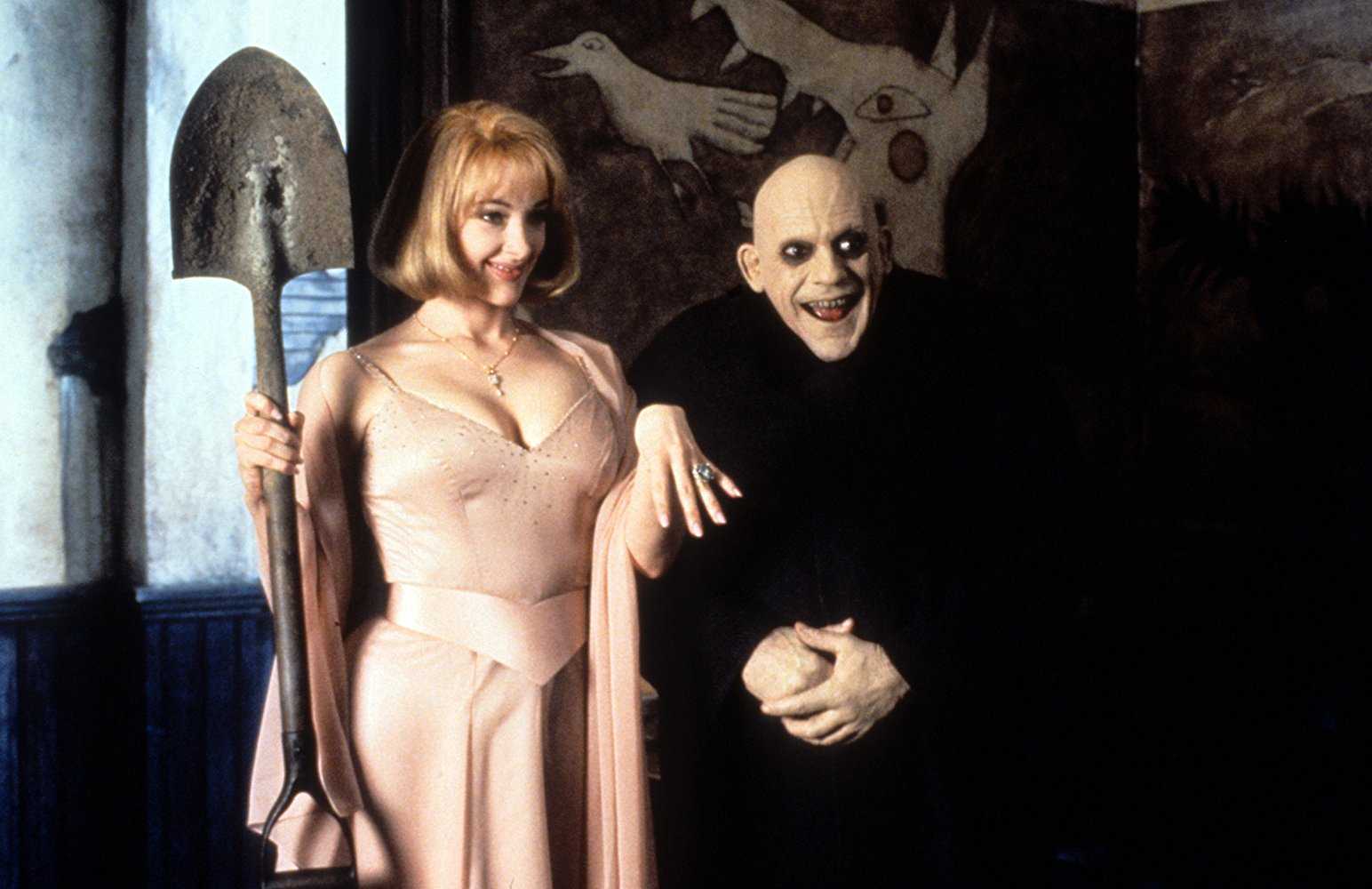 As in the first film, the one-liners fly thick and fast – a child in the waiting room airily talks about visits from the stalk, "Our parents had sex," is Wednesday's response. "You turned Fester against us, manipulated him," Morticia storms regally after bursting into Fester and Debbie's house, "that I can take – but pastels." "He's a real ladykiller," Debbie says of Fester; "Acquitted," replies Gomez.
Just as much as the first film, Addams Family Values walks the double sword-edge of trying to have its characters writhing in perverse ecstasy at being tortured yet also trying to place them in peril. There is also the problem of translating the gags into a dramatic structure. However, the middle of the film does so by fulfilling its title pun and making all the kinkiness into a glorious trashing of the great American sacred cow of Family Values. The baby is thought to be ill when it develops blonde curls and cute cheeks – "He'll become a lawyer, an orthodontist or even a president," wails Gomez. The summer camp scenes throw wonderfully scabrous barbs at group hugs, feelgood sentiment and Kumbaya singalongs.
When it comes to the pantomime Indian uprising with Wednesday as Pocahontas leading the camp rejects and turning on the audience "I'm going to scalp you and burn your homes," the film becomes a joyous celebration of nonconformity. Indeed, one can see that the ultimate message of the film is that the Addams Family's gleeful perversities aren't that different at all – it just makes them another underdog minority group.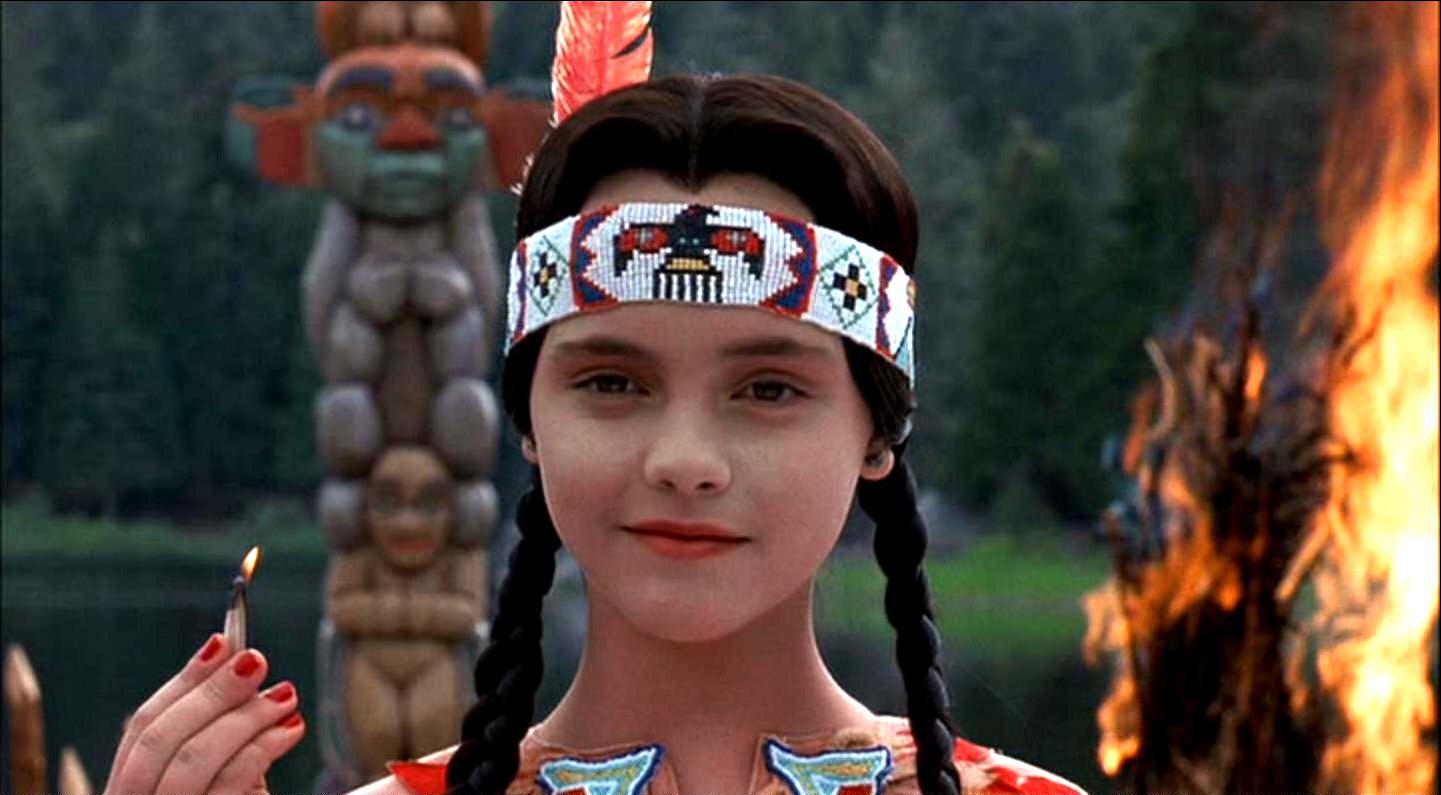 Though Addams Family Values was a success, the death of Raul Julia in 1994 put paid to any further Addams Family films. There was however a direct-to-video film with Addams Family Reunion (1998) where the characters were recast, although this was disappointingly poor. The characters were subsequently revived in the animated films The Addams Family (2019) and Addams Family 2 (2021) and the Tim Burton live-action tv series Wednesday (2022- ) focusing on Wednesday (Jenny Ortega) in college.
Barry Sonnenfeld's other genre films as director include Men in Black (1997), Wild Wild West (1999), the nuclear weapon comedy Big Trouble (2002), Men in Black II (2002), Men in Black 3 (2012) and Nine Lives (2016). Sonnenfeld also produced the witty spoof James Bond tv series Secret Agent Man (2000), the live-action superhero spoof The Tick (2001-2), the tv series Pushing Daisies (2007-9) about a man with resurrection powers, the Lemony Snicket tv series A Series of Unfortunate Events (2017-9), the revival of The Tick (2017-9) and Schmigadoon! (2021- ) about a magic town that operates like a musical, and on cinema screens the Gothic children's film Lemony Snicket's A Series of Unfortunate Events (2004), the Disney animation spoof Enchanted (2007) and its sequel Disenchanted (2022), the animated Space Chimps (2008) and Men in Black: International (2019).
---
---