---
USA/UK. 2010.
Crew
Director – Edgar Wright, Screenplay – Michael Bacall & Edgar Wright, Based on the Graphic Novel by Bryan Lee O'Malley, Producers – Eric Gitter, Nira Park, Marc Platt & Edgar Wright, Photography – Bill Pope, Music – Nigel Godrich, Visual Effects Supervisor – Frazer Churchill, Visual Effects – Double Negative & Mr. X Inc (Supervisors – Dennis Berardi & Aaron Weintraub), Flashback Animation – Voodoodog, Special Effects Supervisor – Laird McMurray, Production Design – Marcus Rowland. Production Company – Marc Platt Productions/Big Talk Films/Closed Mondays.
Cast
Michael Cera (Scott Pilgrim), Mary Elizabeth Winstead (Ramona Flowers), Kieran Culkin (Wallace Wells), Ellen Wong (Knives Chau), Mark Webber (Stephen Stills), Alison Pill (Kim Pine), Chris Evans (Lucas Lee), Jason Schwartzman (Gideon Graves), Brandon Routh (Todd Ingram), Anna Kendrick (Stacey Pilgrim), Aubrey Plaza (Julie Powers), Brie Larson (Envy Adams/Natalie), Satya Bhabha (Matthew Patel), Mae Whitman (Roxy Richter), Johnny Simmons (Young Neil), Keita Saitou & Shota Saitou (Katayanagi Twins)
---
Plot
In Toronto, 22 year-old Scott Pilgrim is trying to make it as a bassist in the band Sex Bob-omb. He is also dating seventeen year-old high school girl Knives Chau. Scott has a dream of a girl on rollerblades with pink hair and then meets her at a party, finding that she is an American girl Ramona Flowers and works as a delivery person for Amazon.com Canada. Scott comes up with a delivery order so as to call her to his apartment and then asks her to out. His involvement with Ramona presents complications due to his wavering over breaking up with Knives. Soon after, Scott receives an email from one of Ramona's ex-boyfriends challenging him to a fight to the death. Scott dismisses this until the ex turns up in the midst of Sex Bob-omb's performance at a Battle of the Bands competition, displaying superpowers. Scott must wield his own powers to defeat him. He now learns that he has to take on and defeat The League of Evil Ex's, Ramona's seven ex's who all have superpowers, in order to win her.
---
Scott Pilgrim vs. the World was the fourth film from British director/writer Edgar Wright. Wright captured world attention with the cult hit of his second film Shaun of the Dead (2004). Subsequent to this, Edgar Wright went onto the cop show parody Hot Fuzz (2007) and then entered the Hollywood mainstream with Scott Pilgrim vs. the World. Ahead for Wright were a bunch of projects, including the alien body snatchers film The World's End (2013), the getaway film Baby Driver (2017) and the ghost story Last Night in Soho (2021), as well as his involvement in the troubled adaptation of Marvel Comics' Ant-Man (2015), co-writing the script for Steven Spielberg's The Adventures of Tintin (2011) and producing the British alien invasion film Attack the Block (2011) and Ben Wheatley's black comedy Sightseers (2012). Scott Pilgrim vs. the World is adapted from a series of six graphic novels published by Toronto-based comic-book artist Bryan Lee O'Malley between 2004 and 2010.
It may well be the Scott Pilgrim vs. the World becomes a cult work in later years. If nothing else, it proves that the nerds now well and truly rule the world. The entire film feels like a celebration of all that is geeky and nerdishly cool when one is around the age of sixteen – be it opening credits patterned after Nintendo games to the slackerdom of playing in garage bands with dreams of record contracts, or where an individualistic dress sense and hair colour are matters of world-shattering importance. Indeed, Scott Pilgrim is a film that is almost certainly not going to be understood by anyone who did not grow up as part of the MTV/videogame generation – both in terms of its references and its visual style, which often mimics a videogame in live-action, or the constant information pop-ups and cutaway screen splits that come in the style of the reality shows that were first premiered by MTV.
While Scott Pilgrim vs. the World received an ovation at the end from the largely male audience I saw it with, I had mixed feelings. It is a film designed to appeal to the fourteen year-old boy in everybody and maybe it is just that I have outgrown the age group out there in the blogosphere that react to the film's hyperactive barrage of comic-book and videogame styled graphics with terms like 'cool' and 'amazing' and labels Scott Pilgrim 'the most awesomest movie ever'.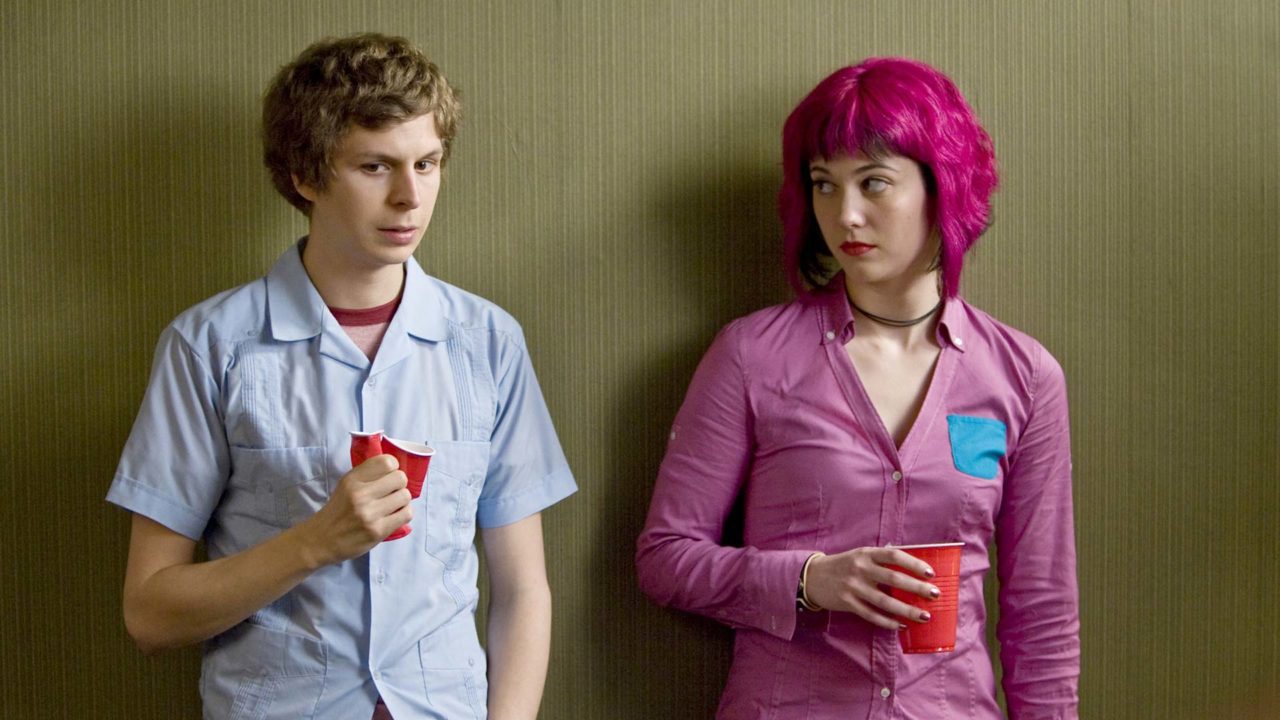 Embedded somewhere inside Scott Pilgrim vs. the World is a nice, sometimes bittersweet story about the awkwardness of teenage life and relationships at that age. The film does a reasonable job of charting this and with some often slyly ironic and perceptive writing. I was reminded of Terry Zwigoff's excellent Ghost World (2001), which charted the same territory in very similar ways, although where Ghost World felt an awkwardness and at times pain behind its affected cool and nonchalance, Scott Pilgrim feels more like Michael Cera's breakthrough hit Juno (2007), a film that resembles a sugary confection in its constant love affair with its own cuteness.
On the other hand, while one part of it is a sweetly appealing story of teenage awkwardness, Scott Pilgrim feels like it has another completely different film happening inside it at the same time. Imagine something akin to Ghost World suddenly being invaded by a superhero film and the entire film made in the style of tv's Batman (1966-8) with visual representations of onomatopoeic cartoon sound effects popping up or streamline marks when people go flying through the air. Or perhaps something akin to the hyperkinesis of Oliver Stone's Natural Born Killers (1994), the only other film of recent memory that was so out there and restlessly edgy in terms of excess style.
Edgar Wright is constantly breaking the image up with the likeness of a videogame and/or comic-book panel, between shrinking to letterboxed screen ratio, pop-up info graphics, as well as surreal effects like punches that knock out people's hair colouring or characters that have their expletives bleeped out and their mouths covered with black squares leaving others wondering how they achieve such an effect.
The strangest part of the film is when superheroics are introduced to the mix. People inexplicably display superpowers and punch each other into orbit, read minds, fly through the air and such like while nobody around them seems to regard this as particularly unusual. I left the film scratching my head as to what type of universe the film seemed to be taking place in. It seemed a wholly surreal world where over-the-top and clearly unrealistic superhero exploits could sit beside an ordinary teenage romance story.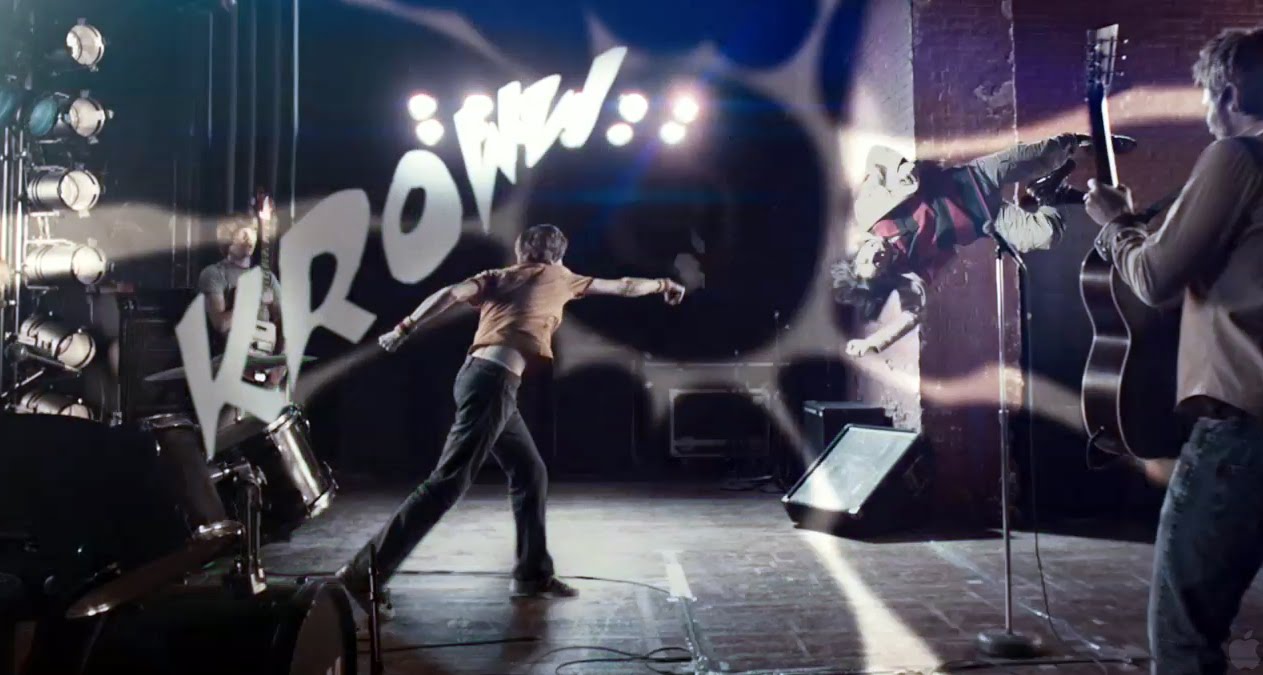 Normally a fantastic film spends its time creating a grounded world where such things can take place, but, having done that, Scott Pilgrim vs. the World throw everything out the window and goes crazy. There are times the constant stylistic affect makes one go "huh". And I'm sorry, I just didn't get it. An enormous creativity has gone into Scott Pilgrim; it is just that it feels like the entire film is pretty eye candy without any clear point to it other than trying to communicate to the audience how cool it is being.
If there is one thing that makes Scott Pilgrim work it is its cast. Michael Cera has cornered the market on cute, shy and reflexively ironic teenagers in the last few years in films like Juno, Superbad (2007), Year One (2009) and tv's Arrested Development (2003-6). Scott Pilgrim is a role that is exactingly tailored to Michael Cera's screen persona and he feels perfectly at home in it, although Cera is soon going to have to show that he has something else in his acting arsenal if he is to demonstrate staying power.
Mary Elizabeth Winstead has seemed like just another young face of no particular distinction in recent films such as Sky High (2005), Final Destination 3 (2006), Death Proof (2007) and so on but here gets a part that is laced with a mocking sarcasm that allows her to flourish and show what she can do as an actress.
The one who surprisingly steals a good deal of the film is Kieran Culkin as Michael Cera's gay roommate in a role where Kieran shows he has more talent than his more well-known older brother Macaulay does in all his films put together. Another marvellous scene-stealer manages to be Chris Evans in an hilariously polished role as a Hollywood star where Evans seems to be having an absolute ball.
(Nominee for Best Actor (Michael Cera), Best Actress (Mary Elizabeth Winstead), Best Suppporting Actor (Kieran Culkin) and Best Supporting Actor (Chris Evans) at this site's Best of 2010 Awards).
---
---