---
Crew
Director – Joe Dante, Screenplay – Chris Columbus, Producer – Michael J. Finnell, Photography – John Hora, Music – Jerry Goldsmith, Gremlin Effects – Chris Walas, Special Effects Supervisor – Bob MacDonald Sr, Makeup – Greg La Cava, Production Design – James H. Spencer. Production Company – Amblin.
Cast
Zach Galligan (Billy Peltzer), Phoebe Cates (Kate Berringer), Hoyt Axton (Rand Peltzer), Frances Lee McCain (Lynn Peltzer), Polly Holliday (Mrs Deagle), Dick Miller (Mr Futterman), Keye Luke (Oriental), Corey Feldman (Pete)
---
Plot
In a Chinatown curio shop, inventor Rand Peltzer finds a small cute, furry creature that is highly imitative of human behaviour. He wants to buy the Mogwai, as the owner calls it, for his son Billy's Christmas present. The owner refuses but his son comes to Rand outside and sells the Mogwai because they need the money. He gives three warnings – never to let it near water; to keep it away from light; and most importantly, to never feed it after midnight. Billy is delighted with the Mogwai, naming it Gizmo. He soon finds that light hurts it and that water causes it to breed a horde of other Mogwai. After Billy's clock breaks down, the other creatures eat after midnight whereupon they go into cocoons to emerge as vicious, evil creatures. As Christmas Eve comes, the creatures run amok, delighting in playing malicious practical jokes on humans in a spree of murder and mayhem.
---
Gremlins was the runaway box-office hit of 1984. This was due in no small part to the headline name of Steven Spielberg. (Some advertising campaigns even went so far as to misleadingly claim that Steven Spielberg directed Gremlins when all that he held was an Executive Producer credit). The film was in fact directed by Joe Dante, a director who had emerged through a couple of quirky B-budget entries, Piranha (1978) and The Howling (1980) and one of the episodes of Twilight Zone – The Movie (1983), and went onto become a regular genre director. (See below for Joe Dante's other films).
Gremlins initially starts out seeming to be a return to the territory of winsome innocence that Steven Spielberg explored so well in E.T. – The Extra-Terrestrial (1982). However, about halfway through, Joe Dante turns this completely on its head. He gets loose on the pretty Christmas-card town with a gleefully grotesque adolescent perversity as the gremlins go flashing, chainsaw wielding, tormenting Phoebe Cates and conducting malicious practical jokes, all the while cackling evilly. Where Steven Spielberg's films affirm a suburban view of childhood, that the universe is an unthreatening place of wonderment to be beholden with child-like innocence, Joe Dante more perversely lures us into something initially cute and unthreatening but then lets loose a force of anarchy that wilfully subverts and turns Spielberg's vision of suburban heaven on its head.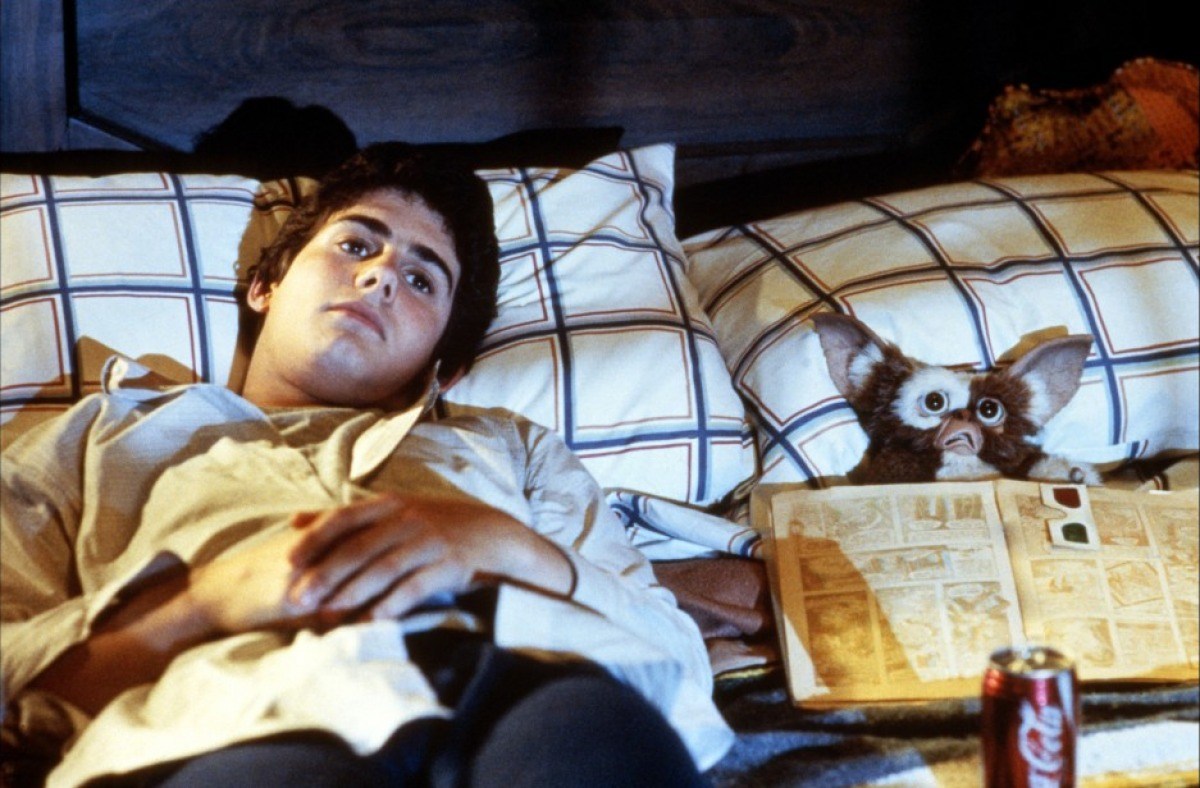 Gremlins is also an undisciplined film – Joe Dante fires his showcard puppet effects gags off one after another. The film is overrun by gremlin sequences and the plot pushed into the background until the film becomes more like an unplotted stand-up routine that uses cartoon gags in live-action. Dante throws in the characteristic genre in-jokes that have become his trademark – cameos from animator Chuck Jones and 1950s genre star Kenneth Tobey, an appearance from Robby the Robot at an inventor's fair, as well as the time machine from The Time Machine (1960), which suddenly vanishes in a puff of smoke. (In one background scene, a cinema billboard is screening a film entitled A Boy's Life, which was the shooting title for E.T.).
The human scenes pale by comparison. These, with the emphasis on the inventor's family and failing gadgets, lapse into something more like a wet-eared US tv sitcom. Still, there is a certain amount of amusement to be had from Gremlins – it feels like 90 minutes of schoolboys having been let loose with chemistry sets.
Gremlins 2: The New Batch (1990) was a sequel that reunited most of the principals, although failed to find the same audience as this. A third film has been announced in the 2020s, while there was also the animated tv series Gremlins: Secrets of the Mogwai (2022- ). The Gremlins subsequently made cameos in The Lego Batman Movie (2017), Hotel Transylvania 3: Summer Vacation (2018) and Space Jam: A New Legacy (2021).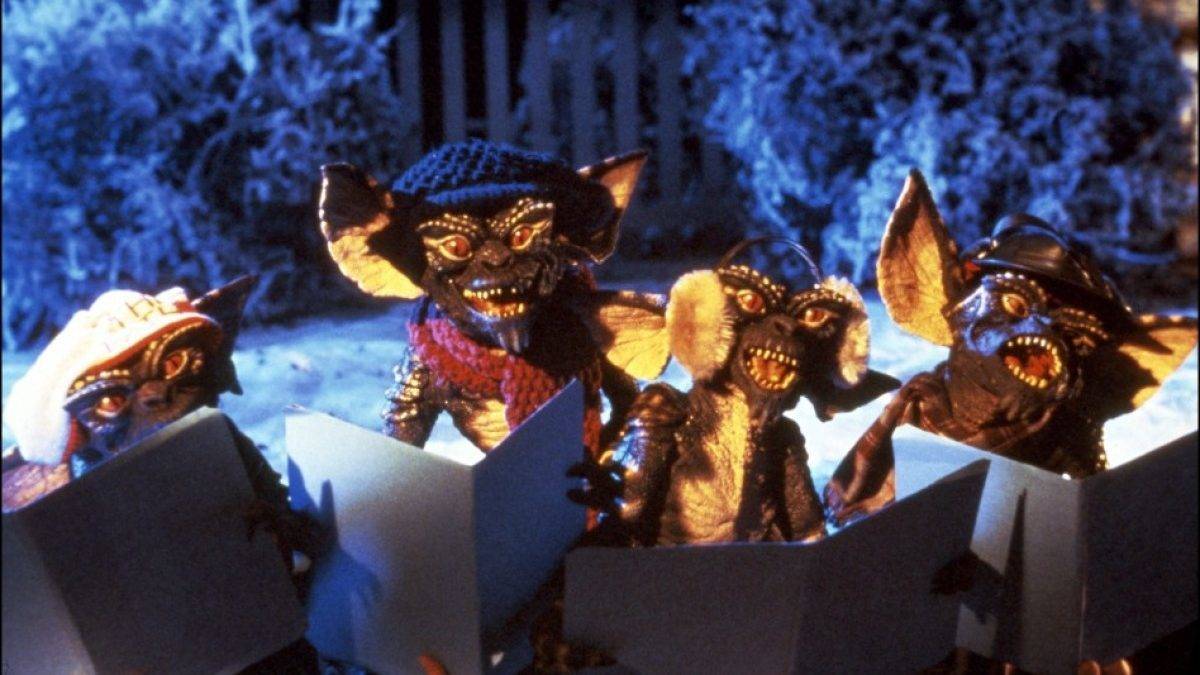 Gremlins was the greatest success that director Joe Dante ever had. He has never replicated the same success with any of his subsequent films. Dante has since made:– Explorers (1985), probably his best film about backyard teen inventors; Innerspace (1987), a parody of Fantastic Voyage (1966); episodes of the comedy skit anthology Amazon Women on the Moon (1987); the urban paranoia black comedy The 'Burbs (1989); Matinee (1993), a homage to filmmaker William Castle; The Second Civil War (1997); Small Soldiers (1998), a film about warring toy soldiers that copied Gremlins; the toon film Looney Tunes: Back in Action (2003); the Young Adult horror film The Hole (2009); Burying the Ex (2014) about a zombie ex-girlfriend; and the Mirari episode of the horror anthology Nightmare Cinema (2018). Dante also created the delightful smalltown paranoia tv series Eerie Indiana (1991-2), and produced the genre series' The Osiris Chronicles (1998) and Jeremiah (2002-4), as well as the film adaptation of the comic-book The Phantom (1996). Screenwriter Chris Columbus would go on to direct Home Alone (1990), Mrs Doubtfire (1993), the sf film Bicentennial Man (1999), Harry Potter and the Sorcerer's Stone/Harry Potter and the Philosopher's Stone (2001), Harry Potter and the Chamber of Secrets (2002), Percy Jackson & The Olympians: The Lightning Thief (2010) and Pixels (2015).
Following the success of Gremlins, a number of films attempted to imitate its success featuring hordes of small malicious creatures. These included Ghoulies (1985) and its three sequels, Critters (1986) and its three sequels, Troll (1986), Munchies (1987) and Hobgoblins (1988), even a softcore take Possessed By the Night (1993).
---
---