---
USA/United Arab Emirates. 2019.
Crew
Director – Franck Khalfoun, Screenplay – David Coggeshall & Franck Khalfoun, Producers – Ashok Amritraj, Jason Blum, Travis Cluff & Chris Lofing, Photography – Eric Robbins, Music – Richard Breakspear, Special Effects Supervisor – Vellasamay Sinnaiah, Makeup Effects – Monica Lee Poo Lian, Production Design – Max Martinez. Production Company – ImageNation Abu Dhabi/Hyde Park Entertainment/Blumhouse/Ashok Amritraj/Tremendum Pictures.
Cast
Logan Miller (Toby Burns), Kristine Froseth (Madeline), Jolene Anderson (Madeline's Mother), Jerrica Lai (Kay), Phodiso Dintwe (Cameron), Anthony Jensen (David Burns)
---
Plot
Following the death of his father at the hands of carjackers, teenager Troy Burns signs up for the Lost and Found Program that helps troubled youth sort themselves out. The program abandons him alone for three days on an island in an uninhabited archipelago near Malaysia. There Troy makes a disaster out of trying to survive and loses his supplies. He then discovers another girl Madeline on the island and she aids him. However, he realises that there are also a sinister force lurking on the island and killing those who come there.
---
Franck Khalfoun is a former Alexandre Aja associate. He made small acting appearances in Aja's High Tension (2003) and Piranha (2010) before Aja wrote and produced both Khalfoun's directorial debut, with the psycho-thriller P2 (2007) followed by the remake of Maniac (2012). Without Aja, Khalfoun went on to direct i-Lived (2015) and Amityville: The Awakening (2017).
I held out some promise for Franck Khalfoun – both P2 and Maniac were worthwhile films and there were even moments in Amityville: The Awakening that made it not entirely the generic film it seemed. And so it was with some promise that I started to watch Prey. At the outset, it feels as though Khalfoun has set out to puncture the fantasy of the desert island survival adventure. None of Logan Miller's attempts to survive seem to go right – monkeys tear open his backpack, he throws his matches into the water in frustration, his belongings are washed away in the surf. Not long after his arrival, we even get scenes with Logan Miller talking to himself and deconstructing the cultural imperialism of Daniel Dafoe's Robinson Crusoe (1719).
It is also notable that this is a fantasy version of desert island survival. Logan Miller remains cleanshaven throughout despite losing all his belongings. Wild girl Kristine Froseth seems to have a fresh supply of clothing from somewhere despite having been raised on the island all her life. Logan Miller goes to sleep out in the open in the tropics without any apparent need for a mosquito net.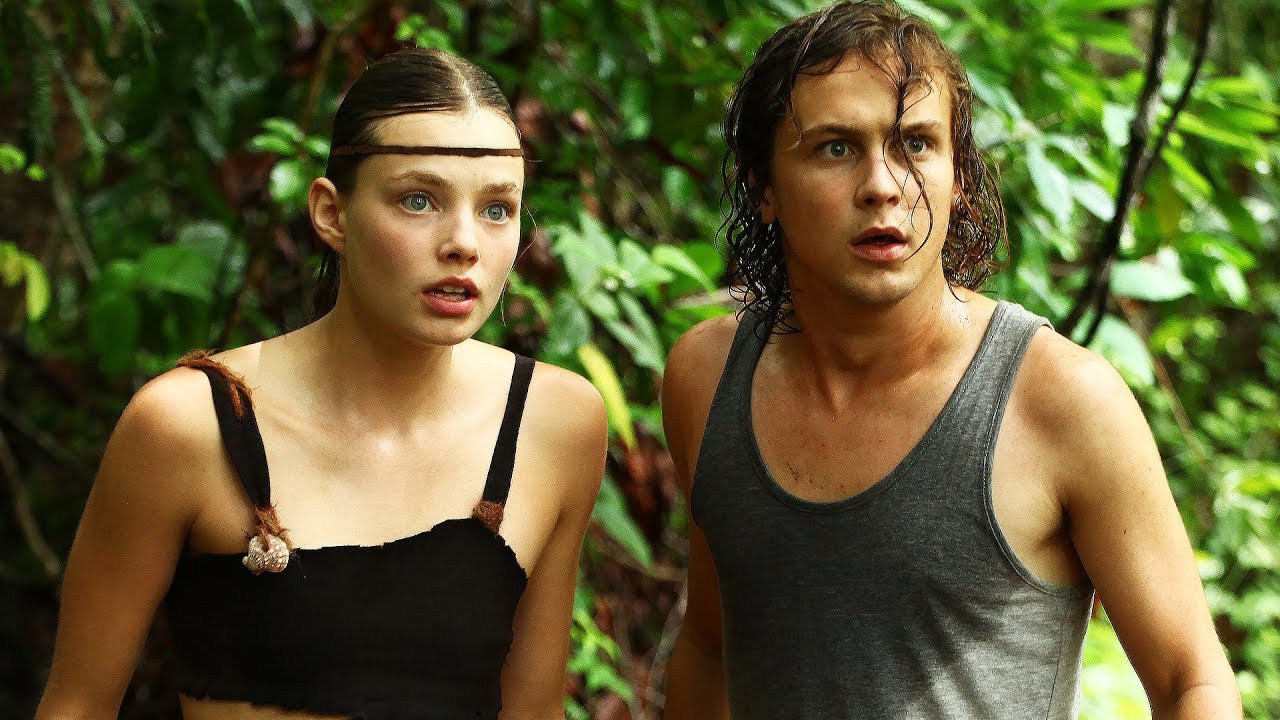 And then there is Franck Khalfoun and David Coggeshall, a tv writer/producer who had previously written The Haunting in Connecticut 2: Ghosts of Georgia (2013), and their attempt to turn Prey into a horror film. You feel as though the film were made with the suggestion of things lurking in the jungle and killing people but that Khalfoun and Coggeshall only sat down the night before shooting and decided to come up with an explanation for it all. The final revelation feels like a zero effort screenplay that took about five minutes to write.
It becomes apparent that what we are watching is a possession film – I kept being reminded the whole way through of the much cheaper Surviving Evil (2009) – but what the possessing entity is is given next-to-zero explanation. Khalfoun does a negligible job in creating tensions and suspense – the film fails to hold anything that make one jump or tense up in any way. There are surprising similarities to Sweetheart (2019), a monster movie set on a desert island that Blumhouse released earlier in the year.
The other thing that should be said what a generic title the film has. It says only than that, the filmmakers could not be bothered to make any effort to come up with something original. Type the phrase 'prey' into the IMDB and I came up with at least 20 other full-length films titled some variant on 'prey' or 'the prey', including also Norman J. Warren's alien horror film Prey (1978), the Australian horror Prey (2004), the killer lion film Prey (2007), another Australian horror film Prey (2009), the German Prey (2021) about trampers hunted in the wilderness and the Predator sequel Prey (2022).
---
---