USA. 2016.
Crew
Director – Mike Mitchell, Co-Director – Walt Dohm, Screenplay – Jonathan Aibel & Glenn Berger, Story – Erica Rivinoja, Producer – Gina Shay, Photography – Yong Duk Jhun, Music – Christophe Beck, Visual Effects Supervisor – Philippe Denis, Production Design – Kendal Cronkhite. Production Company – DreamWorks Animation SKG.
Voices
Anna Kendrick (Princess Poppy), Justin Timberlake (Branch), Zooey Deschanel (Bridget), Christopher Mintz-Plasse (King Gristle Jr), Christine Baranski (Chef), Russell Brand (Creek), James Corden (Biggie), Jeffrey Tambor (King Peppy), John Cleese (King Gristle Sr), Icona Pop (Satin/Chenille), Ron Cooper (Funches), Kunal Nayyar (Guy Diamond), Quvenzhane Wallis (Harper)
---
Plot
The trolls are small, multi-coloured creatures that only want to sing, dance and hug one another all day long. They are then captured by the Bergens, large creatures that can only find happiness by devouring trolls. On the day that the prince heir Gristle Jr plans to eat his first troll, the Bergens discover that all the trolls have fled by burrowing through the ground. Freed, the trolls establish their own realm and live happily. Twenty years later, the trolls are holding a party to celebrate their escape only for the fireworks to alert the Bergens of their whereabouts. The Bergen chef comes and captures all of the trolls except for the king's daughter Poppy. She is forced to hide with the glum Branch. There she obtains his reluctant help in coming up with a plan to rescue the trolls before they are placed in the cooking pot.
---
Trolls is a film from DreamWorks Animation based on the best-selling line of toys. The Trolls were originally created in 1959 by Danish fisherman and woodcutter Thomas Dam as a Christmas present for his daughter when he could not afford to buy one. The Trolls soon became a mass-market phenomenon, particularly after being launched in the US in the early 1960s. They have remained there fairly much ever since, being sold in many different varieties. There was also a previous animated tv series based on them with Trollz (2005-6).
Trolls is a perfect example of everything I hate about mainstream animation at the moment. It is vapidly designed product; it is based around easy black-and-white characterisations and simplistic storylines (you can't get too much more simplistic than the fight here to restore singing and hugging from the creatures that lack happiness and eat trolls); while a substantial amount of the film is centred around song and dance numbers or inane slapstick sequences. Any intellectual content or ability to provoke thought has been stripped away.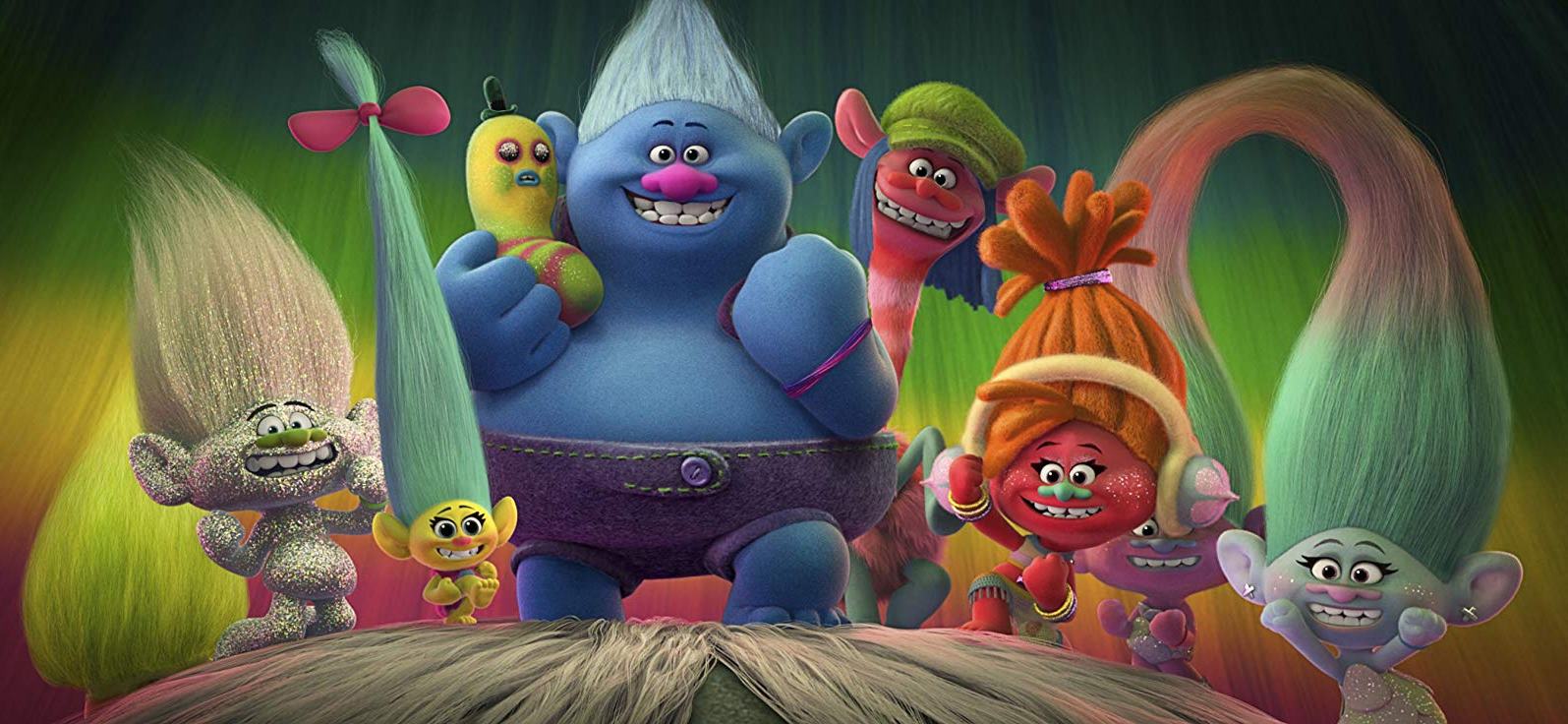 It is hard to imagine that there would be an audience for Trolls for anybody over the age of six. The film comes in a blinding blur of rainbow colours where frequently the entire range of the spectrum has been used in the frame all at once. Even the poster for the film contains nothing more than a rainbow. If anything, the film resembles The Smurfs having been transplanted into something akin to the world of one of the Barbie fairy movies – see something like Barbie Fairytopia (2004).
Troll culture seems to consist of doing nothing more than spending all their time singing, dancing and hugging – they even seem to have times of the day mandated so they can do so. By contrast, Bergen culture is a monarchy inhabited by unhappy and ugly creatures who are unable to experience happiness until they eat a troll. The film proceeds with such a giddy blur of colour, singing, dancing, manic slapstickery with trolls bouncing around that the combined effect is akin to walking away from a children's birthday party high on a massive sugar rush.
The film takes several leaves from Happy Feet (2006), Gnomeo & Juliet (2011) and George Lucas's failed venture into kiddie animation with Strange Magic (2015) and has the trolls burst into reworked versions of popular songs at various intervals. This is a fad that premiered with Moulin Rouge (2001) but has taken off in animated films in recent years – Trolls was followed one month later by Sing (2016), which did this in substantially better ways. There is a gratingly awful version of Simon and Garkfunkel's The Sound of Silence (1964) – appropriately Branch throws Poppy's guitar into a fire immediately after it.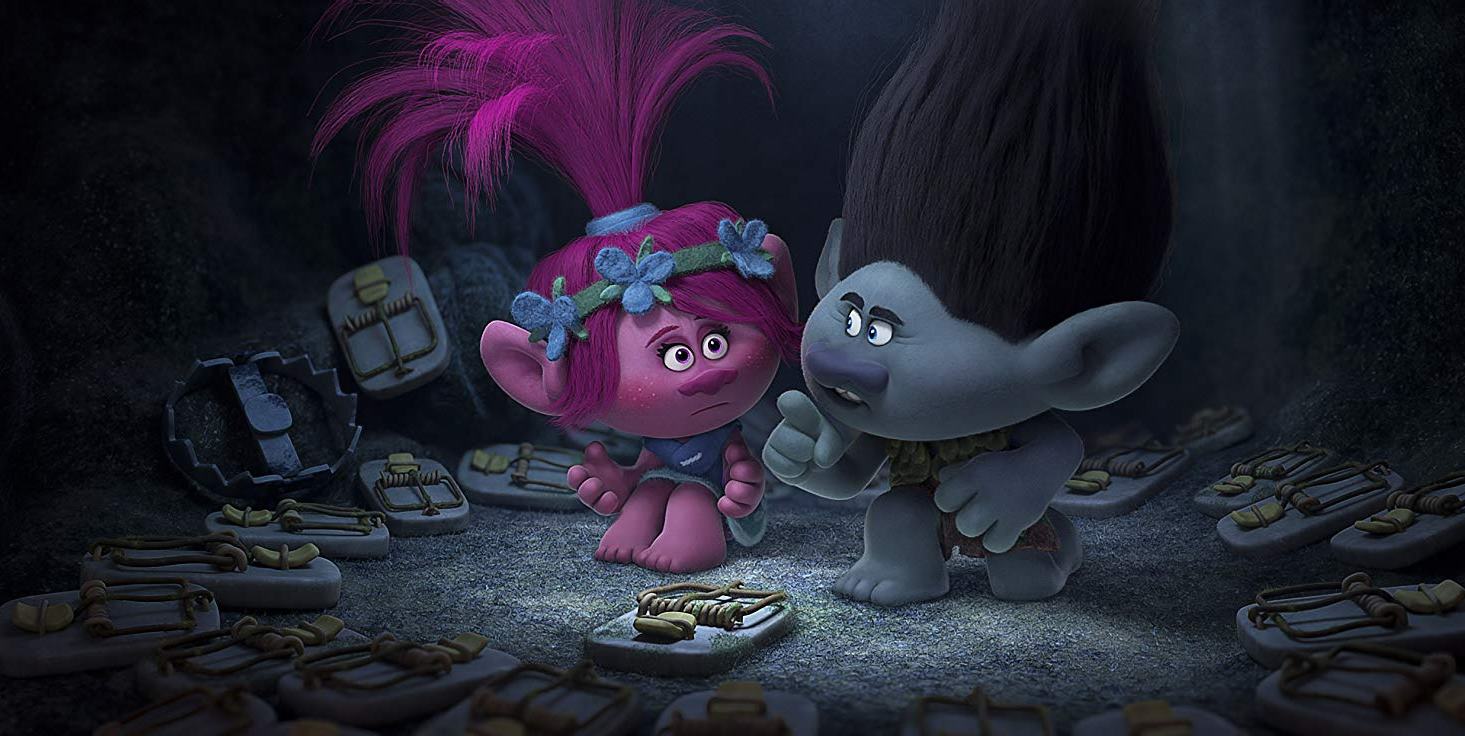 One of things guaranteed to work me up to a level of red-faced fury in an animated film or work of children's entertainment is the constant rupturing of the envelope of realism and having creatures that live in a world different to our own making constant contemporary one-liners, jokes and pop culture references. The scene where Bridget discovers herself and struts through the street to a hip cover version of Diana Ross's I'm Coming Out (1980), or others with the trolls riding around on a rollerskate grates in a way that feels like eating razor blades.
It should be noted that the trolls we have in the film are not trolls in any mythological sense – according to Scandinavian folklore, from which the troll originated, they are seen as large, dim-witted and very hairy creatures that are variously helpful or threatening to humans – but here are no more than generic cute, cuddly anthropomorphically childlike creatures. In order to have a threat, the film has to invent a new creature called the Bergen, which actually resembles the idea of a troll far more than the creatures that are supposed to be trolls in the film.
The film version of Trolls comes from director Mike Mitchell who had previously directed mainstream comedies like Deuce Bigalow, Male Gigolo (1999), Surviving Christmas (2004), Sky High (2005) and more recently has come to specialise in animation/family entertainment with Shrek Forever After (2010), Alvin and the Chipmunks: Chipwrecked (2011), the live-action scenes for The Spongebob Movie: Out of Water (2015) and The Lego Movie 2 (2019).
DreamWorks Animation's other films are:- Antz (1998), The Prince of Egypt (1998), The Road to El Dorado (2000), Shrek (2001), Spirit: Stallion of the Cimarron (2002), Sinbad: Legend of the Seven Seas (2003), Shark Tale (2004), Madagascar (2005), Over the Hedge (2006), Bee Movie (2007), Kung Fu Panda (2008), Monsters vs Aliens (2009), How to Train Your Dragon (2010), Megamind (2010), Rise of the Guardians (2012), The Croods (2013), Turbo (2013), Mr. Peabody & Sherman (2014), Home (2015), The Boss Baby (2017), Captain Underpants: The First Epic Movie (2017) and Abominable (2019).
---
---