---
Crew
Director – Will Gluck, Screenplay – Will Gluck & Rob Lieber, Based on Characters Created by Beatrix Potter, Producers – Will Gluck & Zareh Nalbandian, Photography (3D) – Peter Menzies, Jr., Music – Dominic Lewis, Visual Effects Supervisor –Will Reichelt, Animation Director – Rob Coleman, Visual Effects/Animation – Animal Logic (Animation Supervisor – Simon Pickard), Visual Effects – Cumulus Visual Effects (Supervisor – William Gammon), Cutting Edge (Supervisors – Simon Maddison & Marc Varisco), Rising Sun Pictures (Supervisor – Dennis Jones) & Slatevfx, Special Effects Supervisor – Peter Stubbs, Production Design – Roger Ford. Production Company – Columbia/Sony Pictures Animation/2.0 Entertainment/Animal Logic Entertainment/Olive Bridge Entertainment.
Cast
Domhnall Gleeson (Thomas McGregor), Rose Byrne (Bea), Sam Neill (Old McGregor), Marianne Jean Baptiste (Harrods General Manager), Sacha Horler (Taxi Driver – Betty), Ales Blias (Hardware Clerk – Phil), Dave Lawson (Hardware Clerk – Chris), Gareth Davies (Bannerman)
Voices
James Corden (Peter Rabbit), Colin Moody (Benjamin Bunny), Margot Robbie (Flopsy/The Narrator), Elizabeth Debicki (Mopsy), Daisy Riddle (Cotton-Tail), Sia (Mrs Tiggy-Winkle), Rose Byrne (Jemima Puddle-Duck), David Wenham (Johnny Town-Mouse), Fayssal Bazzi (Mr Tod), Christian Dazal (Felix De'er)
---
Plot
In the English countryside, Peter Rabbit leads a group of other rabbits to raid Old Man McGregor's garden. Old Man McGregor makes furious effort to drive them out. During one of these sorties, Peter loses his blue jacket, the only thing left by his late father. In going back in to retrieve the jacket, he ends up in a furious altercation with Old Man McGregor in the midst of which the old man collapses dead. Peter claims this as a victory and all of the animals in the area move into Old Man McGregor's house to party wildly. The property is inherited by Old Man McGregor's nephew Thomas. A perfectionist, Thomas has just been fired from his job as a manager at Harrods over a meltdown when an incompetent relative of the owner has been promoted over him. Thomas travels to the countryside, hating every moment of it, intending only to sell the house as soon as possible. He is horrified to find the animals in the house and drives them out. However, he is attracted by Bea, the artist who lives next door and is friendly to the rabbits. At the same time as he pretends to be kind to the rabbits because of Bea, Thomas begins an all-out war to exterminate them.
---
Peter Rabbit was the creation of British children's author and illustrator Beatrix Potter (1866-1943) who gained great popularity with a series of books featuring talking animals in the placid English countryside. The Tale of Peter Rabbit (1902) was her first published book and tells the story (one that is sort of encapsulated in the opening scenes here) of young Peter who sneaks into Old Man McGregor's garden to steal vegetables and loses his blue jacket. The book was a considerable success and Potter went on to write five other books about or in which Peter Rabbit appears as a character.
Ever since Babe (1995), we have had a spate of talking animals films conducted in live-action, using animatronics and/or CGI to allow them to integrate with actors in stories that up until that point could have been imagined in animation. Since Babe, a number of classic stories and characters have been given this live-action treatment with the likes of 101 Dalmatians (1996), Dr Dolittle (1998), Stuart Little (1999), Animal Farm (1999), Garfield (2004), Charlotte's Web (2006), Alvin and the Chipmunks (2007), Yogi Bear (2010), Paddington (2014), The Jungle Book (2016), Christopher Robin (2018), Watership Down (2018), Dumbo (2019), Lady and the Tramp (2019), The Lion King (2019) and Clifford the Big Red Dog (2021).
The Peter Rabbit film has been taken on by Sony Pictures Animation who are responsible for the likes of Monster House (2006), Open Season (2006), Surf's Up (2007), Cloudy With a Chance of Meatballs (2009), The Smurfs (2011), Hotel Transylvania (2012), The Emoji Movie (2017), The Mitchells vs the Machines (2021), Vivo (2021) and Wish Dragon (2021), plus the Aardman collaborations Arthur Christmas (2011) and The Pirates! Band of Misfits (2012). The film is directed by Will Gluck, a producer of light sitcoms, who has also directed the likes of Easy A (2010), Friends With Benefits (2011) and the much despised remake of Annie (2014).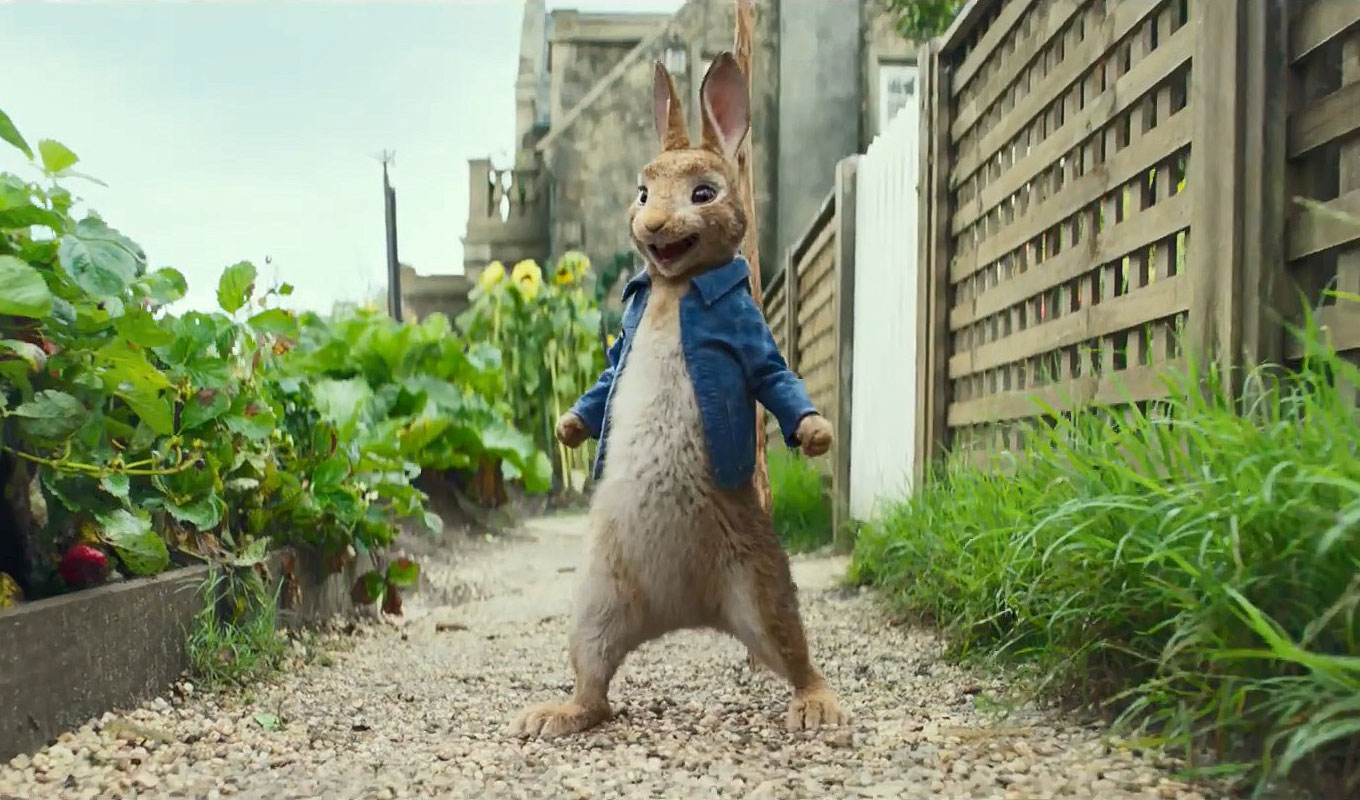 Beatrix Potter's tales were charming tales for children located in a very British setting. By contrast, Peter Rabbit is an absolute and utter insult to Beatrix Potter's name. In fact, insult is not enough of a term to describe how horrible the film is. It is a film that drunkenly urinates over Beatrix Potter's gravestone, all the while gleefully laughing at the lulz of it. I am happy to name Peter Rabbit an early contender for Worst Film of 2018.
Babe showed how to do the type of film that should have been; even the Paddington films show how it is possible to respect the source material while not being afraid to be silly. On the other hand, there is a certain number of these films that abandon the source material and aim for the family entertainment equivalent of the lowest common denominator. That is to say, pandered down to an insulting level, filled with contemporary popular cultural references, where characters sit around making hip and glib one-liners that frequently rupture the suspension of disbelief, or the films are filled with a preponderance of slapstick and flatulence and poop gags. Guilty offenders among these are Dr Dolittle and Yogi Bear, or original talking animals works like Racing Stripes (2005) and Furry Vengeance (2010).
Peter Rabbit abandons Beatrix Potter's genteel stories and takes a massive belly flop right into the midst of this type of comedy with spectacularly awful results. The rabbits talk about safe spaces and joke I don't know why I'm so out of shape, I only eat salad. The animals are seen dancing throughout the house, while modern pop songs and dance tracks frequently play on the soundtrack.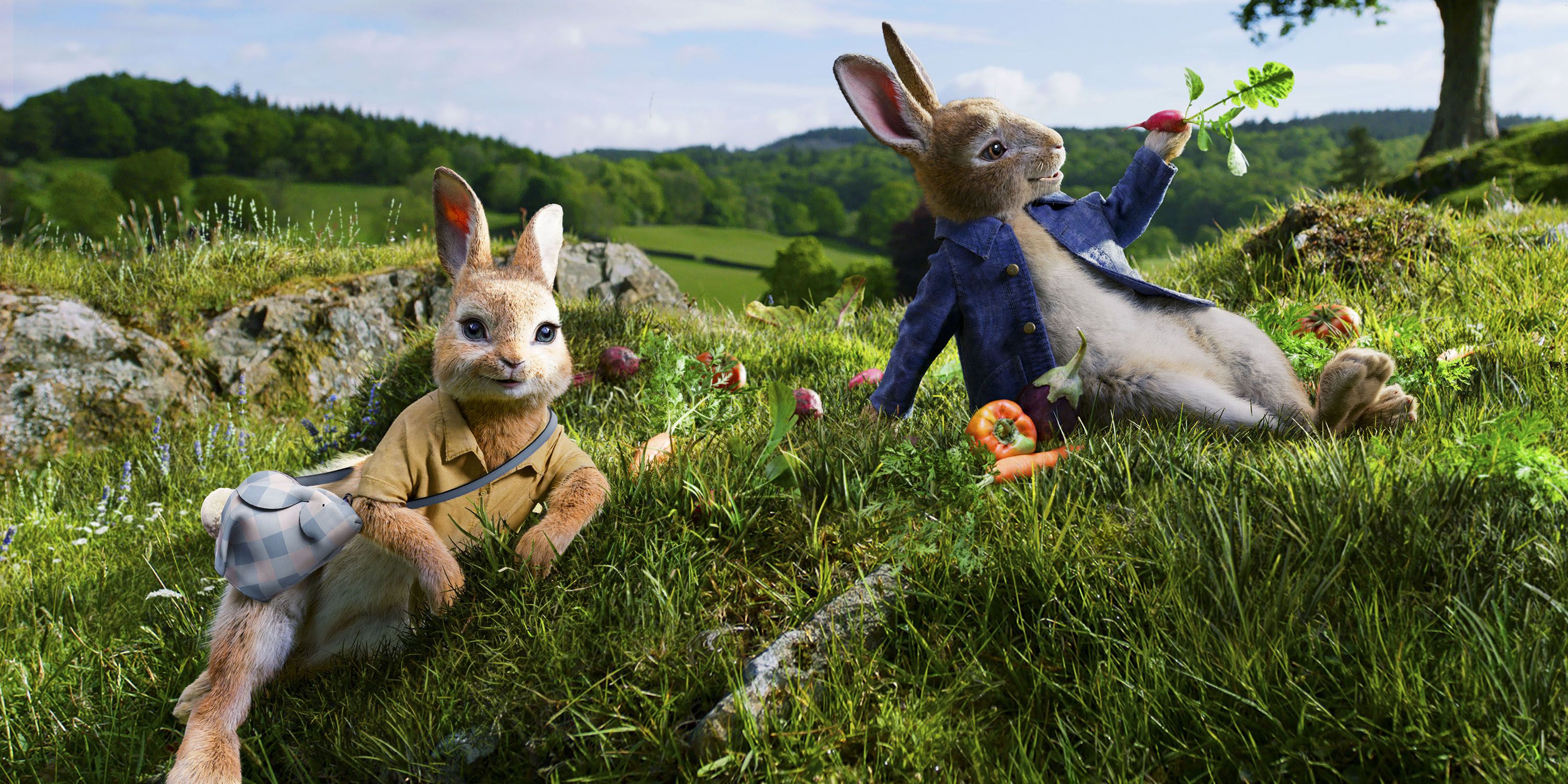 The film is overrun with slapstick gags – Peter walking along a powerline using Benjamin as a balancing pole; slapstick chases around the garden with Old Man McGregor – even gags where it is implied Peter is about to shove a carrot up the old man's exposed ass at one point; slapstick scenes running around the Land Rover; scenes with Domhnall Gleeson being electrically zapped all over the house; scenes pelting Domhnall Gleeson with vegetables from catapults; scenes with the animals amok in Harrods and so on. It is worth remembering that Walt Disney wanted to film Potter's stories but she turned him down thinking that his approach was too vulgar.
The guilty parties involved returned for a sequel Peter Rabbit 2/Peter Rabbit 2: The Runaway (2021).
Other Beatrix Potter adaptations include the theatrically-released ballet adaptation Tales of Beatrix Potter (1971), which featured dancers in animal costumes, the tv special The Tale of Little Pig Robinson (1990) and the animated tv series The World of Peter Rabbit and Friends (1997). Also of note is Miss Potter (2006), a biopic about Beatrix Potter's life.
(Winner in this site's Worst Films of 2018 list).
---
---