---
Crew
Director – Jeremiah Chechik, Screenplay – Steven L. Bloom & Robert Rodat, Producers – Roger Birnbaum & Joe Roth, Photography – Janusz Kaminski, Music – Randy Edelman, Visual Effects Supervisor– Erik Henry, Visual Effects – VIFX (Supervisor – Richard E. Hollander), Twister Sequence – Sony Pictures Imageworks (Supervisor – Scott F. Anderson), Miniature Visual Effects – Sessums Engineering, Special Effects Supervisor – Terry Frazee, Mechanical Effects – Amatomorphex, Production Design – Eugenio Zanetti. Production Company – Disney/Caravan Pictures.
Cast
Nick Stahl (Daniel Hackett), Patrick Swayze (Pecos Bill), Oliver Platt (Paul Bunyan), Scott Glenn (J.P. Stiles), Roger Aaron Brown (John Henry), Stephen Lang (Jonas Hackett), Moira Harris (Sarah Hackett), Catherine O'Hara (Calamity Jane)
---
Plot
Paradise Valley, 1905. Twelve-year-old Daniel Hackett loves to hear his father's tales of Western heroes like Pecos Bill. Industrialist J.P. Stiles is determined to buy up Paradise Valley and his thugs beat up Daniel's father to get the deed to their property. Daniel's father gives Daniel the deed for safekeeping and he is forced to flee into the desert after Stiles' thugs shoot his father. Just as Stiles's men catch up with him, Daniel is saved by Pecos Bill who arrives, riding on a twister. Pecos Bill decides to help Daniel save the valley. The two of them set out to on a journey to recruit other Western legends such as Paul Bunyan and John Henry to help drive out Stiles and his men.
---
Tall Tale was a film that Disney released in the Spring of 1995 and one that quickly sank without a trace. Despite a promising idea, Tall Tale is a real oddity that never comes together. First and foremost, the film seems fundamentally confused about what sort of story it wants to tell. It announces itself as one sort of film – the very title Tall Tale, which is subtitled The Unbelievable Adventure of Pecos Bill in some advertising (but not on the screen credits) – that incorporates various Big Man legends out of the Wild West such as Pecos Bill, Paul Bunyan and John Henry, as well as the real-life historical figure of Wild Bill Hickok's girlfriend Calamity Jane.
The figures that Tall Tale bases itself come with some wild and fascinating exploits that are the very essence of what 'tall tales' are about. The legend of Pecos Bill first appeared in Edward O'Reilly's The Saga of Pecos Bill (1923) and has been added to by others since. As the legend goes, Pecos Bill was raised by coyotes and engaged in various exploits, including riding a cyclone and a mountain lion instead of a horse; would use a rattlesnake as a whip; was able to lasso an entire herd of cattle at once; once diverted the Rio Grande to water his ranch; invented the lasso and branding iron; and the famous story of how his horse Widow Maker threw his girlfriend Slue-Foot Sue so high that she bounced off the Moon and kept bouncing because of her hooped skirt, forcing Bill to eventually have to shoot her after several days.
Paul Bunyan is a character that emerged out of folk tales of French Canadian trappers and later spread to America. He was a giant so big that seventeen storks needed to carry him at birth and he required an ox-drawn lumber wagon as a baby carriage. Paul had a blue ox companion Babe – it was claimed that it took a crow a full day to fly between his horns and a new iron mine had to be opened every time Babe was shoed, while the two are said to have created Minnesota's 10,000 lakes out of their footsteps. Among Paul's exploits, he is reputed to have once trained an army of ants to do logging work for him; he would eat forty bowls of porridge for breakfast and that his logging crew ate so much that the cook drove the length of the mess table with food and then came back in the morning and had to use an entire lake to boil food in; and that Babe could draw anything, including at one point straightening out thirty miles of crooked road.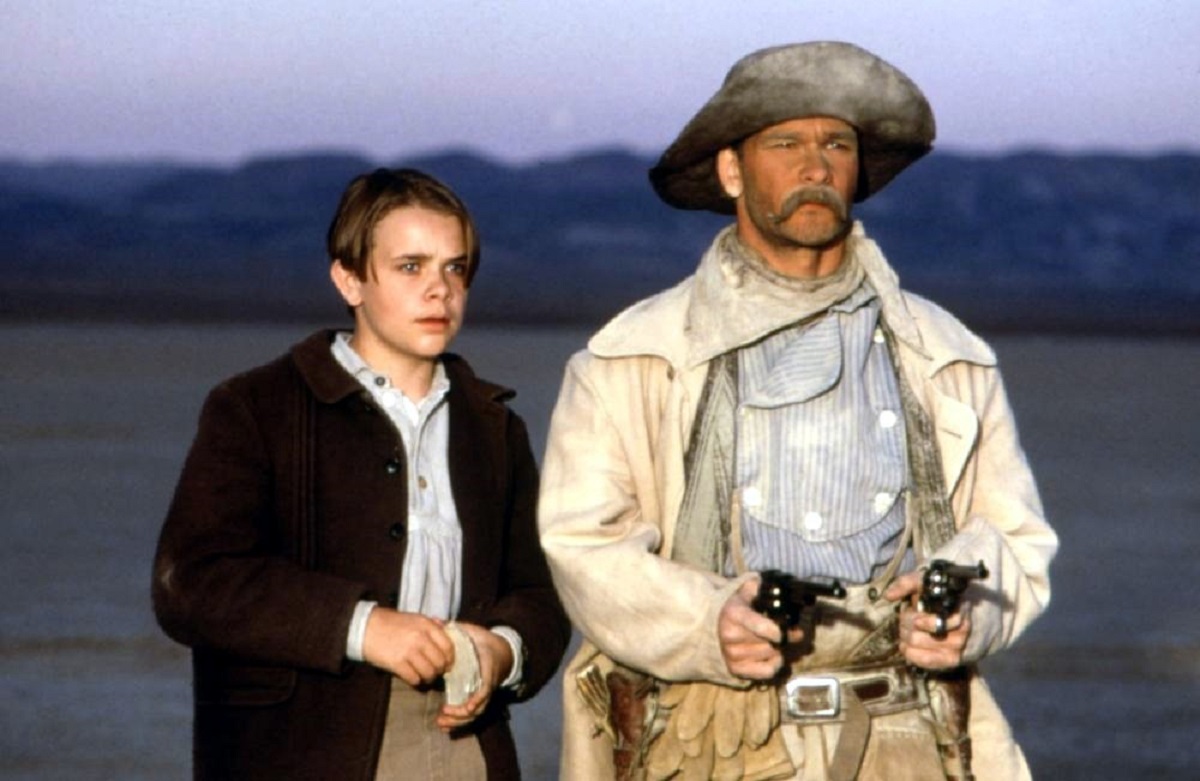 The legend of John Henry is that he was a Black railroad worker who was as strong as ten men and could hammer railroad spikes faster than anybody else. The tragedy of John Henry's story comes in how he engaged in a spike hammering contest against the steam hammer that his boss brought to replace him, only to die from a heart attack, which makes his story into a classic morality tale of the exploitation of workers by unfeeling bosses.
Calamity Jane is the odd one of the bunch in that she was a real person – Martha Jane Canary (1852-1903) – and there have never been any of the impossible tall tales attributed to her as there have to all the other characters. Calamity Jane was to all accounts a remarkable woman who dressed as a man, was a formidable sharpshooter and conducted reputed exploits of hair-raising heroism during Indian skirmishes.
There is great material in all of these characters and their larger-than-life exploits and it is of great surprise that there have been no Hollywood attempts to film their legends before now, apart from the Pecos Bill segment of Disney's Melody Time (1945). Although the story of Calamity Jane, which is notedly a non-fantastic one, has been filmed several times, most notably Calamity Jane (1953) with Doris Day, while Jane also appears as a continuing character in tv's Deadwood (2004-6) played by Robin Weigert. The film may well have drawn inspiration from the gonzo Spaghetti Western Whiskey and Ghosts (1976), which featured a snake oil salesman protected by the ghosts of Davey Crockett, Pecos Bill and Johnny Appleseed.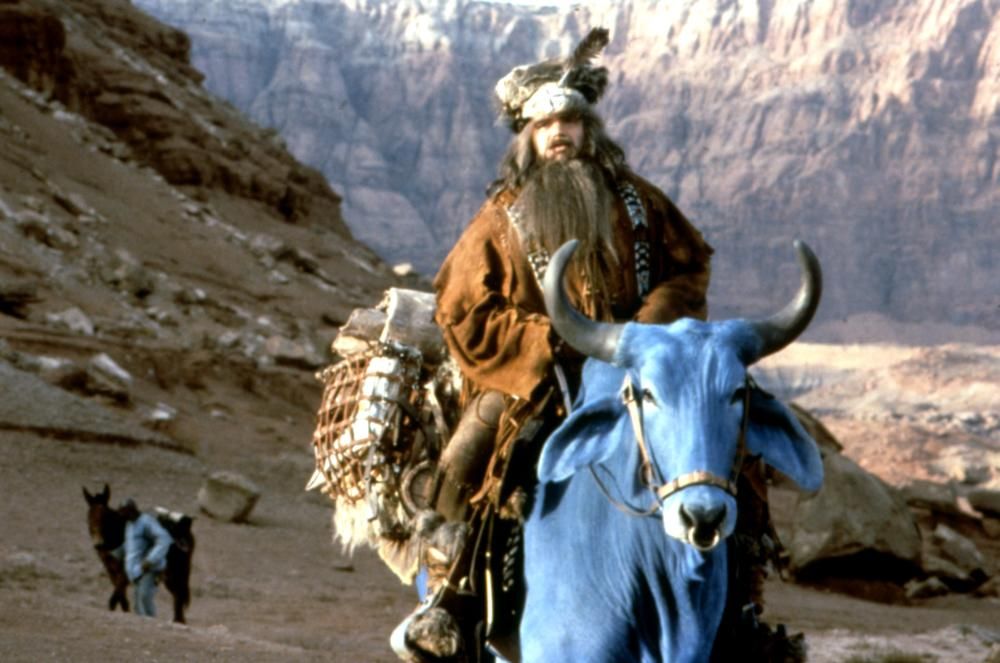 Tall Tale's critical failing – and possibly the reason the film sank from sight rather than became a fantastical delight – is that director Jeremiah Chechik seems to want to make a completely different sort of film to anything that the abovementioned legends are about. One thinks that if you are going to make Tall Tale a film about American mythical figures like Pecos Bill and John Bunyan, then it should be a film that is larger than life and revels in frankly unbelievable exploits. Instead, Chechik seems determined to make a resolutely realistic film. In fact, it is surprising how little there is in Tall Tale that can be considered fantastic at all – Paul Bunyan has an ordinary-sized ox that is coloured blue, Pecos Bill does get to rope a tornado at the end, but that is all. In fact, bar the tornado sequence, one wonders where all the effects companies listed in the credits were employed.
In a film like Tall Tale, Pecos Bill should fight a hundred men, wield his rattlesnake whip and his shooting off of the saw blade in the mill fight should be an impossible feat. Instead, all Pecos Bill gets to do are acts that could occur in about any standard film. Most disappointing is the character of John Bunyan. John Bunyan is supposed to be a giant – so big that he had to use cartwheels as buttons on his shirt and men had to wear earmuffs all year around because of his booming voice – but instead what we get is a pudgy, self-defeating Oliver Platt who is of entirely average height. In fact, one cannot think of a more miscast Paul Bunyan than Oliver Platt. Patrick Swayze at least plays the part of Pecos Bill well.
When it comes down to it, the title Tall Tale is a misnomer – the film should more accurately be called An Average Height Tale. There is certainly nothing wrong with making a non-fantastical tale about Western legends – but a film like this should either be wildly fantastical and larger than life or else it should make the clear point that it is showing that in reality these legends are flawed down-to-earth people.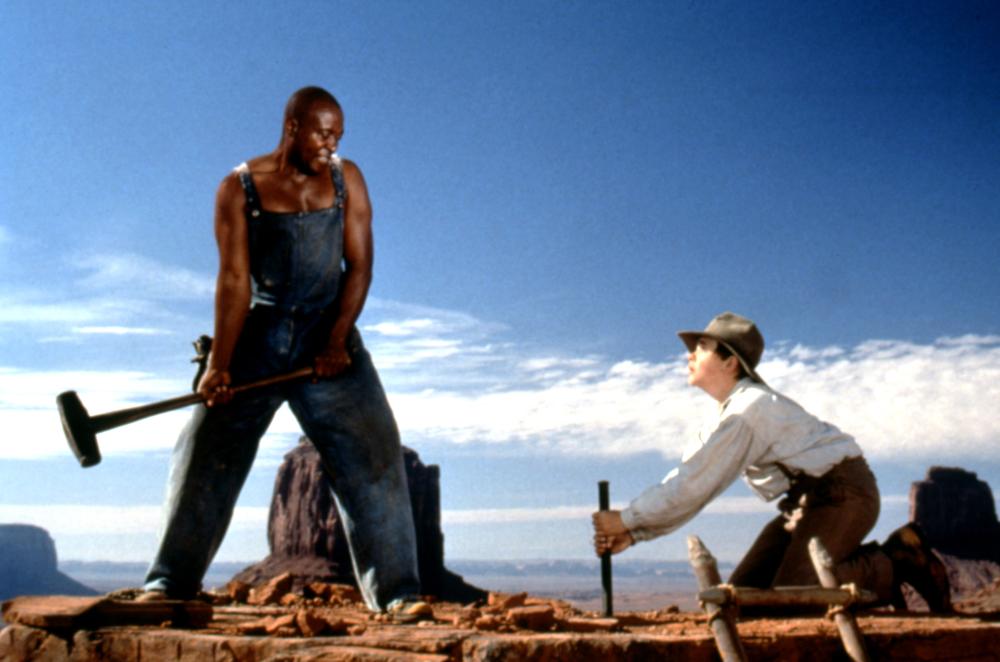 However, Tall Tale does neither, it seems to sit undecided and not at all sure what type of film it is telling. In its best moments, the film shows the legends at odds with the modern world – they doubting the existence of telegraphs and electric light, they even at one point suggesting that Nick Stahl is telling a tall tale about the existence of such things – but there is no explanation of why. In suggesting that the legends are real people, the film roots them in the here and now (or at least 1905) but to not make clear why they are amazed by modern developments is to leave aspects of these characters bafflingly unexplained.
Canadian-born director Jeremiah Chechik first appeared as a music video director. Chechik premiered on the big screen with National Lampoon's Christmas Vacation (1989) and then had a critical success with the offbeat romantic film Benny and Joon (1993) with Johnny Depp. Chechik subsequently ventured into the fantastic genre with Tall Tale and went onto two disastrously miscalculated remakes with Diabolique (1996) and The Avengers (1998). The flop of The Avengers was so big that Jeremiah Chechik did not direct another film for fifteen years.
---
---