(Le Tentazioni Del Dottor Antonio)
---
Italy/France. 1962.
Crew
Director – Federico Fellini, Screenplay – Federico Fellini, Ennio Flaiano, G. Parise, Tullio Pinelli & B. Rondi, Producers – Antonio Cervi & Carlo Ponti, Photography – Otello Martelli, Music – Nino Rota, Production Design – Piero Zuffi. Production Company – Cineriz/Concordia Compagnia Cinematografica/Francinex/Gray Film.
Cast
Peppino De Filippo (Dr Antonio Mazzuolo), Anita Ekberg (Herself)
---
Plot
In Rome, Dr Antonio Mazzuolo is a tireless campaigner for moral decency, forcing young couples out of Lover's Lane, demanding that women with revealing decolletages cover themselves, getting rid of girlie magazines from newsstands and so on. He is outraged when a giant billboard is erected in the open space opposite his apartment, which features Anita Ekberg advertising milk in a provocative and revealing pose. He marshals every resource to have the billboard removed, even pelting it in paint in frustration before it is eventually covered up. Antonio then begins to have visions of Anita Ekberg appearing to him. One night, he goes down to confront the billboard only for the giant-sized Anita to step out from it. As she walks through the streets, Anita proceeds to tempt and drive Dr Antonio crazy.
---
Federico Fellini was one of the great Italian directors to emerge in the post-War era. Fellini made his first film with Variety Lights (1950) but his true fame came a few years later with La Strada (1954), Nights of Cabiria (1957) and La Dolce Vita (1960), all of which won Oscars for Best Foreign Language Film in their respective years. Ahead for Fellini would be the defining work of his career, the frothy 8½ (1963), followed by the increasingly extravagant tributes to Rome past and present that came in Fellini Satyricon (1969), Fellini's Roma (1972) and Fellini's Casanova (1976). Fellini patented a form of filmmaking that seemed as much carnival as it was cinema, works that were less concerned with plot than the luxurious extravagance of the visuals and filled with a constant profusion of satirical figures and grotesques.
The Temptation of Dr Antonio was an episode that Fellini made for the anthology film Boccaccio '70 (1962), which was loosely intended as a series of modern tales based on The Decameron, a collection of bawdy tales written in the 14th Century by Giovanni Boccaccio. Each of the four episodes came from a different Italian director. Other episodes (all non-fantastic) included Mario Monicelli's Renzo and Luciana about a couple's work-marriage strife, Luchino Visconti's Il Lavoro (The Work) where a husband's infidelities with prostitutes is discovered and Vittoro De Sica's La Riffa about a man who wins a night with Sophia Loren in a lottery. Boccaccio '70 reigned in at 195 minutes in its original form (although this was cut down to 150 minutes in US release) – when Fellini next made his masterwork 8½, the title referred to the number of films that he had made up to that point and he considered The Temptation of Dr Antonio to be the half. A restored print of The Temptation of Dr Antonio was theatrically released as a separate feature in 2011.
The Temptation of Dr Antonio shows Federico Fellini in a frivolous and none too serious mood. Fellini never got into comedy in the way that many of his contemporaries did. Though The Temptation of Dr Antonio is a comedy, the tone is more one of a typical Fellini carnivalesque with the background of the film constantly being filled with jazz and marching bands, boy scout troupes, girls dancing, parades of clerics in scarlet robes and the typical Fellini-esque casting call of people with strange facial features.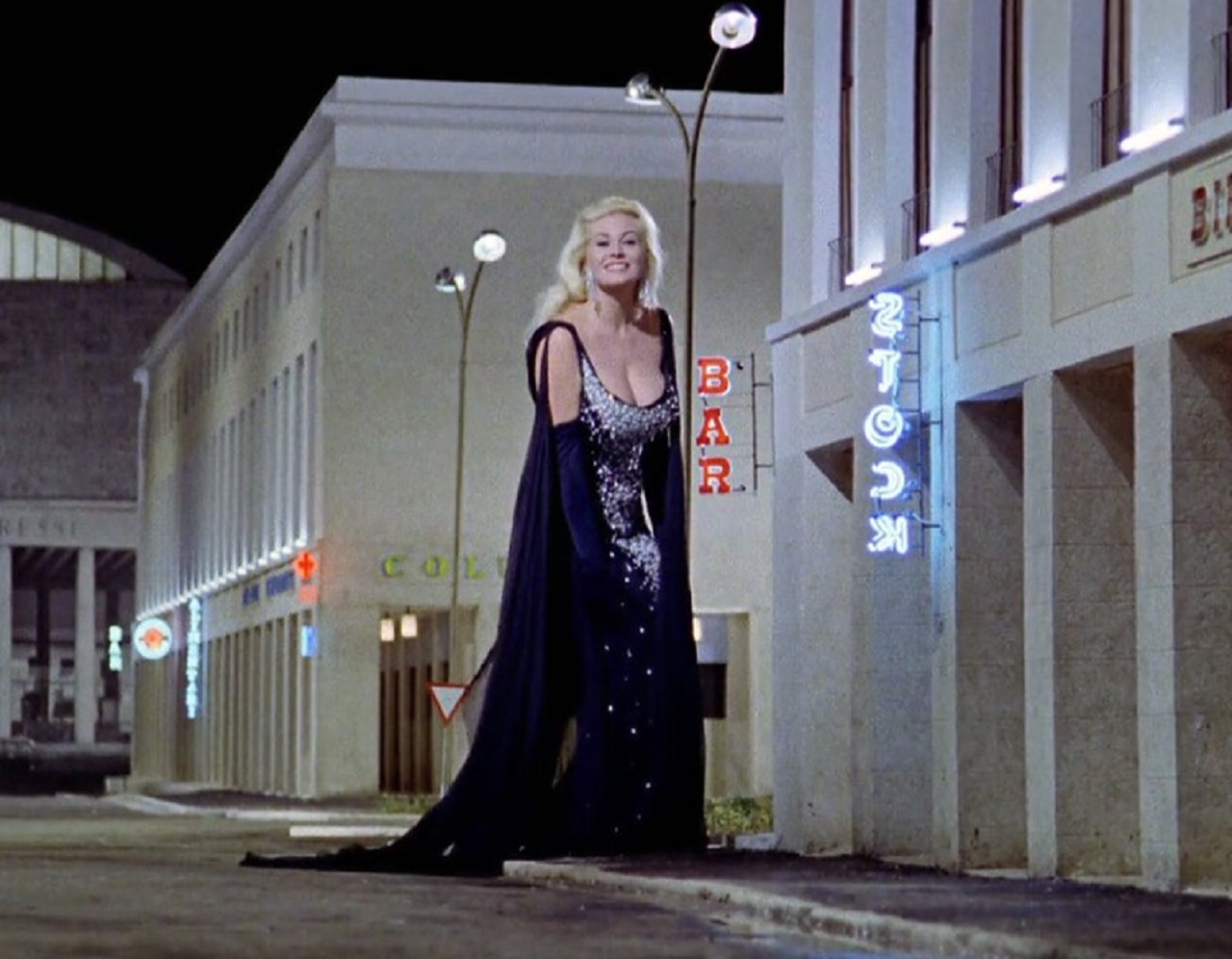 Fellini was irritated at the moral prigs and censors of the day – right-wing politicians and Vatican spokespeople had condemned La Dolce Vita and called for its banning because of its celebration of a decadent lifestyle and the blasphemous use of a statue of Christ. The Temptation of Dr Antonio starts in with a typically Fellini-esque celebration of the joy of life in Rome – the opening montage takes us on a tour of life in modern (1960s) Rome, even a comic detour to the set of a Hercules peplum – and this is clearly seen as sensual, ebullient and vitalistic against the comedically uptight figure of Peppino De Filippo's Dr Antonio.
It is odd to think of someone like Federico Fellini who was at the height of cinematic chic during the 1960s taking his inspiration from the cheapest of Hollywood B movies as the two arenas could not be more poles apart. Nevertheless, the almost certain source of inspiration for The Temptation of Dr Antonio was Attack of the 50 Foot Woman (1958), which had been released only four years earlier and featured downtrodden housewife Allison Hayes becoming giant-sized and taking revenge against her husband. Fellini filters the basic idea through his irritation at the voices of censorship and has Anita Ekberg – never succeeding in looking more voluptuously desirable and capriciously playful – stepping down off the billboard to wander through the streets of Rome, driving Peppino De Filippo into alternate paroxysms of apoplexy and lust by holding him clasped between her cleavage and threatening to take her clothes off.
There is a rather amusing fourth wall-breaking scene where Fellini has Peppino De Filippo whipping off his own clothes as Anita Ekberg announces she is starting to strip (she never does) and throwing them over the camera to protect the audience, while advising them to leave the theatre and go home. The Temptation of Dr Antonio is rather silly and somewhat dated today, but holds an undeniably appeal that is perfectly charming in its own way.
Federico Fellini's other ventures into fantastic cinema are:- Juliet of the Spirits (1965) wherein a housewife's life merges into and is overtaken by her fantasies; the eccentric Toby Damnit segment of the Edgar Allan Poe anthology Tales of Mystery and Imagination/Spirits of the Dead (1968); Fellini's Casanova (1976), a fantasticised biography of the great lover; and the surreal City of Women (1981). Fellini Satyricon has been interpreted by one genre purveyor (Peter Nicholls) as a fantasy film, although does not meet the criteria for such in this author's eyes.
---
Clip from the film here
---