(Questi Fantasmi)
---
Crew
Director – Renato Castellani, Screenplay – Renato Castellani, Adriano Baracco, Leo Benevenuti & Piero de Bernardi, Based on the Play Questi Fantasmi by Eduardo de Filippo, Producer – Carlo Ponti, Photography – Tonino Delli Colli, Music – Luis Enrique Bacalov, Special Effects – Tom Howard, Art Direction – Piero Poletto. Production Company – CC Champion/Les Films Concordia.
Cast
Sophia Loren (Maria Gennari), Vittorio Gassman (Pasquali Lacarno), Mario Adorf (Alfredo), Aldo Giuffre (Raphale Morales), Margaret Lee (Sayonara)
---
Plot
Maria Gennari marries opera singer Pasquali Lacarno but they are reduced to poverty when he is fired from his job. Pasquali then finds a 17th Century mansion being offered not only rent free but with the owner even offering to pay to move them in. However, once moved in, they find that the house is supposedly haunted by the ghosts of a 17th Century Duke and the nun he loved. Meanwhile, Maria's old boyfriend Alfredo, a highly successful financier at an orphanage, comes trying to win her back. When Pasquali encounters Alfredo in the house, he thinks him the Duke's ghost, which precipitates a farcical comedy of errors.
---
Ghosts – Italian Style is not terribly different from a horde of comedies made in the late thirties and forties, beginning with the Bob Hope The Cat and the Canary (1939), which played traditional haunted house cliches for laughs. The difference here is that Ghosts – Italian Style dispenses with most of the traditional cliches and becomes a comedy of errors with (until the very end) the supernatural elements played for clear corporeal slapstick.
On the level of its quick and snappy blunders of interpretation and plot twists, Ghosts – Italian Style makes for a film that is entertaining in a limited way. Unfortunately, it asks belief in some sweeping plot holes that is not easy – not the least of which is the contrived arrangement three-quarters of the way through about Sophia Loren going off to hide in mountain villages, leaving husband Vittorio Gassman to be arrested for murder.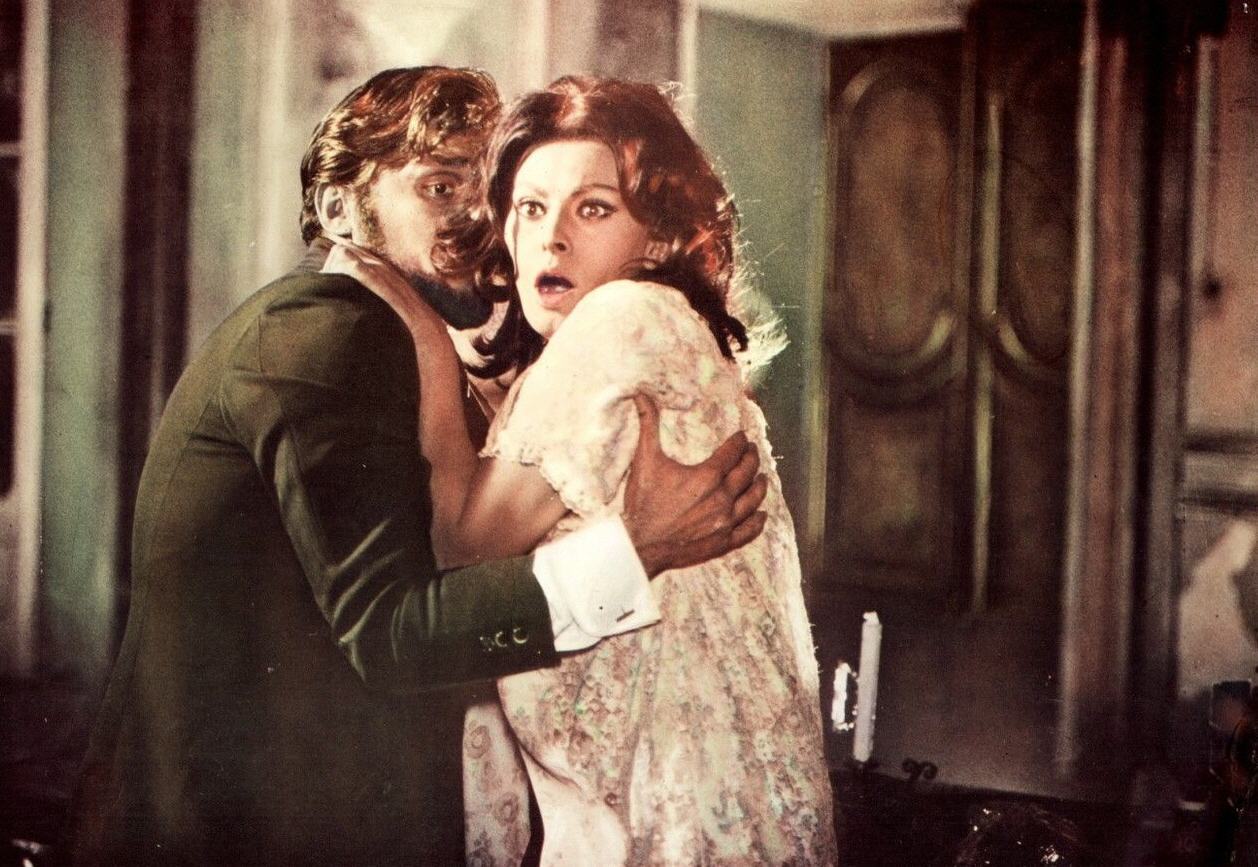 A French-Italian co-production shot in English, Ghosts – Italian Style is also beset by a stiltedness of language. The beautiful Sophia Loren always manages to grace a film, no matter whether it is an inconsequential triviality like this or the endless soap operas she was cast at the height of her popularity in the 1960s. The ending where she parodies the ethereal wafflings of ghostly portents, balancing them with an eagerness to get Mario Adorf's guilt money, is especially charming. Margaret Lee is not bad either in a largely irrelevant role as the English boarder-come-hooker. As to the menfolk, Vittorio Gassman and Mario Adorf who both play hapless, wet-eared wimps that seem identical clones, the less said the better.
The film is based on a popular play Questi Fantasmi! (1945), which translates as These Ghosts, by Italian writer Eduardo De Filippo. For the film's English-language release, the play was retitled Ghosts – Italian Style copying the title of the popular Marcello Mastroianni comedy Divorce – Italian Style (1961). Indeed, doing so became so popular that there ended up being some 20 other films all suffixed Italian Style over the next decade. There were previous film versions of the Eduardo De Filippo play in 1954 or 1962, although little is known about these.
---