---
Crew
Director – Charles Lamont, Screenplay – John Grant, Robert Lees & Frederick I. Rinaldo, Story – Howard Snyder & Howard Wedlock Jr, Producer – Howard Christie, Photography (b&w) – George Robinson, Music Supervisor – Joseph Gershenson, Visual Effects – John P. Fulton, Special Effects – David S. Horsley, Makeup – Bud Westmore, Art Direction – Bernard Herzbrun & Richard Riedel. Production Company – Universal.
Cast
Lou Costello (Lou Francis), Bud Abbott (Bud Alexander), Arthur Franz (Tommy Nelson), Nancy Guild (Helen Gray), Adele Jurgens (Boots Marsden), William Frawley (Detective Roberts), Gavin Muir (Dr Philip Gray), Paul Maxey (Dr Turner), Sheldon Leonard (Morgan)
---
Plot
Two bumbling private detectives, Bud and Lou, become involved in helping prize-fight contender Tommy Nelson who is trying to clear his name from the charge of murdering his manager. In order to hide from the police, Tommy injects himself with an invisibility serum. He then sets Lou up as a fight contender in order to draw out the crooked promoter he believes is responsible for the murder. This culminates in the untrained Lou having to fight his opponent in the ring while aided by Tommy's invisible punches.
---
Abbott and Costello were one of the most popular comedy acts of the 1940s. Having produced 2-3 films per year since their first appearance in 1941, the duo then had great success with their twenty-first film Abbott and Costello Meet Frankenstein (1948) wherein their clowning was paired up against Universal's in-house monsters – Dracula, the Frankenstein Monster and the Wolf Man. The two idiots then made their second outing with Universal's classic monsters with this encounter with the Invisible Man and would go on to meetings with Dr Jekyll/Mr Hyde and the Mummy.
It should be pointed out in this instance that, while the title is accurate and Abbott and Costello do indeed meet an Invisible Man, it is the Invisible Man in name only – with the only connection to H.G. Wells or the film version The Invisible Man (1933) and any of its sequels being that Gavin Muir's scientist possess the invisibility serum that was used by Griffin in the original story (although he does maintain the same appearance with his face hidden behind bandages and sunglasses).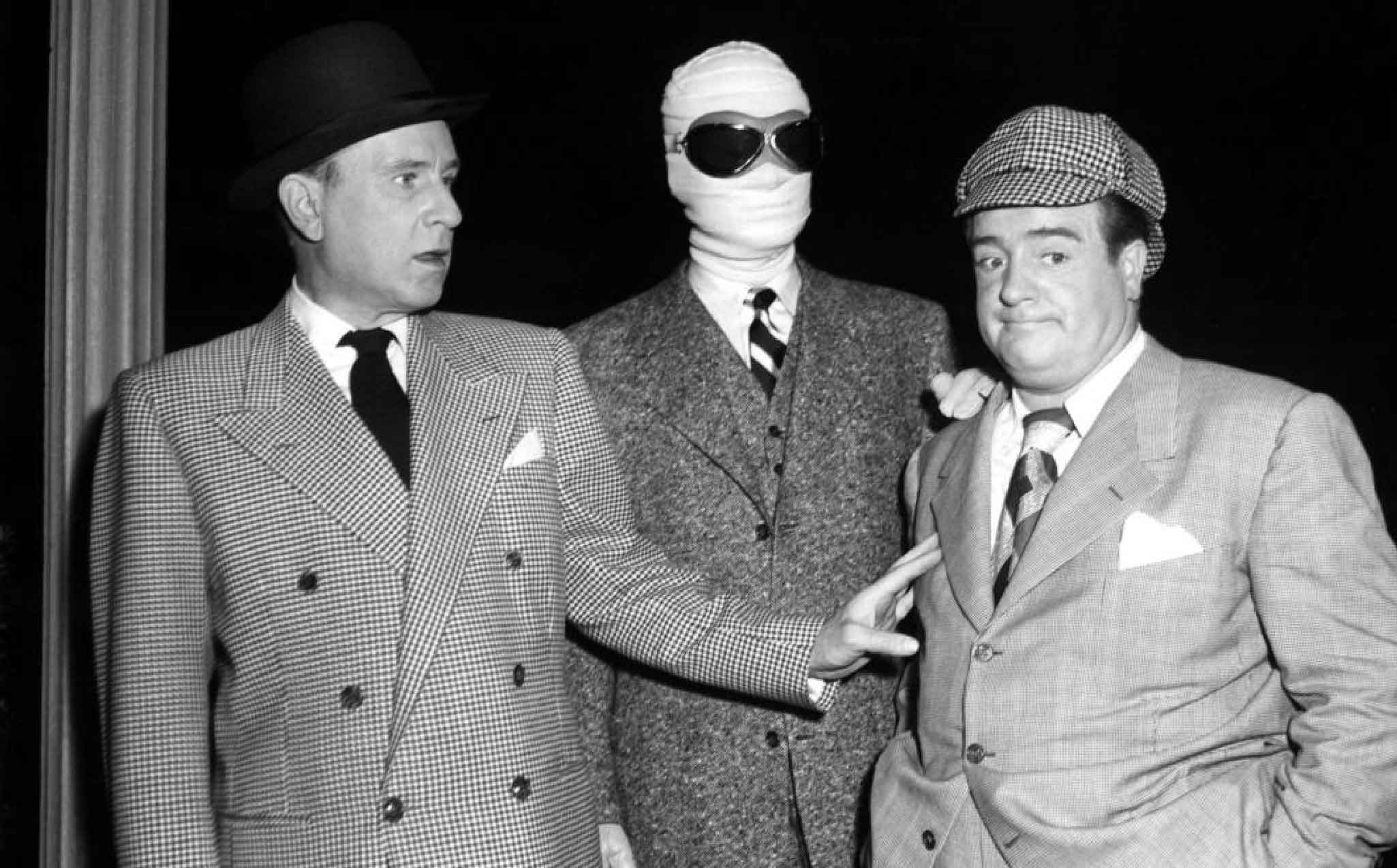 Abbott and Costello Meet the Invisible Man is an odd mix that seems one part Abbott and Costello's low-jinks, the other a more interesting straight invisible man story. What makes the film watchable over and above the usual lowbrow numbskullery the two engage in are the excellent invisibility effects. Here we get to see the title character dressing and undressing, eating spaghetti and shuffling cards. Particularly good is the marvellously choreographed fight at the climax where Costello must fight an opponent in the ring with his fists and body being lifted up by the invisible man. For once, the boys are left high and dry by the far more interesting set pieces.
The other Abbott and Costello genre entries are:– Hold That Ghost (1941), The Time of Their Lives (1946), Abbott and Costello Meet Frankenstein (1948), Comin' Round the Mountain (1951), Jack and the Beanstalk (1952), Abbott and Costello Go to Mars (1953), Abbott and Costello Meet Dr Jekyll and Mr Hyde (1953) and Abbott and Costello Meet the Mummy (1955). Lou Costello made one solo effort with The 30-Foot Bride of Candy Rock (1959).
---
---