---
USA. 1946.
Crew
Director – Arthur Lubin, Screenplay – Ernest Pascal, Adaptation – Emmet Lavery, Based on the Novel Peacock's Feather by George S. Hellman, Producer – Walter Wanger, Photography – W. Howard Greene & Hal Mohr, Special Photography – John P. Fulton, Music – Frank Skinner, Makeup – Jack P. Pierce, Art Direction – Alexander Golitzen & John B. Goodman. Production Company – Universal.
Cast
Turhan Bey (Aesop), Merle Oberon (Princess Delerae), Thomas Gomez (King Croesus), Ray Collins (Leotitus), Gale Sondergaard (Queen Atassa)
---
Plot
563 B.C. in the kingdom of Lydia. The aging storyteller and wise man Aesop becomes the favourite of the king Croesus when he uses simple wisdom to help Croesus free himself from a magical curse placed on him by Queen Atassa of Phrygia. Aesop then falls for Princess Delerae of Persia who has come seeking Croesus's hand. She in return falls for him after he reveals that he is a young man who only disguises himself as an old man because wisdom needs the appearance of age to be acceptable. However, their struggle to keep their love hidden makes them fugitives from the vain Croesus.
---
Night in Paradise is a grotesquely awful film. What should have been a light fantasy adventure has instead been made as a horrendously superficial and glossy production that epitomises all that is bad about the studiobound Hollywood epic of the 1940s. The sets and costumes are, as to be expected, arresting on the eye, but never for a moment convince that the production takes place in a world that exists outside of a studio soundstage. The film should have bubbled with fantasy – some of it does in the character of Aesop – but mostly the film feels like a lowbrow comedy that never gets started.
The dialogue grates with abominable innuendoes – "That is in the lap of gods," Merle Oberon notes at one point, to which Thomas Gomez's king leers "Sit in my lap and we'll have a heart to heart talk with the gods." The first few minutes of the film are abysmal – a slave is shown nestling between the breasts while cleaning a statue of Aphrodite. "That's as close to Paradise as he'll ever get," someone comments. "Talking of fruit," someone else says and the camera pans away to nymphs splashing in a pool.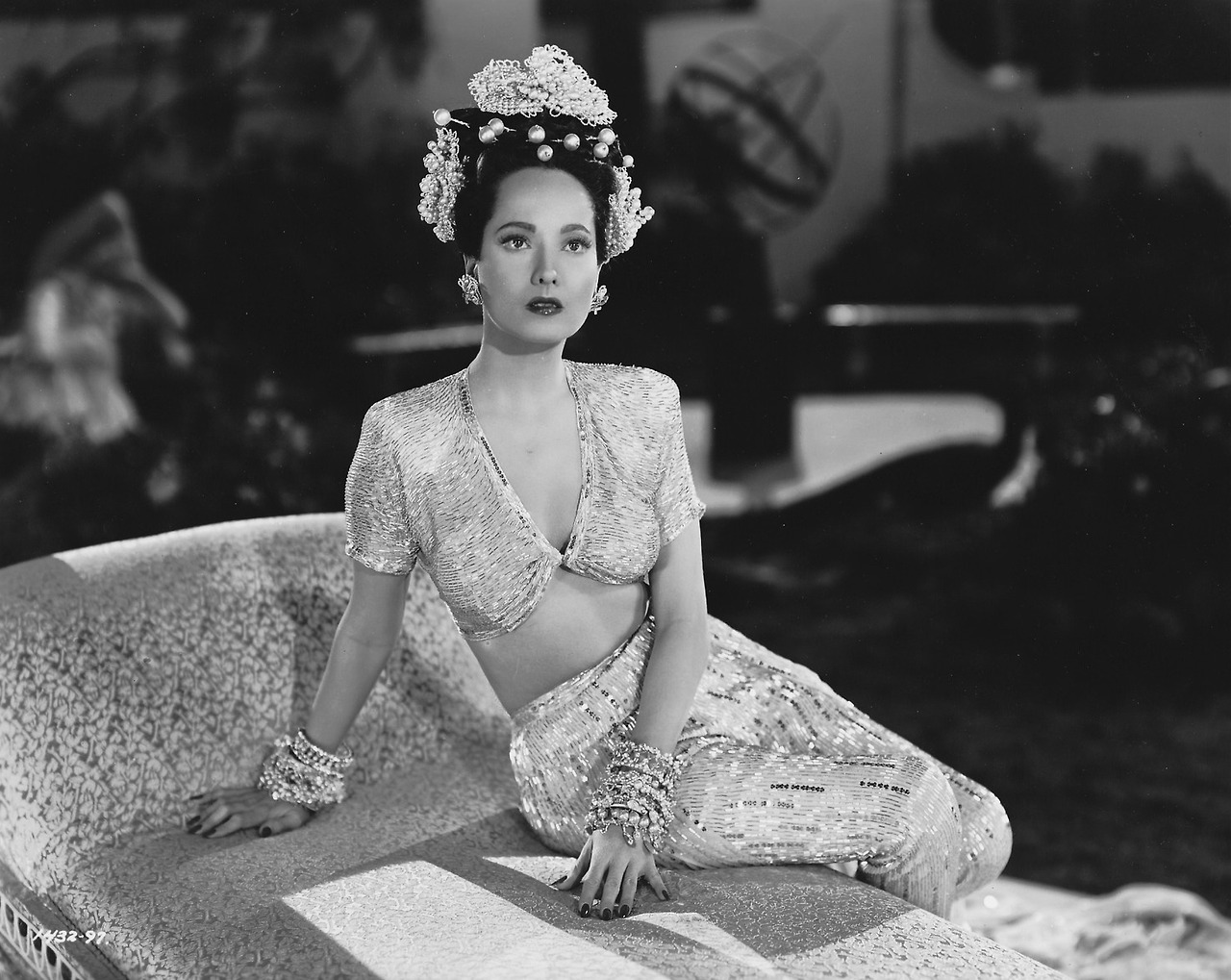 The rather stiff and heavily accented Turhan Bey has a rudimentary conviction as Aesop – there is at least a distinct change that can be seen between him in disguise as an old man and as a youth. Most of the rest of the cast are awful, particularly Gale Sondergaard who lacks the ability to conduct her performance with anything other than a vacantly amused smirk.
Arthur Lubin (1898-1995) was a prolific director who made some 70s films between the 1930s and 1950s. His other films of genre note include:- the transplanted brain film Black Friday (1940); the Abbott and Costello film Hold That Ghost (1941); the Claude Rains Phantom of the Opera (1943); Ali Baba and the Forty Thieves (1944); the talking mule film Francis (1950) and sequels Francis Goes to the Races (1951), Francis Goes to West Point (1952), Francis Covers the Big Town (1953), Francis Joins the WACS (1954), Francis in the Navy (1955) and Francis in the Haunted House (1956); the comedy It Grows on Trees (1952) about trees that grow money; The Thief of Bagdad (1961); and The Incredible Mr Limpet (1964) about a man who turns into a porpoise.
---
Trailer here
---