---
Crew
Director – Zhang Yimou, Screenplay – Carlo Bernard, Tony Gilroy & Doug Miro, Story – Max Brooks, Marshall Herskovitz & Edward Zwick, Producers – Jon Jashni, Peter Loehr, Charles Roven & Thomas Tull, Photography (3D) – Stuart Dryburgh & Zhao Xiaoding, Music – Ramin Djawadi, Visual Effects Supervisor – Phil Brennan, Samir Hoon & Ben Snow, Animation Supervisor – Jance Rubinchik, Visual Effects/Animation – Industrial Light and Magic, Additional Visual Effects – Animal Logic VFX, Base FX (Supervisor – Jay Mehta), Big Sky Laboratories, LLC (Supervisor – Matthew Dean Russell), Ghost VFX, Hybride (Supervisors – Joseph Kasparian & Philippe Theroux), Lola VFX & UPP (Supervisor – Viktor Mueller), Conceptual Design/Creatures/Specialty Props – Weta Workshop (Supervisor – Richard Taylor), Production Design – John Myhre. Production Company – Legendary Pictures/Atlas Entertainment/China Film Co., Ltd/Le Vision Pictures.
Cast
Matt Damon (William Garin), Pedro Pascal (Pedro Tovar), Jing Tian (Commander Lin Mae), Willem Dafoe (Ballard), Andy Lau (Strategist Wang), Hanyu Zhang (General Shao), Lu Han (Peng Yong), Kenny Lin (Commander Chen), Eddie Peng (Commander Wu), Xuan Huang (Commander Deng), Zheng Kai (Shen), Junkai Wang (Emperor)
---
Plot
Sometime around 1000 A.D. The mercenary William is part of a group of Westerners that have travelled into China in search of rumours of black powder (gunpowder). They are attacked by a fierce creature but manage to send it over a cliff, not before William cuts off its hand. He and Tovar are the only members of the party to survive the attack. They then arrive at a section of the Great Wall and are taken prisoner by the military guard The Nameless Order who are suspicious of them but fascinated by the hand. As they are sent away to their cells, the wall comes under attack by the horde of the creatures, the legendary Tao Tie that return every sixty years. The Chinese have created elaborate methods of defence to fight them off. William redeems their reputation by wading into combat and killing several of the creatures. He lends his support to the defence, realising that the magnetic stone he carries may offer a means to defeat the creatures. Then however it is discovered that the creatures have burrowed under the wall and are now heading en masse towards the capital.
---
In recent years, Chinese cinema has been making huge gains. With Crouching Tiger, Hidden Dragon (2000), Chinese filmmakers realised there was a market for their product. One of the first directors to jump aboard this new wave was Zhang Yimou who made Hero (2002) and House of Flying Daggers (2004), both Wu Xia epics made with extraordinary visual flourish, as well as Shadow (2018), a further Wu Xia made subsequent to this. Other Chinese filmmakers have followed with the likes of The Monkey King (2014) and sequel, Zhongkui: Snow Girl and the Dark Crystal (2015) and League of Gods (2016), among others, all of which show Chinese cinema building on an increasingly confident employment of massive budgets, CGI effects and certainty of their own domestic market (even if the films in question have met with mixed box-office in Western release).
Furthermore, Hollywood has come to an increasing awareness of the size of the Chinese market and has sought to play to it with the insertion of Chinese content either with the addition of scenes shot in China as in Iron Man Three (2013), Transformers: Age of Extinction (2014) and Now You See Me 2 (2016), or in the deliberate writing in of Chinese characters so as to employ names that have appeal at the Chinese box-office as in Independence Day: Resurgence (2016), Rogue One (2016), xXx: Return of Xander Cage (2017) and Pacific Rim: Uprising (2018).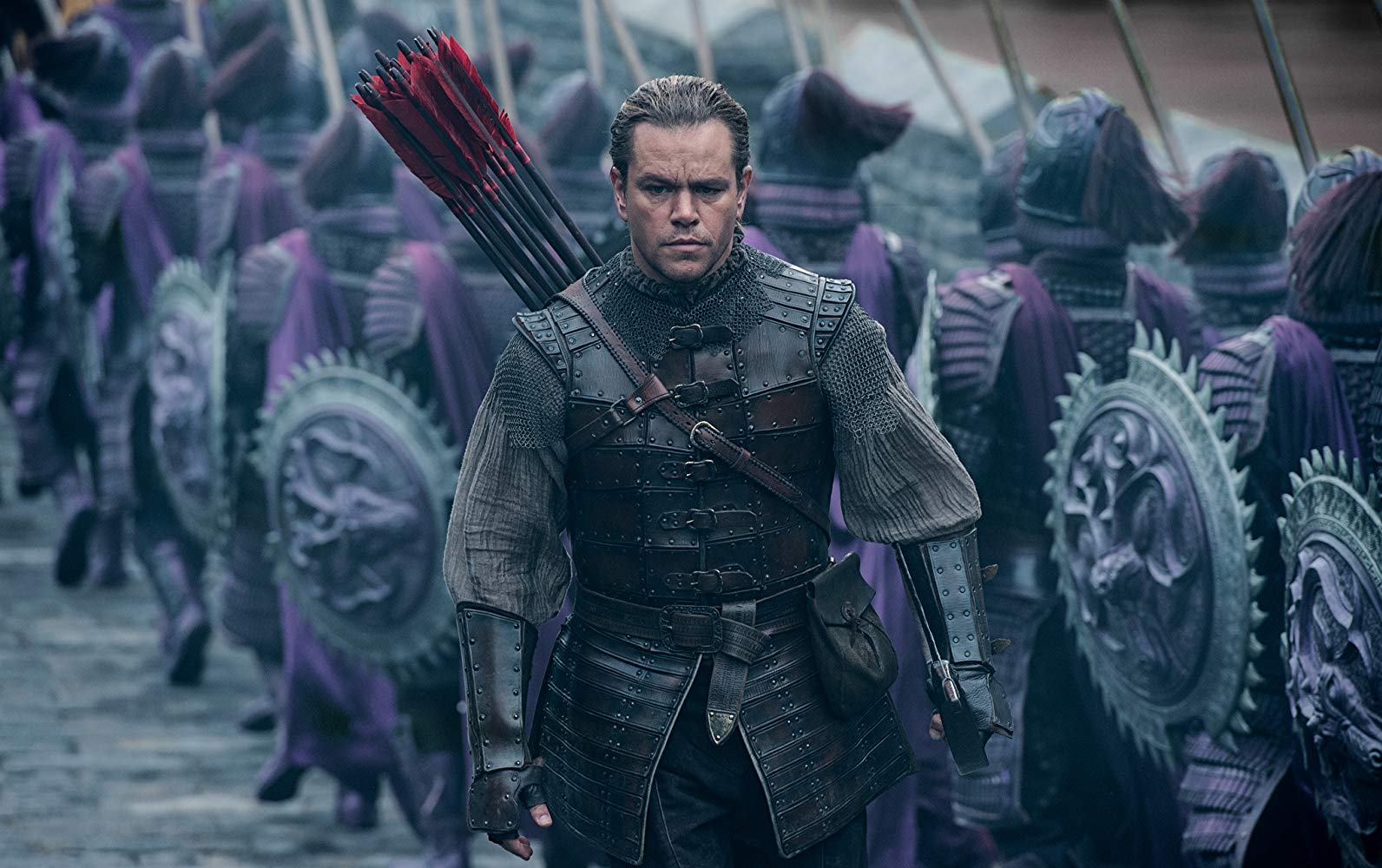 The Great Wall was misleadingly perceived as a Chinese production. In actuality, what we have is not a Chinese film but a Western production from Legendary Pictures, who have been behind high-profile works in recent years that include Batman Begins (2005), Superman Returns (2006), 300 (2007), Watchmen (2009), Inception (2010), Man of Steel (2013), Pacific Rim (2013), Godzilla (2014) and Warcraft (2016), among others. The producers are American, the script is written by Americans including Tony Gilroy, author of Armageddon (1998), Rogue One, Matt Damon's Bourne films and director of Nightcrawler (2014), and Max Brooks, the original author of World War Z (2013).
That said, The Great Wall is co-produced by a Chinese studio, has a Chinese production crew, is partially shot in Mandarin and features a substantially Chinese cast. On the other hand, though it has a Chinese director in Zhang Yimou, he was only the second choice after the film was originally to be made by Edward Zwick who has made other period-set works such as Glory (1989), Legends of the Fall (1994) and The Last Samurai (2003). The film attracted some negative pre-release press for its perceived whitewashing – a historic drama about China that writes Matt Damon in as a white man who saves China (although many critics rescinded these claims after seeing the film).
The Great Wall opened to very mixed reviews. It does have Zhang Yimou in the director's seat and the breathtaking visual splendour he has demonstrated in his other films made me anticipate the film. The Chinese-made fantasy films listed above make a virtue of their extraordinary synthesis of fantasy, CGI, costuming and design.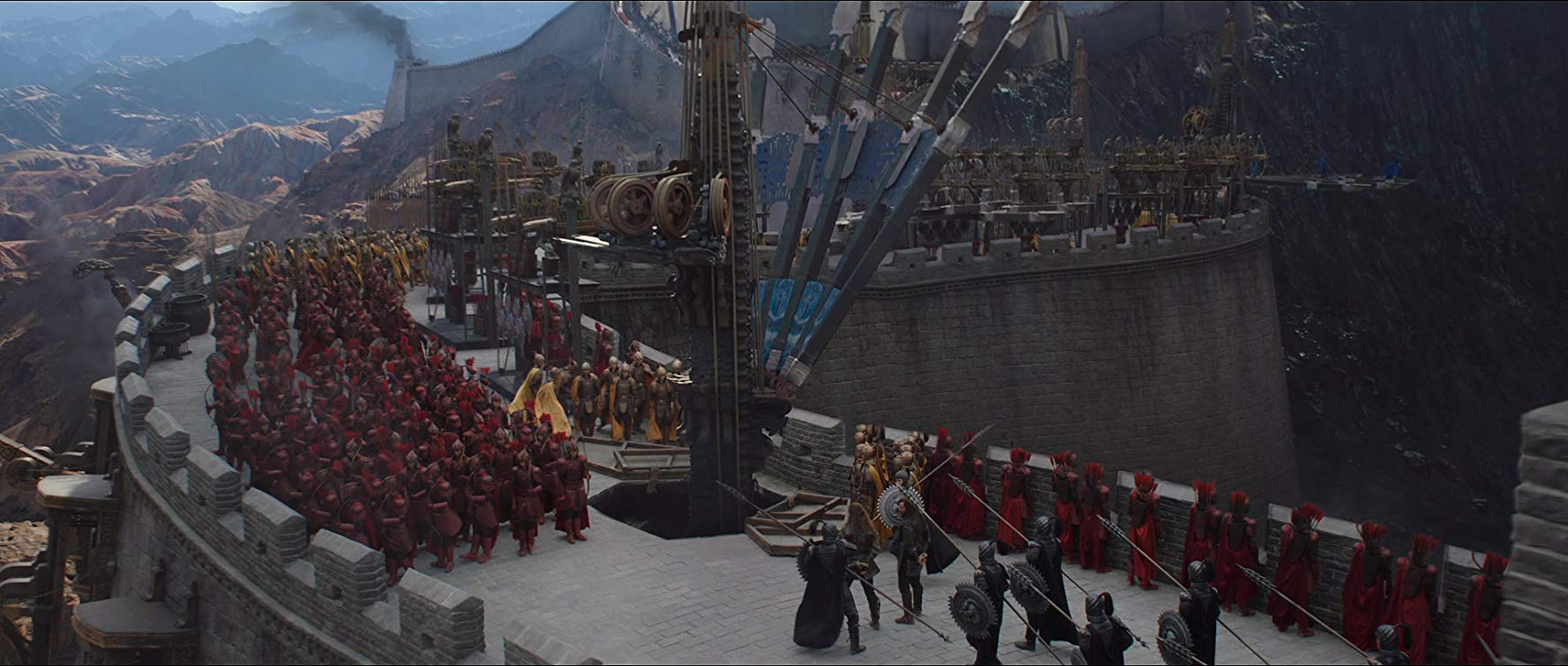 The film here opens much more quietly than you would expect but when it comes to the Tao Tie assault on the wall fifteen minutes in, Zhang Yimou leaves our mutual jaws dropped on the floor. We have astonishing scenes where the defending army fire massive fireballs and a sea of coloured arrows down against the oncoming horde of monsters; images of warrior women in blue armour bungee-jumping off the top of the wall to attack the monsters from above with spears; slits in the wall that open to extend giant shears to scythe the monsters in two; scenes with Matt Damon in furious hand-to-hand combat with the monsters.
The costuming budget for the film looks breathtaking when Zhang's camera pulling up to reveal the army in its hundreds stretched out around the wall in their colour-coded armour and pennants flapping on their spears. Either that or rapturous images of the launching of hundreds of miniature hot air balloons lit up by candles for the funeral of the general or the climax with the army setting off to the capital in a squadron of hot-air balloons and taking on the massed monsters from the air. All of the scenes have been designed for maximum impact in 3D.
Visually, The Great Wall is a stunning film and the battle scenes look breathtaking. Moreover, while the abovementioned Chinese fantasy films have not fully cracked the art of CGI effects and many of the effects come out looking obviously like they are, the employment of Western houses like Industrial Light and Magic and the Weta Workshop to provide these here makes a noticeable improvement. On the other hand, The Great Wall is lacking when it comes to almost anything outside Zhang Yimou's visuals and action set-pieces.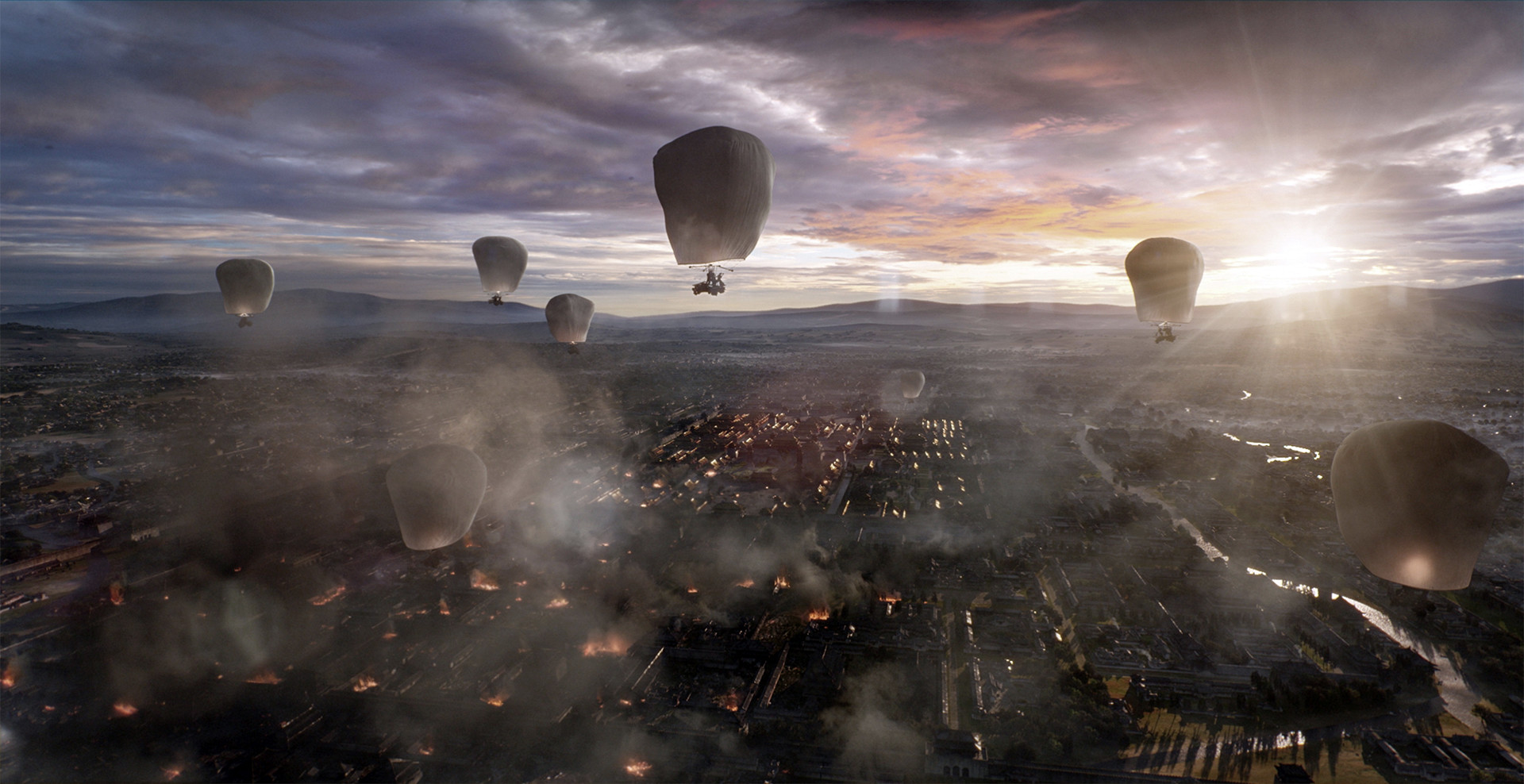 The script feels underwritten. Though the Tao Tie are actual creatures that appear in Chinese mythology, no explanation is given as to what they are apart from the recounted story of how they emerged from a meteorite that came down two thousand years ago (which leaves the intriguing implication that they might be alien, although this is explored no further). Little is done to give the film any historical context – you are not even sure which dynasty or century it takes place in.
The characters are thin – Matt Damon's role could have been inhabited by essentially anybody. The few non-epic action scenes we get consist of trying to create a romance that never happens between Matt Damon and Jing Tian, as well as some silly scenes where Damon must shoot arrows to catch a bowl in mid-air (something to do with proving the superiority of his bow) and learn the meaning of trust by being dared by Jing Tian to put on a bungee cord. It just leaves you wishing that all of the astonishing visuals that Zhang Yimou provides had been supported by something more.
---
---