---
Crew
Director – Robert Scheerer, Screenplay – Dee Caruso & Gerald Gardner, Producer – Bill Walsh, Photography – Frank Phillips, Music – Marvin Hamlisch, Art Direction – John B. Mansbridge & Walter Tyler. Production Company – Disney.
Cast
John Amos (Sam Archer), Jan-Michael Vincent (Nanu), Tim Conway (Milo Jackson), Roscoe Lee Browne (Gazenga), Dayle Haddon (Jane Douglas), Danny Goldman (Leopold Maxwell), Nancy Walker (Mrs Peterson)
---
Plot
Coach Sam Archer is dejected at the total ineptitude of the athletes he trains on the college sports track. While on a safari holiday in Africa, he sees Nanu, an orphan white boy who has been raised among the natives, outrunning a cheetah. Becoming obsessed with recruiting Nanu for the college athletics team, Sam tries to exploit a native law that says that a man who saves another's life must follow him everywhere. After several abortive attempts to manufacture life-threatening situations, Sam is able to fake an illness and get Nanu's help. With Nanu now forced to follow him everywhere, Sam brings him back to the US. There Nanu proves an amazing success on the athletics track. However, the Dean's jealous son conspires to sabotage things by bringing Nanu's witch doctor mentor from Africa to stop him.
---
The World's Greatest Athlete is one of the less-remembered of the films from the heyday of Disney live-action comedies between the 1960s and early 1980s. Almost every one of the live-action comedies that Disney made during this period – from The Absent-Minded Professor (1961) to the Merlin Jones, Dexter Reilly and Love Bug films to Blackbeard's Ghost (1968) and Freaky Friday (1976) – featured a beleaguered sports team or player winning out after receiving some type of fantastical aid or empowerment on the field/track.
It was rare during this period to see the Disney people cross-pollinating their product with other genres, they mostly preferring to stay within their own rigidly defined formula. The World's Greatest Athlete was one exception where Disney conceived the film as a parody of Tarzan. [Of course, Disney later made a straight version of the Tarzan legend with the animated Tarzan (1999)]. This was also the period when the Tarzan films had just started to be parodied, beginning with the animated tv series George of the Jungle (1967-70). When subjected to the light burlesque of the 1970s Disney pre-teen formula here, the results make for a surprisingly congenial and amusing confection.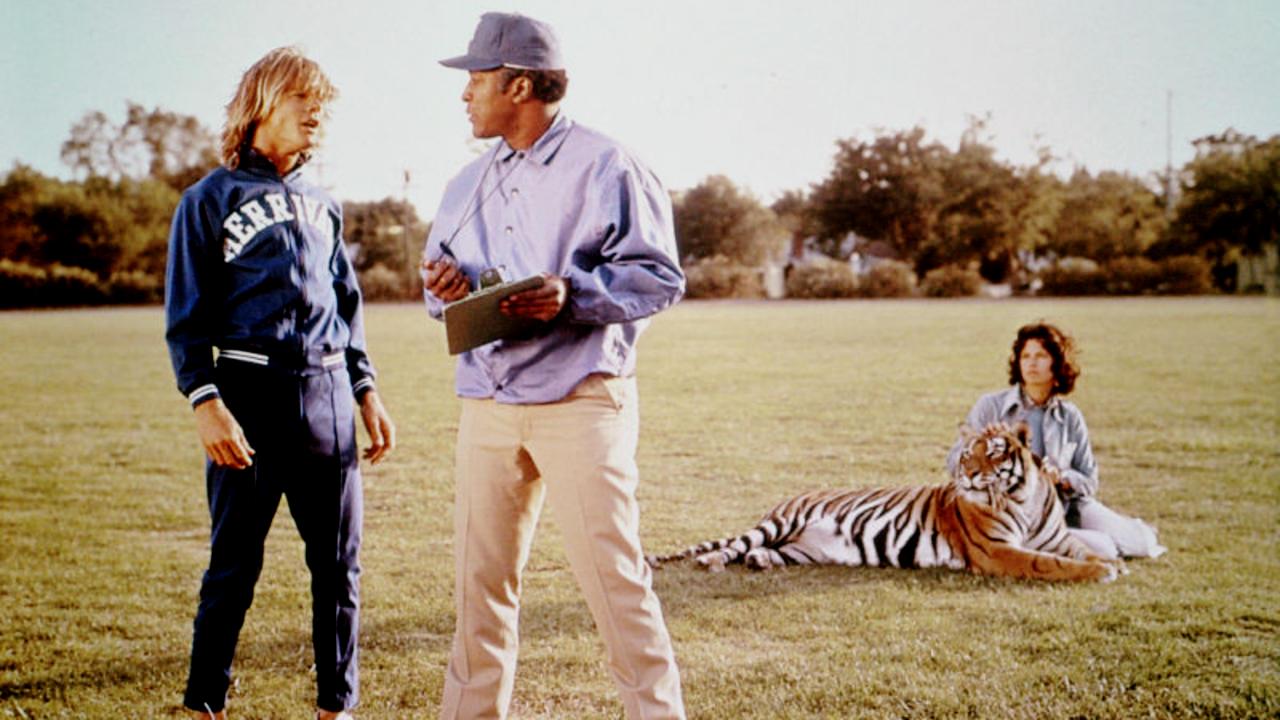 The World's Greatest Athlete is highly enjoyable fun in its energetic serving of comedic set-pieces involving voodoo dolls and people being twirled about in mid-air; a running gag with a blind landlady mistaking a tiger for a person; and an inventive effects set-piece with a shrunken Tim O'Connor trying to escape from a bar. The extended scenes at the track event climax are a comedic joy.
The lead casting of John Amos was Disney's belated attempt to catch up with the rising acceptance of Black stars at the box-office in the 1970s. Disney's last venture into matters African-American had been the controversial Song of the South (1946) and their live-action films from the 1940s up to this point had been notable for their absence of non-Caucasian faces. Amos manages an admirable sense of hangdog enthusiasm and deadpan reactions. Roscoe Lee Browne also has an undeniably amusing presence as the witch doctor, tossing in modern non-sequitirs amid the traditional trappings of the role.
---