---
Crew
Director – Curtis Hanson, Screenplay – David Koepp, Producer – Steve Tisch, Photography – Robert Elswit, Music – Trevor Jones, Production Design – Ron Foreman. Production Company – Producers Representative Organization/Steve Tisch.
Cast
James Spader (Michael Boll), Rob Lowe (Alex), Christian Clemenson (Pismo), Lisa Zane (Claire)
---
Plot
Stockbroker Michael Boll gets in a barroom fight but is saved by the charismatic Alex. The two subsequently become best friends. Alex urges the passive Michael to stand up for himself. He 'helps' Michael out of his unhappy engagement by playing a videotape of Michael and a girl having sex at a dinner-party held by Michael's fiancee's parents. Their friendship becomes increasingly lawless, involving drugs, armed robbery and the mugging of one of Michael's rival work colleagues. However, when Michael decides it has gone too far and wants to quit, Alex turns ruthless, leaving a dead body in Michael's apartment and then taunting and implicating him in the crime.
---
Before making a big name with L.A. Confidential (1997) and being nominated as Best Director by the Motion Picture Academy and most other annual film awards out there, Curtis Hanson made a number of highly effective thrillers. He wrote the scripts for the horror film Sweet Kill/The Arousers (1973), the fine The Silent Partner (1978) and directed The Bedroom Window (1987), before gaining a name with Bad Influence, the psycho babysitter effort The Hand That Rocks the Cradle (1992) and the outdoors adventure thriller The River Wild (1994). Prior to L.A. Confidential however, Hanson had failed to distinguish himself with audiences as anything other than a thriller director. Hanson subsequently enjoyed the acclaim of non-thriller films like Wonder Boys (2000) and 8 Mile (2002).
With Bad Influence, Curtis Hanson reworks Alfred Hitchcock's Strangers on a Train (1951) to considerable effect, giving Hitchcock a Yuppie update that is alternately shocking and stylish. Bad Influence is a film that lives in a darker territory than any mainstream thriller around the time – it is like a Blue Velvet (1986) inhabiting a heart of darkness behind a sense of flashy Yuppie conspicuous consumption. It is never more sensational than in its journeys through decadent parties, liaisons with mystery women – Rob Lowe doesn't bed a single woman, he take two and happily encourages a lesbian twosome with himself as onlooker – casual drug use and anarchic abandon of the law.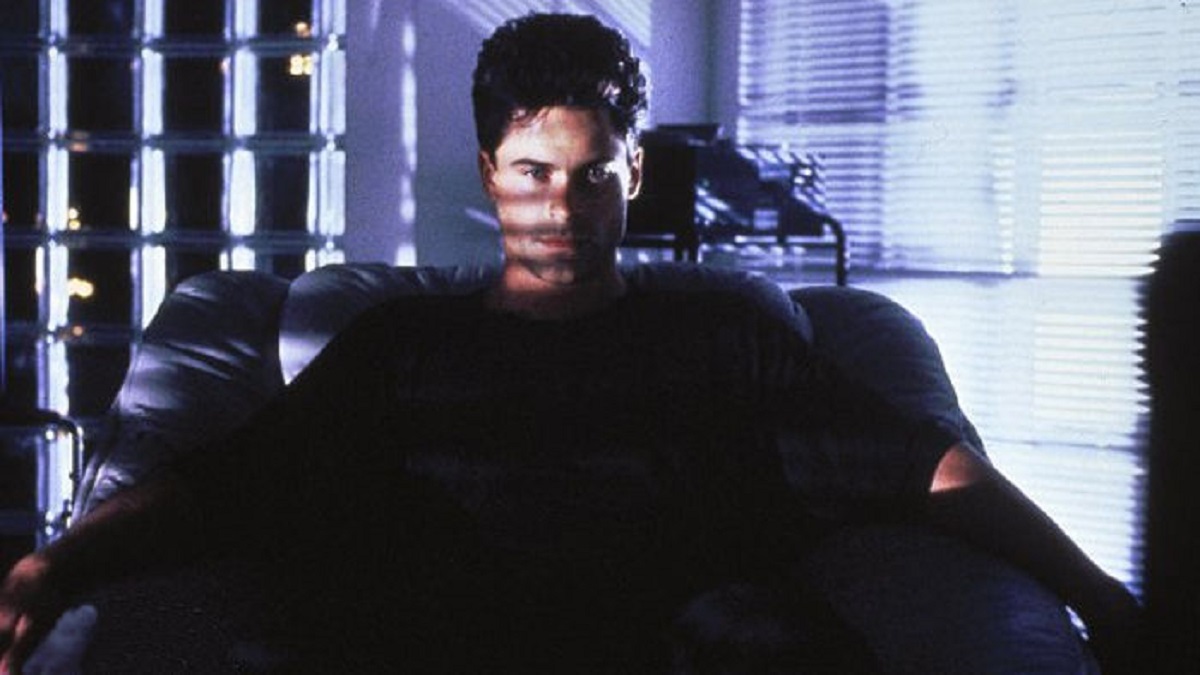 Curtis Hanson has a powerful grip on the film and it has a visceral exhilaration to it that is enthralling – like the scenes of doped-up humour in a burger bar that explode with electrifying effect as Rob Lowe, without a change in jocularity, pulls a gun on the cashier. There is a beautifully manoeuvered single shot focused on the taunting message that Rob Lowe leaves for James Spader on a widescreen video, the message taped to wait for Spader to find the dead body in the background before continuing.
James Spader, who can be a dreadful cold fish of a player at times, seems far more drippy than the role requires, but Rob Lowe gives all he has in a performance of dark and dangerous menace. It was a courageous choice of role for Lowe – one that cannot help but mirror the scandal he was involved in, being caught on videotape having sex with a minor, the year before Bad Influence was made. A compulsive film.
Bad Influence was also one of the earliest screenwriting assignments for David Koepp, later to become an A-list writer including scripts for Jurassic Park (1993) and sequel, The Shadow (1994), Mission: Impossible (1996) and Spider-Man (2002), before turning director with The Trigger Effect (1996), Stir of Echoes (1999), Secret Window (2004), Ghost Town (2008), Premium Rush (2012), Mortdecai (2015) and You Should Have Left (2020).
---
---