---
Crew
Director/Screenplay/Producer – Terrence Malick, Photography – Tak Fujimoto, Stevan Larner & Brian Probyn, Music – George Tipton, Art Direction – Jack Fisk. Production Company – Pressman-William-Badlands Ltd.
Cast
Martin Sheen (Kit Carruthers), Sissy Spacek (Holly Stargis), Warren Oates (Holly's Father), Ramon Bieri (Cato), Alan Vint (Deputy), John Carter (The Rich Man, Mr Carver)
---
Plot
The town of Fort Dupree, South Dakota in the late 1950s. Kit Carruthers meets 15 year-old Holly Stargis while working as a garbage collector and the two become involved. Holly's father forbids her from seeing Kit. Kit responds by entering the house and shooting him. The two of them burn the house to the ground and set out in Kit's car, hiding in the wild. There they lead an idyllic existence until they are disturbed by bounty hunters. With Kit forced to kill rather than be captured, they go on the run, becoming the most wanted fugitives in the state.
---
The crimes of Charles Starkweather and his girlfriend Caril Ann Fugate have become legend. Starkweather grew up in Nebraska and in 1957, he, aged nineteen, became involved with fourteen year-old Caril Ann Fugate. Starkweather had a poor work record because of his frequent arguments with employers and was working as a garbage collector at the time. He had developed a nihilistic view of life and believed that he would never achieve any better than he had. In December of 1957, Starkweather abducted and then shot a gas station attendant who had refused to give him a fluffy toy on credit as a gift for Fugate. In January of 1958, Starkweather entered the Fugate house and killed Caril Ann's mother, stepfather and sister. The two set out on a cross-country journey through Nebraska, Missouri and Wyoming. This became a massive manhunt with Starkweather eventually arrested after a car chase, just over a week after the murder of Fugate's parents. The total body count ended up being eleven dead. In mid-1958, Starkweather was executed by electric chair. There is debate about how much Caril Fugate was directly involved in the killings – Starkweather claimed variously that she knew nothing to that she was more bloodthirsty than he; while she maintained throughout her trial (patently falsely) that she did not even know her parents had been killed when they departed on their cross-country journey and only joined him out of fear for her family's lives. She spent eighteen years in jail and today lives in Michigan under an assumed name but refuses to speak about what happened.
The Charles Starkweather-Caril Fugate story has inspired a number of films, including the loosely fictionalised The Sadist (1963) and Natural Born Killers (1994), as well as the true life tv mini-series Murder in the Heartland (1993) starring Tim Roth as Starkweather and Fairuza Balk as Caril Fugate, and the low-budget Stark Raving Mad (1983) and Starkweather (2004). Other films such as Wild at Heart (1990) and True Romance (1993) that feature lovers on the run are said to be inspired by Starkweather and Fugate. There was even the Bruce Springsteen song about Starkweather with Nebraska (1982).
Badlands is also based on the Starkweather-Fugate killing spree. Director/writer Terrence Malick more or less keeps general faith with the true-life story. We see Kit working as a garbage collector when he meets Holly and comparing himself to James Dean, as Starkweather did. There is the murder of Holly's parent, although Malick makes it her father rather than stepfather, while the mother and baby sister are written out.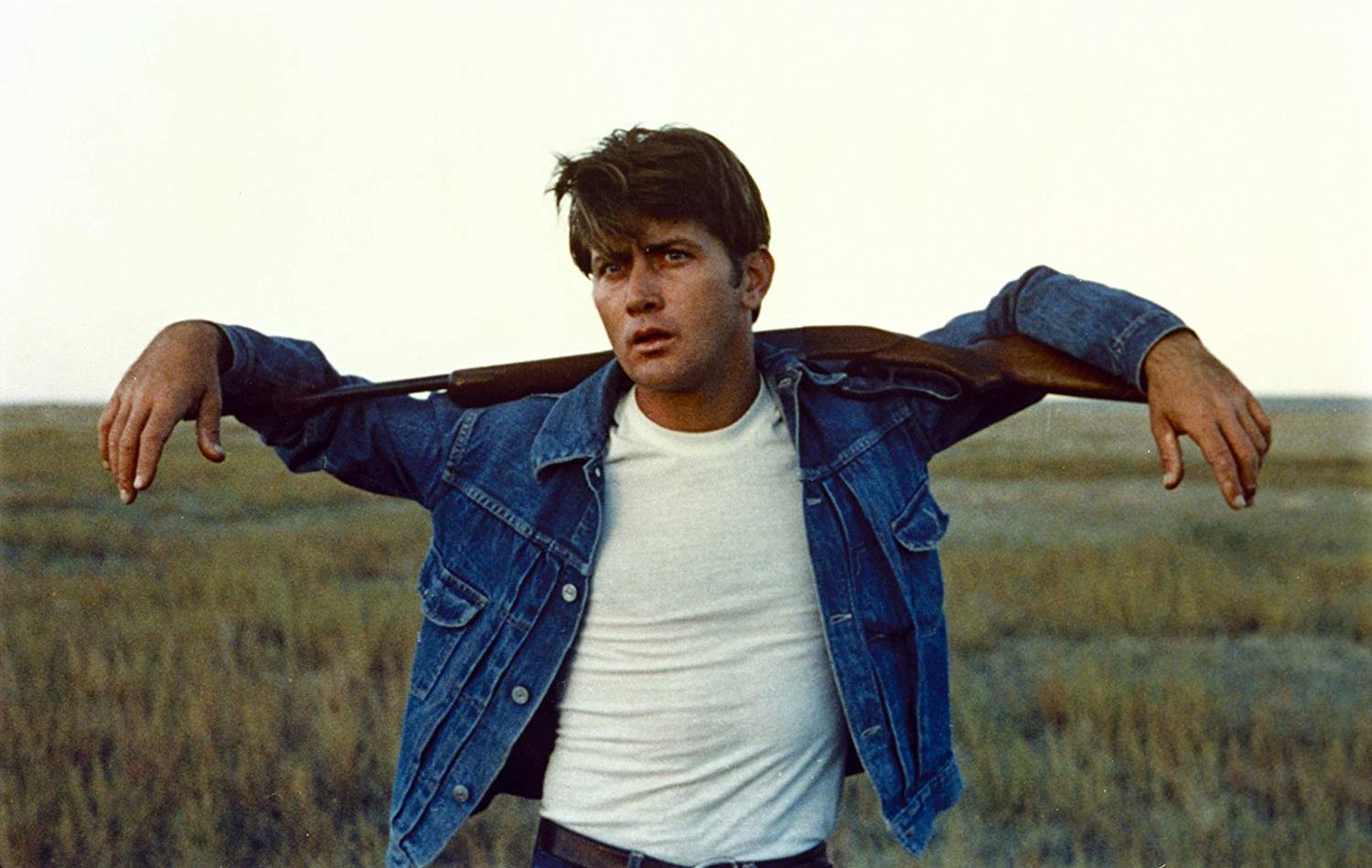 There are various incidents in the film that approximate the true story – the friend they took refuge with and then murdered; the couple that were locked in a storm cellar and killed; the scenes where they took refuge with a wealthy family and headed off in the family car; Starkweather's arrest following a car chase; the celebrity that Starkweather had attained by the time he was finally apprehended.
There are a few omissions – no mention of the murder of the gas station attendant that started the killing spree off; while the wealthy family that they take refuge with are not killed; and the idyll in the wild and its shattering by the arrival of the bounty hunters is something that has been wholly invented by the film. The location of the story has also been moved one state over from Nebraska to South Dakota.
Badlands was the first film of Terrence Malick. Terrence Malick is one of the great, underrated American directors. Subsequent to Badlands, Malick went onto make the amazing Days of Heaven (1978), a story about a couple fleeing from a murder in the Great Depression, which would have to be on this author's list of the great films of the last thirty years. In Days of Heaven, Malick evokes a nostalgic dream-like landscape that is visually even more powerful than the drama or any of the characters in the film. Subsequently, Malick vanished and went to live in France for twenty years before returning to make the World War II film The Thin Red Line (1998) and then The New World (2005), a romantic retelling of the story of Pocahontas and John Smith, and then a series of semi-autobiographical works with the mystical The Tree of Life (2011), To the Wonder (2012) and Knight of Cups (2015), as well as the documentary Voyage of Time: Life's Journey (2016), followed by Song to Song (2017) and A Hidden Life (2019).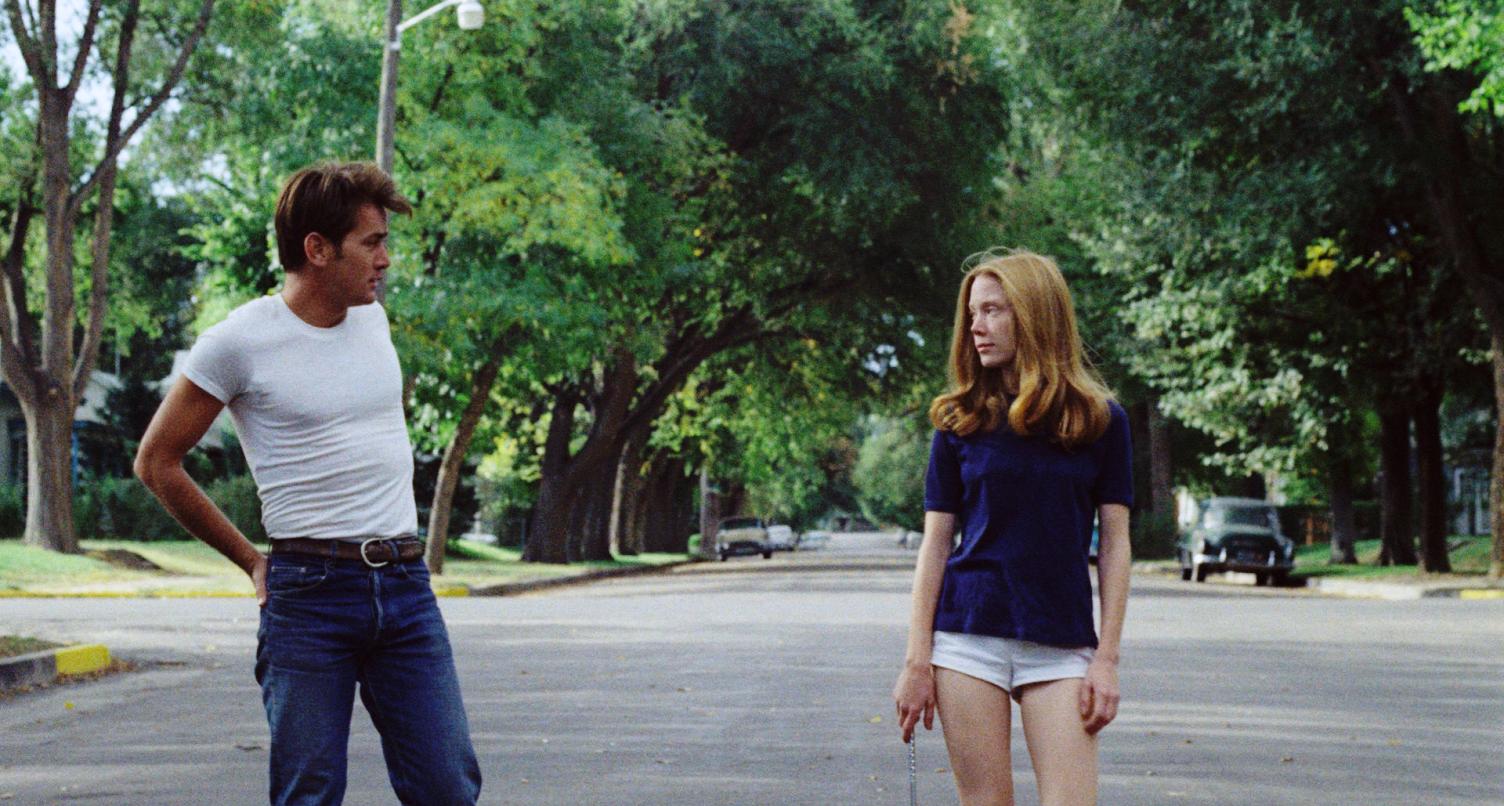 Terrence Malick's films have an extraordinary cinematic power. Throughout all of them characters – be they mass murderers like Charles Starkweather and Caril Ann Fugate, drifters in The Depression, American soldiers in the Pacific theatre of war during World War II, Pocahontas and John Smith, children growing up in the 1950s – seem like innocents in a landscape, like Adam and Eve surrounded by the uncorrupted beauty of Eden before the Fall. Malick's films are often sentimental – he is a director who has elevated the elegiac voiceover to an art form and we frequently see the trivia of people's lives contrasted with the immensity of nature and the landscape around them. Terrence Malick is in a sense akin to the work of British painter Joseph Turner. Turner's later work became almost impressionistic in nature, conducted in sweeps of abstracted colour and light where people often seem like tiny distant figures dwarfed by the power of nature – likewsie in Terrence Malick's films, characters are distant figures where landscape has an almost overwhelming power that reduces them to a nakedness and innocence.
If you were to compare Terrence Malick to someone, it would surely be writer J.D. Salinger. Almost at the point of becoming a major American director, Malick, exactly like Salinger, opted for retreat to seclusion. Little is known about Malick's private life and he allows few images of himself to be photographed (although he can be briefly seen in Badlands in the role of a man who turns up at the door of the wealthy man's home and is turned away by Martin Sheen).
Although Badlands is not as fully developed as his later films, Terrence Malick sweeps one up in an amazing lyricism. There is an extraordinary visual poetry as we watch simple images like the contents of Holly's home going up in flame in a montage of shots where Malick focuses on the piano, the sheet music and the faded wallpaper as it is consumed by flames. Sissy Spacek's voice comes over the soundtrack, describing things with a mix of crystal clear innocence and haunting poetic imagery. As with all of Terrence Malick's films, there is the sense of lovers adrift in a nostalgic landscape, of the American past as some lost Eden that can never be regained. The idyll in the woods is almost like a the cosy domesticity 1930s Tarzan film turned into a dreamy arthouse drama – images like Sissy Spacek sitting in the midst of a field of grass putting on her makeup; the two sitting in a tree as she reads a book; strewn stereogram pictures abandoned in the grass.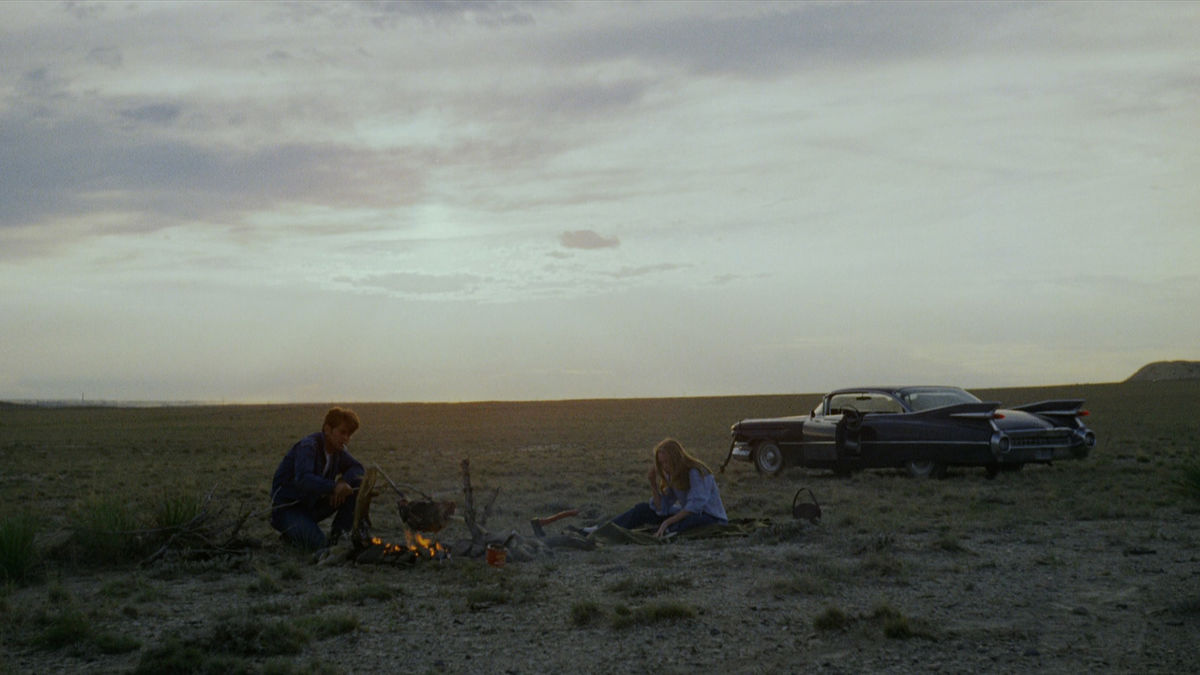 Badlands is at its finest during the long drive through the desert where Terrence Malick's poetic imagery is at its most potent, focused on the contrast of the immense and the banal – the bare loneliness of the desert where we see clouds in beautiful sunset patterns or with lightning storms roiling in their midst just above the horizon; Sissy Spacek's voiceover comparing a train in the distance to a caravan in The Adventures of Marco Polo (1938); where she talks about how they decided to bury items in the desert so they could come back later when they are different people to find them or leave them for future generations to discover; the two dancing to Nat King Cole in the light of the car's headlights amid the emptiness of the night desert.
One suspects that the inspiration for Badlands might have been producers wanting to create another Bonnie and Clyde (1967) with its highly romanticized story of outlaw lovers on a violent, albeit doomed, cross-country crime spree. It does perhaps seem peculiar, given the nature of their crimes, seeing Starkweather and Fugate essentially transformed into innocents. Here you might compare Badlands to Oliver Stone's Natural Born Killers. Where Stone incarnated essentially the same characters that we have here, he saw them not as innocents in a wide-open American Midwest paradise, but as people who only had contempt for the hypocritical and media-saturated society that surrounded and gave birth to them. Both Oliver Stone Stone and Terrence Malick see Starkweather and Fugate as standing free from society by their actions – but for Stone there is not a purity and innocence in what they do, they only stand above society by dint of their having the courage to express contempt for it. It is hard to think of two films that tell the same story but exist at almost completely opposing extremes.
---
---