---
Crew
Director – Craig William MacNeill, Screenplay – Bryce Kass, Producers – Naomi Depres, Liz Destro & Chloe Sevigny, Photography – Noah Greenberg, Music – Jeff Russo, Visual Effects – The Artery (Supervisors – Vico Sharabani & Asaf Yeger), Special Effects Supervisor – David Fletcher, Makeup Effects Design – David Presto, Production Design – Elizabeth Jones. Production Company – Destro Films/Artina Films/The Solution Entertainment Group/Goldfinch Australia Limited.
Cast
Chloe Sevigny (Lizzie Borden), Kristen Stewart (Bridget Sullivan), Jamey Sheridan (Andrew Borden), Denis O'Hare (John Morse), Fiona Shaw (Abby Borden), Kim Dickens (Emma Borden), Jeff Perry (Andrew Jennings)
---
Plot
August 4th, 1892. Lizzie Borden enters her home to find her father Andrew and his wife, her stepmother Abby having been killed with an axe. She is charged with murder by police. Six months earlier, Andrew had taken on Irish immigrant Bridget Sullivan, called Maggie, as a servant. Soon after, Andrew began to enter Bridget's room at night and have his way with her. At the same time, Lizzie was rebellious against Andrew's control of her. She was also upset at the way that her uncle John Morse was attempting to fabricate documents that would allow him to steal Andrew's fortune. As Lizzie started to teach Bridget to read, an attraction grew between them, eventually manifesting in a forbidden lesbian liaison. This was discovered by Andrew who forbade Lizzie to see Bridget. These events culminated in the murders.
---
The story of Lizzie Borden (1860-1927) has an infamy in True Crime Films. Lizzie was the younger daughter of Andrew Borden, a wealthy property developer and textile mill owner in Fall River, Massachusetts. Lizzie's mother had died at a young age and Andrew had remarried widow Abby Gray. Lizzie and her older sister Emma were kept under a tight rein by their father. On August 4th of 1892, Lizzie claimed to have returned home to find the body of her father having been hacked apart with an axe while lying on the couch and Abby murdered in the upstairs bedroom. In the aftermath, Lizzie was placed on trial for murder. She protested her innocence but many things indicated her guilt – in particular, her burning a dress that may have been stained in blood, while her statements were found to be contradictory or misleading. She was eventually acquitted for lack of evidence to convict her (and the fact that jurors of the day did not believe a good upstanding girl could murder someone).
The Lizzie Borden story holds a fascination in popular culture. There has been much theorising by crime writers since about whether she was guilty or not, although none of these have identified any strong alternate suspects. There have been a number of plays, books and songs written about her, even a heavy metal band called Lizzy Borden. There have been several films, including the tv movie The Legend of Lizzie Borden (1975) starring Elizabeth Montgomery and Lizzie Borden Took an Ax (2014) starring Christina Ricci, while The Curse of Lizzie Borden (2006), Lizzie (2012), Lizzie Borden's Revenge (2013) and American Poltergeist (2015) all feature Lizzie's ghost or spirit being resurrected in the present.
This is a new film version that was personally pushed by its star Chloe Sevigny for several years. The directorial reigns are taken up by Craig William MacNeill who had previously co-directed the little seen horror film The Afterlight (2009) and produced/directed the horror tv series Channel Zero (2016). I was very impressed with MacNeill's previous solo directorial outing The Boy (2015), a beautifully subtle film about a psychopathic child. Lizzie premiered at the Sundance Festival and played several other festivals and theatrical screenings.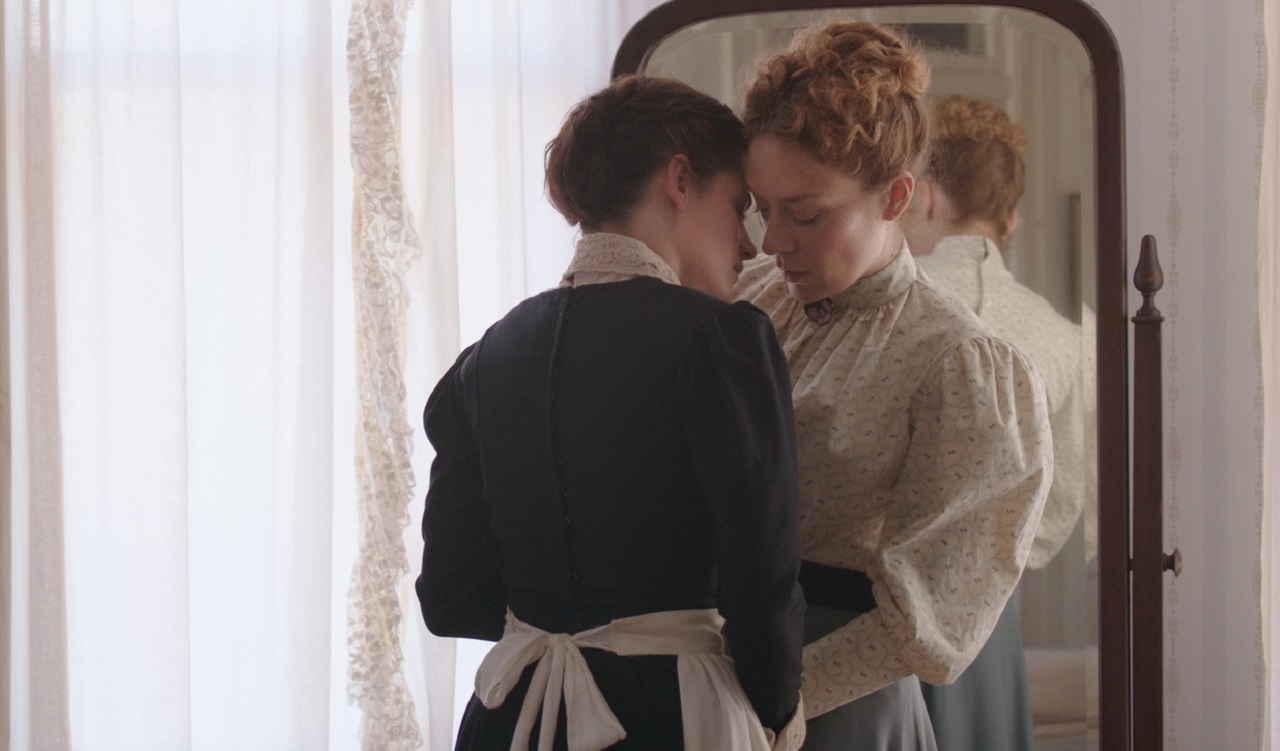 Any story that adheres to or tells a factual story is always pinned down by the record of events. Some films notoriously twist and fabricate these, although Lizzie is not one of these. It is rare within such confines that a director can get the opportunity to display style and individuality while respecting the material. One has to commend Craig William MacNeill for managing to do both. On one level, he is telling a record of what happened (or at least a theoretical account of what may have happened). Every so often, there are jolts that throw you out of your complacency – father Jamey Sheridan visiting Kristen Stewart's bedroom at night, or the shock scene where Jamey Sheridan kills Chloe Sevigny's birds and the nastiness of seeing them served up to her at dinner in the subsequent scene.
The film accepts the theory put forward by crime writer Ed McBain – who was also the author of Alfred Hitchcock's The Birds (1963) – in his book Lizzie (1994) where he postulates that Lizzie and Bridget were lesbian lovers and of her father's discovery of them together and how his forbidding their liaison led to the murder. (It should be added that this is a theory that is disputed – critics have argued such points as the fact that Bridget did not return to stay with Lizzie after the trial, which she surely would have done had they been lovers, and that while Lizzie never married, Bridget later went on to do so). This places Lizzie in the company of films that we had several years ago such as Fun (1994), Heavenly Creatures (1994) and Butterfly Kiss (1995) that championed girl lovers turning to murder in the face of a society that disapproved of their relationship.
Where Lizzie particularly comes into its own is in charting what happened. Unlike Lizzie Borden Took an Axe, which merely debated the minutiae of the court case, this takes us through the crime scene step-by-step. What happened is held back until the latter sections of the film. Then however it does a fascinating and detailed mapping out of a scenario of what could have happened, one that winds all the pieces of evidence and details into a plausible narrative. And certainly one that comes with some jolting and shocking effect.
(Nominee for Best Adapted Screenplay at this site's Best of 2018 Awards).
---