---
USA. 2002.
Crew
Director – David Twohy, Screenplay – David Twohy, Darren Aronofsky & Lucas Sussman, Producers – Darren Aronofsky, Sue Baden-Powell & Michael Zoumas, Photography – Ian Wilson, Music – Graeme Revell, Visual Effects Supervisor – Peter Chaing, Visual Effects – Double Negative, Special Effects Supervisor – Stephen Hamilton, Mechanical Effects – Brian Morrison, Production Design – Charles D. Lee. Production Company – Protozoa Pictures.
Cast
Bruce Greenwood (Lieutenant Brice), Matt Davis (Odell), Olivia Williams (Claire Paige), Holt McCallany (Lieutenant Loomis), Jason Flemyng (Stumbo), Dexter Fletcher (Kingsley), Zach Galifianakis (Wally Wallace), Christopher Fairbank (Pappy), Scott Foley (Lieutenant Steven Coors)
---
Plot
August 1943. The US submarine Tiger Shark picks up three survivors from a British medical ship that has been torpedoed by a U-boat. The Tiger Shark is forced to submerge to stay hidden from a German ship that is hunting them. However, somebody aboard appears to be trying to give them away. The commanding officer Lieutenant Brice discovers that the woman survivor, nurse Claire Paige, is keeping from them that one of the wounded rescuees is a German, and suspects her. As the submarine becomes increasingly damaged, others begin to believe that it may be haunted. Claire begins to suspect that the reasons may lie with the sinister circumstances surrounding the recent death of the Tiger Shark's captain Commander Winters.
---
David Twohy may well be the Great White Hope of genre cinema in the 2000s and beyond. David Twohy first emerged with screenplays for various genre films such as Critters 2 (1988), Warlock (1989), Waterworld (1995) and Impostor (2002) and action films like The Fugitive (1993), Terminal Velocity (1994) and G.I. Jane (1996). It was not until Twohy gained his wings as the dual threat of writer and director that he began to show what he was capable of doing. His first film as director was the intelligent and worthwhile time travel film Timescape/The Grand Tour/Disaster in Time (1992), which never received the theatrical release it richly deserved. Twohy next went onto the spookily atmospheric alien invasion film The Arrival (1996) and then had a solid hit with Pitch Black (2000), which built a cult audience, particularly on video. Below was his follow-up to Pitch Black. Subsequent to Below was The Chronicles of Riddick (2004), the psycho-thriller A Perfect Getaway (2009) and Riddick (2013).
Here Twohy co-writes and produces with Darren Aronofsky, an equally intelligent and promising director who made the fascinating mathematics and metaphysics film Pi (1998), the excellent drug addiction drama Requiem for a Dream (2000), the mystical sf film The Fountain (2006) and the critically acclaimed hits of The Wrestler (2008), the psycho-thriller Black Swan (2010), the Biblical film Noah (2014) and the surreal horror film Mother! (2017).
What is welcome about David Twohy's films is that they are both modest and intelligent. He focuses on tight character-driven dramas and prefers an intelligent exploration of ideas in favour of big flashy effects. Twohy's films are built around ensemble casts and he deliberately casts relative unknowns – the most well-known of the actors here, for example, is the hardly A-list Bruce Greenwood. This lack of star casts tend to give the films an edge in that one is uncertain who is going to survive – nobody in Below has the handsome Hollywood leading star status that almost mandatorily establishes their survival capacity in other films. It is perhaps for these reasons – lack of big flashy effects, lack of Hollywood name stars – that David Twohy's films never become smash blockbuster hits.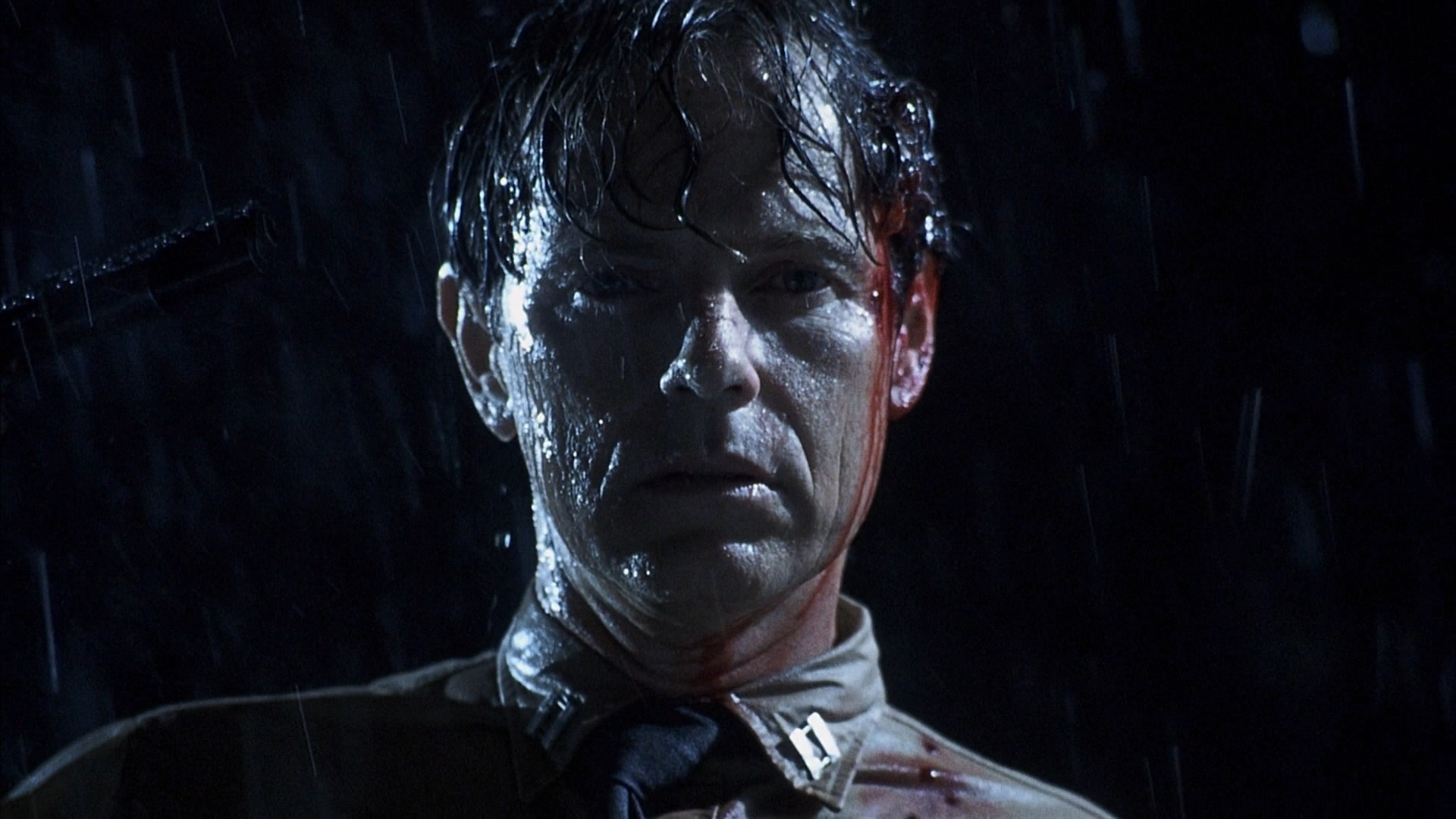 When Twohy's The Arrival came out, it premiered a few months after Independence Day (1996). Both were films on the theme of alien invasion – Independence Day was big, effects-driven, mindlessly waved a patriotic flag and had no concept of subtlety, whereas The Arrival was subtle and low-key, spookily atmospheric and above all intelligent. Independence Day became a box-office smash, while The Arrival did only modest business.
The same thing happened in 2002. Below came out only a few months before the big-office smash of Ghost Ship (2002), both featuring similar themes of haunted ships. Ghost Ship was big, effects-driven, mindless and with little concept of subtlety, whereas Below is subtle, low-key, spookily atmospheric and above all intelligent. Naturally, Ghost Ship was a hit, whereas the infinitely superior Below almost figuratively sank without a trace. It may be David Twohy's curse that he is destined to make strong and intelligent genre films that win great acclaim but do little business.
The Ghost Ship comparison is never clearer than during one of the most powerful scenes in Below – the hydrogen explosion. Whereas Ghost Ship would almost certainly have shown the ship blowing apart in great CGI-rendered detail, David Twohy contrarily shows the scene with an almost entire lack of effect – no more than Christopher Fairbank shouting to shut the door, a closeup on a glowing light coil and then the lights flickering in the rest of the ship. It is the aftermath of the scene with the crew wandering through the section of the ship by torchlight and revealing the crisped remains of the crew's bodies that the effect of what has happened becomes shockingly apparent.
David Twohy never directs flashy effects-heavy scenes for their own sake, nevertheless still manages to create sequences that are seat-edge and gripping – think of the vortex scene in The Arrival or the opening crashlanding in Pitch Black. The scenes here with the submarine being scoured by hooks and particularly the sequence where a depth-charge barrel bounces down the length of the deck are gripping in impact, yet the effects are never showstopping in attention, merely directed towards the overall effect of a scene.
Twohy's scares throughout Below are wonderfully low-key. Maybe they are even too quiet and subdued – merely momentary glimpses of ghostly figures that both characters and the audience think they might have imagined. The most overt and spooky is the scene where Holt McCallany sees his reflection in a mirror and it doesn't keep making the same movements that he does.
David Twohy has certainly done his research on WWII submarine warfare and the care to detail and attention is more than apparent. The set designers do an excellent job in capturing the claustrophobic interiors of the submarine.
(Nominee for Best Original Screenplay at this site's Best of 2002 Awards).
---
---