---
Crew
Director/Story – Edgar Wright, Screenplay – Krysty Wilson-Cairns & Edgar Wright, Producers – Tim Bevan, Eric Fellner, Nira Park & Edgar Wright, Photography – Chung-Hoon Chung, Music – Steven Price, Visual Effects Supervisor – Tom Proctor, Visual Effects – DNeg (Supervisors – Fabricio Baessa, Julian Gnass & Kedar Knot) & Technicolour VFX (Supervisor – Gary Brown), Special Effects Supervisor – Stephen Hutchinson, Prosthetics Designer – Barrie Gower, Production Design – Marcus Rowland. Production Company – Working Title/Complete Fiction.
Cast
Thomasin McKenzie (Eloise Turner), Anya Taylor-Joy (Sandie), Matt Smith (Jack), Michael Ajao (John), Diana Rigg (Ms Collins), Rita Tushingham (Peggy), Terence Stamp (Silver Haired Gentleman), Synnøve Karlsen (Jocasta), Pauline McLynn (Carol), Lisa McGrillis (Female Detective), Michael Jibson (Male Detective)
---
Plot
Young Eloise Turner is accepted as a student into the London College of Fashion. Eloise has a love of 1960s London and its culture and is excited at being able to move to the Soho area, which was the centre of 1960s London chic. This turns to disappointment after she moves into the unruly student residence. She then finds an ad for a room for rent from the elderly Ms Collins. Immediately after settling into the room, Eloise begins to have vivid dreams of Soho in 1965 as young Sandie arrives in town, intent on becoming a singer. Eloise becomes inspired by her dreams of Sandie in her designs and changes her hair to resemble Sandie's. However, her continued return to the dreams begins to bring out darker things as she learns how Sandie was forced into prostitution by her manipulative boyfriend, which culminated in her murder. As Eloise is terrorised by ghosts from the past, she believes that Sandie's death remains unsolved.
---
Director Edgar Wright first emerged out of the cult British sitcom Spaced (1999-2001). He and the show's star Simon Pegg found international success with the zombie comedy Shaun of the Dead (2004). Wright, Pegg and co-star Nick Frost reunited to make a very loose trilogy with Hot Fuzz (2007) and the SF comedy The World's End (2013). Wright went solo with Scott Pilgrim vs. the World (2010), a surreal comic-book of a film that I confess I never much got, and the hit getaway film Baby Driver (2017). Wright also wrote the script for Steven Spielberg's The Adventures of Tintin (2011), produced Attack the Block (2011) and Sightseers (2012), and was long announced as director of Marvel Comics' Ant-Man (2015) before quitting over creative differences, retaining co-writer credit on the finished film.
With Last Night in Soho, Edgar Wright makes a tribute to Soho, one of the great cultural hotspots of Swinging Sixties London. Present-day Soho today is featured as the location, while the end credits contains a montage of empty streets that were shot during the Covid Lockdown of 2020. Furthermore, Wright features a soundtrack of musical hits of the era, even an actress made to look like Cilla Black. The cast is rounded out by aging names who were all big back during the period – Rita Tushingham, Diana Rigg (her final film before she passed away in 2020) and Terence Stamp.
The film starts out seeming a story about a naive innocent coming to the big city. It then opens out with the scenes where Thomasin McKenzie suddenly walks back into the past and effectively becomes or sees through the eyes of Anya Taylor-Joy (it is never exactly clear what goes on). The replications of Soho in its 1960s heyday are highly accomplished.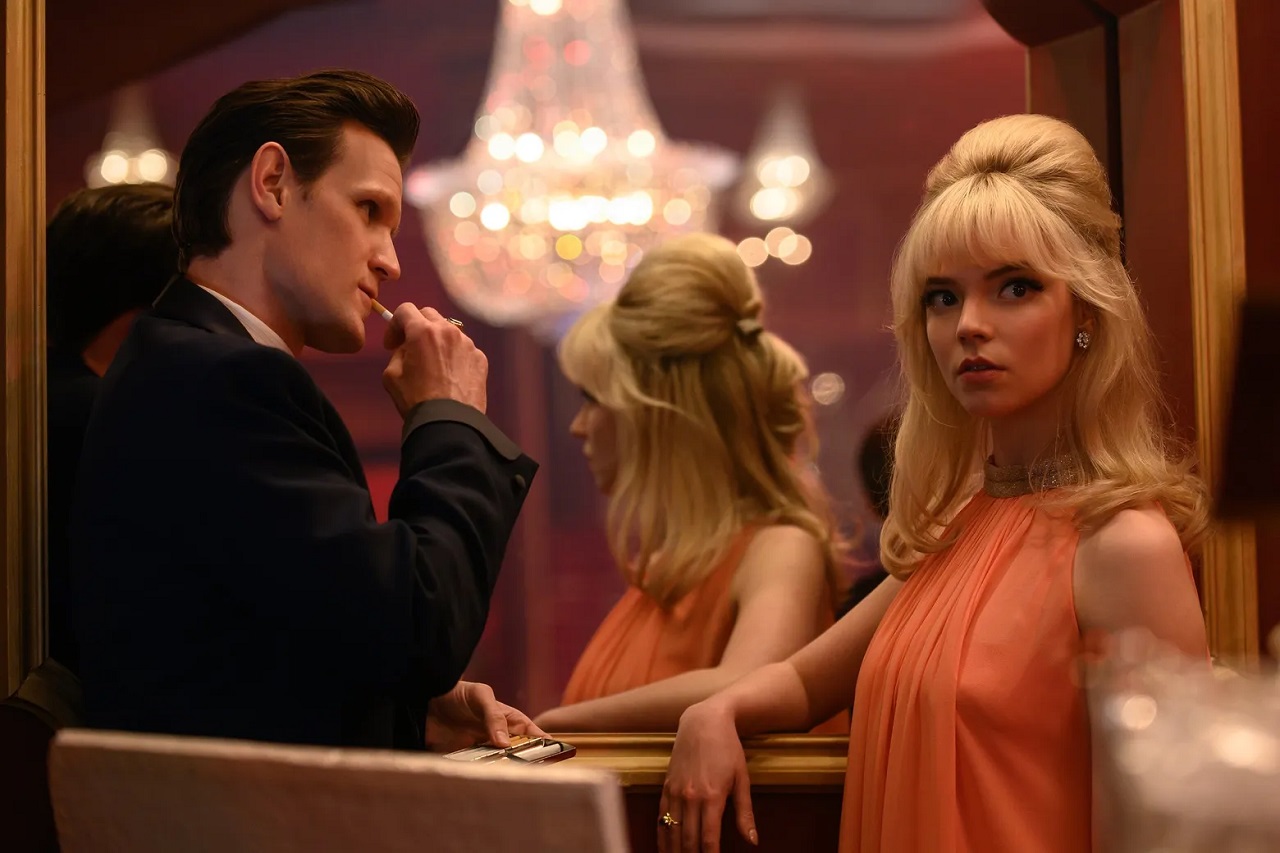 Although what stuns most of all in these scenes is Edgar Wright's visual style – the scene walking through the club where Anya Taylor-Joy is at a bar, dancing or making out with Matt Smith and constantly switches places with or blurs in and out of Thomasin McKenzie and her reflection. The visual dexterity of this is quite dazzling. In particular the scene where Anya Taylor-Joy is knifed in the bedroom takes your breath away in the intercut between things happening simultaneously in the past and present and shots reflected off mirrors and knife blades in a rapid blur of editing.
I did spend much of Last Night in Soho wondering why things were happening. Who were the figures Thomasin McKenzie being haunted by? Why was she seeing things through Anya Taylor-Joy's eyes? The question you are left with through much of the middle is are you watching a film that is a triumph of style over content? Take away all of Wright's style and it seems what we have is essentially a fairly grim story about a girl sucked in by the promises of fame who is quickly abused and used up. That and a double-structure that seems like it wants to be a Clairvoyance film along the lines of In Dreams (1999) or The Eye (2002) where Thomasin McKenzie picks up vibes of what happens in the past and sets out to solve the murder. You even think for a time that maybe you are in for a version of Roman Polanski's The Tenant (1976) where someone rents a room and starts to take on the personality of its previous resident.
However, Wright and co-writer Krysty Wilson-Cairns pull everything together in a drop-jaw twist at the end that turns everything that has happened on its head. This works with great effect. The only quibble I have with this is the mixed moral messages it sends off. [PLOT SPOILERS HEREAFTER] Genre cinema has a weird relationship with the Revenge film. In many cases (as here), it is seen that those who are downtrodden and abused (particularly women) are justified when they resort to murder – see everything from I Spit on Your Grave (1978) to Heavenly Creatures (1994) and Promising Young Woman (2020).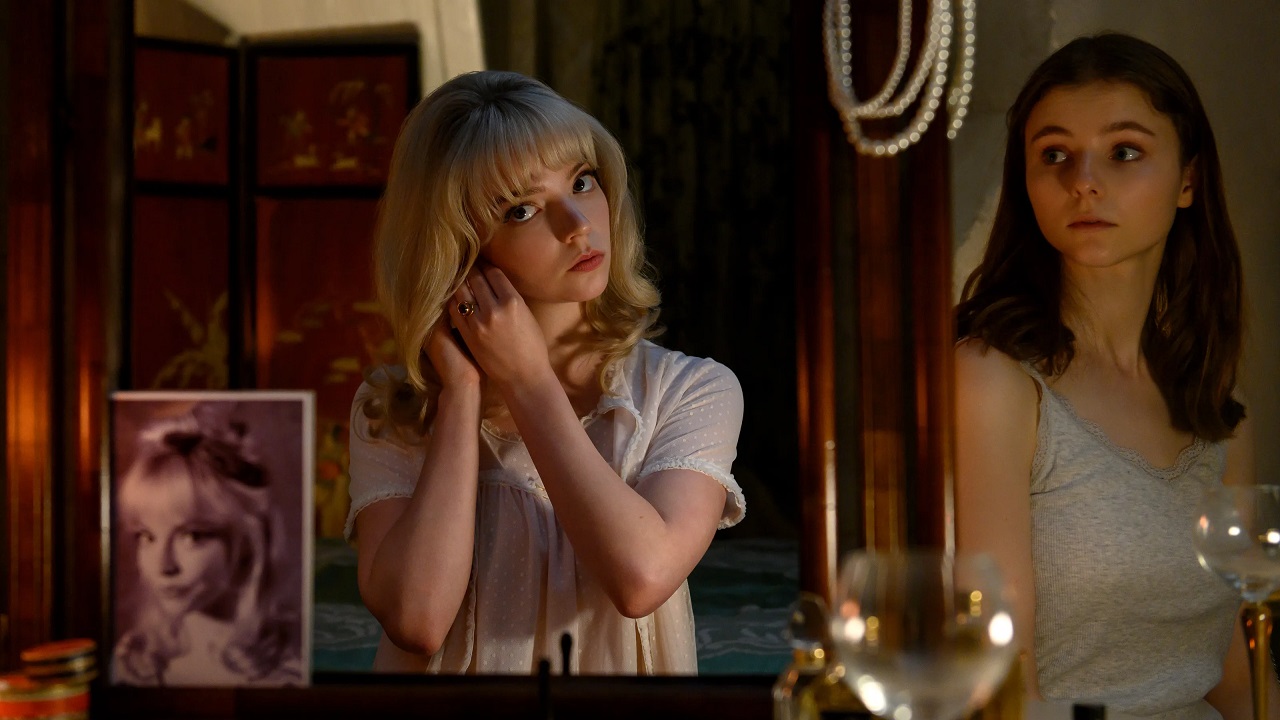 Equally, when it comes to the horror film, we often see examples that those who have undergone abusive treatment have snapped and become disturbed. The Ghost Story in particular, which Last Night in Soho essentially is, is stuck with mixed messages in that it creates horrifying and scary happenings that often come with malevolent intent before usually arriving at an ending where the agency is revealed to be some crime that has occurred in the past and an unanswered hurt that cries out for resolution – the recent The Power (2021), which revealed that the ghosts were sexual abuse victims, is one example of these mixed messages.
Here Last Night in Soho reaches an uneasy end. It first creates much sympathy for an abused woman (Anya Taylor-Joy) and then misdirects us into thinking that she has been murdered. Meanwhile, the present-day heroine (Thomasin McKenzie) becomes haunted by sinister figures. The film then reaches an ending where these sympathies are turned on their head – the abused victim is suddenly treated as a deranged monster, while it is revealed that her abusers are those crying out for release. If there is a film that surely seems to have its moral messages upside down, it is this.
(Winner for Best Director (Edgar Wright), Nominee for Best Supporting Actress (Diana Rigg) at this site's Best of 2021 Awards).
---
Trailer here
---