---
Crew
Director – Rob Letterman, Screenplay – Darren Lemke, Story – Scott Alexander & Larry Karaszewski, Based on the Books by R.L. Stine, Producers – Deborah Forte & Neal H. Moritz, Photography (3D) – Javier Aguirresarobe, Music – Danny Elfman, Visual Effects Supervisor – Erik Nordby, Visual Effects – MPC (Supervisor – Pete Dionne) & Vitality Visual Effects, Special Effects Supervisor – John Frazier, Creature Effects Design – Stephen Prouty, Production Design – Sean Haworth. Production Company – Sony Pictures Animation/Original Film/Village Roadshow/LStar Capital/Scholastic Entertainment.
Cast
Dylan Minette (Zach Cooper), Jack Black (R.L. Stine/Voice of Slappy/Voice of the Invisible Boy), Odeya Rush (Hannah Stine), Ryan Lee (Champ), Amy Ryan (Gale Cooper), Jillian Bell (Aunt Lorraine), Halston Sage (Taylor), Ken Marino (Coach Carr), Timothy Simons (Officer Stevens), Amanda Lund (Trainee Officer Brooks), Keith Arthur Bolden (Principal Garrison), Steven Krueger (Davidson)
---
Plot
Teenager Zach Cooper joins his mother as they move to Madison, Delaware so that she can take a position as assistant principal at the high school. Zach meets and is attracted to Hannah, the girl next door, but is warned away by her father. Zach then hears screaming coming from inside the house and thinks that Hannah is being harmed. He breaks in with his nerdy new friend Champ. They find a roomful of locked books and Zach opens one of them, only to unleash an Abominable Snowman. They realise that Hannah's father is the popular horror author R.L. Stine. He has the ability to bring the stories he conceives to life but the various monsters and creatures must be captured and imprisoned inside the books. Her father succeeds in recapturing the Abominable Snowman, however they have also unleashed the talking ventriloquist's dummy known as Slappy who is not pleased at being locked up for so long. Slappy takes all of the books and unleashes the monsters and creatures inside, burning the books so they cannot be recaptured. As the town is overrun by giant praying mantises, haunted cars, evil garden gnomes, a werewolf, alien invaders, killer toy robots, killer clowns and zombies, Zach realises that the only way to recapture all of the monsters is for Stine to retrieve his magic typewriter and write a story that allows them to be reimprisoned.
---
Goosebumps is a series of top-selling horror books for children. The series is the creation of former joke book writer R.L. Stine. Stine began writing horror stories in 1986 and began publishing the Goosebumps series with Scholastic Press starting with Welcome to Dead House (1992). It is difficult working out exactly how many of the Goosebumps books there are as they have been reprinted under different titles, omnibus editions or else special reprints of the stories that were adapted for the tv series Goosebumps (1995-8). As far as one is able to tell, there were 62 books in the original series, 42 in the Give Yourself Goosebumps series in which the stories follow the reader's plot choices, 25 of the Goosebumps Series 2000 books, nineteen in the Goosebumps Horrorland series and a further eight in the currently ongoing Goosebumps Most Wanted series (a total of 156 by this author's reckoning).
That is not counting the other numerous series that Stine has running – the Fear Street books alone run to around some 160 titles. Stine has published over 400 books since 1986 and is listed by the Guinness Book of World Records as the world's top-selling children's author. Stine's works have also been adapted to the screen as the tv anthology series The Nightmare Room (2001-2); the films Superstitious (1999), When Good Ghouls Go Bad (2001) and Mostly Ghostly: Have You Met My Ghoulfriend? (2014); the tv series Eye Candy (2015); and the film trilogy Fear Street 1994 (2021), Fear Street 1978 (2021) and Fear Street 1666 (2021).
I haven't read a huge amount of R.L. Stine but have lived in a household when pre-teens seemed to go through them with the ease and disposability of Kleenex. They were entirely lightweight stories, serving up familiar horror figures with a light comedic twist and written for easy consumption. (The fact that Jack Black's Stine here is shown dashing off an entire book in what would have to be less than an hour perhaps gives an unwitting insight into Stine's writing process).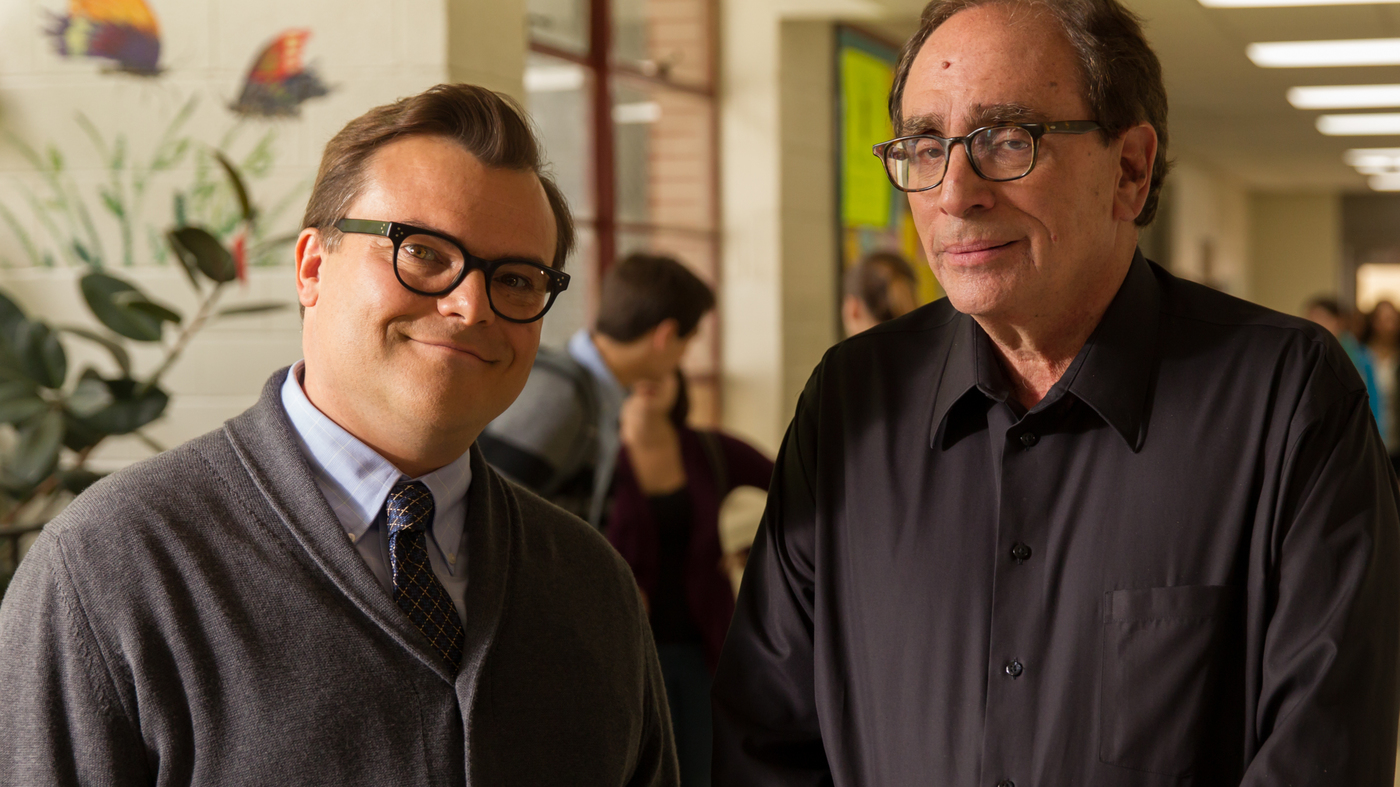 In terms of horror, the Goosebumps stories are safe and easy – the equivalent of decaffeinated coffee or US free-to-air television where black strips pop up to prevent us from seeing nudity and the word "hell" is dubbed as "heck" lest we get morally offended. It seems fitting that when adapting Stine's works here that the filmmakers turn not to a director with a history in horror or creature films but someone whose background was family-friendly animation and big easy comedies – Rob Letterman who started out in the animation department for DreamWorks and became co-director and co-writer of Shark Tale (2004) and Monsters vs Aliens (2009). Letterman previously made his live-action debut with the Jack Black vehicle Gulliver's Travels (2010) and subsequently went on to make Pokemon Detective Pikachu (2019).
Given that Goosebumps is a generic term for a series of books that are singletons and not connected, the film is stuck with how to spin this off as a dramatic entity. The notion they come up with is that of R.L. Stine appearing as an actual character (the real Stine also turns up in a background shot near the end and is introduced by Jack Black as "That's Mr Black, the new drama teacher").
Moreover, there is a meta-fictional plot where Stine is capable of bringing his own creations to life and they have to be imprisoned inside locked books. The whole of the film fairly much consists of the opening of these books and the unleashing of the resident menaces. Thus we get appearances from a myriad of Stine creatures – the killer plants from Stay Out of the Basement (1992), The Werewolf of Fever Swamp (1993), The Abominable Snowman of Pasadena (1995), The Blob That Ate Everyone (1997), The Invisible Boy from My Best Friend is Invisible! (1997) and sequels, the vampire poodle from Please Don't Feed the Vampire! (1997), the toy killer robots from Toy Terror: Batteries Included (1997), the aliens from Invasion of the Body Squeezers (1998), The Haunted Car (1999), and with the show spearheaded by Slappy from Night of the Living Dummy (1993) who has become the Goosebumps series most popular character and has appeared in nine sequels.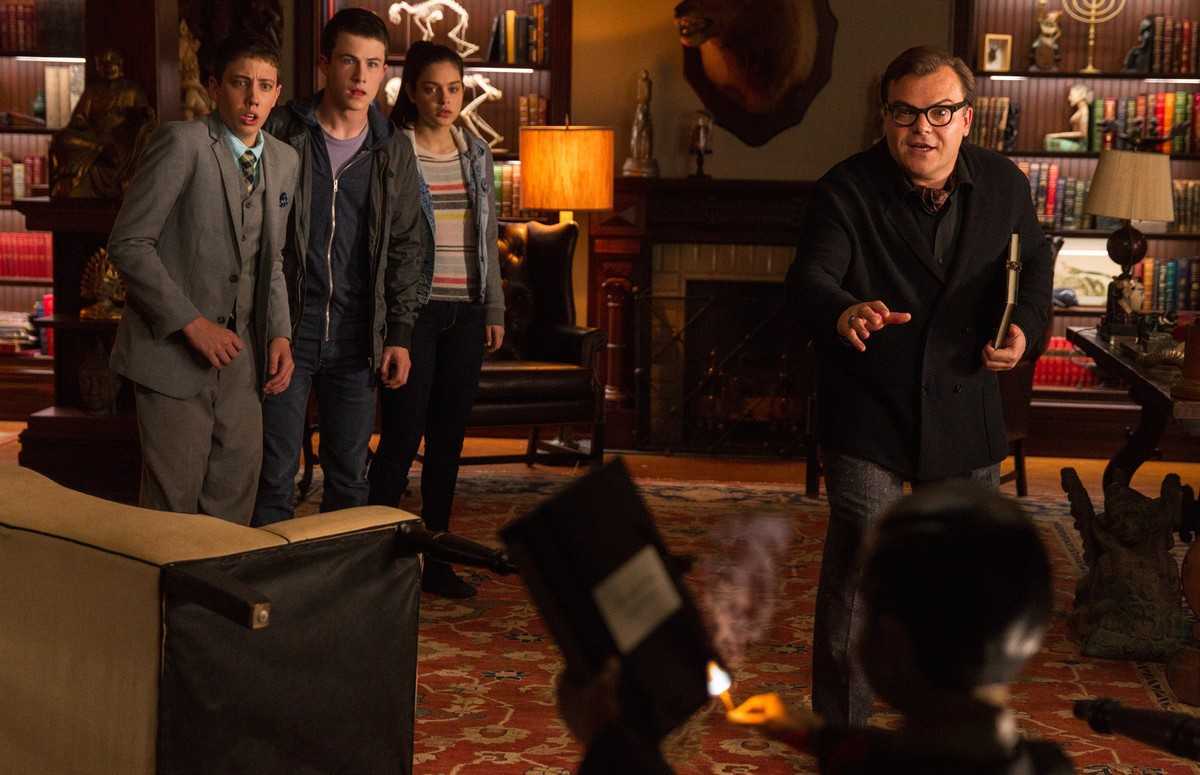 Goosebumps passes the time amiably enough, it is fun waiting to see what creature the film is going to produce next. There is the requisite degree of heroism, humour and Jack Black doing the Jack Black thing. There are some creature effects of variable quality – although I kept thinking that both the werewolf and blob only look like CGI effects.
On the other hand, the film also feels like the horror equivalent of walking through a house that has been safety-proofed for children – where nothing is allowed to be too scary, where no blood is spilled or nobody actually dies, where chaos is unleashed around the town and then all magically put back in the box with nothing affected. Even the tragic character sacrifice of the one of the leads is restored with literally a magic flick of the writing pen in the end coda. Goosebumps passes the time but in reality this is something that you can only take about as seriously as an episode of Scooby Doo, Where Are You? (1969-72).
Goosebumps 2 (2018) was a sequel.
The screen story is from Scott Alexander and Larry Karaszewski who have spent quite a bit of time writing about other real-life characters, albeit in the biopic sense with Ed Wood (1994), The People Vs. Larry Flynt (1996), Man on the Moon (1999), Big Eyes (2014) and Dolemite is My Name (2019), as well as other works like the children's spy film Agent Cody Banks (2003) and the Stephen King adaptation 1408 (2007). The actual script is from Darren Lemke, director of the modest thriller Lost (2004) and scripter of Shrek Forever After (2010), Jack the Giant Slayer (2013), Turbo (2013), Gemini Man (2019) and Shazam! (2019).
---
---