---
Ireland/UK. 2012.
Crew
Director – Neil Jordan, Screenplay – Moira Buffini, Based on Her Play A Vampire Story, Producers – Sam Englebardt, William D. Johnson, Elizabeth Karlsen, Alan Moloney & Stephen Woolley, Photography – Sean Bobbitt, Music – Javier Navarrete, Visual Effects Supervisor – Mark Nelmes, Visual Effects – LipSync Post (Supervisor – Tom Wood) & Prime Focus, Special Effects – Team FX (Supervisor – Kevin Byrne), Prosthetic Designer – Waldo Mason, Production Design – Simon Elliott. Production Company – Number 9 Films/Parallel Films/Demarest Films.
Cast
Saoirse Ronan (Eleanor Webb), Gemma Arterton (Clara), Caleb Landry Jones (Frank), Sam Riley (Darvell), Daniel Mays (Noel), Jonny Lee Miller (Ruthven), Uri Gavriel (Savella), Jeff Mash (Mark), Maria Doyle Kennedy (Morag), Thure Lindhardt (Werner), Barry Cassin (Robert Fowlds), Kate Ashfield (Gabi)
---
Plot
Eleanor is a lonely teenager. She writes the story of her life and then throws the pages away. Her mother Clara works as a stripper. A man comes pursuing Clara but instead she kills him and they flee after setting the apartment on fire. Both Eleanor and Clara are in fact vampires or what is referred to as sucreants. Eleanor was born in 1804 but was given up to an orphanage by Clara who was working as a whore. They now move to another town. Clara tries to earn money for them by returning to prostitution. She lucks upon Noel, a man distraught by his mother's death who is struggling to maintain the Byzantium Hotel. Clara persuades Noel to let them move into the hotel and starts using the premises as a brothel with other girls she recruits. Eleanor meanwhile befriends the young haemophiliac Frank but avoids his attempts to get close to her. He pushes her to tell her secrets and so she writes down the story of how she and Clara became sucreants. However, his giving the story to the school's teacher has the counsellors knocking on the doors, concerned about Eleanor's claims to be living with vampires. This also draws the attention of The Brotherhood, the secret society of vampires that are determined to eliminate both Clara and Eleanor as abominations.
---
Since his appearance in the early 1980s, Irish director Neil Jordan has emerged as one of the finest international filmmakers. Jordan has maintained a first-rate body of work in independent dramas that have attained great acclaim with the likes of Mona Lisa (1986), Michael Collins (1996), The End of the Affair (1999) and especially the award-winning The Crying Game (1992). Jordan vies independent personal stories with clearly commercial work like Interview with the Vampire: The Vampire Chronicles (1994), In Dreams (1999), The Good Thief (2002) and The Brave One (2007). Jordan has also proven a regular dabbler in genre material – see bottom of the page. In all of these, Jordan has proved himself as an exceptional dramatist and stylist. A frequent theme he returns to is that of alternate sexual identities and the confusion and blurring of gender.
Byzantium is written by Moira Buffini based on her play A Vampire Story (2008). Buffini is a rising name on the British arts scene in recent years, she having written more than ten plays since the 1990s. She emerged onto film with the screenplays for Tamara Drewe (2010), which served to launch this film's Gemma Arterton as a major leading actress, and the remake of Jane Eyre (2011). Although it is less apparent in the film, the play was designed with a double structure where you could not be certain if the vampires were real or whether it was merely a story being made up by the troubled Eleanor in the present-day.
Neil Jordan had previously ventured into vampires before with his critically divided adaptation of Interview with the Vampire. Byzantium has many similarities to Interview with the Vampire, as much as it is also a very different film. Like Interview, this concerns vampires who operate in a perverse mimicry of a family – Brad Pitt and Tom Cruise as parents to the seeming child Kirsten Dunst in Interview; Gemma Arterton as mother of but posing as sister to the seemingly teenage Saoirse Ronan here. In both films, Saoirse and Kirsten, though they look like minors, are in reality vampires more than a century old.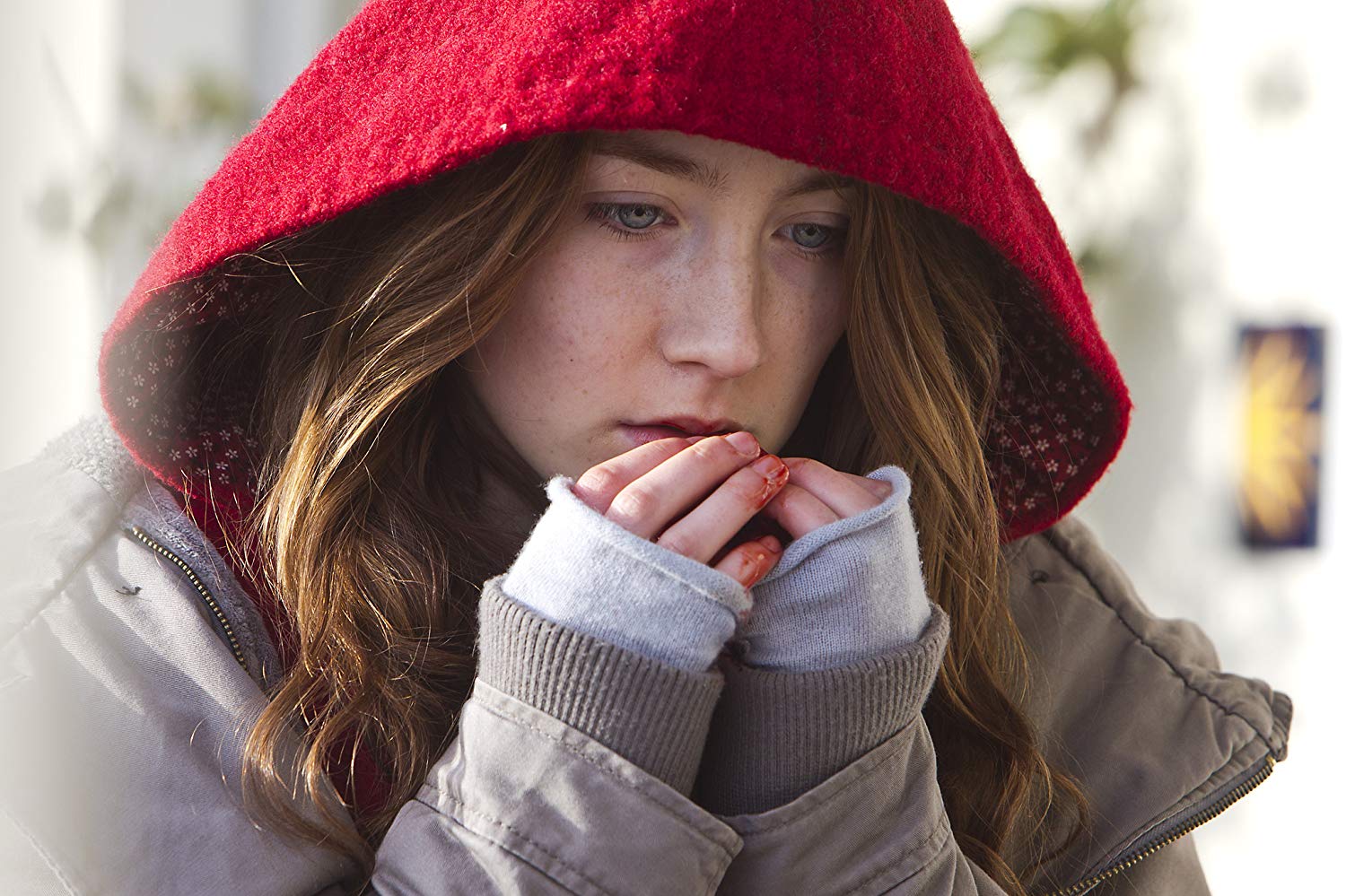 Both films deal with the loneliness of immortality but both sets of vampires seem to exist at opposite ends of the socio-economic spectrum – Interview's vampires are effortlessly wealthy such that we never ask how they obtain their wealth, whereas Byzantium's vampires maintain a subsistence lifestyle on the fringes of society, resorting to prostitution and sugar daddies as a means of getting by.
Interview dealt with hyper-sexualised male vampires and was one of the chief works that moved the image of the vampire from monster to darkly sexy pretty boy. By contrast, Byzantium deals with female sexuality, although Jordan does little to craft either Gemma Arterton or Saoirse Ronan as figures of desirability – more so, we see Gemma Arterton using her sexuality as a tool to draw victims to her. Both Sam Riley and Jonny Lee Miller are cast as bad boys (and could easily sit alongside Brad Pitt, Tom Cruise and Antonio Banderas in Interview) but their presence here is peripheral, while the role played by human Daniel Mays is little more than an ineffectual mark to be used. You can see Byzantium as almost the opposite of the absurd teen romance of Twilight (2008) and sequels – where they were posturing and inflated to larger than life emotions, Byzantium is filled with day-to-day realities and has the vampire guarded and cautious about opening up to mere mortals.
I was absorbed in Byzantium from the opening scenes with Saoirse Ronan writing her story and then tearing it up and throwing the pieces away. She then encounters an old man (Barry Cassin) who has pieced all the torn bits of story back together and invites her home where he sits down to show her photos and tell her the story of the woman he loved – who was married to his brother – before, at his invitation, Saoirse bares her fingernail and jabs it into him to drink his blood. These scenes are alternated with the images of Gemma Arterton at work as a stripper who is then found and pursued by Thure Lindhardt for reasons unclear at that point. She invites him back to her apartment, where she abruptly garrotts him and sets the apartment on fire. These scenes are all the more striking for Jordan's abrupt contrast between soft intimacy and the bump and grind of a strip club and the unexpected introduction of horror elements.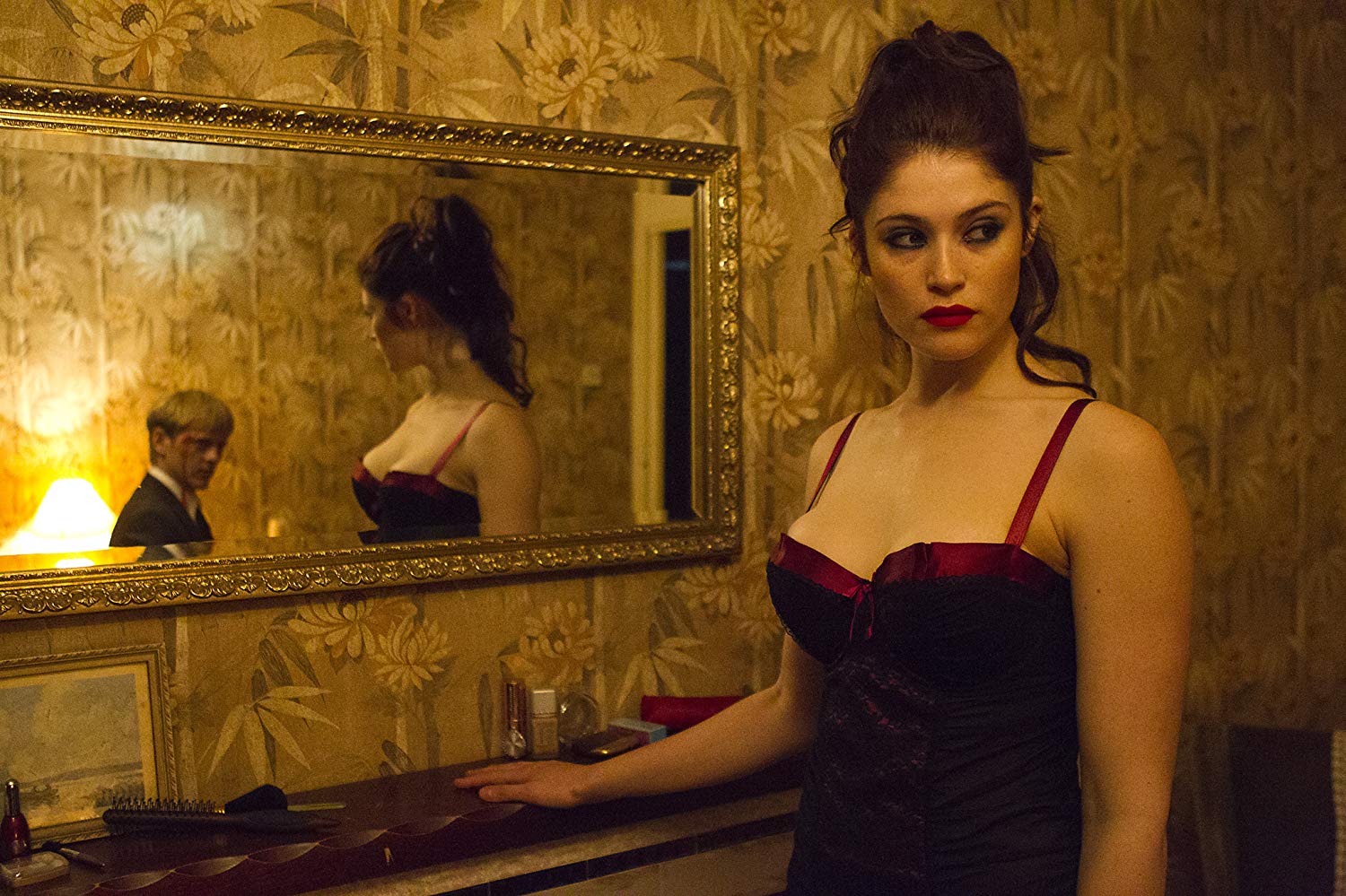 I suspect that in another director's hands, Byzantium would have emerged as a merely average film. It is however Neil Jordan's grasp as a mature filmmaker that makes every frame of the film fascinating. His assurance, visuals and ease with the drama gives Byzantium an exquisite elegance. Every scene seems to come with small detail and visual incident that absorbs you – not to mention the constant structuring of the script in a way that creates a gradually unveiling mystery about what is happening. There is often hauntingly good writing during Saoirse Ronan's narration of her flashback scenes to the past. Both Saoirse Ronan and Gemma Arterton are at the height of their promise and give excellent performances.
Neil Jordan at least stays clear of ironically referencing the vampires as many modern films tend to. He only allows the smallest of touches – in naming Jonny Lee Miller's rake Ruthven after the vampire in John Polidori's seminal vampire story The Vampyre (1819), as well as an ironic screening of Hammer's Dracula – Prince of Darkness (1966) on tv.
Neil Jordan's other genre films are:- The Company of Wolves (1984), an adaptation of one of Angela Carter's stories that deconstructs Little Red Riding Hood with werewolves; High Spirits (1998), a failed haunted castle slapstick comedy; the Anne Rice adaptation Interview with the Vampire: The Vampire Chronicles (1994); The Butcher Boy (1997), a surreal horror film about a disturbed Irish childhood; the clairvoyance thriller In Dreams (1999); the female vigilante film The Brave One (2007); Ondine (2009) about a possible sea nymph; and the psycho-thriller Greta (2018).
(Nominee for Best Cinematography at this site's Best of 2012 Awards).
---
---