---
Crew
Director – Geoffrey Wright, Screenplay – Ken Selden, Producers – Marshall Persinger & Eli Selden, Photography – Anthony B. Richmond, Music – Walter Werzowa, Visual Effects Supervisor – Brian Jennings, Special Effects Supervisor – Robert Vazquez, Makeup Effects – KNB EFX Group Inc (Supervisor – Greg Nicotero), Production Design – Marek Dobrowolski. Production Company – Rogue Pictures/Industry Entertainment/Fresh Produce Co/October Films, Inc.
Cast
Brittany Murphy (Jody Marken), Michael Biehn (Sheriff Brent Marken), Jay Mohr (Leonard Marleston), Joe Inscoe (Principal Thomas Sisler), Gabriel Mann (Kenny Ascott), Candy Clark (Margo Marken), Amanda Anka (Deputy Mina), Natalie Hamsey (Sandy), Michael Weston (Ben), Kristen Miller (Cindy), Douglas Spain (Mark), Keram Malicki-Sanchez (Timmy), Clementine Ford (Annette De Wolde), Bre Blair (Stacy Twelfmann), Jesse Watrouse (Rod Harper)
---
Plot
Someone is killing high-school students in the town of Cherry Falls, Virginia. The police discover that the killer has tattooed the word 'Virgin' on each victim's thigh and that all the victims are in fact virgins. When news of this is broken, parents are outraged at what seems to be the logical next step – that having sex is the only way to save their children's lives. The students plan a ball to lose their virginities. After narrowly escaping becoming a victim herself, Jody Marken, the sheriff's daughter, discovers there is a connection between the killings and a secret from her father's past.
---
Not many people have kind words to say about Cherry Falls. It was part of the spate of modern slasher movies that came out following the success of Scream (1996). This mini-fad also included the likes of I Know What You Did Last Summer (1997), Urban Legend (1998), Bloody Murder (1999), Ripper: Letter from Hell (2001), Valentine (2001), Camp Slaughter (2004), Sleepover Nightmare (2005) and others. Cherry Falls is usually dismissed as the worst of the bunch, but contrarily I liked it.
Scream was a witty deconstruction of slasher movie cliches that came with a mind-boggling series of in-jokes and genre margin notes. Almost all of the above-listed imitators missed the sly meta-fictionality and merely became copycat slasher films churned out without any irony. However, Cherry Falls is one of the few that goes where Scream did in poking considerable satiric fun at the conventions of the genre. First of all, it appealingly reverses the morality that underlies all slasher films – slasher films of the 1980s (and 00s) invariably kill off the promiscuous and have the virginal heroine survive; Cherry Falls turns this on its head and has the killer targeting virgins.
This leads to a number of rather funny scenes – like where concerned, conservative-seeming parent Michael Biehn goes to daughter Brittany Murphy and cautiously asks how far she has gone with her boyfriend and then what starts out seeming to be a parental warning speech is hilariously turned around as he starts suggesting that perhaps she go a bit further. The script keeps putting hysterical spins on the idea – like having the teens organizing parties to lose their virginities.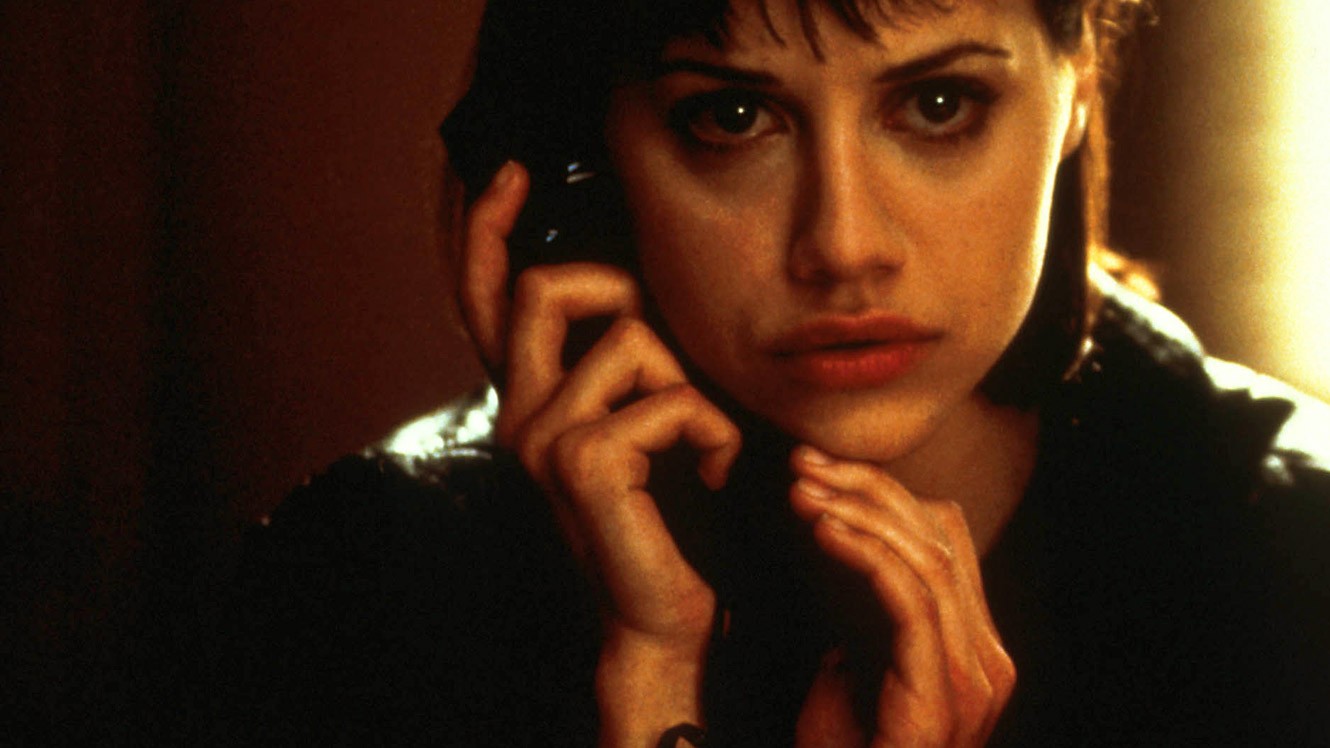 The characterisations are drawn with an often-appealing sarcasm. The killer, when revealed, even has a piece of cod motivation that is much more substantial than usual for these films, not to mention comes with finely loaded symbolism – the four who raped the victim came from families that have positions of respectability in the community and the killer is taking revenge by ravaging the symbolic innocence of the community.
Cherry Falls was made by Australian director Geoffrey Wright, who previously directed the excellent skinhead film Romper Stomper (1992), which introduced Russell Crowe to the world, as well as the less well-received Melbourne petrolhead culture film Metal Skin (1994). Cherry Falls was Geoffrey Wright's first (and so far only) venture onto American shores. Subsequently, Wright went onto conduct a modernised version of Shakespeare's MacBeth (2006) set in the Melbourne underworld.
Alas, the considerable visual style that Geoffrey Wright showed in these other films seems to have been swallowed up here by a low-budget. The film looks bland and cheaply video-shot. Wright does drum up some occasionally well-sustained suspense during the scenes where the killer pursues Brittany Murphy through the school, although other scenes like the climax with the killer pursuing her through the virginity ball fall apart due to an element of slapstick being allowing to creep in. It is a case, one suspects, of Geoffrey Wright having taken the job for the money, resented the material he had been handed and directed it with minimal interest. That said, Cherry Falls is a case of an otherwise drab film being lifted by a sharp and witty script.
---
---