(Kondom des Grauens)
---
Germany. 1996.
Crew
Director – Martin Walz, Screenplay – Rolf König, Mario Kramp & Martin Walz, Based on the Comic Book Created by Rolf König, Producers – Ralph S. Dietrich & Harald Reichebner, Photography – Alexander Honisch, Music – Emil Viklicky, Special Effects – Jorg Buttgereit, Creative Consultant – H.R. Giger, Production Design – Agi Dawaach. Production Company – Ascot Elite Film/Ecco Film/The German Film Board.
Cast
Udo Samel (Detective Luigi Macaroni), Leonard Lansink (Babette), Marc Richter (Billy), Peter Lohmeyer (Detective Sam Hanks), Iris Berben (Dr Doris Riffelson), Ron Williams (Chief of Police), Henning Schlutter (Robinson), Ralf Wolter (Professor Boris Smirnoff), Georg-Martin Bode (Dick McGouvern), Adriana Altaras (Croatian Tourist)
---
Plot
Police detective Luigi Macaroni investigates a series of attacks at New York's sleazy Hotel Quickie where all the victims have had their penises bitten off. While dallying with a young male prostitute, Macaroni has his right testicle bitten off by an ambulatory condom. As condoms start to emerge all over the city and more victims begin to accrue, Macaroni braves ridicule and mounts a single-person campaign to stop the killer condom menace. Eventually, he realises that he is dealing with an artificially engineered creation designed by a mad scientist.
---
The Troma name is usually one associated with offensively bad taste films like The Toxic Avenger (1984), Class of Nuke 'Em High (1986), Tromeo and Juliet (1996) and Terror Firmer (1999). Most people tend to forget that Troma is also a releasing company as well as a production company. In the past, Troma have picked other films up for distribution, including the likes of Surf Nazis Must Die (1987), Rabid Grannies (1988) and Chopper Chicks in Zombietown (1991), along with this German-made production. Indeed, it is usually from under their distribution arm rather than their in-house productions that the better Troma films emerge.
One went into The Killer Condom expecting a moronically stupid film akin to, well, most of the abovementioned Troma product – one that makes a play on an outrageous title and concept and piles on grotesque bad taste humour. The enormous surprise about The Killer Condom is that it is a well made film. Rather than being in moronically stupid bad taste and/or a cornball genre parody, it is a witty comedy. There are some hysterically funny sequences – like the parody of the Psycho (1960) shower sequence that turns into a scene with hero Udo Samel standing with a gas pipe hanging between his legs attempting to get the condom to leap onto it at the same time as drag queen Leonard Lansink is having an attack of hysterics because he doesn't love her.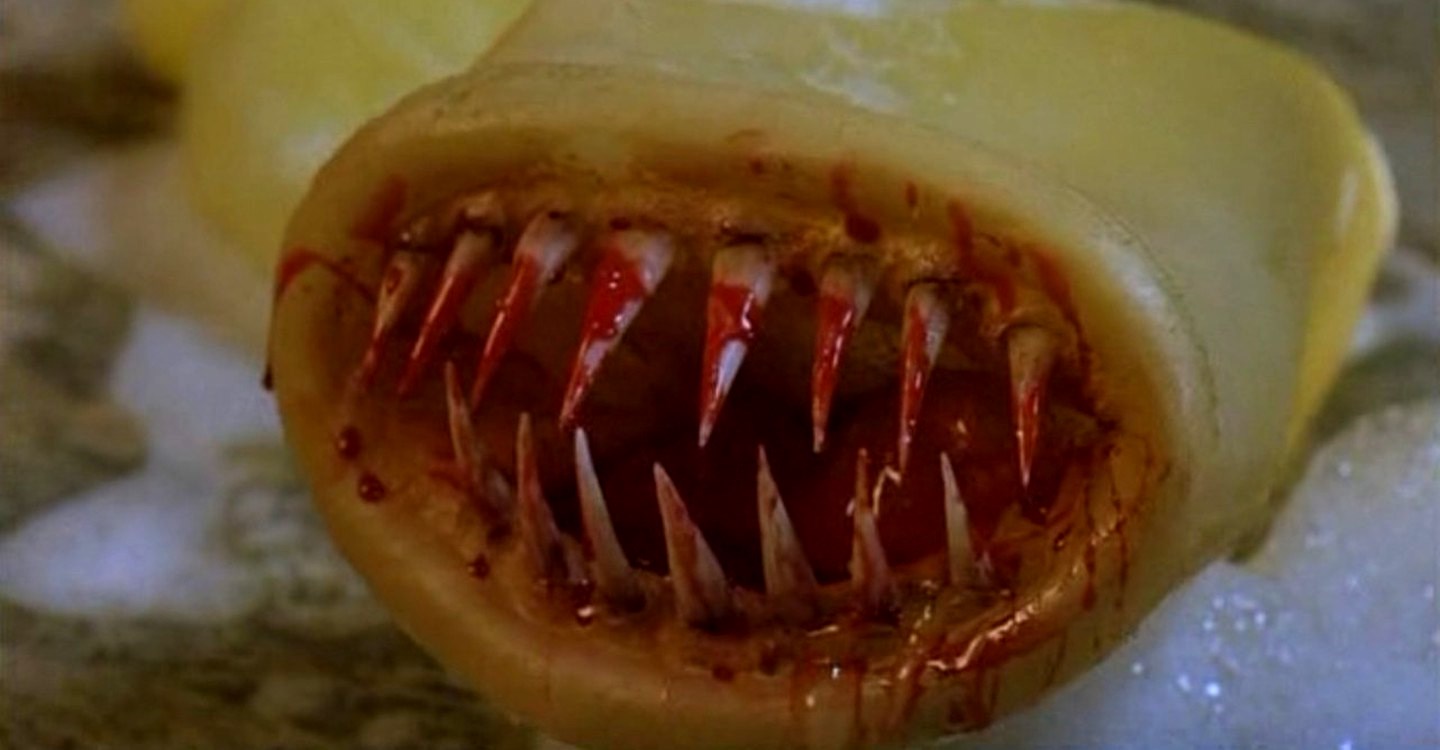 There are a number of enormously funny gags throughout – Peter Lohmeyer's experience with a yellow handkerchief in his pocket while undercover in a gay bar; an absurdly amusing parody of Jaws (1975) with a condom floating through a bathtub on the back of a rubber duck; the wonderful little Sermon on the Mount speech about universal understanding that Udo Samel gets to give at the ending (amid wondering where the light surrounding him is coming from).
The effects sequences with the mobile condoms – from no less than NEKRomantik (1987) director Jorg Buttgereit – are well done. The film contains some surprisingly good performances, notably from Udo Samel whose part as the detective hero hits a perfect stride between cliche worldweariness and understated comic nonchalance, and Leonard Lansink as the cop turned drag queen.
The Killer Condom should also be commended for going out on a limb and having a gay hero – indeed, most of the characters are gay and the film is predominantly set in gay subculture – such that The Killer Condom played more in gay film festivals than horror festivals when it came out. (The film is based on a comic-book by cult German gay comic-book creator Ralf König). The film has actually gone on location in New York for many of the street scenes, although the sight of would-be New Yorkers speaking German proves somewhat incongruous.
---
---