aka Pyrokinesis
(Kurosufaia)
---
Crew
Director – Shusuke Kaneko, Screenplay – Shusuke Kaneko, Koto Yamada & Masahiro Yamada, Based on the Novel by Miyuki Miyabe, Producers – Kazuya Hamana, Hideyaki Honma, Kazuhiko Seta & Setsuro Tagami, Photography – Kenji Takama, Music – Ko Otani, Production Design – Toshio Miike. Production Company – Toho/Tokyo Broadcasting System.
Cast
Akiko Yada (Junko Aoki), Hideaki Ito (Tada Kazuki), Kaori Momoi (Detective Ishizu), Hidenori Takeyama (Masaki Kogure), Masami Nagasawara (Kaori Kurata)
---
Plot
Tada Kazuki befriends Junko Aoki, the shy and socially ignored mail girl at his office. Tada's sister Yukie is then killed. The suspect is believed to be Masaki Kogure but he gets off because he is the son of a wealthy businessman and accuses the police of brutality. Junko then shows Tada her secret – that she is a pyrokinetic and can create fires by the power of her mind. Tada is horrified when she shows him how she can use her powers to obtain justice by setting Kogure on fire. Junko is then approached by the mysterious Kido, who belongs to a group known as The Guardians who are bringing together people with various psychic powers to punish those who get away from the law. Kido sends her to stop a gang of youths that kill people to make snuff videos. In trying to save a girl, Junko ends up incinerating the entire gang, which then has her hunted as a terrorist by the police.
---
Pyrokinesis – the mental ability to create fires – is an interesting parapsychological notion. It is something that exists more in terms of popular fiction than it does ever has in terms of reported cases or claims of such cases. Spontaneous Combustion – a similar but quite different phenomenon – by comparison has been 'documented' a number of times but has yet to have a film made about it. So far on the subject of pyrokinesis we have had the Stephen King adaptation Firestarter (1984), Tobe Hooper's dire Spontaneous Combustion (1990) and The X Files episode Fire (1993), before the topic wound its way to become a subject of light comedy with the likes of Nice Girls Don't Explode (1987), Pyrates (1991), the Hong Kong comedy She Starts the Fire (1992) and Wilder Napalm (1993). With the exception of Nice Girls Don't Explode – which turned out to be about someone only being fooled into believing they were pyrokinetic – none of these efforts have been particularly standout.
On the other hand, there is Cross Fire/Pyrokinesis. Cross Fire comes from Toho Studios, the producers of the Godzilla films, and Shusuke Kaneko, one of the most exciting new directors to emerge in Japanese fantastic cinema in the 1990s. Kaneko was responsible for revitalising Daiei's Gamera series and making some of the most exciting of all modern Japanese monster movies with the likes of Gamera, The Guardian of the Universe (1995), Gamera 2: Assault of Legion (1996) and Gamera 3: Revenge of Iris (1999), as well as Toho's Godzilla, Mothra and King Ghidorah: Giant Monsters All-Out Attack (2001). There Kaneko invested the monster movie with a barrage of stunning effects and here he has clearly set out to set the pyrokinesis movie alight in similar ways.
Kaneko takes his time building up to the first explosion of power. There are a few small fires throughout but the first big one – the attack on the snuff video-makers – is incendiary when it arrives – a fireball that suddenly explodes out of nowhere and blasts a motorcyclist halfway across a warehouse; the assailant who grabs Akiko Yada and whose face starts to glow from within then swells up before erupting into flames; the attacker pointing a gun whose arm and side of face explodes into flame; one attacker being blasted by a heatwave where we see his face suddenly folding in on itself like a paper bag; even the heroine cauterising her own bullet wound.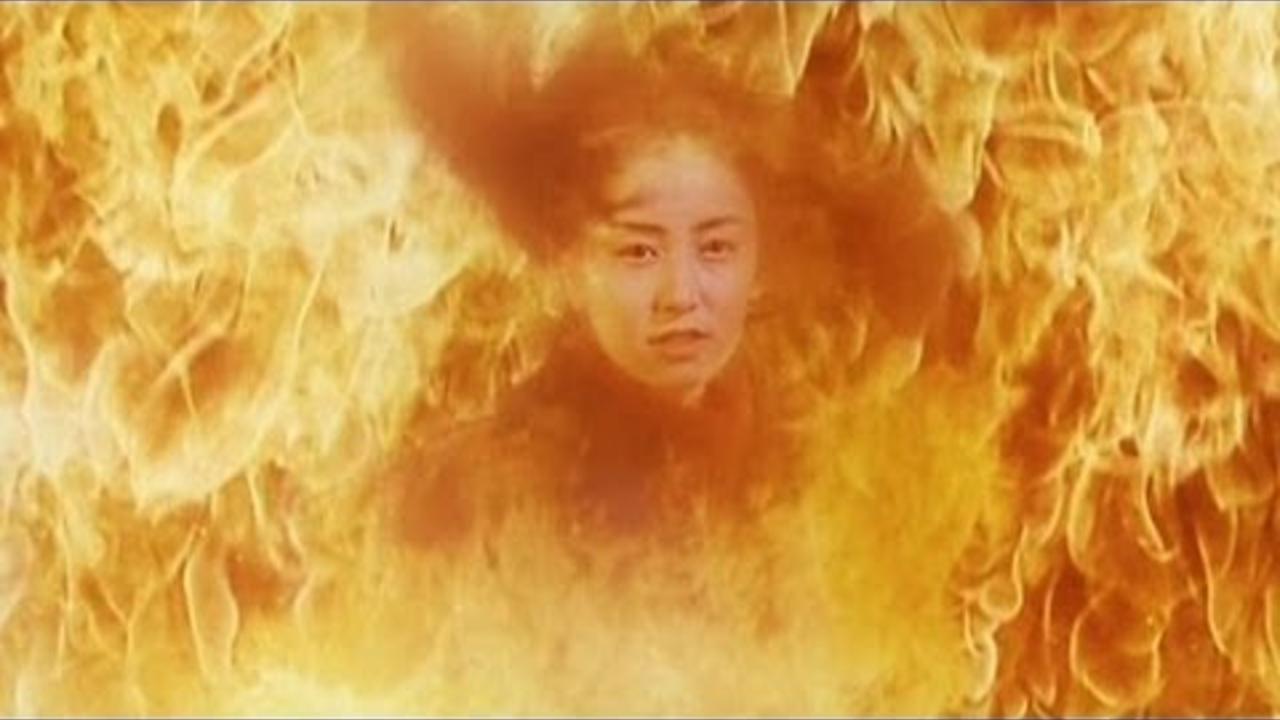 One route Cross Fire could have gone is that of The Fury (1978), Scanners (1981) or Akira (1988) in piling one escalating novelty effects set-piece on top of another. The film certainly reaches an expected big climax in a battle with erupting merry-go-rounds, exploding tankers, psychically induced rainstorms and two pyrokinetics fighting with heat forcefields, before reaching a typically Japanese ending of transcendental sacrifice.
To Shusuke Kaneko's credit, he determines to make more than a film about explosions and fireballs and to get inside the soul of the pyronkinetic. The film has a powerful theme running throughout about the moral appropriateness of revenge – of realising that using violence to exact justice on the violent makes the avenger as bad a person as the one who uses it in the first place, even if the epilogue contradicts this somewhat. As much as his big pyrotechnics, Kaneko also thrills with tiny touches of poetry – like Akiko Yada kissing and a heat shield above her melting falling snowdrops.
Cross Fire was based on a best-selling 1998 Japanese novel by woman writer Miyuki Miyabe, the film rights of which apparently became the subject of a bidding war. To some extent, the film tries to retain too much from the book and resultingly overburdening itself with a large number of running character strands – two boyfriends, two detectives one of whose past is connected to the heroine, another pyrokinetic girl, the mysterious vigilante Guardians, and a group of snuff filmmakers/vigilantes funded from within the police department. The fact that several characters move from being on one side to another throughout adds to the difficulty of trying to follow the story. Nevertheless, Shusuke Kaneko's pyronkinetics, both physical and directorial, make Cross Fire highly watchable.
Shusuke Kaneko's other genre films include:– The Cold episode of the H.P. Lovecraft anthology Necronomicon (1993), Gamera, The Guardian of the Universe (1995), Gamera 2: Assault of Legion (1996), School Ghost Story 3 (1997), Gamera 3: Revenge of Iris (1999), Godzilla Mothra and King Ghidorah: Giant Monsters All-Out Attack (2001), the fantasy musical Toast of Love (2002), the horror hits Death Note (2006) and Death Note: The Last Name (2006), Danger Dolls (2014) about an all-girl sf action team; and the time travel comedy Linking Love (2017).
---
---