---
Crew
Director – Heitor Dhalia, Screenplay – Allison Burnett, Producers – Dan Abrams, Sidney Kimmel, Gary Lucchesi, Tom Rosenberg & Chris Salvaterra, Photography – Michael Grady, Music – David Buckley, Visual Effects – Furious FX, Production Design – Charissa Cardenas. Production Company – Lakeshore Entertainment/Sidney Kimmel Entertainment.
Cast
Amanda Seyfried (Jill Conway), Daniel Sunjata (Sergeant Powers), Jennifer Carpenter (Sharon Ames), Wes Bentley (Detective Peter Hood), Emily Wickersham (Molly Conway), Katherine Moennig (Detective Erica Lonsdale), Sebastian Stan (Billy), Ted Rooney (Mr Massey), Joel David Moore (Nick Massey), Michael Paré (Lieutenant Ray Bozeman), Nick Searcy (Mr Miller), Socratis Otto (Jim Van Hyte), Susan Hess Logeias (Dr Mira Anders), Blaine Palmer (Conrad Reynolds), Sam Upton (Officer McKay), Erin Carufel (Officer Ash), Jeanine Jackson (Mrs Cermak)
---
Plot
Jill Conway is a waitress in Portland, Oregon and lives with her sister Molly. She is haunted by the trauma of an incident when she was abducted by a serial killer and made a prisoner in a hole in the ground in the forest before she made an escape. She never saw the killer's face and the police were unable to find any corroborating evidence and dismissed the case due to Jill's history of mental instability. She now obsessively searches the forest looking for the location of the hole. Jill then returns home from work to find Molly missing. She goes to the police but they fail to take the case seriously due to the lack of any clear evidence that Molly has been abducted. As Jill places everything into following a string of slim clues to find what happened to Molly, her pulling a gun on someone she is demanding answers from has her listed by police as an armed and dangerous fugitive.
---
Gone received a theatrical release, although failed to do much business, earning only a miserable $4.7 million in its first week of release. This may well have been hindered by the film's not being screened in advance for critics, which is something that usually spells a bomb that the studio is afraid of. The film is an English-language debut for director Heitor Dhalia who has made three films in his native Brazil, beginning with the surreal Nina (2004) and more recently gained some reasonable festival attention with the non-genre Coming of Age drama Adrift (2009). The script comes from Allison Burnett, who has written a number of other high-profile films with the likes of Autumn in New York (2000), Untraceable (2008), Fame (2009) and Underworld: Awakening (2012).
Gone seems like a leftover relic from the late 90s/early 00s. It would, you feel, have been more at home as a direct-to-video or cable release in the aftermath of The Silence of the Lambs (1991). Indeed, by the 2010s, this type of thriller with a girl being hunted by a serial killer is one that has largely disappeared off the radar. As such, Gone feels like it is assembled out of a host of plot elements from around this era. The hole in the ground where Amanda Seyfried is kept prisoner is strongly reminiscent of the scenes in The Silence of the Lambs with Brooke Smith being kept a prisoner in the cellar by Ted Levine. Indeed, the entire plot set-up of the heroine who escapes from the serial killer's lair and spends the film trying to piece together the clues that will help find the way back and stop him has almost been directly copied from Ashley Judd's character in Kiss the Girls (1997).
Everything in Gone feels assembled by cliche. It is not that the material here could not have made for an interesting film, it is more that the treatment of it avoids most of these. Allison Burnett's script certainly sits in some interesting places. It sets up a potential Girl Who Cried Wolf scenario where the experience that Amanda Seyfried underwent is ambiguous with police unable to find any clear evidence for what happened and regard the claims she is making about her sister going missing as highly dubious.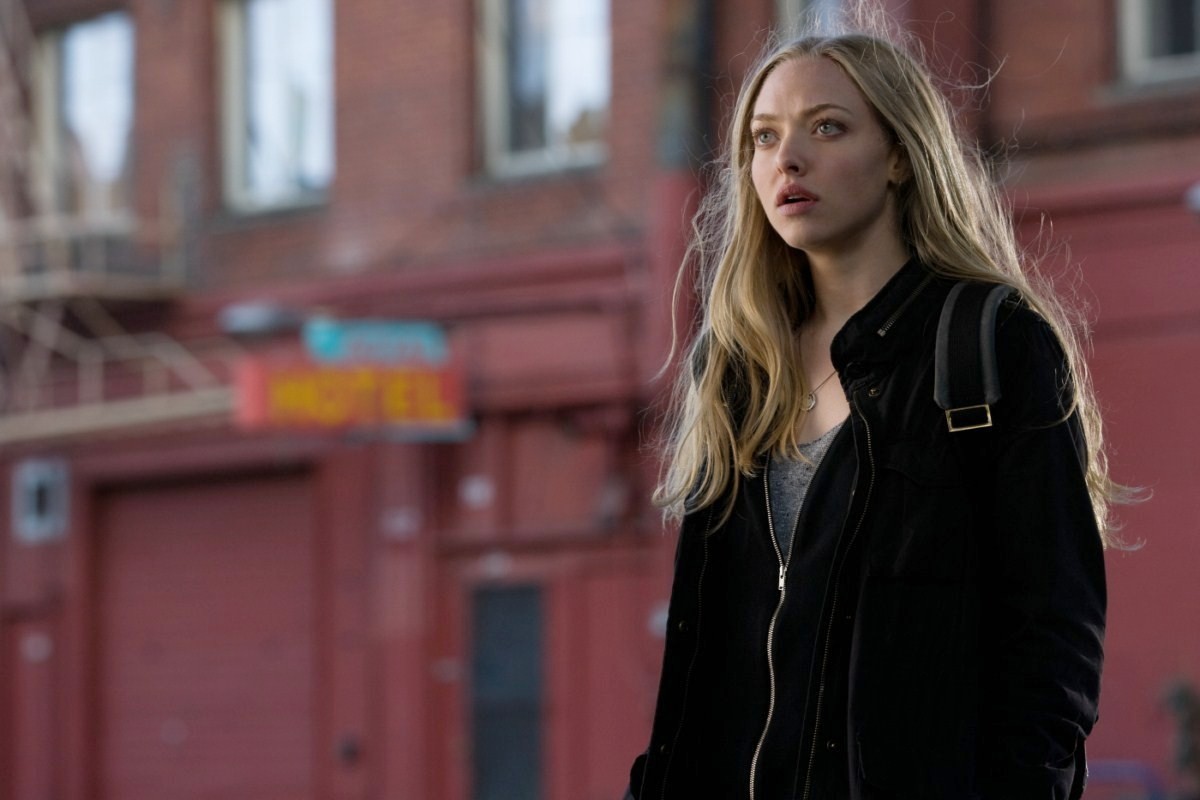 Some of the leaps of connection that Amanda Seyfried makes, including following vague clues and loose ends, seem exceedingly tenuous and you wonder for a reasonable portion of the film as to how much of this (if not everything) is in her head. [PLOT SPOILERS]. Gone being the film it is, things eventually come down on the side of her being right, although it would have been a much more interesting case if the film had pulled a left field ending that had gone the other way and revealed her as being wrong about everything she assumes.
Heitor Dhalia creates passably effective tension out of what is going on on screen. However, the bulk of this is focused on more obvious physical aspects of the story – car chases, Amanda Seyfried on the run from the police and their attempt to apprehend her – rather than the far more interesting games of leaving us wondering whether she is imagining it or not. The film, for example, never leaves us in a place where we have too much doubt as to whether Amanda Seyfried might be imagining it or misinterpreting anything.
The most suspenseful scenes are during her night journey into the forest to meet the killer while conversing with him by cellphone and his sudden chill statement "There is no cell coverage out here." [PLOT SPOILERS] The film reaches a disappointing end where the revelation of the psycho's identity proves to be of no significance to the plot, while the last scenes where Amanda Seyfried shuts the door on police denying that anything happened leaves the film on an unsatisfying end.
Gone is almost entirely sold around the star name of Amanda Seyfried. After gaining notice on tv's Big Love (2006-11), Seyfried broke out of persistent attempts to push her into cute blonde actress roles – the likes of Mamma Mia (2008) and Letters to Juliet (2010) – and crafted a reasonable name for herself in the last couple of years in films such as Chloe (2009), Jennifer's Body (2009), In Time (2011), Red Riding Hood (2011) and subsequent fare such as Les Miserables (2012) and the title role in Lovelace (2013), which show that she is now obtaining serious dramatic consideration. I predict that she has the capacity to emerge as one of the more promising names in the next few years. Here she essentially carries the film over lightweight scripting and superficial direction. She is not enough to lift Gone out of the strictly routine, however she does look convincingly on the edge and traumatically shattered by her experience.
---
---