---
USA. 1997.
Crew
Directors/Screenplay – Jonas Pate & Josh Pate, Producer – Peter Glatzer, Photography – Bill Butler, Music – Harry Gregson-Williams, Music Supervisor – Carol Sue Baker, Special Effects Supervisor – Ray Bivins, Production Design – John Kretschmer. Production Company – MDP Worldwide.
Cast
Tim Roth (James Wayland), Michael Rooker (Edward Kennesaw), Chris Penn (Phillip Braxton), Renee Zellweger (Elizabeth Loftus), Rosanna Arquette (Mrs Kennesaw), Michael Parks (Dr Simmons Banyard), Ellen Burstyn (Mook), Mark Damon (Mr Wayland)
---
Plot
Two police detectives, Phillip Braxton and Edward Kennesaw, bring in James Wayland, the alienated son of a wealthy textile manufacturer, for questioning about the murder of a prostitute. Wayland is given a lie detector test. The detectives are certain that he has taken drugs in order to cheat the test but Wayland claims that the drugs are only medication for his stress-induced epilepsy. It becomes apparent that Wayland suffers from temporal lobe seizures, a condition that can cause violent and unpredictable behaviour. At the same time, Wayland turns the interrogation around, bringing out uncanny personal knowledge of Kennesaw's marital problems and infidelity and the fact that Braxton is being pursued by bookies for $20,000 gambling debts.
---
Deceiver was a film from twin brothers Jonas and Josh Pate had previously made the Gothic film The Grave (1996) and have mostly worked in television. Their one other major venture into genre cinema was as the creators, producers and writers of the short-lived tv series Surface (2005-6) about the discovery of a sentient lifeform on the ocean floor. On his own, Jonas Pate went onto work as a producer, sometimes director on tv series such as Bionic Woman (2007), Caprica (2009-10) and Prime Suspect (2011-2). Jonas has also directed the web-series Battlestar Galactica: Blood & Chrome (2012).
Deceiver is a promisingly interesting psycho-thriller. It is essentially a chamber comedy, construed as a psychological battle of wits between interrogators and suspect. This is something that becomes fascinating as the film starts to get into some wonderfully ambiguous areas as to whether Tim Roth's interrogatee is telling or evading the truth. It becomes even more fascinating when Roth then starts to turn the interrogation around and suddenly reveal personal information about the problems in both of the two cops' lives.
There is a wonderfully captivating scene with Michael Parks appears as a psychologist who talks about absinthe drinkers and how absinthe can trigger Temporal Lobe Epilepsy, something that sits just between movie psychology hokum and unique conviction. Alas, no other scenes in the film attain such a wonderful compulsion.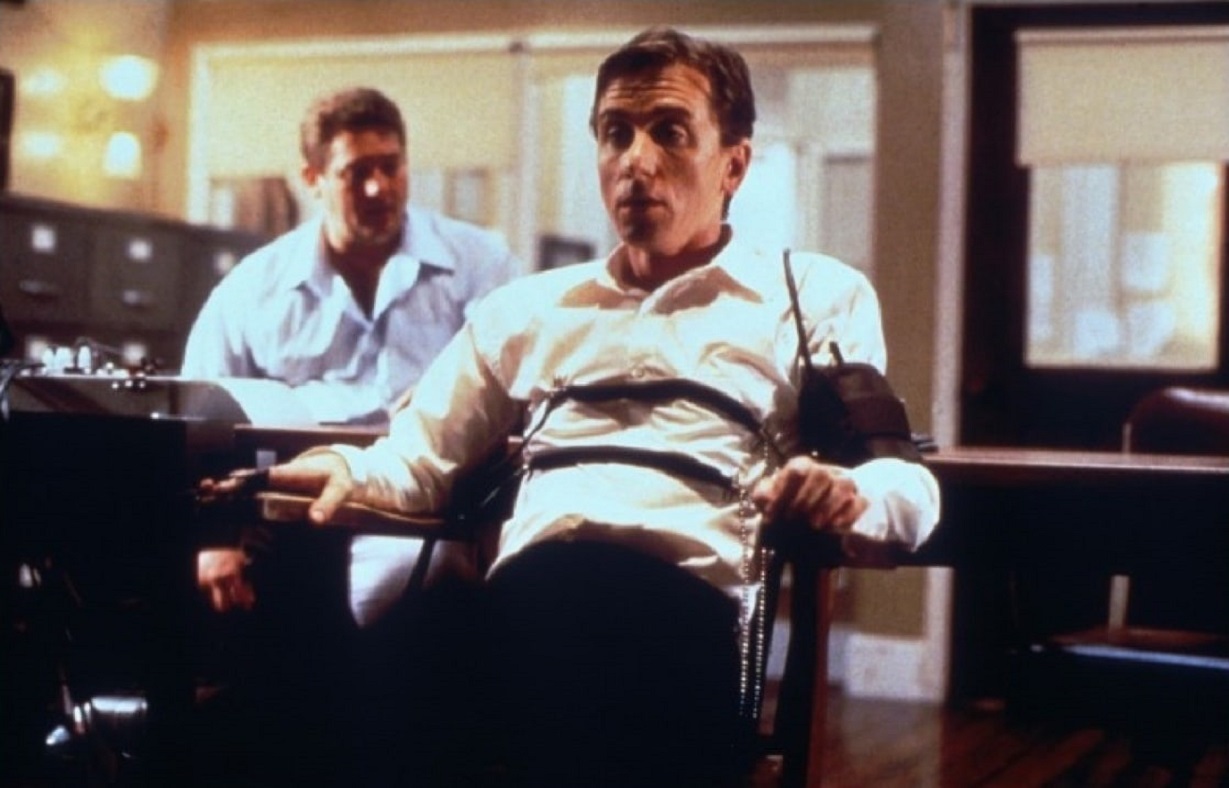 Eventually, the fascinations inherent in the script are never credibly sustained when it comes to plausibly explaining how Tim Roth comes to know so much about the two detectives backgrounds. The basic premise is also contrived – it is difficult to believe that a suspect such as Roth would enter a police interrogation room without a lawyer, who almost certainly would have shielded him from much of the questioning that goes on. In other words, it is a scenario that has been contrived for the purposes of the story. Tim Roth certainly has fun in his role. Michael Rooker is (yet again) cast in full wife beater mode, a role he has demonstrated an alarming predilection for.
Deceiver is a film that starts well, but eventually loses it. A much better film that came out around the same time with essentially the same plot – one where the suspect in an interrogation plays psychological games with the police – was the superb Australian thriller The Interview (1998).
---
Trailer here
Full film available online here:-
---