---
Crew
Director/Screenplay/Producer – James Bond III, Photography – Ernest Dickerson, Music – Paul Laurence, Visual Effects/Makeup Effects – Rob Benevides, Production Design – David Carrington. Production Company – Orpheus Productions/Bonded Filmworks.
Cast
James Bond III (Joel), Cynthia Bond (Temptation), Kadeem Hardison (K), Bill Nunn (Dougie), Minnie Gentry (Grandma), Melba Moore (Madam Sonya), John Canada Terrell (Bartender #1), Rony Clanton (Norman), Samuel L. Jackson (Minister Garth)
---
Plot
Joel, a divinity college student, arrives in the city from North Carolina to visit his actor friend K. In a bar, they meet a mysterious woman whom they come to realise is the demon Temptation who uses sex to lure souls. As Temptation tries to seduce the unworldwise Joel, K teams with an obsessed detective to drive her back to Hell.
---
Def by Temptation – a virtual one-man show from an actor-writer-director with the unlikely name of James Bond III – was a short-lived attempt to revive the Blaxploitation film. It was made with an all Black cast and, from the looks of it, crew as well.
Def by Temptation is a particularly silly and not very good film. The basic idea plays likes a torrid Black Gospel nightmare – young church-going Black guy has crisis of faith, comes to the big city where he is tempted by a Devil in the form of a woman who specialises in seduction and hangs around singles bars. The film is never more sophisticated than that – in fact, when one considers it, is quite misogynistic.
It all comes couched in a very repetitive plot and is amateurishly made. Most of Bond's special effects appear to be conveyed by garish lighting. As an actor, the surprisingly young Bond appears gawkish and camera shy. A scene where he and Hardison sit around reminiscing gives the impression of having been improvised under the influence of marijuana.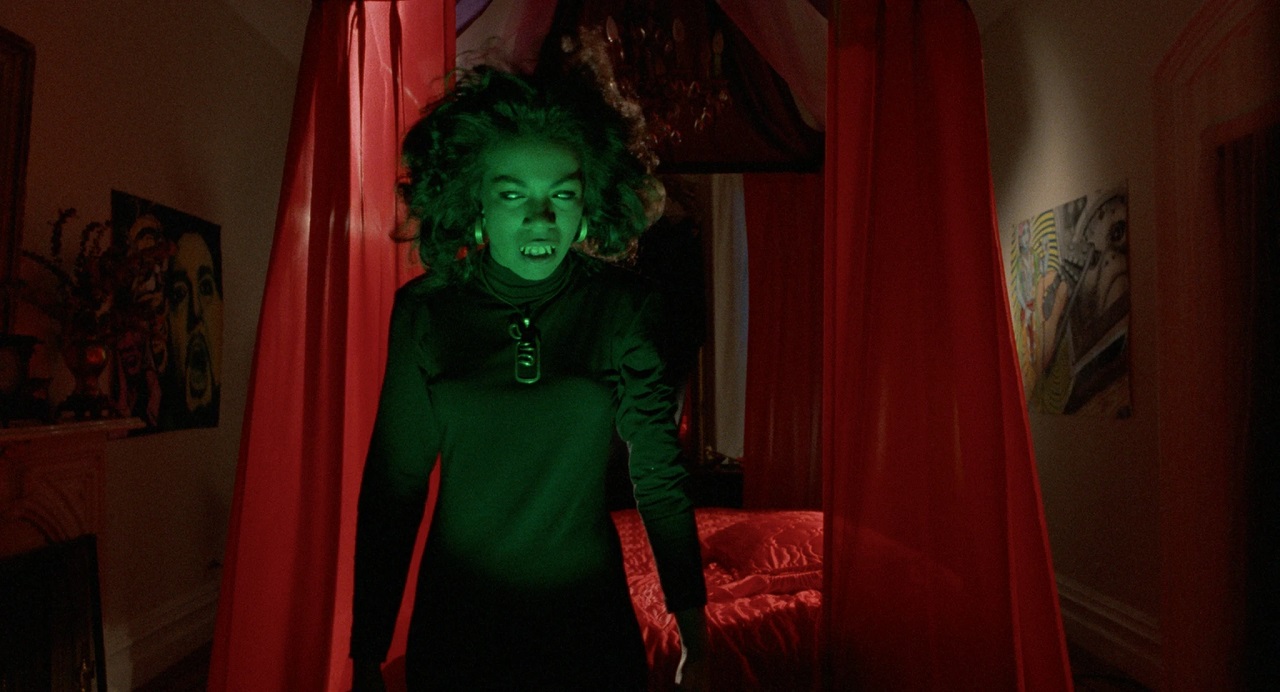 James Bond III had made a number of minor acting appearances as a youth actor. Def by Temptation was his one and only directorial outing and he has since not even made a single acting appearance. Among his cast, the most professional-seeming is Kadeem Hardison who has since gone onto roles in films like White Men Can't Jump (1992), Panther (1995), Renaissance Man (1995) and Vampire in Brooklyn (1995).
People may also notice Samuel L. Jackson, since gone onto superstardom in flashback scenes as Bond's minister father. Bill Nunn has gone onto play small parts usually as cops in various thrillers and action films. Photographer Ernest Dickerson shot a number of films for Spike Lee and then went onto direct the human hunting action film Surviving the Game (1994), Tales from the Crypt Presents Demon Knight (1995) and the interesting Blaxploitation revival Bones (2001).
---
---