---
Crew
Director – Spike Lee, Screenplay – Mark Protosevich, Based on the Film Written by Park Chan-wook, Hwang Jo-yun & Lim Jun-hyung, Producers – Doug Davison, Roy Lee & Spike Lee, Photography – Sean Bobbitt, Music – Rosque Baos, Visual Effects – Wildfire Studios (Supervisor – Dottie Starling), Special Effects Supervisor – Guy Clayton, Production Design – Sharon Seymour. Production Company – Vertigo Entertainment/40 Acres and a Mule Filmworks.
Cast
Josh Brolin (Joe Doucette), Elizabeth Olsen (Marie Sebastian), Sharlto Copley (Adrian Pryce), Samuel L. Jackson (Chaney), Michael Imperioli (Chucky), Pom Klementieff (Haeng-Bok), Lance Reddick (Daniel Newcombe), Linda Edmond (Edwina Burke)
---
Plot
After a night of heavy drinking, advertising executive Joe Doucette comes around to find himself imprisoned in a small hotel room. The doors are locked and there is no way out. His meals and a daily bottle of vodka are provided for him. Joe is forced to watch on tv as he is framed for the murder of his wife and his daughter is sent to grow up with adopted parents. After twenty years locked up in the room, Joe decides to quit the alcohol and begins to train, eventually digging his way out through the wall. In the outside world, he sets out to search for his daughter, employing violent methods to get answers. All the way, he is prompted by a mysterious voice on a cellphone who pushes Joe to seek the answers as to why he was imprisoned by examining his own life.
---
Park Chan-Wook's Oldboy (2003) is a modern classic. I remember seeing it not long after its Cannes premiere in 2004 and the effect was sensational. The gore-drenched ultra-violence rocked the screen, while the twist ending held a brutal impact that trod way across taboo lines. It left audiences with the same effect it did in seeing efforts like Quentin Tarantino's Reservoir Dogs (1992), Takashi Miike's Audition (1999) or Eli Roth's Hostel (2005) – of directors that were prepared to grab their audiences by the short and curlies, twist until it felt uncomfortable and then keep on pushing things as far as they could. The film launched the career of Park Chan-Wook who has become a cult must-see director with everything he does now.
This was followed by the inevitable announcement of the Hollywood remake of Oldboy. Incredibly enough, this was at one point announced as a project with Steven Spielberg directing and Will Smith starring. (It is hard to imagine a project that could be more removed from Spielberg's usual sensibilities). This ended up in legal problems over copyright with the author of the original manga that the Korean version was based on. The eventual production came in under the banner of Roy Lee and his Vertigo Entertainment company who have been responsible for a number of other remakes of Asian film properties including The Grudge (2004), Dark Water (2005), The Echo (2008), The Eye (2008), Shutter (2008), Possession (2009) and The Uninvited (2009), and other non-horror Asian films such as Eight Below (2006), The Lake House (2006), The Departed (2006) and My Sassy Girl (2008), as well as The Lego Movie (2014).
The eventual director to take up the job was Spike Lee. Lee gained a name in the 1980s as director of films like She's Gotta Have It (1986) and especially Do the Right Thing (1989), a trenchant examination of race issues in the midst of a Brooklyn heatwave. Lee's commentary on issues racial made him a critical favourite with films such as Mo' Better Blues (1990), Jungle Fever (1991), Malcolm X (1992), Crooklyn (1994), Clockers (1995), Get on the Bus (1996) and Bamboozled (2000), while he has also produced the fine African-American themed horror anthology Tales from the Hood (1995) and its follow-up and Tales from the Hood 2 (2018). Around the 2000s, Lee's work began to diversify to documentaries and other works like the true-crime film Summer of Sam (1999). His most successful works during this period were the critically acclaimed drama The 25th Hour (2002) and the slickly entertaining heist thriller Inside Man (2006). Other more traditional race relations films such as She Hate Me (2004), Miracle at St Anna (2008), Red Hook Summer (2012) and Chi-Raq (2015) seemed to not be hitting the same targets they were a decade before, although Lee did bounce back with the subsequent BlacKkKlansman (2018).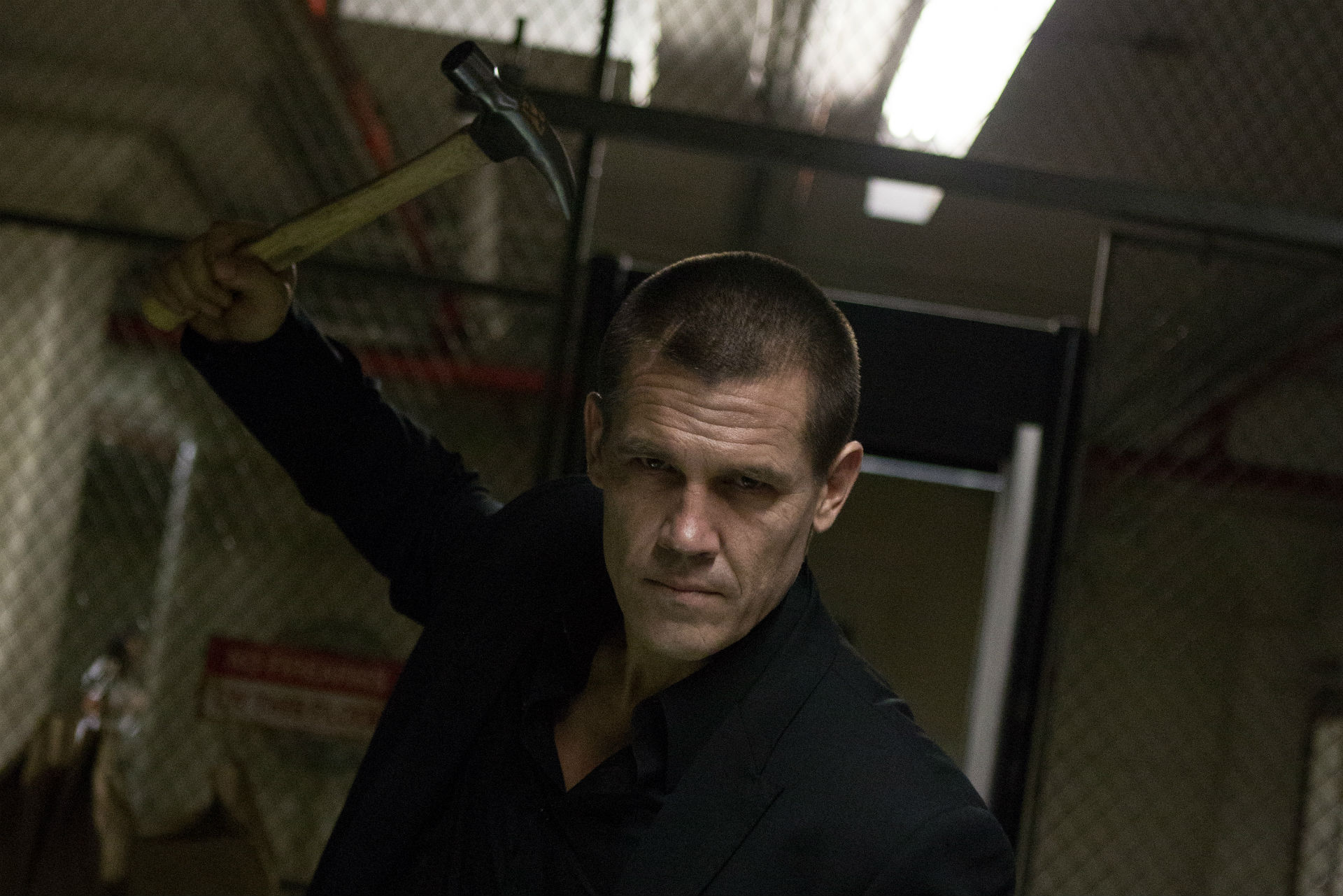 The script for Oldboy comes from Mark Protosevich, a screenwriter who first appeared with The Cell (2000) but whose work, apart from the story for Thor (2011), has been mostly been in other inferior remakes such as Poseidon (2006) and I Am Legend (2007). I had bad presentiments about Oldboy, thinking that maybe we would end up with a film that watered down the taboo elements for something considered safe by Hollywood standards. That is not the case – in fact, Oldboy 2013 is surprisingly faithful to the script for Oldboy 2003 – but the prognostication is much worse.
The start of the film gets things right. Josh Brolin does the douchebag asshole well and Spike Lee gets the sense of his frustration and maddening isolation, even if these scenes are drawn out far more than the tautness with which Park Chan-Wook delivered them at the start of the Korean Oldboy. However, as soon as Spike Lee gets the film back out into the outside world, it loses direction. The Korean Oldboy was a film that came at you with an insane energy. What you remember of it is the rawness of Choi Min-sik's performances and scenes like him wrenching out people's teeth with a claw hammer, eating a live octopus and especially the cutting out of the tongue with a pair of scissors at the climax.
Spike Lee replicates many of these scenes. There are scenes with Josh Brolin bashing in heads with a claw hammer; the tongue severing is moved to a different part of the film with another character (but is never depicted on screen); while the live octopus eating has been dropped (which would no doubt have had the American Humane Association up in arms). The problem is that Spike Lee's approach is far too mannered. These scenes fail to come with Park Chan-wook's raw, fired-up energy, they just seem like canned pieces of action that could be grafted on from any of a dozen R-rated thrillers or action movies. It feels more than anything as though Spike Lee is the hired hand on the film, directing filler boilerplate action scenes, rather than a project that he feels passionately driven by (as you felt with Park Chan-Wook).
The remake is a film that just seems to go in every direction but never come together as a whole. There are pieces that feel like an odd fit. One of these is Samuel L. Jackson who is written in as the controller of the imprisonment set-up. This is a role that has been more substantially embellished over what it was in the original and one that Jackson plays up with his customary laconic sarcasm. He gets two major scenes – and a few minor ones looking on from the monitors – one being tortured by Josh Brolin and another where he and his men prepare to get revenge. Jackson gives the part such an outrageous playing – appearing in stubby coloured mohawks and at one point even a dress – that he steals the film away from everybody else present, leaving you thinking he Is going to become the villain of the show.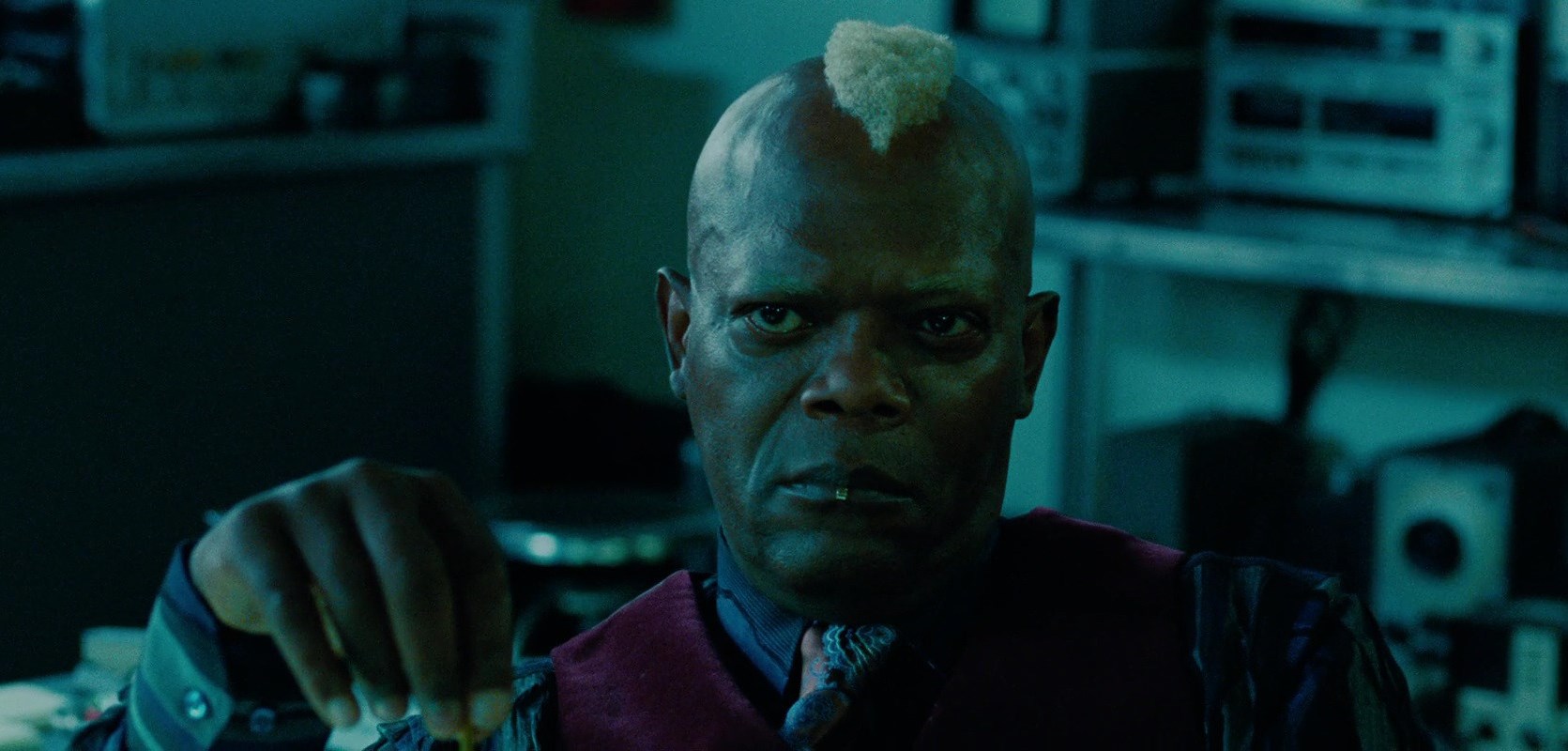 The surprise ends up being that Jackson abruptly disappears off stage after just these two scenes. The villain role ends up being taken by Sharlto Copley. I think that Copley is a fine actor, it's just that here he has been cast as a weaselly bug-eyed figure with a strange accent. He seems more like he is a villain out of a James Bond film – you expect at any moment for him to start cackling madly and unveil his death ray laser and world conquest plot – and seems effete and spineless up against Josh Brolin's angry, physical performance. Samuel L. Jackson is such a strong presence that he throws the film off and diminishes Copley's role considerably.
Of course, the other big thing that the remake manages to blow is the twist ending. [PLOT SPOILERS] In the original, it was a genuine shock, as much for the nature of what the cryptic game was about as the taboo lines that the film was treading way across by going into such territory. Because one knows the twist, it is hard to gauge whether the same is going to work here. I have my doubts though whether it is likely to rock audiences the way the original did. If it is anything to go by, a friend of mine in the audience who hadn't seen the original came out going "Yeah, I could totally see that coming." Mark Protosevich and Spike Lee keep emphasising the quest to reunite with the daughter in all sorts of ways that I never remembering the original doing such that when the big surprise comes it had been underlined in ways that are glaringly obvious. The film also goes out on a coda where Josh Brolin simply returns to his hotel room, leaving Elisabeth Olsen with the diamonds and a parting message. It was far more disturbing in the original when we see Choi Min-sik visiting a hypnotist to have all memory obliterated so that he can get back together with her.
Spike Lee subsequently stayed with genre material and went on to make the substantially more interesting vampire film Da Sweet Blood of Jesus (2014).
---
---