---
Crew
Director – Rick Bota, Screenplay – Carl Dupre, Story – Joel Soisson, Producer – Ron Schmidt, Photography – Gabriel Kosuth, Music – Lars Anderson, Visual Effects Supervisor – Jamison Goei, Visual Effects – Neo Digital Imaging, Makeup Effects – Two Hours in the Dark, Inc. (Supervisor – Gary J. Tunnicliffe), Production Design – Christian Niculescu. Production Company – Dimension Film/Neo Art & Logic.
Cast
Lance Henriksen (The Host), Katheryn Winnick (Chelsea), Christopher Jacot (Jake), Henry Cavill (Mike), Khary Payton (Derrick), Anna Tolputt (Allison), Doug Bradley (Pinhead)
---
Plot
A group of friends gather for the funeral of their friend Adam. They blame his death on Hellworld, an online computer game based on the Cenobites that they all played. Two years later, they are drawn back in to Hellworld where they unlock a secret code that invites them to a Hellworld party. They turn up at the mansion where the party is held and are greeted by The Host, a collector of Cenobite paraphernalia. As they wander through the party and experience nightmarish phenomena, they find Pinhead waiting to torture them.
---
Hellraiser: Hellworld was the seventh in the series of films that began with Clive Barker's Hellraiser (1987). Barker oversaw various other writers and directors as they created the first three sequels – Hellbound: Hellraiser II (1988), Hellraiser III: Hell on Earth (1992) and Hellraiser: Bloodline (1996). The rights were then sold to Dimension Films who handed the making of another series of sequels over to Neo Art & Logic, a company that specialise in making low-budget sequels to other people's franchises. Neo Art produced the unexpectedly decent Hellraiser: Inferno (2000) from a then unknown Scott Derrickson, followed by three other sequels, all under the directorial hand of cinematographer Rick Bota, with Hellraiser: Hellseeker (2002), Hellraiser: Deader (2005) and Hellraiser: Hellworld here. A few years later, Dimension Films without Neo Art also made Hellraiser: Revelations (2011) and Hellraiser: Judgment (2018), both in order to secure the hold on the rights to the series. This was followed by the remake Hellraiser (2022).
'Hellraiser: Hellworld was shot back-to-back in Romania along with Hellraiser: Deader. Both of these are cheap entries that are seen as the nadir of the series – at least until Hellraiser: Revelations a few years later. The film was apparently based on a short story by producer Joel Soisson. Like Hellraiser: Deader, which was based on another film script that was quickly rewritten to serve a Hellraiser film, it feels a completely different film to any of the other Hellraiser sequels. The story is now about a group exploring a mansion where reality starts blurring and messing with their minds. It feels like what we are watching could be one of a host of haunted locale films – I was immediately reminded of something like House on Haunted Hill (1999) – but with the addition of a few Cenobites.
The crucial point is that the Cenobites seem superfluous to what is going on. Doug Bradley turns up in a handful of scenes to deliver a few mellifluous threats but could easily have been written out. A couple of other Cenobites have blink-and-you-miss-them cameos. Moreover, we are a long way away from Clive Barker's original creations. Barker established that the puzzle box needed to be opened to summon the Cenobites. Here Christopher Jacot is puzzled over why the Cenobites are present without the Lament Configuration having been opened but there is no explanation of why. These Cenobites do a bit of torturing and tearing people apart but this is a far cry from Clive Barker's original vision of ecstatic torment and forbidden pleasures. Here The Cenobites are just standard boogeymen.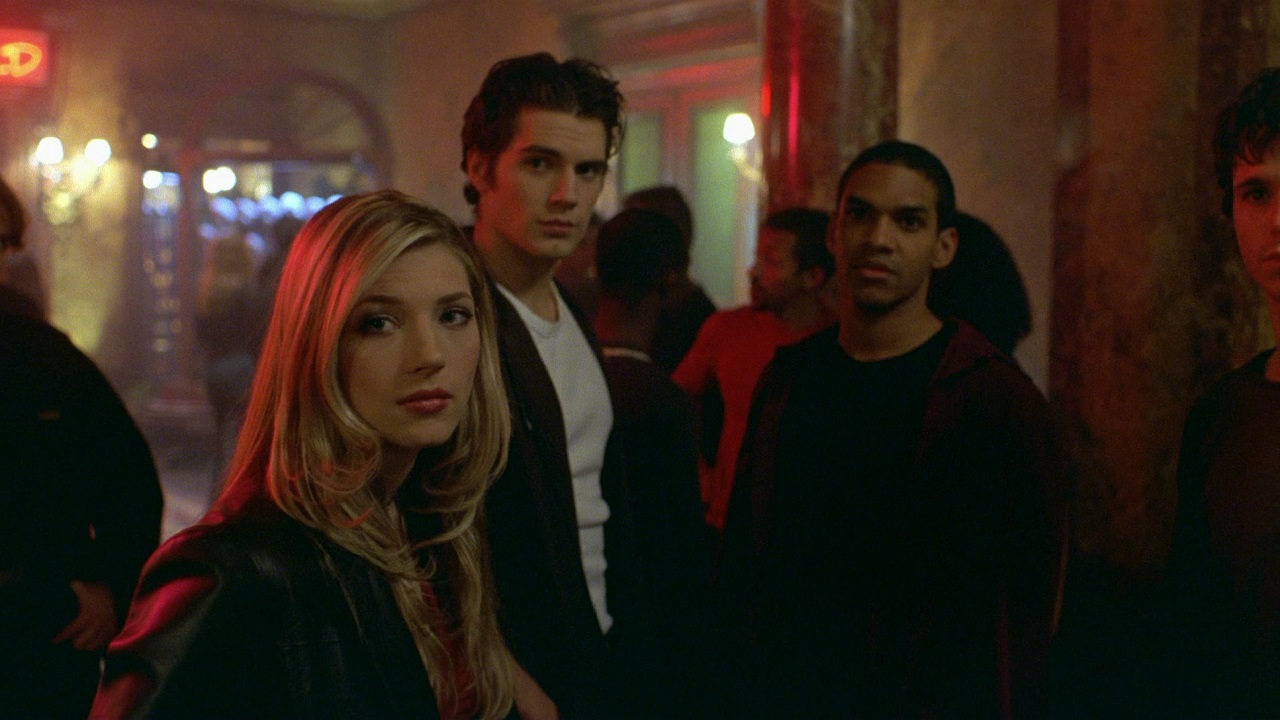 The film also appears to have been created around the then relatively new advents of the cellphone and online gaming. There is the not uninteresting idea of a computer game created around a Lament Configuration/Cenobite theme. However, the film does nothing with either of these ideas – the computer game only exists to get the group to the house where everything happens. Not to mention the crappy low-res graphics of the game and the couple of scenes where we see it being played are a big letdown on the promise.
The most distinctive thing about Hellraiser: Hellworld in retrospect is its cast. At the centre of the show is Lance Henriksen, lending effortless presence in a rare bad guy role. However, what gets your attention is the unknowns in the cast. There is a nineteen year-old, completely unknown Henry Cavill, several years before being cast as Superman in Man of Steel (2013) and the title role in tv's The Witcher (2019- ) and being appointed various Sexiest Man Alive sobriquets. Here his look is unhoned but you can see it is him, playing the member of the group who fancies himself a playboy.
The other interesting name is that of Khary Payton, an actor better known for his voice work in animation who gained a fame in 2016 as King Ezekiel in the fifth season of tv's The Walking Dead (2010-22). Interestingly here, Payton looks only around the age of twenty despite being in his thirties at the time. Seeing him as King Ezekiel, which was made after Hellworld came out, it is as though he has suddenly leapt from the age of twenty into his forties with greying hair in the space of only a decade. Also present is Katheryn Winnick who became better known as a regular on tv's Vikings (2013- ).
---