---
USA. 2014.
Crew
Director/Screenplay – Adam Green, Inspired by the Artwork of Alex Pardee, Producer – Cory Neal, Photography – Will Barratt, Music – Bear McCreary, Creature Effects – Aunt Dolly's Garage (Supervisor – Robert Prendergast), Creature Design – Alex Pardee, Production Design – Travis Zariwny. Production Company – arieScope Pictures/Zerofriends.
Cast
Adam Green (Himself), Ray Wise (William Dekker), Will Barratt (Himself), Josh Ethier (Himself), Rileah Vandebilt (Herself), Kane Hodder (Himself), Sarah Elbert (Herself), Tom Holland (Himself), Mick Garris (Himself)
---
Plot
Horror filmmaker Adam Green receives a journal from retired police detective William Dekker claiming that he can show him real monsters. Green and his cinematographer Will Barratt take a camera and go to interview Dekker. He shows them dozens of drawings of outlandish creatures and claims to have been seeing them coming up from the underground world that he calls The Marrow ever since he was a boy. Dekker takes them to stake out one of the entrances to The Marrow, a hole in the ground in a park. After several nights of watching and seeing nothing, they are ready to give up only to be startled when one of the creatures appears and is recorded on camera. Green is determined to pursue this further and film the creatures but increasing questions about the truth of Dekker's claims makes them realise that this could also be a hoax.
---
Adam Green is a filmmaker who has become a rising name on the horror scene since the late 2000s. Green made a splash with his second film Hatchet (2006), a homage to 1980s slasher film filled with plentiful gore and a host of genre cameos. Green directed a sequel Hatchet II (2010), wrote/produced the further Hatchet III (2013) and returned to direct Victor Crowley (2017). In between these, Green has also made Spiral (2007), a study in disturbed psychology; Frozen (2010), a survival horror about a trio of people trapped on a ski chairlift; The Diary of Anne Frankenstein episode of the spoof horror anthology Chillerama (2011); as well as created/produced the tv series Holliston (2012-8) and produced the pregnancy horror film Grace (2009).
Digging up the Marrow is Adam Green venturing into the Found Footage genre. I was initially confused about what I was watching. A couple of the write-ups around the web I saw had described it as a documentary, as opposed to Found Footage, which uses a mimicry of the documentary form to tell a fictional story. This threw me off and made me think that Green and co were investigating an actual crackpot claim. It is however when we get to the well-known face of Ray Wise playing said crackpot that it becomes clear what we are watching is Found Footage.
Green delivers a fairly minimalist work. Most of the film he has shot simply using himself (where he proves a very likeable and unassuming host) and others such as his then wife Rileah Vandebilt, his cameramanWill Barratt, his producer Cory Neal and regular actor Kane Hodder and little more than his studio facilities and home to film in. (Which becomes an opportunity to plug his other works as rarely a scene goes by that does not feature Green or someone else wearing a t-shirt or a poster from one of his films in the background).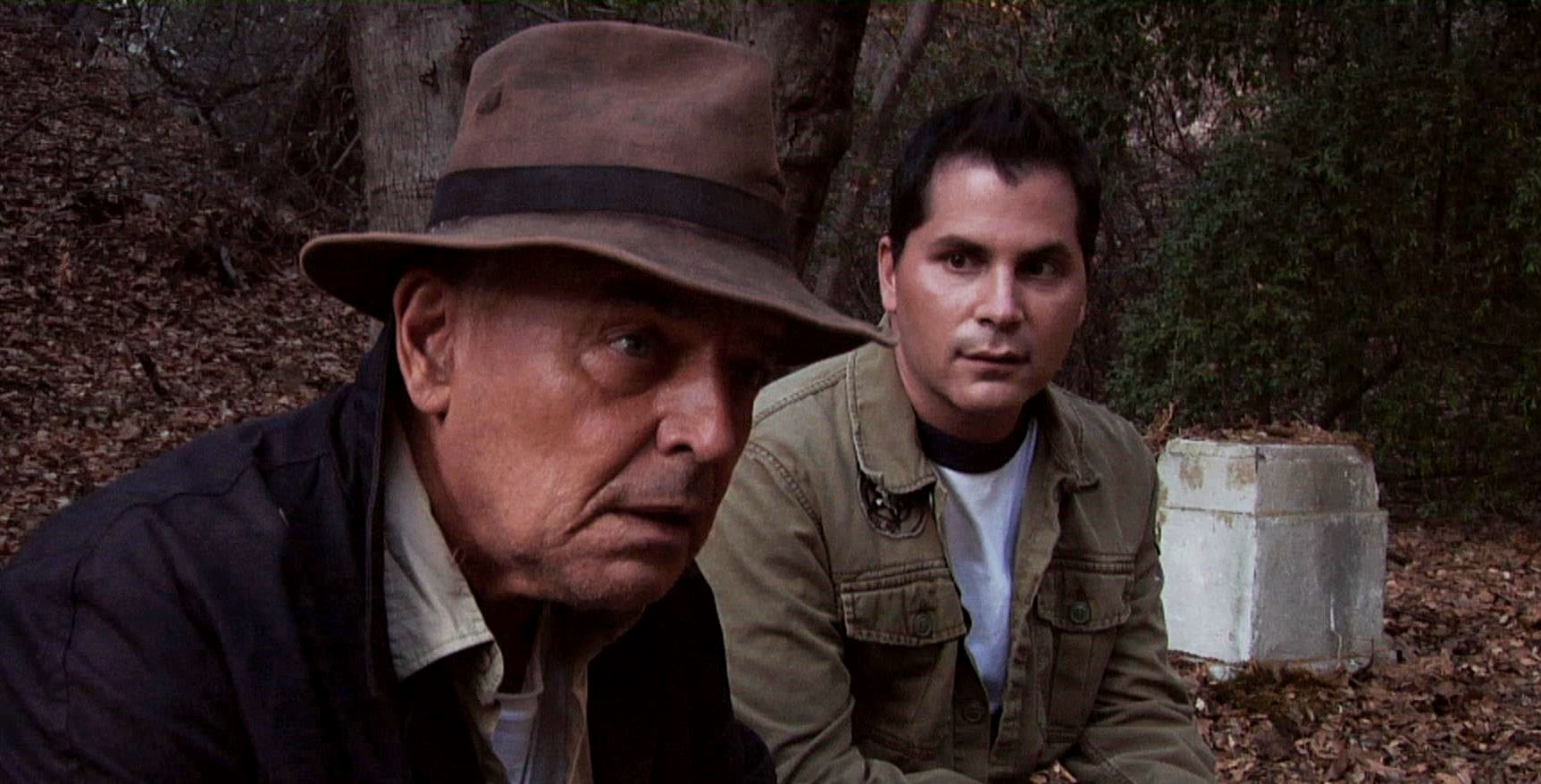 Even then, much of the film takes place with Ray Wise merely describing the monsters and holding up pieces of artwork to illustrate what he is talking about. The scenes staking out the hole in the park are noted more by a lack of anything happening than anything that does. Eventually this arrives at a rather effective scene where Green, Wise and Will Barratt are waiting in the graveyard and they dismiss Wise's claims that there are things moving there and turn on the light – only for something to appear right in front of them. After nearly half-an-hour of inaction and their increasing disbelief, the suddenness of the appearance holds a reasonable jolt.
Much of the film seems set up to play a game whether to believe what Ray Wise is saying is the truth and casting doubt on everything he claims. This becomes more obvious than it genuinely sets Digging Up the Marrow in a place of ambiguity. The down side is that though the film promises something of the phantasmagoric world of Clive Barker's Nightbreed (1990), it does more to merely suggest the existence of the monsters than it ever does to actually provide them.
When we do get to see eventual monsters in the climactic scenes, these prove imaginative and quite outlandish. Here Green has drawn from the creations of comic-book artist Alex Pardee (who also makes a brief appearance in the opening talking heads interviews). The only wish is that the film had had more of a budget to offer an actual venture down into The Marrow. That said, the way the film is structured, it comes out more as the punchline to a shaggy dog story than a fully engaging film.
---
Trailer here
---