---
Crew
Director – D.J. Caruso, Screenplay – Alfred Gough, Miles Millar & Marti Noxon, Based on the Novel by Pittacus Lore, Producer – Michael Bay, Photography – Guillermo Navarro, Music – Trevor Rabin, Visual Effects Supervisor – Greg McMurray, Visual Effects – Dive (Supervisor – Ed Mendez), Entity FX (Supervisor – Mat Beck), Hammerhead Productions (Supervisor – Justin Other Jones), Industrial Light and Magic (Supervisor – Bill George), Kaliba Visual Effects, Pixel Playground (Supervisor – Don Lee) & Shade VFX (Supervisor – Bryan Godwin), Creature Effects – Legacy Effects (Supervisor – Lindsay MacGowan), Special Effects Supervisor – Peter Chesney, Makeup Effects – KNB EFX Group, Production Design – Tom Southwell. Production Company – DreamWorks SKG/Reliance Big Entertainment/Bay Films.
Cast
Alex Pettyfer (John Smith/Daniel), Timothy Olyphant (Henri), Dianna Agron (Sarah Hart), Callan McAuliffe (Sam Goode), Teresa Palmer (Number 6), Jake Abel (Mark James), Kevin Durand (Mogadorian Commander), Jeff Hochendoner (Sheriff James), Brian Howe (Frank), Emily Wickersham (Nicole)
---
Plot
Daniel is a teenager living in Florida. He is making out in the water with a girl when a strange symbol burns itself into his leg. He and Henri, the man he calls his father, are not what they seem. Daniel is one of eight surviving aliens from the planet Lorien who have fled into hiding on Earth and Henri is his assigned bodyguard. The eight are being hunted by the brutish Mogadorians. The symbol signifies that the Mogadorians have killed the third of the Loriens, making Daniel the next in line. Henri abandons their home and they head to the town of Paradise, Ohio, where Henri creates a new identity for Daniel as John Smith. John signs into school and is soon attracted to Sarah Hart. This earns the disfavour of the bullying jock Mark James. In standing up against Mark and his cronies, John starts to learn about the superpowers he has. At the same time, the Mogadorian assassins are hot on his trail.
---
I Am Number Four comes from a young adult novel I Am Number Four (2010) by Pittacus Lore, a pseudonym for two authors Jobie Hughes and James Frey (the latter previously gained a degree of notoriety with the book A Million Tiny Pieces (2003) about his struggle with alcohol and drug addiction in which the claims he made were later found to be substantially fictionalised). The book of I Am Number Four became a best-seller and the movie rights were instantly snapped up. Frey and Hughes have announced that I Am Number Four is the first in a series of six books and was followed by The Power of Six (2011), The Rise of Nine (2012), The Fall of Five (2013), The Revenge of Seven (2014), The Fate of Ten (2015) and United as One (2016).
The film version of I Am Number Four has ended up in the hands of D.J. Caruso. Caruso emerged as a tv director in the 1990s and made his film debut with The Salton Sea (2002), an excellent thriller where he demonstrated a sense of style that showed immense promise, even though the film never fully gained its due. Subsequently, Caruso's promise was frittered away on the tedium-inducing likes of the serial killer thriller Taking Lives (2004), the gambling film Two for the Money (2005), the suburban paranoia thriller Disturbia (2007), the surveillance/amok A.I. film Eagle Eye (2008) and subsequent to this the haunted house film The Disappointments Room (2016), xXx: Return of Xander Cage (2017) and the imprisonment thriller Shut In (2022).
There is a thorough insipidity to all of these films. Caruso's plotting trades in absurdly contrived devices with little effort to make scenes convincing; his action scenes are hackneyed and boilerplate; his suspense scenes mind-numbingly predictable. They seem thrillers put together more by committees seeking to mine current fads or young stars than they do by someone who regards filmmaking as a craft or something for which they have a passion. How D.J. Caruso managed to get people like Steven Spielberg to sign on as Executive Producer for several of his films while consistently turning out such dull and unimaginative product is something that boggles the mind.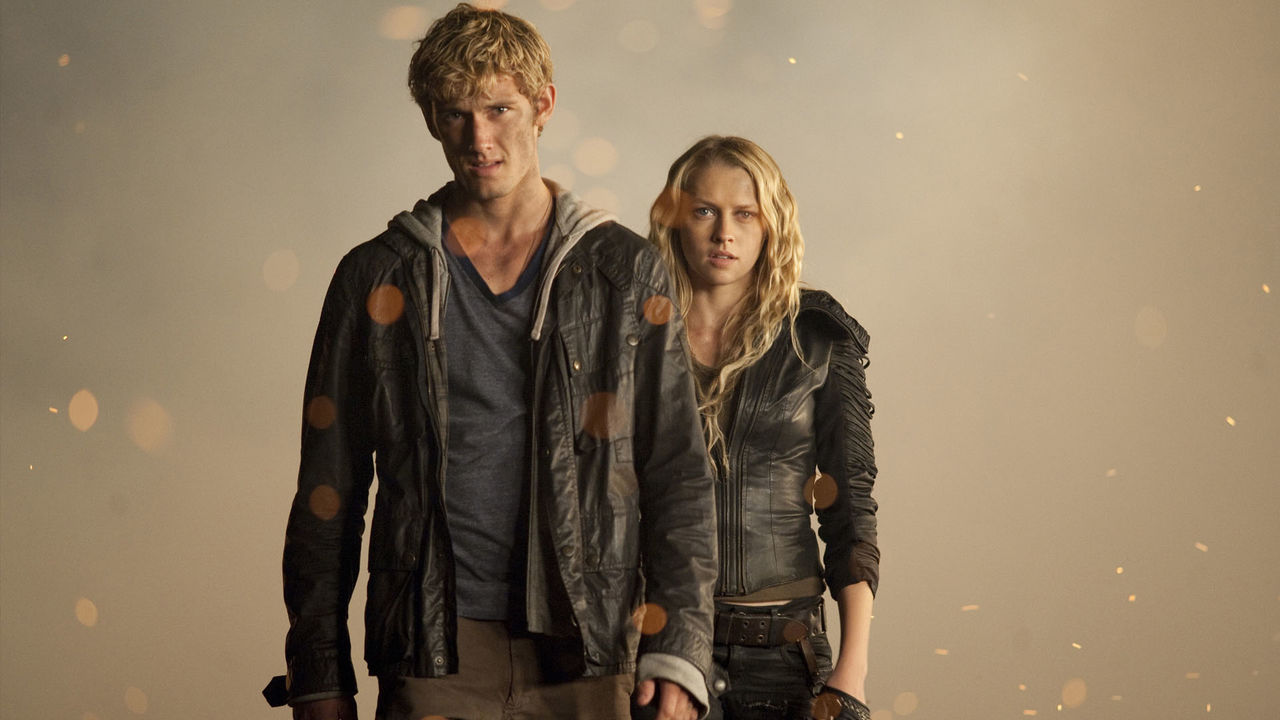 With the D.J. Caruso name causing ones hopes for the film to plummet, I Am Number Four settles in with a dreary predictability. Caruso opens on a scene with a teenager being pursued by a monster and then segues into introducing Alex Pettyfer amid life on a Florida beach. As Caruso goes through these scenes – teenagers chosen for their impossibly good looks parading in beachwear, absurd stunts flipping jet skis in mid-air and Pettyfer making out with hot babes in the water – I Am Number Four sinks down into a film that is being played for a certain teenage demographic, aimed to appeal to guys for its cool and to teenage girls who go weak-kneed at the sight of hunky guys in beach shorts.
It soon becomes apparent that I Am Number Four is a science-fiction film made by people who know nothing about science-fiction and aimed at people who have no interest in science-fiction. It is fake science-fiction – where being alien means you're a hot-looking teenage guy (or girl) whose biological differences involve no more than glowing hands; where the alien bad guys seem only like bad-tempered bouncers at a Goth nightclub; where superpowers are nothing more than a handy means of gaining comeuppance against or embarrassing school bullies; where everything else is explosions, a few special effects and CGI monsters. There is no sense of aliens trying to merge into a different culture, of them being in any way biologically different to humanity. Their abilities are sweep of the hands magic science – such as technology that can automatically delete photos from any website in the world (don't webmasters in this universe have offline backups or the ability to block incoming IP addresses?).
When it comes down to it, I Am Number Four is no more than a film about psi-powered kids like Disney's Escape to Witch Mountain (1975) and in particular its remake Race to Witch Mountain (2009) or the tv series The Powers of Matthew Star (1982-3) having been reworked as a modern teen high-school romance along the lines of Dawson's Creek (1998-2003). This idea had already been conducted with the tv series Roswell (1999-2002). It comes as no particular surprise that the script for I Am Number Four comes from a trio of people who have worked these demographics before – the writing duo of Alfred Gough and Miles Millar created the tv series Smallville (2001-11) and have delved into other genre properties such as the screenplays for Spider-Man 2 (2004), Herbie: Full Loaded (2005), the tv pilot Aquaman (2007) and The Mummy: Tomb of the Dragon Emperor (2008), and Marti Noxon, who emerged as a writer/producer out of Buffy the Vampire Slayer (1997-2003) and Angel (1999-2004), along with various other non-genre series, and the script for the remake of Fright Night (2011).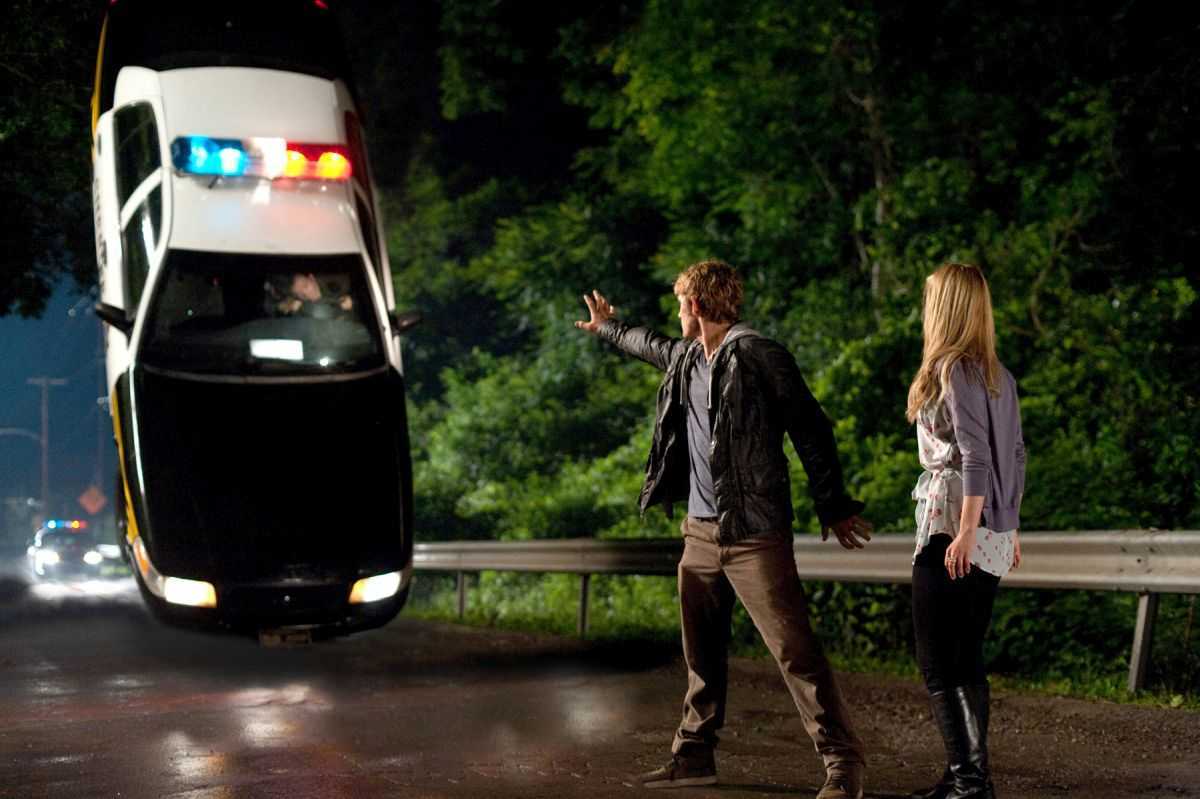 I hated I Am Number Four. Everything about it seems forced and artificial, more interested in triggering some demographic button than in any sincerity. Things happen in predictably lazily ways – the bullies, the romance, that the nerd who is obsessed with Ancient Astronauts is the only one who witnesses John Smith's powers in action, the dog heavily foreshadowed as being something other than what it is. There are no surprises to the film – everything happens exactly as one predicts it will. The teen romance falls entirely by the numbers – indeed, when it came to the point when Alex Pettyfer tells Dianna Agron "All I can think of is you" and the lights on the porch short out as they kiss, the corniness of the line had the audience laughing.
The one thing that D.J Caruso seems surprisingly uninterested in doing is exploring Alex Pettyfer's superpowers. There is one scene with him throwing a rock into the sky and diving off a waterfall and the rest of the film consists of a bare handful of scenes of him throwing bullies around, suspending a police car in mid-air, before the climax erupts in a slam-bang outburst of powers, explosions and creature effects that manages to wash over one with a complete lack of involvement. In comparison to almost any other superhero film, Caruso gives all of this a middle-of-the-road and unexceptional handling. As with most of Caruso's films, there is a mechanical feel to it, as though it is made by someone who has zero engagement with his work. This indifference to the inherent spectacle in the film is a surprise given that I Am Number Four is produced by Michael Bay, the director of the likes of Armageddon (1998), Pearl Harbor (2001) and Transformers (2007) and sequels, to whom over-the-top is merely a warming up ground.
I Am Number Four ends disappointingly. The bad guys are routinely defeated, the romance is left on an unresolved promise that Alex Pettyfer will return, while there are clear plot arcs set up – Sam's missing father, the emergence of John's powers, the finding of No's 5, 7 and 8 – to provide fodder for future sequels. More than clearly, it feels that the producers have set the film up with the clear intention of creating another Twilight (2008)-type franchise, although I Am Number Four met with only medium box-office such that there has been no announcement of any other films in the series. The low-budget South African-shot Taking Earth (2017) actually offers a far better retelling of the basic premise.
---
---