---
Crew
Director – Denis Villeneuve, Screenplay – Aaron Guzikowski, Producers – Kira Davis, Broderick Johnson, Adam Kolbrenner & Andrew A. Kosove, Photography – Roger A. Deakins, Music – Jóhann Jóhansson, Visual Effects – Luma Pictures (Supervisor – Vincent Cirelli), Production Design – Patrice Vermette. Production Company – 8:38 Productions/Madhouse Entertainment.
Cast
Hugh Jackman (Keller Dover), Jake Gyllenhaal (Detective Loki), Terrence Howard (Franklin Birch), Maria Bello (Grace Dover), Viola Davis (Nancy Birch), Paul Dano (Alex Jones), Melissa Leo (Holly Jones), David Dastmalchian (Bob Taylor), Dylan Minnette (Ralph Dover), Wayne Duvall (Captain Richard O'Malley), Len Cariou (Father Patrick Dunn), Zoe Soul (Eliza Birch), Kyla Drew Simmons (Joy Birch), Erin Gerasimovich (Anna Dover)
---
Plot
In Conyers, Pennsylvania, contractor Keller Dover, his wife Grace and their two children join his good friend and neighbour Franklin Birch and his family for Thanksgiving dinner. Afterwards, they realise that their young daughter Anna and the Birch's daughter Joy are missing. The police are called and Detective Loki begins a missing persons investigation. The only clue seems to be a battered RV that was parked outside near where the girls were playing. The police find the RV but its driver is Alex Jones, a man who is said to have the IQ of a child of ten. Jones is questioned but in the end they have to let him go as there is no evidence tying him to the disappearance. A distraught Keller refuses to accept this and tackles Jones outside the police station during which Jones whispers a comment that makes Keller certain he knows the whereabouts of the girls. And so Keller abducts Jones and imprisons him inside an abandoned building he is renovating. Taking Franklin into his confidence, he returns and repeatedly tortures Jones, determined to get the whereabouts of the girls from him. Meanwhile however, Loki alights on evidence that another man may be the one who is responsible for the abduction.
---
Denis Villeneuve is a Quebecois (French-speaking Canadian) director whose star has been rising over the last few years. Villeneuve appeared with the French-language likes of August 32nd on Earth (1998), Maelstrom (2000) and Polytechnique (2009) about a school shooting, all of which gained festival play. It was however the international festival hit of Incendies (2010), which won a host of awards and was nominated for a Best Foreign Language Film at the Oscars, with which Villeneuve's name began to be known.
This led to Villeneuve's English-language debut with Prisoners here and he released Enemy (2013), which also stars Jake Gyllenhaal as a man who encounters his doppelganger, a few months later. Villeneuve subsequently went onto Sicario (2015), followed by other genre directorial projects including the alien visitors film Arrival (2016), Blade Runner 2049 (2017) and Dune: Part One (2021).
Aaron Guzikowski's script for Prisoners had floated about for most of the 2000s where it was highly acclaimed and attracted a number of high-profile stars including Christian Bale, Leonardo DiCaprio and Mark Wahlberg and directors like Bryan Singer and Antoine Fuqua.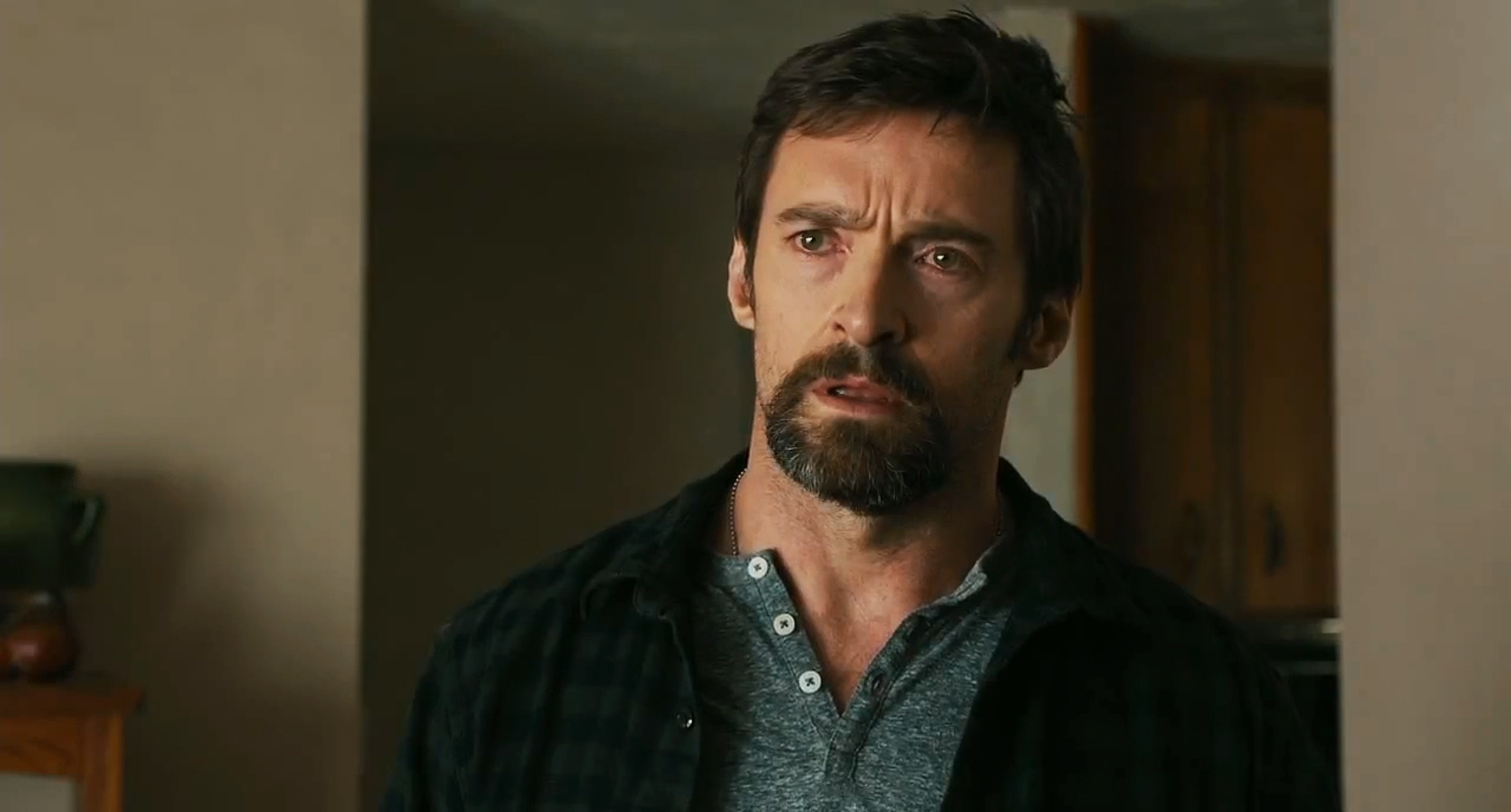 The first thing you notice is that for a high-profile mainstream released film, Denis Villeneuve adopts a very non-commercial look. Prisoners looks far more like an indie film that the slickly packaged product you get with a traditional US-made thriller (not that anybody in the US seems to be making thrillers for theatrical release anymore). The film is shot in working class neighbourhoods (in rural Georgia) and dreary suburban tract malls, where the house interiors are plain and drab and an A-list Hollywood name like Hugh Jackman is dressed down as a regular working man.
Denis Villeneuve's style is plain and unadorned. He never dwells on the brutality and torture, yet manages to depict it in ways that are far grimmer than most of the films in the so-called Torture Porn fad – all that he need to do to show the brutalisation of Paul Dano is having Hugh Jackman holding Dano's hand down against a sink, threatening to break his bones with a hammer and then Jackman completely losing it and smashing the sink to pieces with the hammer.
Prisoners closely resembles The Tortured (2010), a film in which Jesse Metcalfe and Erika Christensen play a married couple who abduct and torture a paedophile who killed their son. The Tortured was a generic thriller that made a play for the Torture Porn sensibilities, whereas Prisoners feels like a smart and intelligent version of the same that instead concentrates on building everything into a tight corkscrew thriller. Both films also throw in twists where it appears the people doing the torturing have the wrong person, abruptly questioning the legitimacy of their protagonists' actions. Prisoners also has a remarkably similar plot to the immensely entertaining Israeli thriller Big Bad Wolves (2013), which was released only a month before.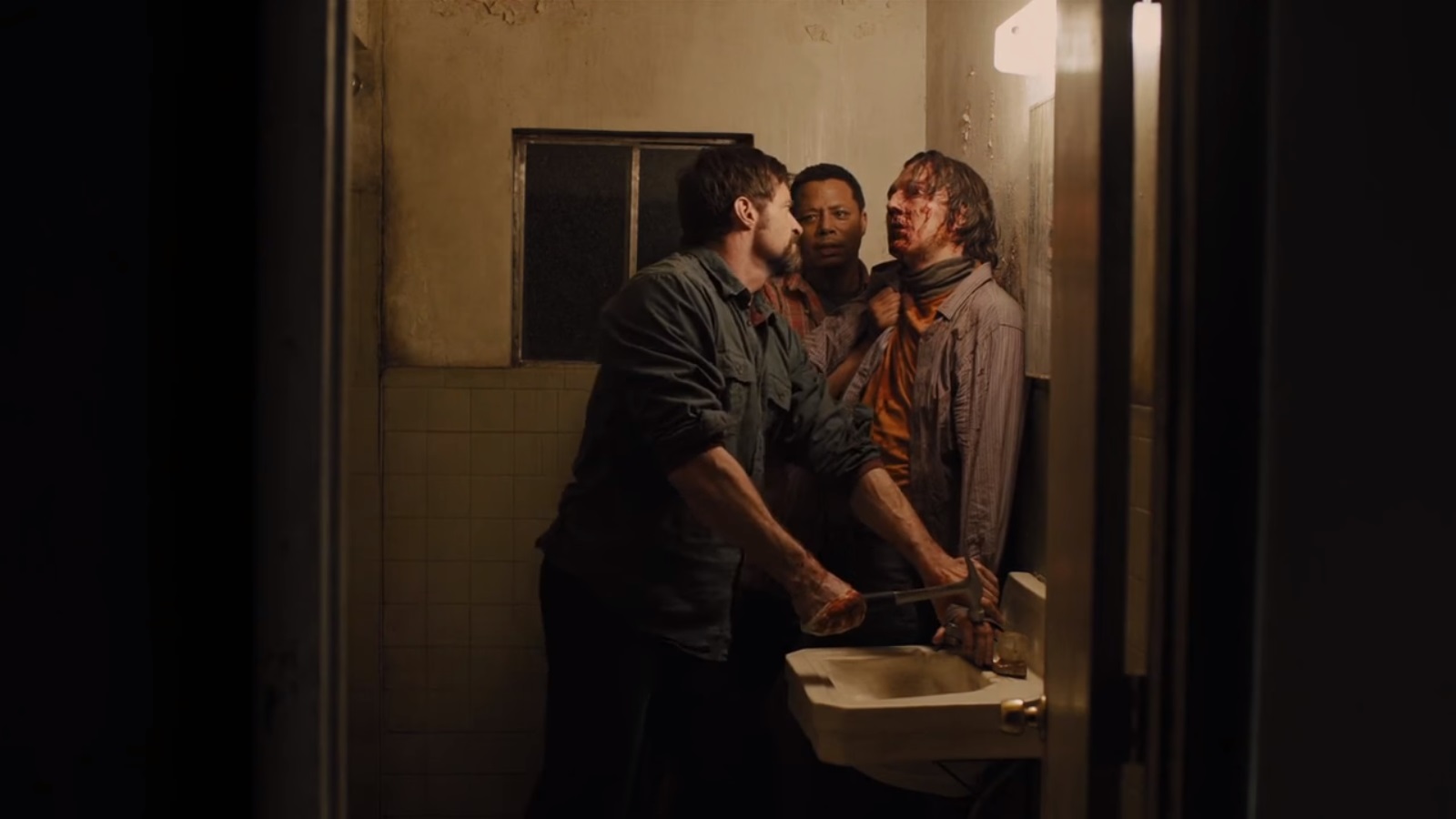 The other work that I was constantly being reminded of was Zero Dark Thirty (2012), which similarly had a plot where the protagonists' decide that torture is a legitimate means of obtaining necessary information in the search for the whereabouts of people. By comparison to Zero Dark Thirty, Prisoners at last feels like a work that questions the acceptability of torture. For fully two-thirds of the film, it appears to be heading in a very dark direction making us examine what the protagonist is doing – is it acceptable for a man to pursue what he is certain is right if it means breaking the law? What if that meant his torturing another individual? What would happen if he were wrong in those assumptions?
However, the film also seems to want to have its cake and eat it too – where The Tortured ended with the protagonists' realisation that they had tortured the wrong person, Prisoners instead heads off into another entire hour worth of material as its chases down the real suspects. Here it feels like a film that addresses big moral issues – and ones that seem to have much resonance for our times – but then lets thriller plotting take precedence and leaves these questions hanging as it heads off in different directions.
The film opened at the Toronto International Film Festival to divided notices, although fared considerably better once it went into mainstream release almost straight after, earning quite reasonable box-office. Much of the negative opinion seemed to be kneejerk reactions that gravitated around its darkness as a film or the excessive complication of its script. There are times that the script defies probability in the number of suspects credibly tied to the abduction all within the same narrow geographic area (and later it would appear are all entwined in a complex web of connections). On the other hand, it is one of the best written scripts on screen in some time – it is a thriller that requires you to watch every tiny detail to get some of the littered clues and where the entire film can spin its assumptions around on a mere whispered suggestion.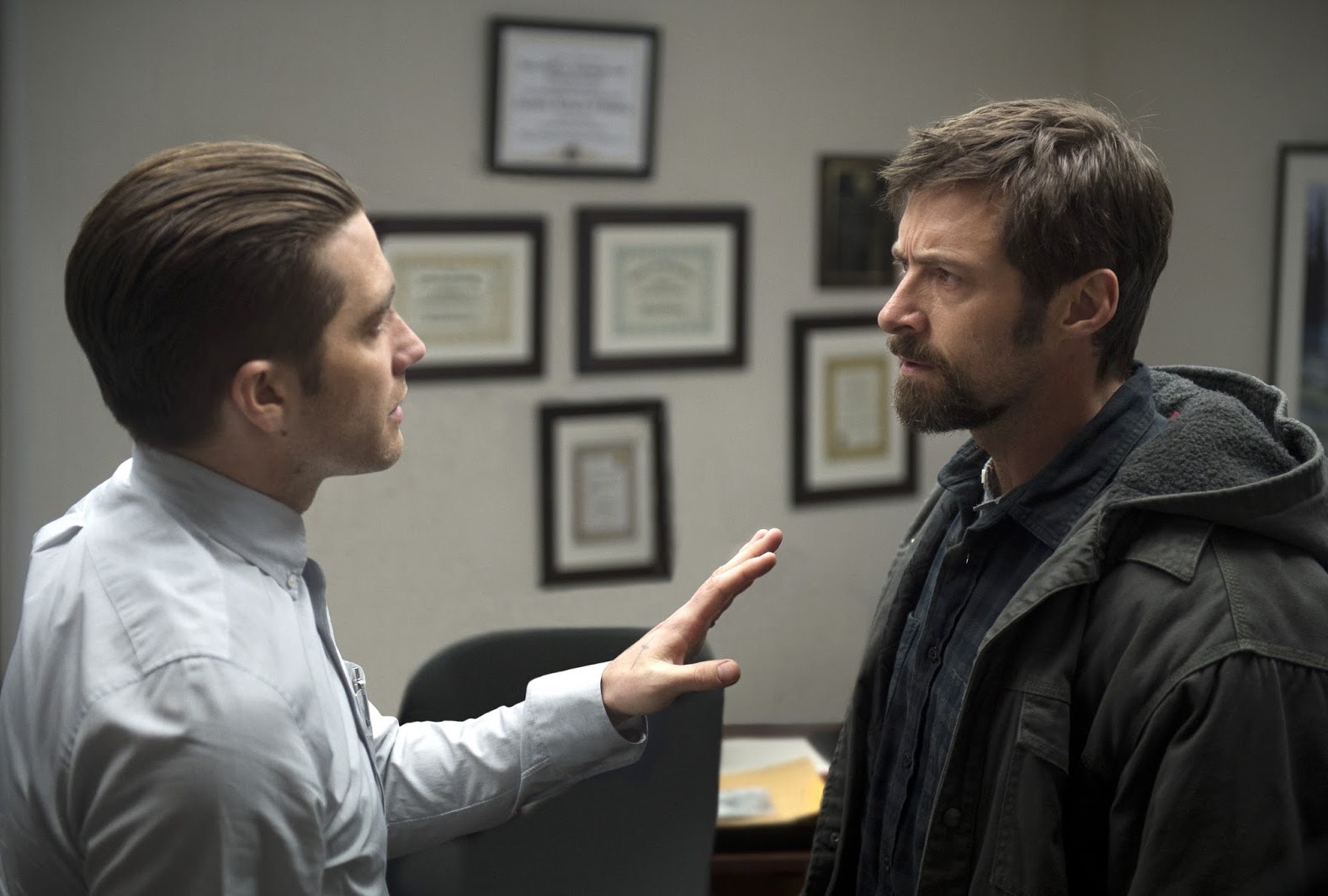 The film brings together some amazing performances. Both Hugh Jackman and Jake Gyllenhaal deliver peak of their career performances. Hugh Jackman determines to play an ordinary man rather than an A-list star and is thoroughly convincing, bowed under contained rage and grief. During the times when he gets to lose it and smash the sink up or in the scene where he is sitting in the police car, the sudden explosiveness leaves you going "wow" at the end of the scene.
Similarly, Jake Gyllenhaal immerses himself in what might have been a cutout role in any other actor's hands and gives it his all (even if the character is given the oddly distracting tic of blinking the entire way through). You cannot go without mentioning the always great Melissa Leo whose performance towards the end becomes something astonishing – just the flinty tiredness of her voice as she talks about wanting to destroy people's faith in God sends chills up and down your spine.
(Nominee for Best Original Screenplay, Best Actor (Hugh Jackman), Best Actor (Jake Gyllenhaal) and Best Supporting Actress (Melissa Leo) at this site's Best of 2013 Awards).
---
Trailer here
---