---
Crew
Director – Adam Robitel, Screenplay – Maria Melnik & Bragi Schut, Story – Bragi Schut, Producers – Ori Marmur & Neal H. Moritz, Photography – Marc Spicer, Music – John Carey & Brian Tyler, Visual Effects Supervisors – Marc Bloch & Jeremiah Hattingh, Visual Effects – Black Ginger (Supervisor – Marco Raposo de Barbosa), Motif Studios & VFX Files, Special Effects Supervisor – Mike Poolman, Production Design – Edward Thomas. Production Company – Original Film.
Cast
Taylor Russell (Zoey Davis), Logan Miller (Ben Miller), Jay Ellis (Jason Walker), Deborah Ann Woll (Amanda Harper), Tyler Labine (Mike Nolan), Nik Dodani (Danny Khan), Yorick Van Wageningen (Games Master Woutan Yu), Cornelius Geaney Jr. (College Professor), Russell Crous (Charlie), Bart Fouche (Gary), Jessica Sutton (Allison)
---
Plot
A group of people – shy mathematics student Zoey Davis, convenience store clerk Ben Miller, successful stockbroker Jason Walker, truck driver Mike Nolan, former soldier Amanda Walker and geeky escape room enthusiast Danny Khan – all receive mysterious boxes. When opened, these are found to contain an exclusive invite to an escape room in a building in downtown Chicago and the opportunity to win $10,000. As they arrive at the location and sit to be called for the start of the game, they realise that the waiting room is the escape room. They have to find the clues to get out as the room begins to heat up to unbearable levels. As they pass through successive rooms, each of considerable ingenuity and fiendishness of design, they find that the rooms can kill them. Moreover, they find that each of them has been individually selected and the games reveal secrets in their past.
---
Escape rooms have gained popularity in the last few years. The first escape room was created in Japan in 2007 and the phenomenon spread around the world in the early 2010s to the point where escape rooms now operate in most cities. Escape rooms are usually intended as a team effort where a group is locked in the room and have to decipher a series of clues to unlock the door before the allotted time is up. The game will usually be based around some theme and there is the frequent use of horror or abduction and imprisonment scenarios.
This is one of no less than three films with the same title that came out around the same time. The others included Escape Room (2017) with a party trapped in a room with a demonic force unleashed from a box and Escape Room (2017), which had a group of friends trapped in a room by a psychopathic human agency. In addition, there was also the enterprisingly named No Escape Room (2018) and the subsequent Escape: Puzzle of Fear (2020) and No Escape (2020). Out of all of these, this version was the most high profile and the only one to receive an actual theatrical release.
Escape Room comes from Adam Robitel, a former actor – he has a supporting role in 2001 Maniacs (2005) and sequel – who became director with the Found Footage possession film The Taking of Deborah Logan (2014). He wrote the screenplay for Paranormal Activity: The Ghost Dimension (2015) and then directed Insidious: The Last Key (2018).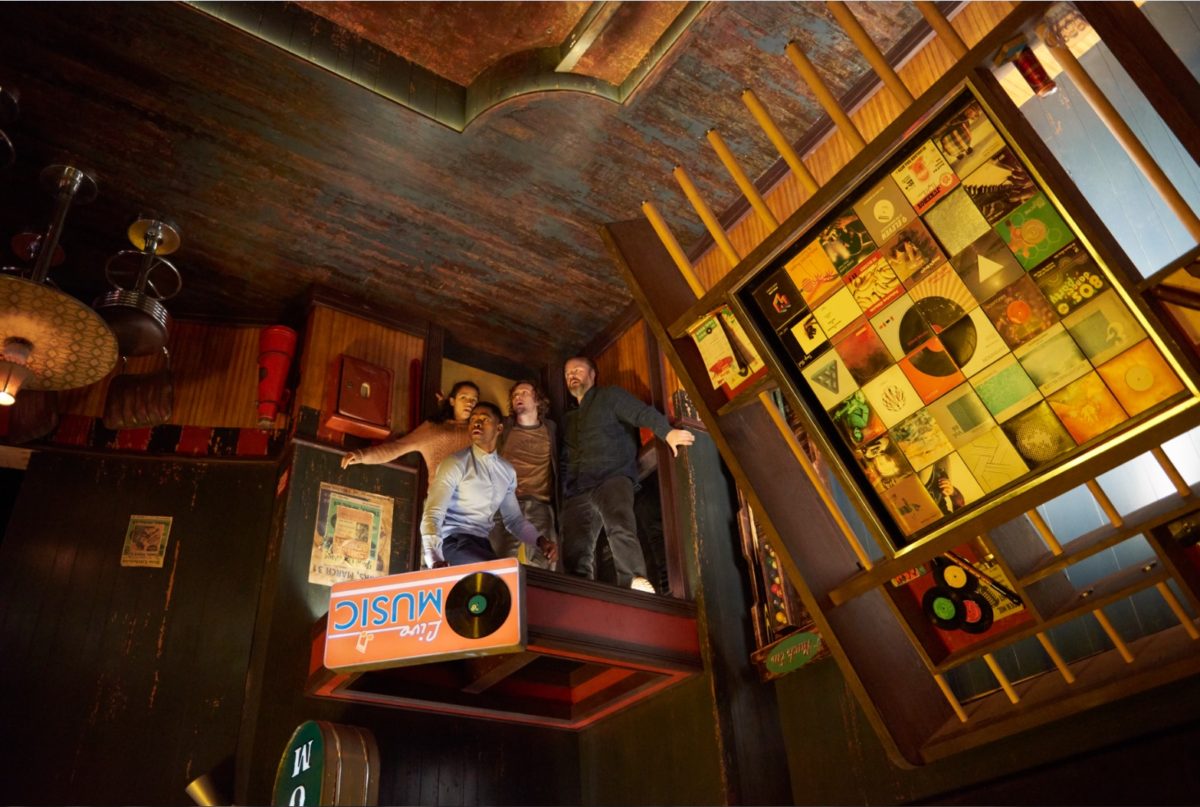 I had no particular high expectations of Escape Room. It signals generic horror in its build-up, while Robitel's indifferent handling of Insidious: The Last Key had done nothing to enthuse me about what he could do. It was thus that I ended up pleasantly surprised by the results. All the other Escape Room films act exactly like regular escape rooms do – they confine the characters in a single room and concern themselves with their attempts to escape. Contrarily, this version creates an elaborate series of rooms that the characters pass through. The design of some of these – in particular, a barroom/billiard hall that is constructed upside down – are really quite impressive. The film gets a good deal of fun out of the WTF quality of each scenario – floors vanishing down into vast shafts, characters abruptly disappearing into holes in the ice – and Robitel does a fair and decent job building each set-up out with a reasonable degree of suspense and tension.
Everything does get a little improbable at the end with the revelation that it has all been set up to dig into the pasts and guilty secrets of the various participants (of which not nearly enough is brought out in the script) sort of akin to Saw (2004). Eventually we learn behind this is a Secret Society who stages these escape rooms for the sadistic pleasure of viewing customers similar to the agencies in films like Hostel (2005), Raze (2013) and Headgame (2018). It all goes out on a slingshot ending that clearly sets things up for a sequel.
Adam Robitel, Taylor Russell and Logan Miller returned in a sequel Escape Room: Tournament of Champions (2021)
---
---