USA. 2018.
Crew
Director – Steven Paul Judd, Screenplay – Roberto Marinas, Producers – Marion Brooks, David Dittlinger, Stephen Durham, Chris Hayes, Roberto Marinas, Jeffrey Stearns & Alex Zingaro, Photography – Jon Schweigart, Music – Marcelle Voomz Harlow, Visual Effects – R. Charles Stuart, Makeup Effects – Nate Bright, Production Design – Anny Mariama. Production Company – Sunday Funday Films!/Safier Entertainment/Second Nature Films/Untethered Productions.
Cast
Jamie Hill (Jackie), Chris Hayes (Kris), Liv von Oelreich (Leah), Hannah Marie Hines (Sarah), Jacob Hobbs (Victor), Sidney Allison (Cat), Cameron Bowen (Keith), Gary Kasper (Carver), Pressly Coker (Jackson), Connor Ross (Nick), Leonard Roberts (The Elder), Manny Hernandez (Carlo), Abby Mariama (Rios), Owen Meyer (Anton), Marina Orlova (Mariel), Semi Anthony (Stephan), Carly Steel (Elise), Courtney Claghorn (Paula), Edward Gelhaus (Mike)
---
Plot
Eight people who all excel in various fields of mostly physical prowess are brought together on dates. However, the drinks they are given are drugged. The eight wake up inside a warehouse. They find they now have cameras attached to their foreheads and are told that these will explode if they attempt to remove them. They have twelve hours in which to find the key to the exit. However, only one of them is allowed to emerge alive at the end. The warehouse is rigged with death traps and hidden weapons. As a furious fight to the death ensues, the people who lured them there are watching and betting on the outcome.
---
Headgame was the second film for Steven Paul Judd who had previously made the horror film Death Factory (2014).
Headgame feels exactly like a bunch of films that came out in the aftermath of Saw (2004), all featuring a group of people locked in some facility being tortured or having to participate in some sadistic game where they eliminated one another – see the likes of Die (2010), Vile (2011), Would You Rather (2012) and Raze (2013). Unfortunately, Headgame is not a very interesting variation on the imprisonment and elimination game.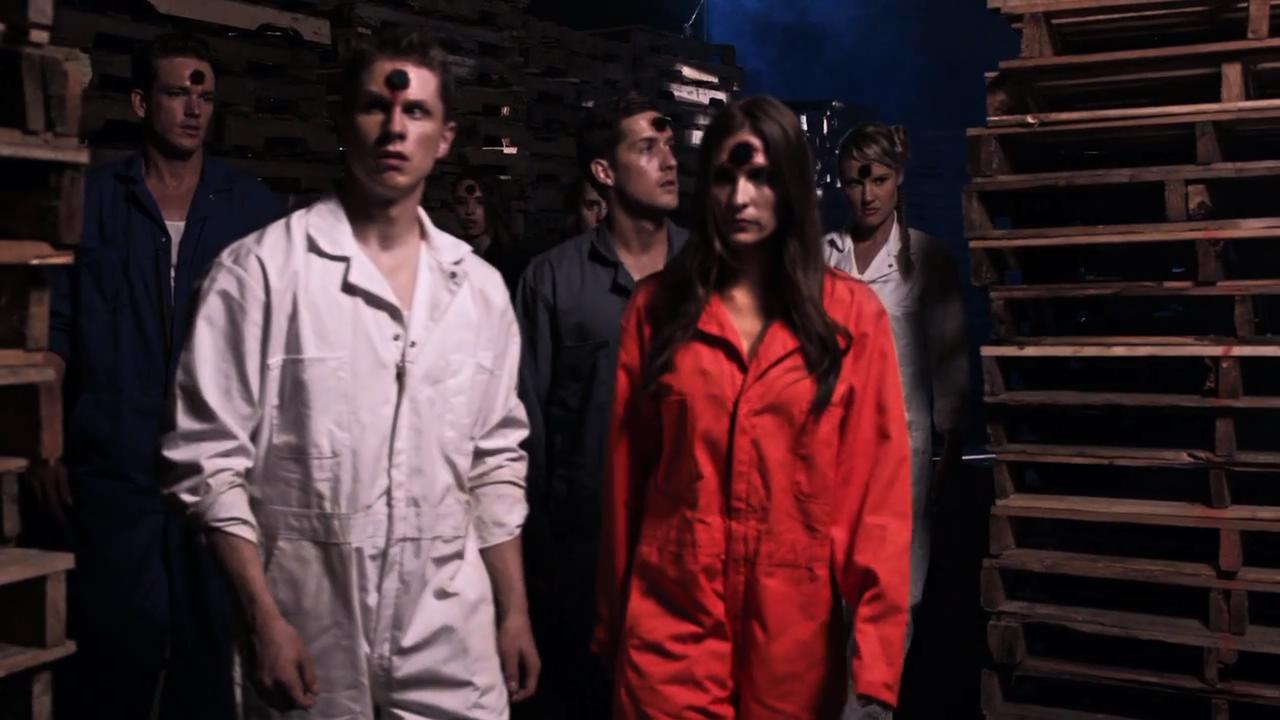 Steven Paul Judd fails to make the death traps in any way interesting. The cast are a singularly anonymous bunch of no name actors. They have no individuality beyond being given a name and told that they are all excelled in some physical field. However, even given that, their expertise is something that has no relevance to the game that ensues – with a set-up like that you expect the film to have each of them face some type of challenge based on their skills. The film lacks any but the most rudimentary suspense and you cease to care about the outcomes because we have been given no reason to engage with any of the characters.
The film is also hamstrung by a difficult to believe twist ending [PLOT SPOILERS] where the winner is inducted into a secret society made up of members that have all won the game before. I find it impossible to accept that someone who has survived being abducted and forced to kill others and fight for their life would not be traumatised by the experience. Contrarily, the film asks us to believe that they are so invigorated by the experience that they would take pleasure in watching others inflict such cruelties.
---
---