aka Beware My Brethren
---
UK. 1971.
Crew
Director/Producer – Robert Hartford-Davies, Screenplay – Brian Comport, Photography – Desmond Dickinson, Music – Richard Kerr & Tony Osborne, Music Conductor – Osborne, Songs – Kerr, Lyrics – Joan Maitland, Makeup – Stuart Freeborn, Art Direction – George Provis. Production Company – World Arts Media (UK) Ltd.
Cast
Tony Beckley (Kenny Wemys), Ann Todd (Birdy Wemys), Patrick Magee (The Minister), Madeline Hinde (Brigitte Lynch), Suzanna Leigh (Paddy Lynch), Percy Herbert (Commissioner), Ronald Allen (Paul), Diana Chappell (Poolside Girl), Susanna East (Teenage Girl), Jeanette Wild (Joyce Jones), Hani Borelle (Riverside Girl)
---
Plot
Birdy Wemys is a faithful member of a staunch Christian sect The Brethren. Her son Kenny works as a security guard and pool attendant and is extremely devoted to her. Unknown to her, her teaching that sex is evil has warped Kenny's mind and he goes out into the streets and kills girls, tape-recording his encounters with them.
---
The Fiend/Beware My Brethren is a minor entry in the Anglo-horror cycle of the 1960s-70s. Director Robert Hartford-Davies charted out a small career making several genre films during this time, including the Gothic horror The Black Torment (1964) and the mad surgeon film Corruption (1968). He is probably most well known for the conceptually ambitious psychological vampire film Incense for the Damned/Bloodsuckers (1969). Hartford-Davies' career never amounted to much – he dallied between various exploitation genres, including the British pop film – the mind-boggling sf/pop music film Gonks Go Beat (1965); sexploitation – the proto-Women in Prison film School for Unclaimed Girls (1969); and Blaxploitation – Black Gunn (1972) and The Take (1974) – without ever making anything that was standout.
The Fiend is one of Robert Hartford-Davies' more routine efforts. In many respects, it resembles one of the films of British exploitation director Pete Walker. Walker made often sadistic psycho-thrillers like Frightmare (1974), House of Whipcord (1974), House of Mortal Sin/The Confessional (1976) and The Comeback (1978). In Walker's films, people are killed or tortured by establishment figures such as conservative judiciary or Catholic priests. Here Robert Hartford-Davies taps into the same underlying themes that run throughout Pete Walker's work – of the wantonness and sexual liberation of Swinging 60s London (represented by various topless and mini-skirted women) being punished by a severely conservative and unforgiving force of morality in the form of Tony Beckley's religiously repressed psycho. On the minus side, the image of a religiously repressed psycho from a fundamentalist sect fails to hold the same frisson that it does in a Pete Walker film. One suspects that The Fiend would have had more impact had it been an American film – fundamentalism and small sects are rife throughout America, while by the 1970s the majority of religious extremism in England had faded away.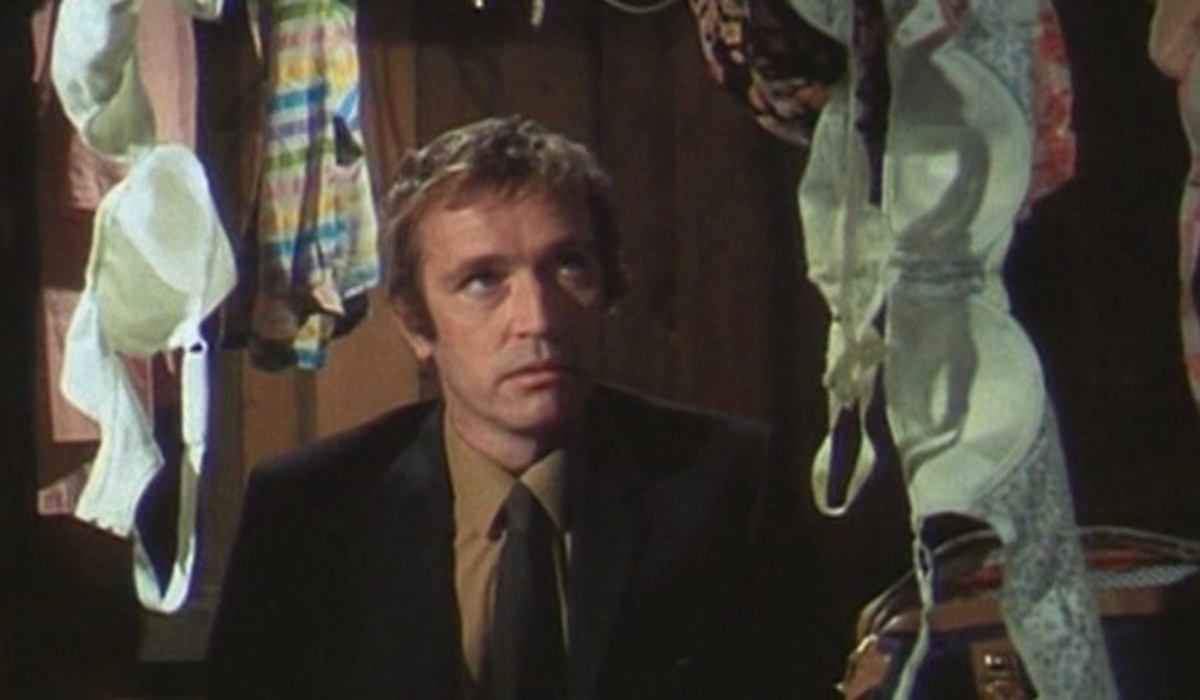 There is certainly a fine opening scene where scenes of a girl being pursued, strangled and drowned, which is intercut with a baptism and a singer singing a hymn, where Robert Hartford-Davies cuts at appropriate points between lines like "With His blood, set me free … I know what my punishment must be/I have sinned with my every breath and my punishment must be death … And I know with my death I'll be free."
Alas, the rest of the film is never so charged and emerges as tame – certainly, there is none of the sadism and nastiness that there is in Pete Walker's films. As the psycho film it is sold as, The Fiend is relatively disappointing. Robert Hartford-Davies seems more interested in the sexploitation element – having numerous topless female victims running around – than he ever does in generating tension.
The psycho element gets sidetracked in the last quarter-hour or so as two major subplots take over, one about Patrick Magee's minister insisting that Tony Beckley's mother Ann Todd must fast, knowing that it will kill her; another about the two sisters trying to get into the house and get information only for Suzanne Leigh to be locked up by Tony Beckley. These elements could have been extruded to form a suspenseful film but coming so quickly at the end they seem awkwardly out of place and rushed.
(Review copy provided courtesy of Kathy Tipping)
---
Trailer here
---