---
UK. 1971.
Crew
Director – Peter Sasdy, Screenplay – L.W. Davidson, Based on the Short Story by Edward Spencer Shew, Producer – Aida Young, Photography – Kenneth Talbot, Music – Christopher Gunning, Special Effects – Cliff Culley, Art Direction – Roy Stannard. Production Company – Hammer Films.
Cast
Eric Porter (Dr John Pritchard), Angharad Rees (Anna), Keith Bell (Michael Pritchard), Jane Merrow (Laura), Derek Godfrey (Dysart), Marjorie Rhodes (Mrs Bryant), Norman Bird (Police Inspector), Dora Bryan (Mrs Golding), Lynda Baron (Long Liz), Marjie Lawrence (Dolly), Margaret Rawlings (Madame Bullard)
---
Plot
Victorian London. John Pritchard, a disciple of Sigmund Freud, takes the beautiful Anna under his care after the murder of her aunt, a fake medium who used to sell Anna's body to her clients. However, a witness insists that Anna killed her aunt and that she is possessed. While under Pritchard's care, Anna kills others. Pritchard insists that Anna is not possessed and that there is a purely psychological explanation. He uses hypnosis to get to the source of Anna problem's – to find that she is sent into a trance by glittering lights and gestures of affection. In a state of trance, she is then driven to re-enact the incident that she witnessed as a child where her father, who was Jack the Ripper, murdered her mother.
---
Hands of the Ripper is a Hammer item of a small reputation. It was one of the central items from director Peter Sasdy who had made an assured debut with Hammer's Taste the Blood of Dracula (1970) and then went onto Countess Dracula (1971). These three films had Peter Sasdy for a time hailed as one of the latter day leading lights of Hammer, although this is something that Sasdy's subsequent output failed to reinforce. (See below for Peter Sasdy's other films).
Hands of the Ripper comes with a fascinating central idea – combining Jack the Ripper's daughter and the milieu of Victorian early psychology and science that was used in several films around this time, notably also Demons of the Mind (1971), The Aspyhx (1972) and The Creeping Flesh (1973). Unfortunately, this disappointingly pans out into a story too ludicrous to be taken seriously. First of all, the main surprise of the story – Angharad Rees's parentage – is given away in the very first scene. This would have been a great surprise for Eric Porter to slowly unveil but the story blows it. Moreover, the Freudian psychological explanation is far too contrived to be believable – merely witnessing another person being killed is poor impulse for someone going into a trance and being driven to repeatedly re-enact the murder.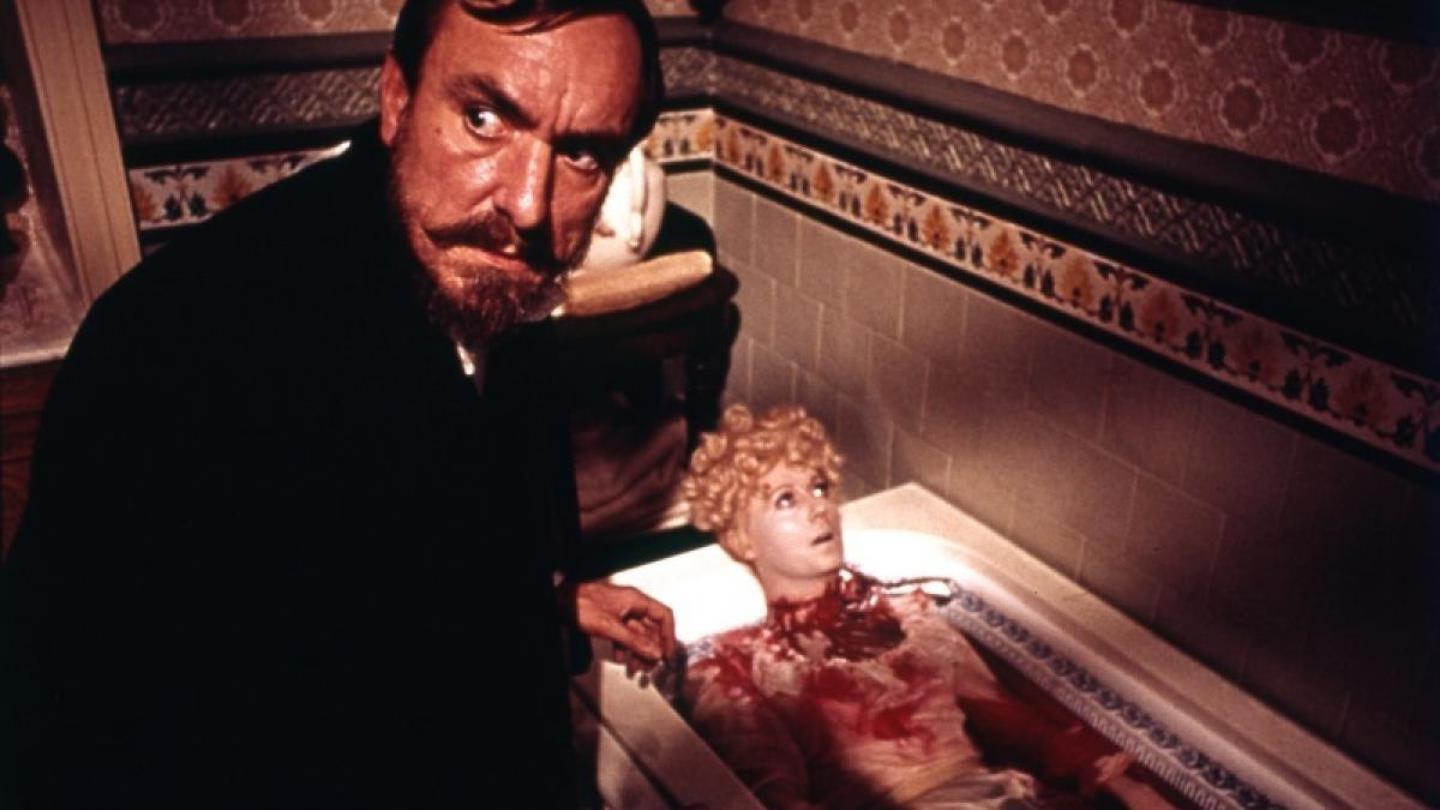 Angharad Rees is somewhat blank, although Eric Porter has a more dignified, if stolid, presence. Peter Sasdy maintains the period setting credibly well (always a notable feature of his work for Hammer) and creates an excellent climax set in St Paul's Cathedral. The film contains some notably gory jolts, although some of these spill over into unintentional ludicrousness, the funniest being when Eric Porter has a sword plunged three-quarters of its way into his body without it ever emerging out the other side.
Peter Sasdy's subsequent films are:– the ecological horror film Doomwatch (1972), the immortality syndicate film Nothing But the Night (1972), the Nigel Kneale ghost story tv play The Stone Tape (1972), the Satanic impregnation film The Devil Within Her/I Don't Want to Be Born (1975) and the proto-Virtual Reality film Welcome to Blood City (1977).
---
Trailer here
---