aka The Prometheus Project
---
Crew
Director/Screenplay – Sean Tretta, Inspired by the Novel Frankenstein by Mary Shelley, Producers – Dustin Lowry, Tiffany Shepis, Noah Todd & Sean Tretta, Photography – Eve M. Cohen, Music – Lawrence Shragge, Special Effects Supervisor/Makeup Effects – Quinn Davis, Production Design – Benjamin D. Garcia. Production Company – NWR Productions, LLC./Ominous Productions/Zone Glory.
Cast
Tiffany Shepis (Dr Elizabeth Barnes), Scott Anthony Leet (David Doyle), Louis Mandylor (Dr Marcus Grone), Patti Tindall (Dr Victoria Trevelle), Jonathan Northover (Dr William McKinnon), Sebastian Kunnappilly (Neeraj), Noah Todd (Ira Gorman), Ed Lauter (Dr Walton), Shane Dean (Special Agent Wollstoncraft), Esther Ellsworth (Special Agent Godwin), Zena Otsuka (Kima), Joe Ricci (Cyrus), David C. Hayes (Paul Fletcher), Kristina Wayborn (Elizabeth's Mother)
---
Plot
Confined to a wheelchair and with her face disfigured and hidden behind a mask, Elizabeth Barnes is interviewed by two FBI agents. A brilliant young molecular biologist, she was hired by the dying billionaire Walton to join a team of scientists headed by Dr Marcus Grone searching for a cure. The location of the laboratory was kept secret and under armed guard because the project were well outside the realm of medical ethics, including keeping experimental subjects being kept imprisoned in the basement. Elizabeth created a formula that she believed could regenerate tissue. She insisted on trying the formula on one of the dead subjects, which revived her in a deranged state, leaving Grone to have to shoot her. The girl was involved with security guard David Doyle. When Doyle and his lawyer confronted Grone over this, Grone shot them both. They then decided to use Doyle as a test subject for the formula. The experiment was successful and Doyle was brought back to life, his mind blank but capable of absorbing information at a rapid pace. They then discovered that the formula was so successful it had opened the untapped areas of the brain and Doyle was now capable of reading their thoughts, moving objects with his mind, healing people and transforming matter. However, his transformation had also made him unstable and murderous.
---
The Frankenstein Syndrome, also known as The Prometheus Project, was the fourth film for Sean Tretta. First appearing with the extraordinary Found Footage serial killer film The Great American Snuff Movie (2003), Tretta is one of the most under-appreciated of modern genre directors. He has also made Death of a Ghost Hunter (2007), The Death Factory Bloodletting (2008) and The Greatest American Snuff Film (2010). More recently, he has moved into television as a writer/producer on 12 Monkeys (2015-18).
The Frankenstein Syndrome joins a small number of films that have taken on the challenge of trying to translate Mary Shelley's Frankenstein (1816) into the modern era. Other efforts that have attempted to do so include Frankenstein '80 (1972), Dr Franken (tv movie, 1981), Frankenstein's Baby (tv movie, 1990), Mr. Stitch (1995), the Dean Koontz Frankenstein (tv movie, 2004), Frankenstein Reborn (2005), Frankenstein's Bloody Nightmare (2006), Frankenstein (tv mini-series, 2007), Closer to God (2014). Frankenstein (2015) and Depraved (2019). One thing that grates is the in-jokey need to keep making references back to the Mary Shelley original – two FBI agents named Wollstonecraft and Godwin after Mary Shelley's parents William Godwin and Mary Wollstonecraft; the project's sponsor a Dr Walton after the Arctic sea captain that Frankenstein narrates his story to in the wraparound sections of the book.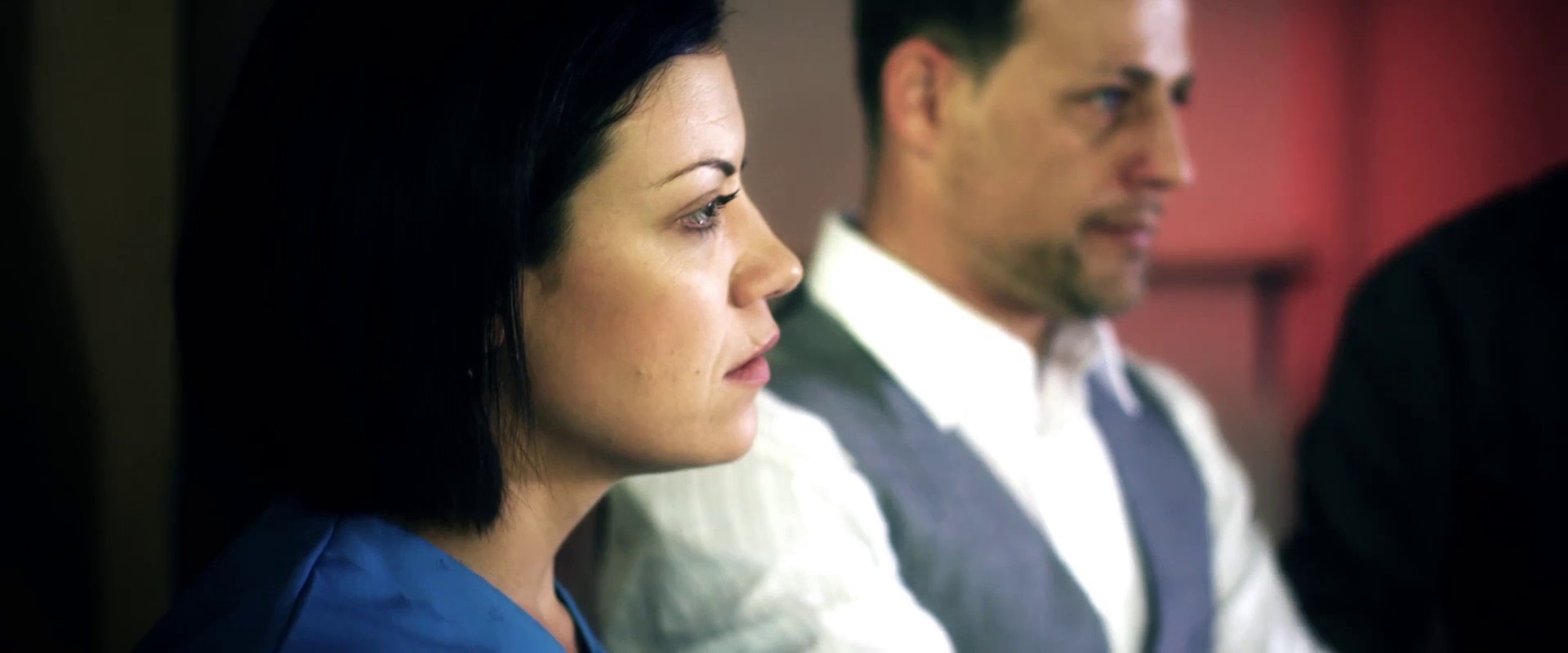 Sean Tretta does a not too bad job in trying to create a modern day equivalent of the Frankenstein story. He drops the idea of any patchwork body and instead focuses on a secret bunker where a team of scientists are engaged in highly unethical experiments to perfect a miracle regeneration drug. By various machinations, they bring a security guard back from the dead who becomes an equivalent of the Monster. The latter third of the film heads off in the direction of something of Limitless (2011) or Lucy (2014) and other films that use the fallacious idea of there being an untapped 90% of the brain that is able to unleash super-geniuses and psychic abilities. The only thing that gets in the way of an effective treatment of the ideas is a lower budget and Tretta's distracting choice of an overly suffused lighting scheme throughout.
The film's lead is Tiffany Shepis who also became Mrs Sean Tretta four months before the film came out. (I am unable to ascertain as to whether they met on the set or they were a prior couple and this is a joint production – she also produces the film). Shepis has a gained a reputation as a latter day Scream Queen and has appeared in over a hundred films since the mid-1990s, most of these B-budget horror films and involving her in a state of undress. I am all for actors trying to stretch their range and she does okay playing determined and fierce but never suggests much of a genius molecular biologist.
---