---
Crew
Director/Visual Effects Supervisor – Toby Wilkins, Screenplay – Brad Keene, Producers – Taka Ichise & Andrew Pfeffer, Photography – Anton Bakarski, Music – Sean McMahon, Visual Effects – Framework Studio LA (Supervisor – George Cawood), Special Effects Supervisor – Vasko Dikov, Production Design – Bobi Michailovski. Production Company – Stage 6 Entertainment/Ghost House Pictures.
Cast
Johanna Braddy (Lisa), Gil McKinney (Max), Emi Ikehata (Naoko), Shawnee Smith (Dr Sullivan), Jadie Hobson (Rose), Beau Mirchoff (Andy), Marina Sirtis (Gretchen), Michael McCoy (Praski), Matthew Knight (Jake), Mihaela Nankova (Brenda)
---
Plot
Young Jake is taken into psychiatric care. His psychiatrist Dr Sullivan dismisses his pleas not to be left alone only to then see him killed as his body is twisted into contorted shapes in his cell. Lisa with her brother Max who is the manager lives of the Chicago apartment where the deaths occurred. He has care of their younger sister Rose who is in poor health. Lisa is wanting to leave for New York City with her boyfriend Andy but Max is unhappy at her abandoning Rose. However, the ju-on curse still affects the apartment. Kayako and the young boy emerge to kill other tenants. Max's behaviour changes and he starts to become brooding. At the same time, Lisa meets Naoko who has travelled from Japan to rent an apartment in the building. She reveals that she is Kayako's sister and has come to help stop the spread of the curse.
---
The Ju-on series has led to an amazing thirteen films to date. Originally beginning with the tv movie School Ghost Story G (1998), director Takashi Shimizu then expanded the basics he had created there with the video-released films Ju-on (2000) and Ju-on 2 (2000). This was followed by the theatrically released Ju-on: The Grudge (2003), which became an international hit, and its sequel Ju-on: The Grudge 2 (2003) both from Shimizu. To celebrate the tenth anniversary of the original films, two further films of an hour long apiece were commissioned and released simultaneously with Ju-on: Girl in Black (2009) and Ju-on: Old Lady in White (2009). There was a further theatrically released reboot Ju-on: The Beginning of the End (2014), which was followed by a sequel Ju-on: The Final Curse (2015), plus Sadako vs Kayako (2016), a crossover with the Ring series, and the tv series Ju-on: The Curse (2020- ).
In the midst of this, the rights to the Ju-on series were brought up by Sam Raimi's Ghost House Pictures and it underwent an English-language remake with The Grudge (2004), rewritten to star Sarah Michelle Gellar and with Takashi Shimizu employed as director. This was sufficiently successful that it spawned a theatrically-released sequel The Grudge 2 (2006). Ghost House Pictures then made a further sequel with The Grudge 3 here, although that was only released to dvd. The Grudge (2020) was a reboot of the US series.
I held some promise for The Grudge 3 as it was directed by Toby Wilkins who had greatly impressed me with his earlier horror film Splinter (2008). Wilkins apparently got the job after making a seven-minute short film Tales from the Grudge (2006). It may well say something about how The Grudge 3 fared but Wilkins has not directed anything bar a handful of tv episodes in the decade since then and has mostly worked as an editor.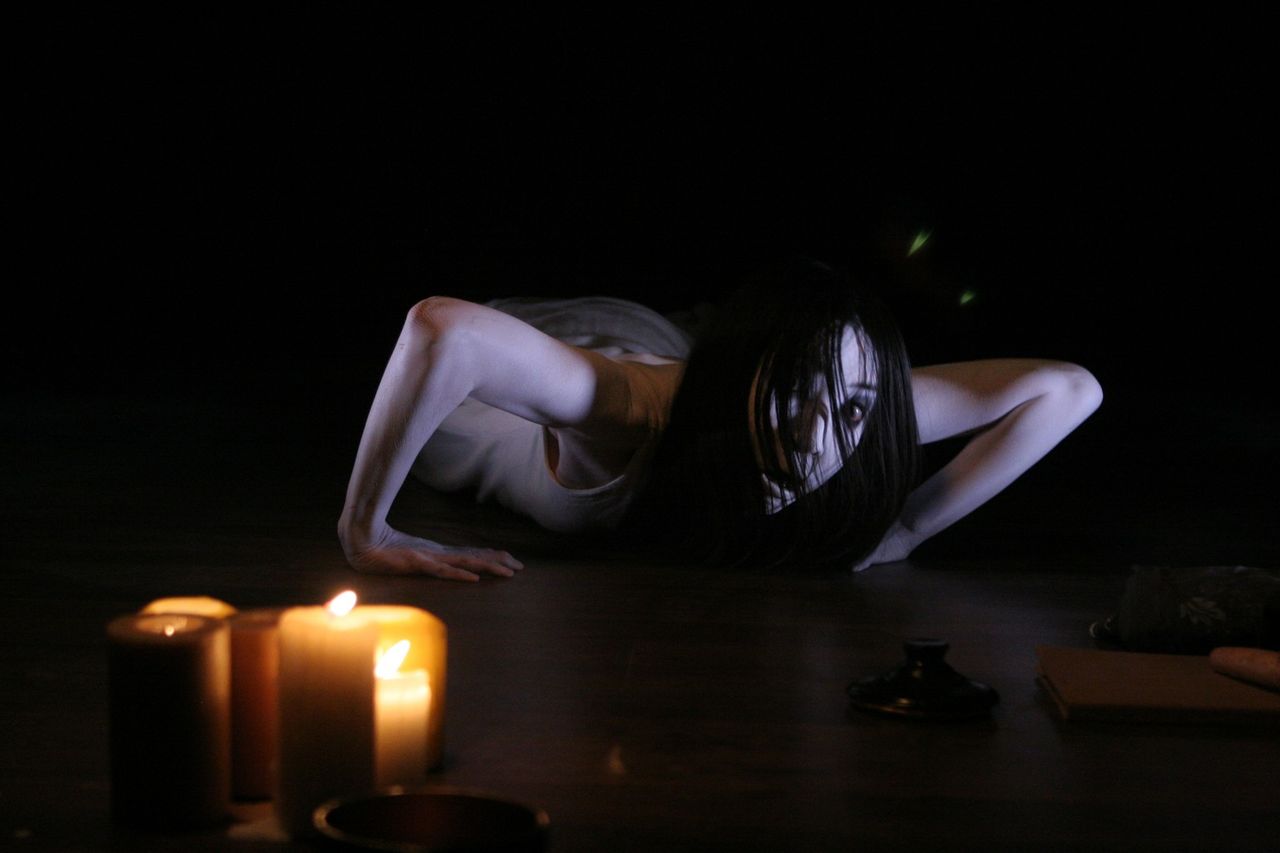 The first two English-language Grudge films were weaker versions of their Japanese counterparts – even so, they had sporadic moments that achieve an undeniable atmosphere. By contrast, The Grudge 3 feels like the essentials have been reduced to no more than a formula teen/twentysomething horror film. Even the non-linear narrative of the other films has been dropped for something straightforward.
There are also the introduction of plot elements new to the mythos that do not appear in any other version – like Kayako having a sister, as well as an origin story where it is explained that Kayako was fed evil spirits removed from others by her mother who was an exorcist. We also get attempts to exorcise the grudge, while the latter sections have Gil McKinney descending into brooding axe-sharpening a la James Brolin in The Amityville Horror (1979) – something that has not happened to anybody else affected by the curse.
Toby Wilkins delivers a show entirely by the numbers. I did like the odd scene – one where neighbour Marina Sirtis finds red paint splattered everywhere and the eyes poked out of her paintings, followed by red paint footprints following her across the floor and the paintings on the wall melting. However, even lesser Japanese Ju-on films like The Girl in Black and The Old Lady in White achieve far more of a sense of uncanny mood than this ever comes near doing.
---
---