---
Crew
Director – Steven Soderbergh, Screenplay – Jonathan Bernstein & James Greer, Producer – Joseph Malloch, Photography – Peter Andrews [ Steven Soderbergh], Music – David Wilder Savage, Visual Effects Supervisor – Lesley Robson-Foster, Visual Effects – Phosphene, Makeup Effects – Fractured FX, Production Design – April Lasky. Production Company – Extension 765/New Regency.
Cast
Claire Foy (Sawyer Valentini), Joshua Leonard (David Shrine/George Shaw), Jay Pharaoh (Nate Hoffman), Juno Temple (Violet), Amy Irving (Angela Valentini), Polly McKie (Nurse Boles), Gibson Frazier (Dr Hawthorne), Aimee Mullins (Ashley Brighthouse), Myra Lucretia Taylor (Counselor), Sarah Stiles (Jill), Mike Mihm (Steve), Robert Kelly (Steve's Partner), Lynda Mauze (Dolores), Matt Damon (Detective Ferguson), Colin Woodell (Mark)
---
Plot
Sawyer Valentini has moved from Boston to Pennsylvania in order to get away from David Shrine who began stalking her after she volunteered at a hospice where she would read to his late father. She has a comfortable bank job but is beset by irrational fears, seeing David everywhere she turns. She goes to a counsellor to get help dealing with her fears only to find that the papers she has signed at the end of the session have committed her to the Hyland Creek psychiatric facility for 24 hours observation. Her protests that this is a mistake fall on deaf ears with the staff. Because of her struggle against being restrained, she is declared as a risk to herself and others and the committal extended to seven days. She is even more horrified when she discovers that one of the nurses is David Shrine, now calling himself George Shaw. He insists he is not and nobody listens to her protests. With everybody around her thinking she is crazy, Sawyer tries to get someone to take her seriously as David begins stalking her again.
---
Steven Soderbergh has become one of the most intelligent and interesting filmmakers in the US ever since his appearance with Sex, Lies and Videotape (1989), which won the Palme d'Or at Cannes and had Soderbergh nominated for an Oscar with his first film. He has subsequently made the likes of Kafka (1991), The Underneath (1995), Gray's Anatomy (1996), Schizopolis (1996), Out of Sight (1998), The Limey (1999), Erin Brockovich (2000), Traffic (2000), Ocean's Eleven (2001) and sequels, Solaris (2002), The Good German (2006), Che Part One and Part Two (2008), The Informant (2009), Contagion (2011), Haywire (2012) and Magic Mike (2012). Soderbergh has also been a strong indie voice and has been prolific in producing other people's work, including the English language remake of Nightwatch (1998), Pleasantville (1998), Confessions of a Dangerous Mind (2002), Far From Heaven (2002), Christopher Nolan's Insomnia (2002), The Jacket (2005), Syriana (2005), A Scanner Darkly (2006), I'm Not There (2007), Michael Clayton (2007), Wind Chill (2007), We Need to Talk About Kevin (2011) and Bill & Ted Face the Music (2020). For the number of genres that Soderbergh has dipped his toes into, Unsane is surprisingly the first horror film he has directed.
The one thing that most publicity that was written about Unsane made mention of was that it was shot on an iPhone – in particular, the iPhone 7 Plus. There have been entire films shot on mobile phone videocameras before – most notably Uneasy Lies the Mind (2014) and Tangerine (2015) – but to my knowledge Unsane is the only one that had a wide theatrical release (where it earned a modest $12 million globally). Steven Soderbergh is a director who is constantly fascinated with new ways of making films. Nevertheless, shooting by iPhone makes Unsane essentially a gimmick film. I mean, I don't see a lot of directors – except maybe no-budget ingénues – leaping on this as the next technological breakthrough. In watching the film, the quality of photography looks no different from most of the other shot-on-digital films I watch so I don't see any real value in discussing the merits of this. Instead, let us turn to the aspect that tended to get overlooked in everybody's fascination with Soderbergh shooting on an iPhone, which is how Unsane works as a thriller/psycho film.
The plot falls into a small category of films about people that are wrongly committed to asylums. The genre was popularised by Shock Corridor (1963) and we have had genre equivalents such as Bedlam (1946), Committed (1991) and Gothika (2003). (For a more detailed overview see Asylums). Soderbergh does a fine job in showing the horrifying depersonalisation of the experience – how Claire Foy goes from being asked by the front desk to wait for another appointment to being escorted away by orderlies, made to empty her bag and then told to strip down by nurses, all the while finding the door is locked and she cannot get out. What makes the scenes particularly chilling is the way Soderbergh taps something Kafka-esque in the cold condescension of the staff and their refusal to answer her questions when she repeatedly asks if she can go home yet.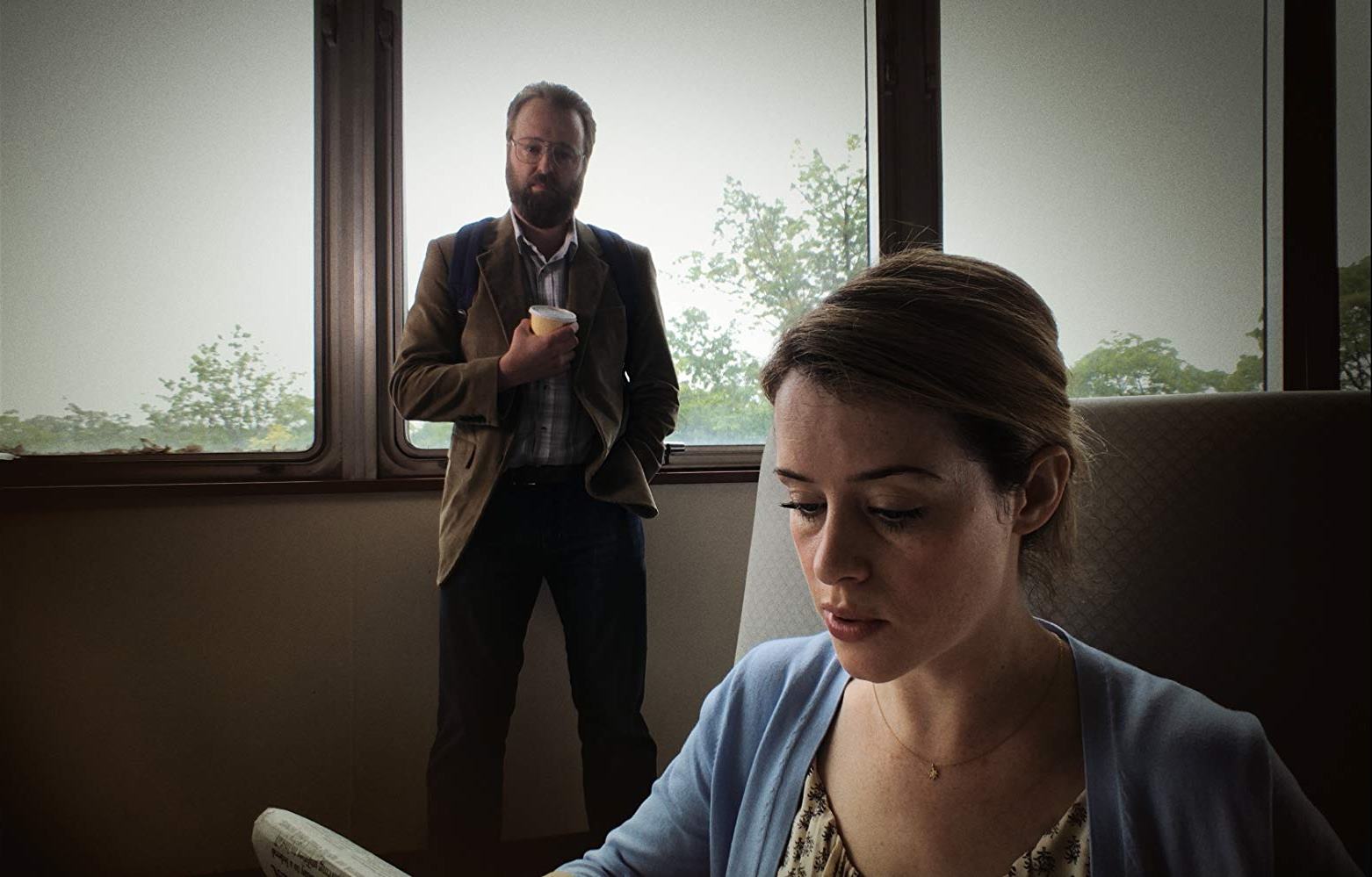 Soderbergh does cool obliqueness in a way that perhaps no director other than Stanley Kubrick ever did (although Soderbergh has far more warmth and none of Kubrick's cold pessimism about humanity). Once he gets Claire Foy – a British actress best known as the young QEII on The Crown (2016– ) and here doing a creditable job of coming across as a somewhat self-absorbed American yuppie – locked up, Soderbergh plays a constant game leaving us uncertain whether she really is having paranoid delusions about seeing her attacker everywhere or whether the stalker has in fact entered the asylum. While the film does have one or two improbabilities – like how Joshua Leonard can so easily get a job in the hospital and conveniently seems to know that that is where the target of his affections will be incarcerated in advance – it swings around these doubts and hopes with a well written script.
About halfway through [PLOT SPOILERS], Soderbergh confirms the fact that orderly Joshua Leonard – one of the original trio from The Blair Witch Project (1999) whose casting is perhaps a nod to another film that broke ground in being the first cinematically released film shot on a handheld video camera – is Claire Foy's stalker. Thereafter, Soderbergh delivers some undeniably effective surprises – not jumps so much as twists like when Joshua Leonard turns up at her mother Amy Irving's motel room door, or where Claire Foy finds her mother's ring placed under her pillow. It all builds to a quite reasonable ending. Unsane is not a horror film that breaks new ground or does anything startlingly original but it is one that does work with modest effect.
---
---