---
Crew
Director/Visual Effects Supervisor – Jim Mickle, Screenplay – Nick Damici & Jim Mickle, Producers – Derek Curl, Larry Fessenden, Adam Folk, Brent Kunkle & Peter Phok, Photography – Ryan Samul, Music – Jeff Grace, Makeup Effects – Peter Gerner & Brian Spears, Production Design – Daniel R. Kersting. Production Company – Scareflix/Glass Eye Pix/Offhollywood Pictures/Belladonna Productions.
Cast
Connor Paolo (Martin), Nick Damici (Mister), Danielle Harris (Belle), Kelly McGillis (Sister), Michael Cerveris (Jebedia Loven), Sean Nelson (Willie), Bonnie Dennison (Peggy)
---
Plot
Civilisation has collapsed due to an onslaught by vampires who have either massacred or infected most of the living. The teenage Martin journeys with Mister who has taken him in after Martin's parents were killed by vampires. They travel across what Mister calls 'Stake Land', the ruins of the United States, passing through the small isolated human communities that remain and killing all the vampires they encounter. Along their journey, they run afoul of The Brotherhood, a cult of religious extremists who believe in brutally converting all to their cause. They head north towards Canada, which has become regarded as the promised land of New Eden for survivors because it is too cold for the vampires to live there. Along their journey, they take on board various others, including a nun, the pregnant girl Belle and Willie, a former Marine.
---
Glass Eye Pix, headed by director/writer/actor Larry Fessenden, has become an increasingly underrated presence in the horror field in the last few years with films such as The Off Season (2004), Zombie Honeymoon (2004), The Roost (2005), Automatons (2006), Trigger Man (2007), I Can See You (2008), I Sell the Dead (2008), The House of the Devil (2009), Satan Hates You (2009), Bitter Feast (2010), Hypothermia (2011), The Innkeepers (2011), Late Phases (2014), Darling (2015), Most Beautiful Island (2017), Psychopaths (2017), The Ranger (2018) and various directorial outings from Larry Fessenden including Wendigo (2001), The Last Winter (2006), Beneath (2013) and Depraved (2019). (Fessenden turns up here in a minor role as a bartender in one of the towns where the characters stop off). Stake Land has to be one of the finest films that Glass Eye have put out to date.
There is a nicely apocalyptic feel to Stake Land – it could be something akin to a more serious minded version of Zombieland (2009), or perhaps a conceptual collision between The Road (2009) and I Am Legend (1954) – at least the original Richard Matheson novel rather than the film bastardisations. The world that we are thrown into is an immediately different one that captures the attention.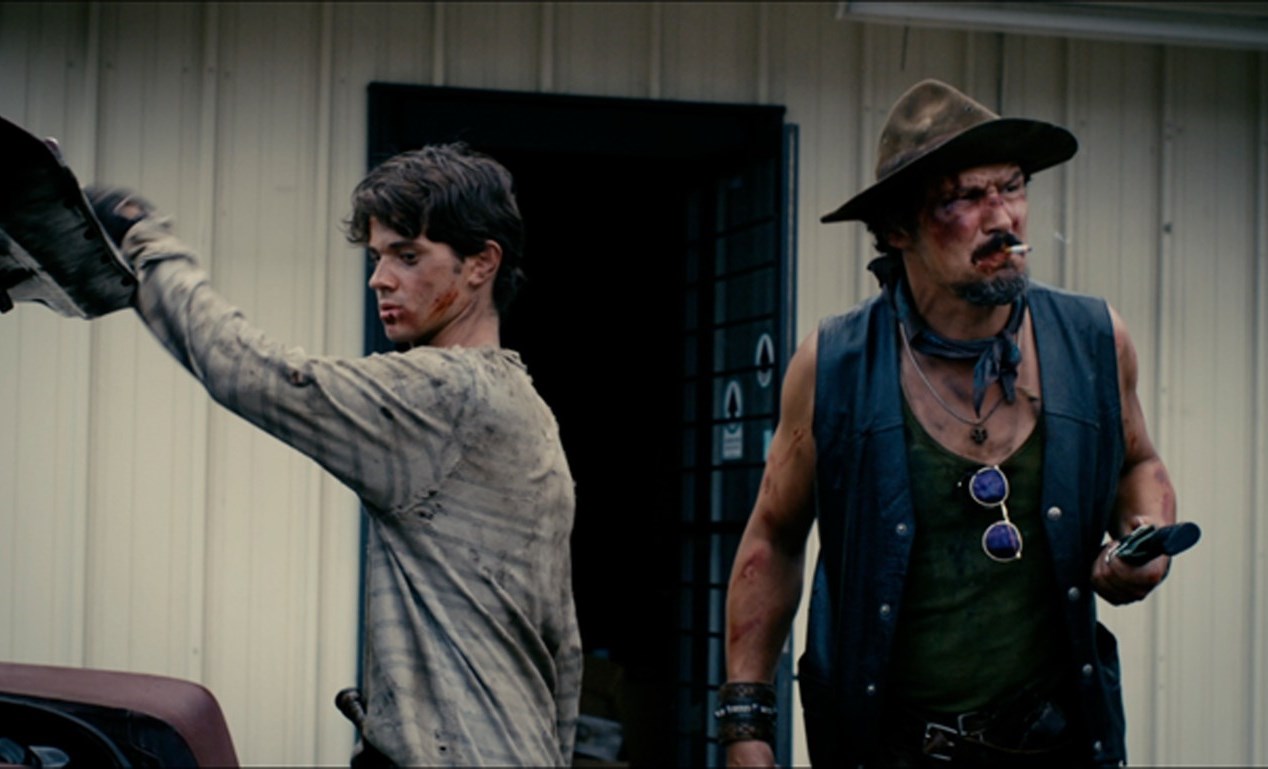 In essence, Stake Land feels like more of a zombie film than it is a vampire film – the vampires are less intelligent and seductive than they usually are and fall more into the zombie mold, being mindless and ravenously hungry, infecting whoever they bite. While much of this is familiar to the zombie film, it is however an approach that is highly original for the vampire film.
In tone, Stake Land seems more like an existential Western of the 1970s – one that is framed against montages of bared wintry landscapes and the ruined remnants of civilisation as it follows the uncertain inner journey of the characters. There are amazing throwaway portraits of the world that we have entered into – religious fanatics dropping vampires from the sky by helicopter to wreak havoc and destroy towns; or of redneck bars where vampires are tied up outside to be incinerated in the dawn. It is a world of genuine texture and depth.
Stake Land eschews the big flashy effects and style driven look of most vampire films of the last decade. It is a far more landscape and character focused film. Not to say the film does not hold its horror end of the show up either. It kicks in in a big way from its opening scenes – a flashback to showing teenager Connor Paolo's family being slaughtered, including the vampire dropping a devoured baby from the barn roof, before Nick Damici turns up and brutally stakes the vampire, demanding that a traumatised Connor Paolo help him. Or with the group running over a vampire woman on the highway and she hanging onto the roof and window of the car and refusing to let go.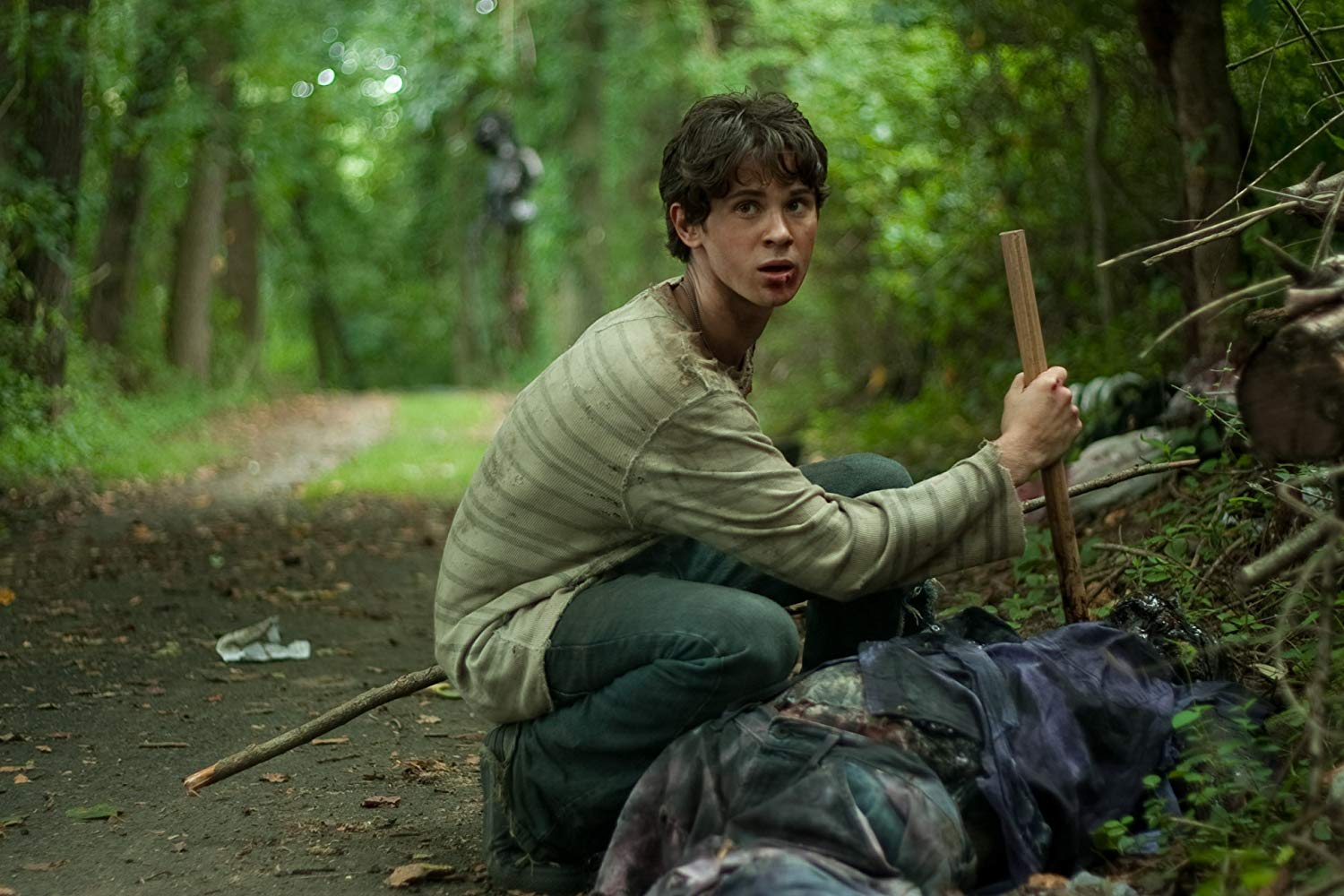 The film is largely fronted by two unknowns – young Connor Paolo and Nick Damici as the vampire hunter (Damici also co-writes the script with director Jim Mickle), both of whom give strong performances. There are better known faces such as Danielle Harris from the Halloween series as the pregnant girl; Michael Cerveris, who came to fame as The Observer in tv's Fringe (2008-13) as the cult leader; and Kelly McGillis as a nun. McGillis was once regarded as a bombshell since Top Gun (1986) where she came to fame but has dropped off the radar since the 1990s. What perhaps is saddest about this is that while her Top Gun co-star Tom Cruise is still doing box-office heartthrob roles, Kelly McGillis is undeniably showing her age here.
Glass Eye Pix made a sequel with Stake Land II/The Stakelander (2016) featuring return performances from Connor Paolo and Nick Damici and Damici on script again but with a new duo of directors.
Stake Land was the second film for director Jim Mickle who had previously made Mulberry Street (2006) about an outbreak of human rat mutations, which was also co-written with Nick Damici. Mickle subsequently went onto make We Are What We Are (2013), the English-language remake of a Mexican film about a cannibal family, the Joe R. Lansdale adapted thriller Cold in July (2014), the time travel film In the Shadow of the Moon (2019) and as creator of the tv series Sweet Tooth (2021- ) about post-apocalyptic animal hybrids.
(Winner in this site's Top 10 Films of 2010 list).
---
---