---
Crew
Director/Screenplay – Philip Ridley, Producers – Pippa Cross & Richard Raymond, Photography – Matt Gray, Music – David Julyan, Songs – Nick Bicât & Philip Ridley, Visual Effects Supervisor – Christian Manz, Visual Effects – Framestore, Special Effects – Elements FX (Supervisor – Nick Rideout), Makeup Effects Designer – Paul Hyett, Prosthetics Supervisor – Stuart Conran, Production Design – Ricky Eyres. Production Company – Cinemanx/Isle of Man Films/Framestore Features/Matador Pictures/CrossDay/May 13/Cinema Two/Regent Capital.
Cast
Jim Sturgess (Jamie Morgan), Clemence Poesy (Tia), Joseph Mawle (Papa B), Nikita Mistry (Belle), Eddie Marsan (Weapons Man), Luke Treadway (Lee Morgan), Noel Clarke (Andy 'A.J.' Jeffreys), Ruth Sheen (Marion Morgan), Jack Gordon (Jeeko), Justin Salinger (Raymond Morgan), Timothy Spall (George Morgan), Fraser Ayres (Vinnie)
---
Plot
Jamie Morgan lives in East London where he works as a photographer. He has a disfiguring birthmark that covers one side of his face. While walking home one night, Jamie sees youths attacking someone in an abandoned lot but when they turn he sees that they are creatures with lizard faces. Jamie soon begins to see these creatures everywhere. They attack him and his mother in the street, setting her alight and killing her. Next his neighbour appears to be killed by the lizard creatures. Jamie then receives a call from the mysterious Papa B who asks for a meeting. Papa B says that he will give Jamie what he most wants – to remove the birthmark – if he in turn will cause some trivial random chaos for him at a future date. Jamie agrees, only for Papa B to set him on fire. Afterwards though, Jamie tears off his burned skin to find his body unblemished. He then meets and woos the beautiful Tia, a girl who was modelling at the studio, when she comes to make a delivery to his neighbour's apartment. The two fall in love. Immediately after, Jamie receives notice from Papa B that he must fulfil his side of the bargain – one that requires him to cut out the heart of a random stranger while they are still alive and throw it on the steps of a church before midnight.
---
Heartless is the third film from Philip Ridley. Ridley first made ripples with the script for the true-life crime drama The Krays (1990), followed by his directorial debut with the beautifully surreal and stylish The Reflecting Skin (1990). Ridley followed this up with the fine The Passion of Darkly Noon (1995) about religious obsession and madness. Although both of his directorial outings were acclaimed, they did not earn high profiles and it took more than fourteen years for Ridley to return to the director's chair for a third time with Heartless here. In between his filmmaking ventures, Ridley is also an acclaimed novelist and exhibition artist.
Though Heartless has played at various fantastic and horror festivals, it does not sit easily inside pigeonholding as a straight horror film. Both here and in The Reflecting Skin, Philip Ridley uses familiar horror tropes – vampires, angels, lizard-creatures, pacts with a possible Devil figure – but seems more interested in their metaphoric and allegorical value than in engaging in straight horror theatrics. It is never specified who or what the lizard-faced creatures are or even if they only exist in Jim Sturgess's imagination. In any less subtle film, Joseph Mawle's Papa B would be identified as The Devil or one of his agents but here exists with a wholly mysterious lack of explanation.
Like a number of recent British films – Outlaw (2007) and in particular Harry Brown (2009) – Heartless (at least initially) appears to be concerned about the increasing rate of crime, anarchy and lawlessness on the streets of England. At the outset, Heartless seems to be following a similar path to these others in having hero Jim Sturgess in a state of fear after a direct experience of violence and preparing to adopt a vigilante methods, buying blackmarket handguns. On the other hand, Philip Ridley seems to be pushing this into an increasingly paranoid and claustrophobic headspace where Jim Sturgess keeps seeing hooded lizard-faced creatures following him around the streets. What we seem to be in for is a film that feels like Harry Brown crossbred with the paranoid subjective headspace of something like Roman Polanski's Repulsion (1965) and The Tenant (1976).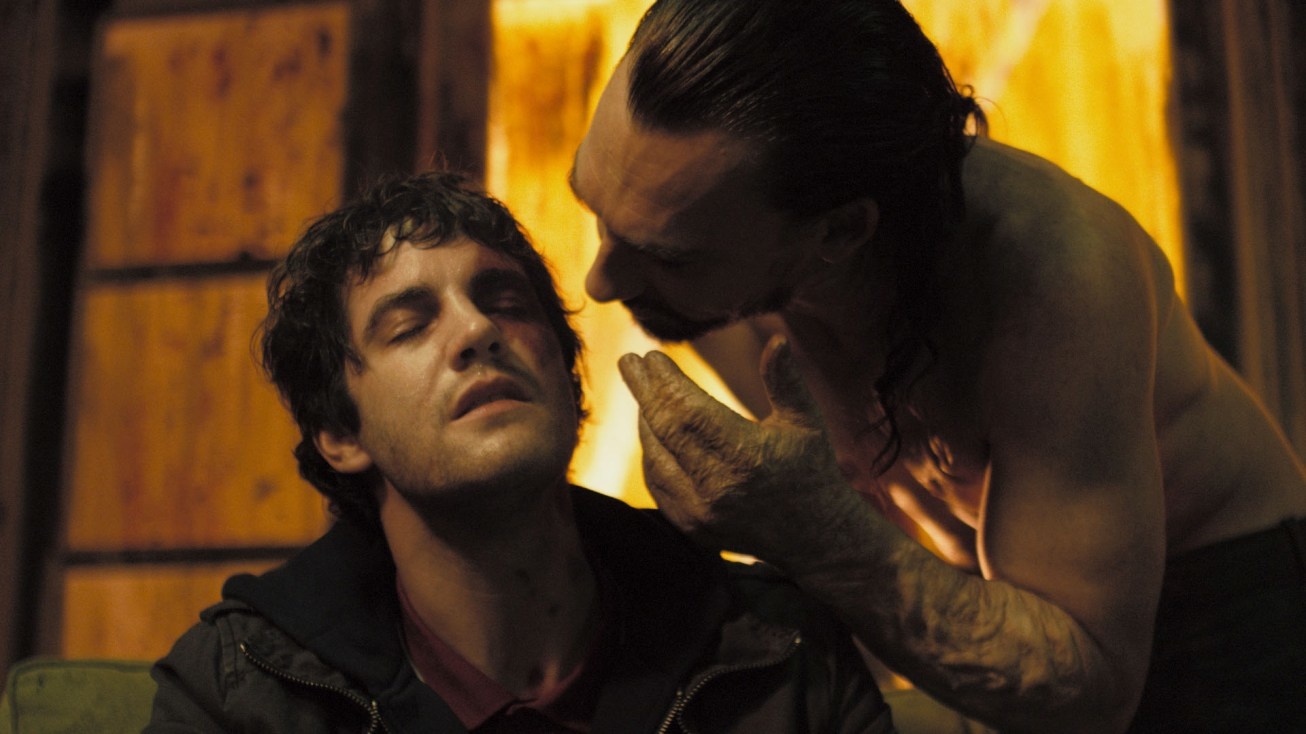 However, Philip Ridley abandons this to head into different territory with Jim Sturgess engaged in a pact with a diabolic figure. These scenes take Heartless in another direction altogether away from the paranoid, dislocated urban fantasy that the film initially seems to be shaping up to be. Ridley seems to take great fascination in populating these scenes with bizarre and unusual characters. The introduction of Joseph Mawle as the disturbingly charismatic, bare chested and partially disfigured character of Papa B holds a considerable charge.
Particularly amusing is Eddie Marsan's character known only as the Weapons Man who combines casual threat with the banality of a minor bureaucrat who has no personality, all delivered in a chirpy provincial accent. There is also the fascinatingly ambiguous character of Nikita Mistry's young East Indian child companion to Joseph Mawle who offers aid, advice and a great deal of sympathy to Jim Sturgess, even appears to become attached to him and starts referring to him as 'Dad'. Things are then twisted around to where Nikita Mistry wants Jim Sturgess to adopt her (although we cannot be sure if this is not another of Papa B's schemes) and Papa B decides to visit a punishment on Sturgess to pay for this.
The story's arc take us further and further into the realm of nightmare first as Jim Sturgess signs up to have his birthmark removed and is told that this will require some trivial payment – "most likely just some graffiti" – and that it could take years, even decades before he is required to fulfil his half of the bargain. From there we are drawn through the romance with Clemence Poesy, which Philip Ridley directs with sweetly naturalistic charm, only for Sturgess to abruptly be informed by Eddie Marsan that the bargain has been changed on him and he is required to cut out someone's heart that very night.
Often Heartless feels like the film has been conceived with the intention of placing Jim Sturgess into as many uncomfortable and desperate places as possible – it is a film that delights in pushing the central character to moral extremes. [PLOT SPOILERS]. There is the incredibly nasty scene where Jim Sturgess wakes after spending a perfect first night with Clemence Poesy only to have it all shatter on him as he finds with nightmare grimness that his birthmark appears to have returned. Later there is the scene where he is informed that in order to pay for adopting Nikita Mistry he must cut out the heart of Clemence Poesy, the object of his affections. This is a film where you genuinely cannot predict where it is going to take us from one minute to the next. Not many other horror films, which are mostly centred around pop-up scares and effects, take their protagonists into such uncomfortable places either morally or emotionally.
---
---